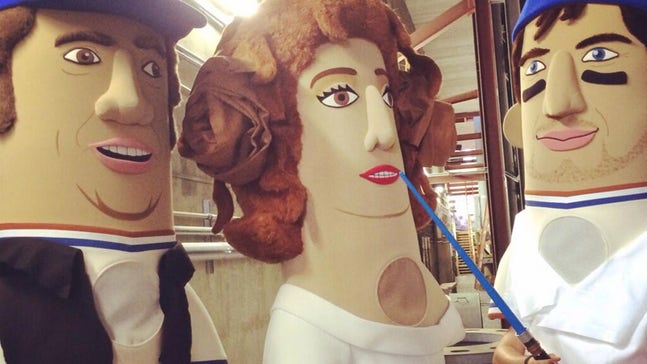 Star Wars Night a hit with Durham's minor-league baseball fans
Published
May. 4, 2014 8:19 p.m. ET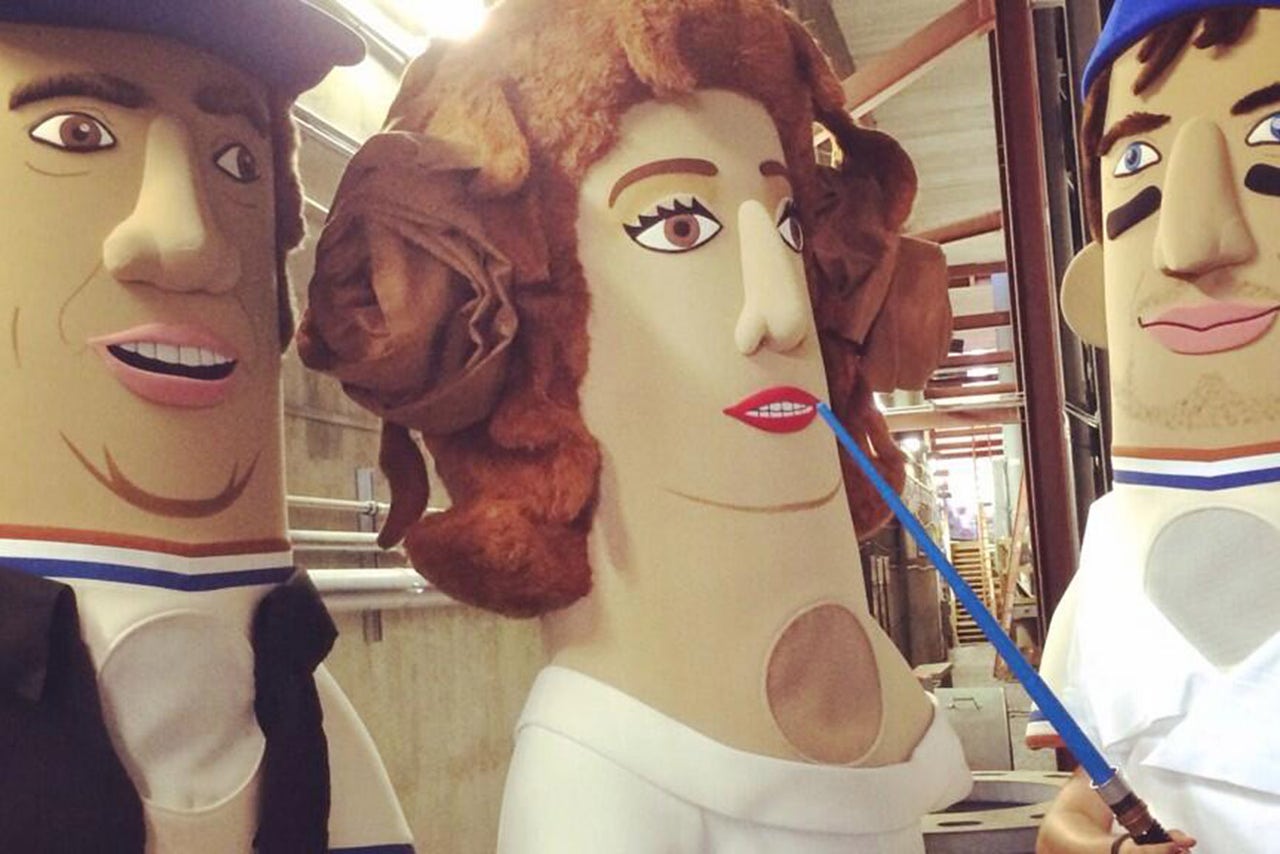 DURHAM, N.C. -- For a few moments, when you walked into the Durham Bulls Athletic Park for a night of baseball, you got the full "May the 4th Be With You" Star Wars experience.
The Star Wars opening theme played as fans entered the stadium, and in one of the concourses stood a host of costumed Star Wars characters waiting to take pictures with fans. The Death Star theme played, too.
Star Wars is universally for children, seemingly, who were out in force. Some wore stormtrooper or Jedi pajamas, and a few little girls wore their hair in Princess Leia-style buns. On the field, the Durham Bulls wore special jerseys, and as they warmed up in the infield, the children gathered around the railings to watch.
"That's R2D2 on the uniforms!" one excited young boy screamed to his parents, tugging on his mother's shirt. "THAT'S HIM!"
"Yes it is!" she responded, obviously less excited.
But make no mistake: Star Wars is for the adults, too. Maybe in an ironic way, as there were plenty of cute Star Wars-themed T-shirts -- a "Who's Your Daddy?" Darth Vader one, for instance -- worn by middle-aged men with kids in tow. It's what many of them grew up on, so it's what their children will grow up on, too.
We're now at the point where kids who grew up on Star Wars weren't even born when the first movies came out and are now having children of their own, continuing to pass on their love for the sci-fi classics. And why not? It's fun for everyone. And a Star Wars Night gives the adults a chance to relive part of their childhood, and it gives the children a chance to occupy this magical universe for a few hours -- even if there are always a few obvious ... anachronisms.
Surely, the "Cha Cha Slide" was not a song that would have played in the cantina. And groundskeepers wearing backwards hats, stormtrooper shirts and neon orange shoes doing the Beyonce "Single Ladies" dance between innings weren't exactly what Emperor Palpatine had in mind.
But it's all part of the fun, and doesn't seem to ruin the experience of the children -- whose only break with Star Wars reality came when a costumed rebel alliance fighter had to take a break from all the picture-taking with fans.
"Daddy! Can we get a picture with him?" a little girl yelled, pulling at her father's shirt, as the orange-clad man walked by.
The father sheepishly asked him, and he had to quietly explain he was on a break. How do you tell a little girl that a fighter from Star Wars gets breaks?
The designated characters in the concourse were really the only ones dressed up, which is not what you'd expect from anything associated with Star Wars. The movies are associated with, well -- to put it one way -- nerds. And often, nerds who would not hesitate to dress up in full regalia and attend any event associated with the franchise.
But aside from an accessory or two -- like the lightsabers, which were the only item the Bulls were allowed to sell -- there wasn't much, though someone did have a built-in light saber holster (convenient). Some brought their own lightsabers from home (smart).
Obviously, the Bulls did their best to make the atmosphere as Star Wars-ish as they could, within the limitations posed on them by copyright violations and the like. They auctioned off a few of the R2-D2 jerseys for charity, but they couldn't sell them en masse. The video clips they showed had to be short. They cleverly got around some of the restrictions by showing a video of Yoda's face with a human mouth in the middle (reminiscent of a skit Conan O'Brien used to do), talking to the children.
Wool E. Bull raced a "young Padawan" around the bases in the middle of the game, only to have a costumed Darth Vader rush out at the end and chop off his hand with a lightsaber. The crowd roared in delight. Pictures of various Star Wars characters were shown when various Durham Bulls players strode to the plate instead of, you know, their actual pictures. But everything else was the same.
Still, the DBAP was as packed as it's been all season (attendance was listed at 11,507), and the stands and concourse were both packed with people walking around to take in the spectacle.
Before the Bulls had even recorded the final out in a 6-2 win over the Columbus Clippers, children crowded around the bottom of the stadium to get on the field and run the bases. A caped Wool E. Bull stood at second, waving the staggered groups of children around the base paths.
A lot of the Durham Bulls' players themselves are from other countries and aren't all that familiar with Star Wars. And they have bigger things to worry about, like major league call-ups and the like, than to be too into it anyways.
But manager Charlie Montoya is a bit different.
"I like it," Montoya said. "My kid makes fun of me. He said, 'Why are we doing this May the 4th?' and then 'Oh, May the 4th, I get it. Why do you know that?' We don't have May the 4th in Puerto Rico."
It's uniquely American, certainly. But it brings the inner nerd out in everyone, and for a little good, old-fashioned fun, there's not much better than a Star Wars Night.
---
---