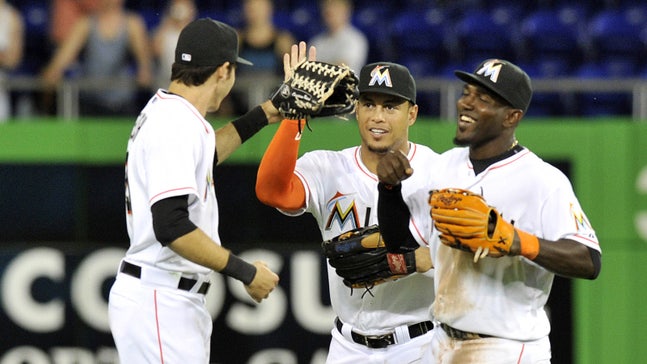 Stanton, Yelich and Ozuna developing as hitters but taking pride in defense, too
Published
May. 14, 2014 12:00 p.m. EDT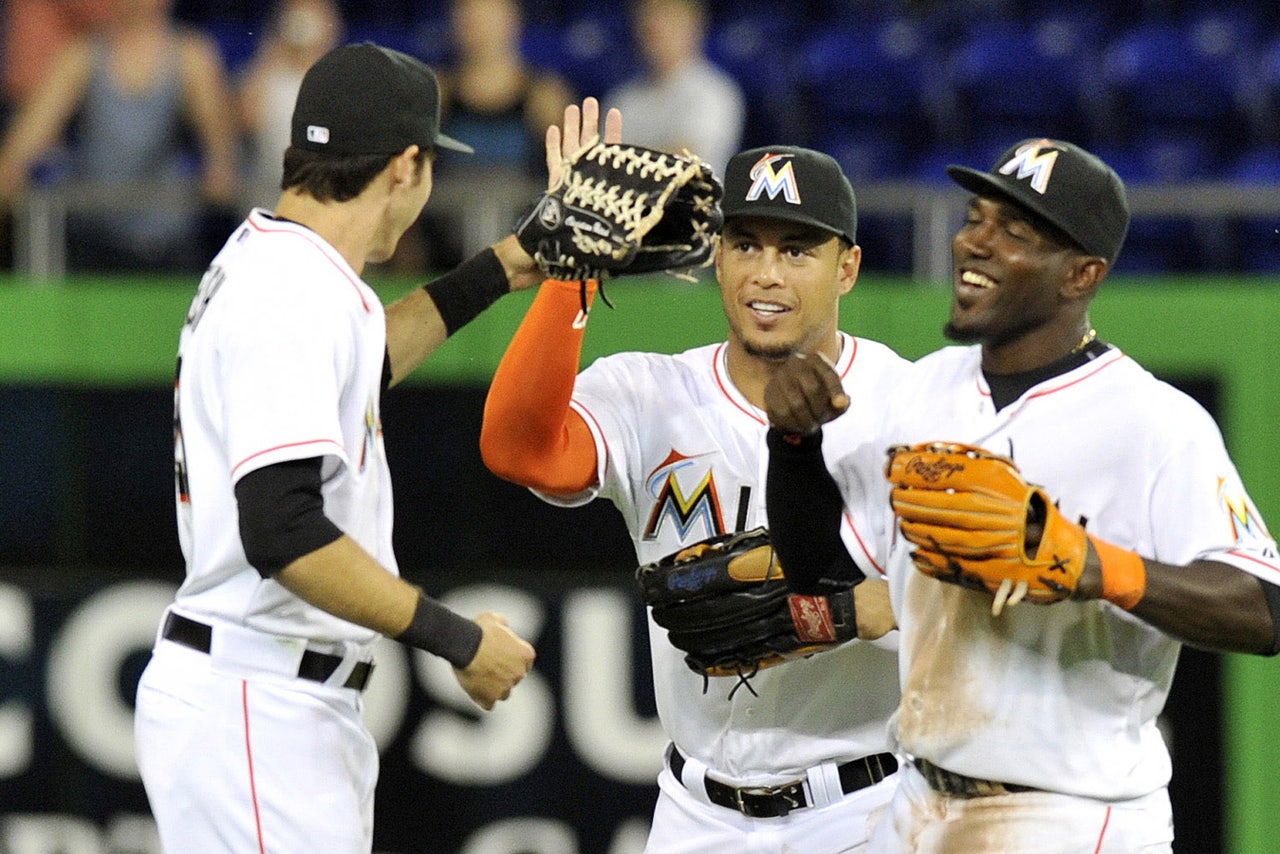 Marlins slugger Giancarlo Stanton garners headlines with his tape-measure home runs, but he takes just as much pride in another element of his game: defense.
''That's what a lot of people overlook when it's all about offense,'' Stanton said.
With second-year guys Christian Yelich in left and Marcell Ozuna in center playing alongside Stanton in right, the Marlins have one of the top young outfields in the game both offensively and defensively.
The trio as well as veteran Reed Johnson posted the fifth-highest average of any outfield in the majors (second in the National League) entering Tuesday with a .283 mark. They are tied for the big-league lead with 77 RBI and third in both runs (73) and home runs (21).
As a valuable asset to the pitching staff, they have recorded six assists and committed four errors (two fielding and two throwing).
HONING THEIR CRAFT
Since the first day of spring training, coach Brett Butler has worked with the outfielders at optimizing their positioning to track down balls. This helps them cover the majority of the field as they seal off gaps.
''It's just study,'' Butler said. ''Try to educate them on that kind of stuff. From there just playing the percentages. They've done a really good of covering each other and communicating. When one moves the other moves with him so they're all in sync.''
Though there has been the occasional close call.
During a mid-April game at Marlins Park, Yelich and Stanton raced for a ball in right-center field. Both called for it, but the roar of the crowd can sometimes make it difficult to hear.
Luckily for the pair, Yelich sensed Stanton -- who he said ''sounds like a horse'' -- at the last second out of the corner of his eye. Following the catch, Stanton threw the ball back to the infield, smiled at Yelich and told him to get out of the way.
The importance of communication cannot be overstated when plays like this one tempt fate.
''Outfield collisions can be pretty dangerous,'' Yelich said. ''You don't ever want to see them happen. People get hurt like that. Fortunately we were able to avoid one another. Communication is really the main thing that prevents that kind of stuff. It's something you go over Day 1 in spring training to get familiar with the guys you're playing with.''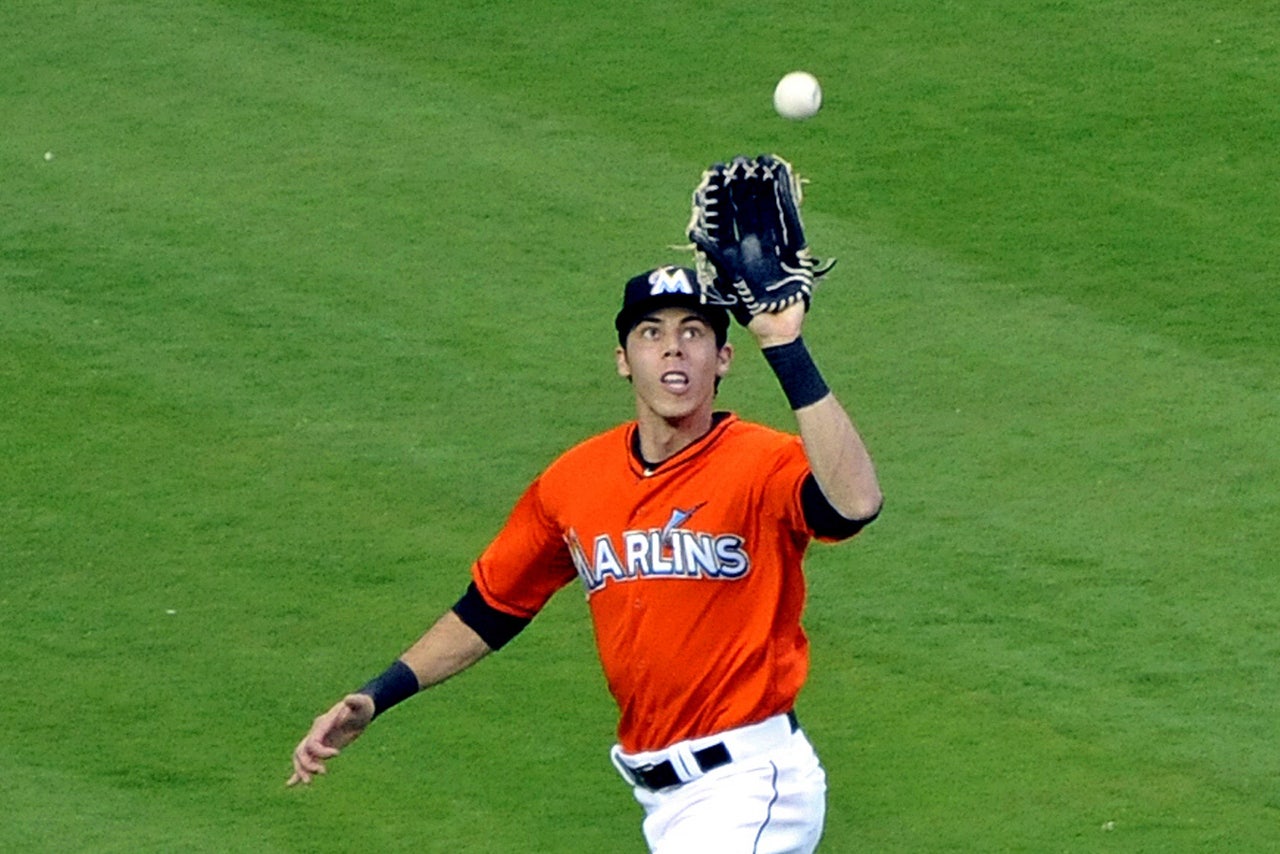 Marlins manager Mike Redmond has noticed Christian Yelich's comfort in left field, including his improved footwork.

There are various challenges that arise over the course of the season that a club must deal with.
For one, the trio of Yelich, Ozuna and Stanton had never played together until Opening Day. Ozuna went on the disabled list with a season-ending injury last July, and Yelich earned his big-league call-up. It takes time to realize guys' abilities and tendencies.
Another hurdle they must overcome? Ozuna's first language is Spanish, so communication can sometimes get lost in translation.
''It's very important, especially for the center fielder to be able to control it out there,'' Butler said. ''When you have a language barrier you've got to make sure as young players they don't take their offense out on defense.''
Added Yelich: ''You just have to make sure you're loud and wave your hands. There's other stuff you can use to communicate (other) than verbal. Sometimes the stadium gets pretty loud and you can't hear each other. You need an alternative.''
The fact the club has a pair of center-field-caliber players works in its favor.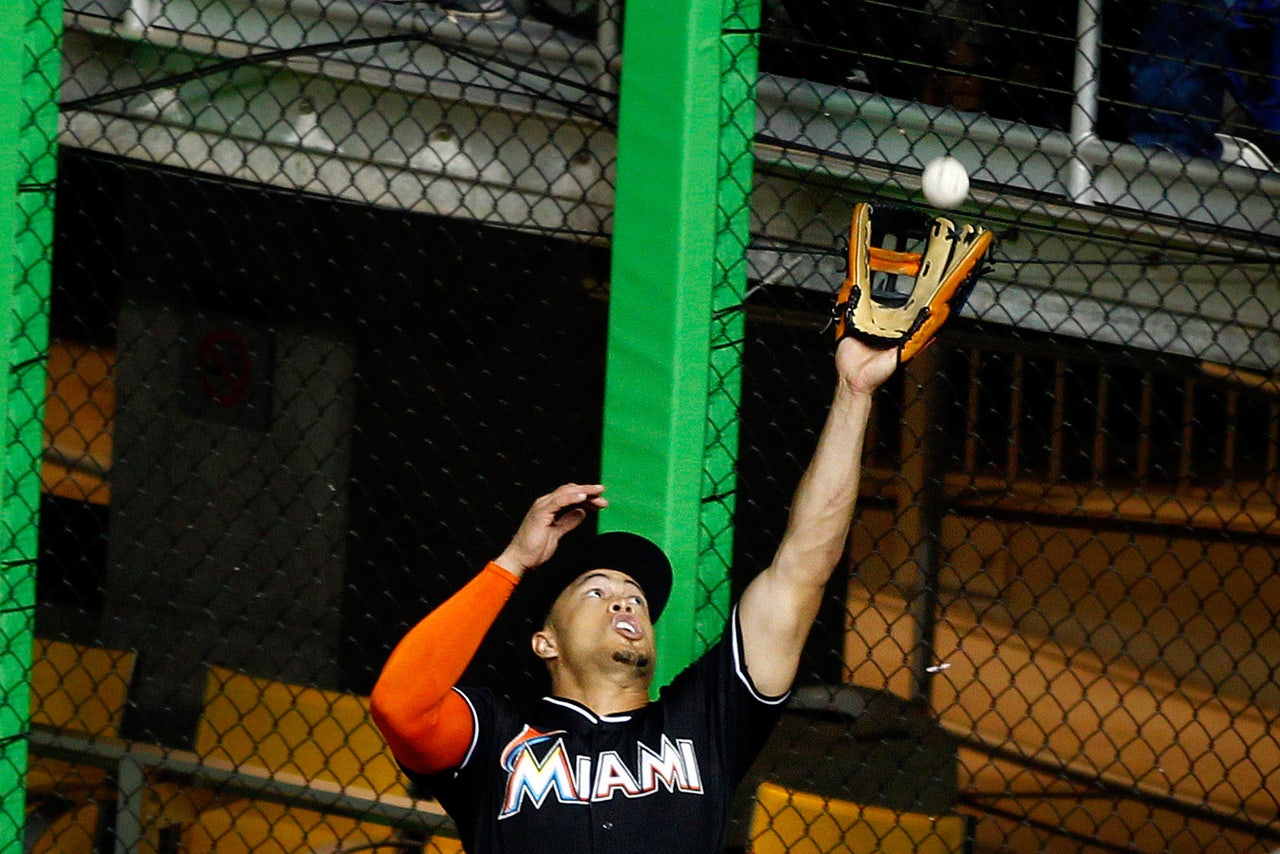 Giancarlo Stanton's improved defense in right field has been an encouraging sign.
Yelich played in center 162 times in the minor leagues and has started there on three occasions when Ozuna has gotten a game off this year. He has seen action in 93 games in left, 34 shy of his amount over four minor-league seasons.
''I really noticed a comfort level out there in left field for him,'' manager Mike Redmond said. ''He seems to be getting better and better. That's a great sign. His arm's getting stronger. His footwork has really improved in the outfield as far as getting to balls. He looks great. Fundamentally, he looks really sound. He covers a lot of ground out there.''
Possibly the most encouraging news of the early season has been the play of Stanton in right field. After missing 42 games last year with various injuries, the 24-year-old has gotten off to a fast start by playing in each of the club's 40 contests.
Even though a ball scooted over his glove during the Mariners series last month, permitting Dustin Ackley to race home on a three-base error, Stanton was in the correct position. He also made a miscue in Washington.
''I'm seeing effort on defense,'' FOX Sports Florida analyst and former Marlins outfielder Preston Wilson said. ''You can tell people who really love the game. There are some guys who like to hit. There are guys who love the game. You can tell he loves the game because working on defense you've got to work.''
What the Marlins outfielders have also been able to do is keep runners from advancing a base whether it be cutting off a ball before a gap or positioning for a throw.
Their mere presence and reputation can make a player think twice about being aggressive on the basepaths. Entering Tuesday's game, Yelich (56 percent), Ozuna (61 percent) and Stanton (63 percent) have forced runners to hold at a rate well above league average.
''As an outfielder, the best throw you can possibly make is the one you don't have to make,'' Wilson said. ''If you charge the ball hard, get to it quick and get in a good position to make a good relay throw or just charge it hard... That's what saves runs more than people throwing guys out at the plate.''
Marlins ace Jose Fernandez enjoys shagging fly balls in the outfield during batting practice. Trying to cover that amount of ground gives him an appreciation for what the outfielders behind him do on a daily basis.
Not only does their play save outs but also pitches that allow their teammates to go deeper into games.
''Our outfielders do a nice job,'' Redmond said. ''They get to a lot of balls, especially (at Marlins Park). That's so big and important. To be able to hit the cutoff man and all of them have improved their footwork. They've worked hard on their defense because they know how important it is.''
You can follow Christina De Nicola on Twitter @CDeNicola13 or email her at cdenicola13@gmail.com.
---