Stanton injured as Cardinals grind out win over Rams
BY foxsports • December 11, 2014
ST. LOUIS -- Drew Stanton hopped off the field to the bench and was carted off with a right knee injury.
For the second straight meeting against the St. Louis Rams, the Arizona Cardinals lost a quarterback.
They won both times, thanks to strong defense.
Chandler Catanzaro kicked four field goals and the Cardinals overcame the loss of Stanton with their stifling defense, moving closer to clinching a playoff spot with a 12-6 victory over the St. Louis Rams on Thursday night.
Larry Foote had a sack and fumble recovery.
Coach Bruce Arians said Stanton had a previous knee injury so will need an MRI exam to determine the extent of the damage.
The Rams (6-8) were held to Greg Zuerlein's two short field goals and had five three-and-out series in the third quarter. Catanzaro's 23-yard field goal early in the second quarter ended nine quarters of shutout defense by St. Louis, which beat Washington and Oakland by a combined 76-0 the previous two weeks.
"I thought our defense played well enough for us to win," coach Jeff Fisher said, but quickly added a turnover would have been nice.
"In situations like this, when your offense is struggling, your defense has got to make a play. We were close."
The Rams were eliminated from playoff contention.
Ryan Lindley was ineffective in his first appearance since 2012 in relief of Stanton, who injured his right knee on a sack in the third quarter, but it didn't matter. The Cardinals lost Carson Palmer to a season-ending knee injury during their 31-14 home victory over St. Louis last month.
Kerwynn Williams was the Cardinals' offensive standout with 75 yards on 15 carries. Stanton was 12 of 20 for 109 yards and Lindley was 4 of 10 for 30 yards.
The Cardinals (11-3) entered tied for the top overall record in the NFC and will clinch a playoff spot if Sunday's Dallas-Philadelphia game doesn't end in a tie, or a Detroit loss combined with a Green Bay victory.
"My first time with 11 wins. I'm happy," cornerback Patrick Peterson said as he walked into the locker room.
Rams players had no apparent protests relating to unrest in nearby Ferguson. Two weeks ago, five players did the "Hands Up, Don't Shoot" pose coming out of the tunnel during pre-game introductions, and last week players wrote "I Can't Breathe!!!" on wrist bands and cleats.
Rams rookie Tre Mason's fumble gave the Cardinals a short field that set up Catanzaro's first field goal. Frostee Rucker punched the ball free and Foote recovered at the St. Louis 27.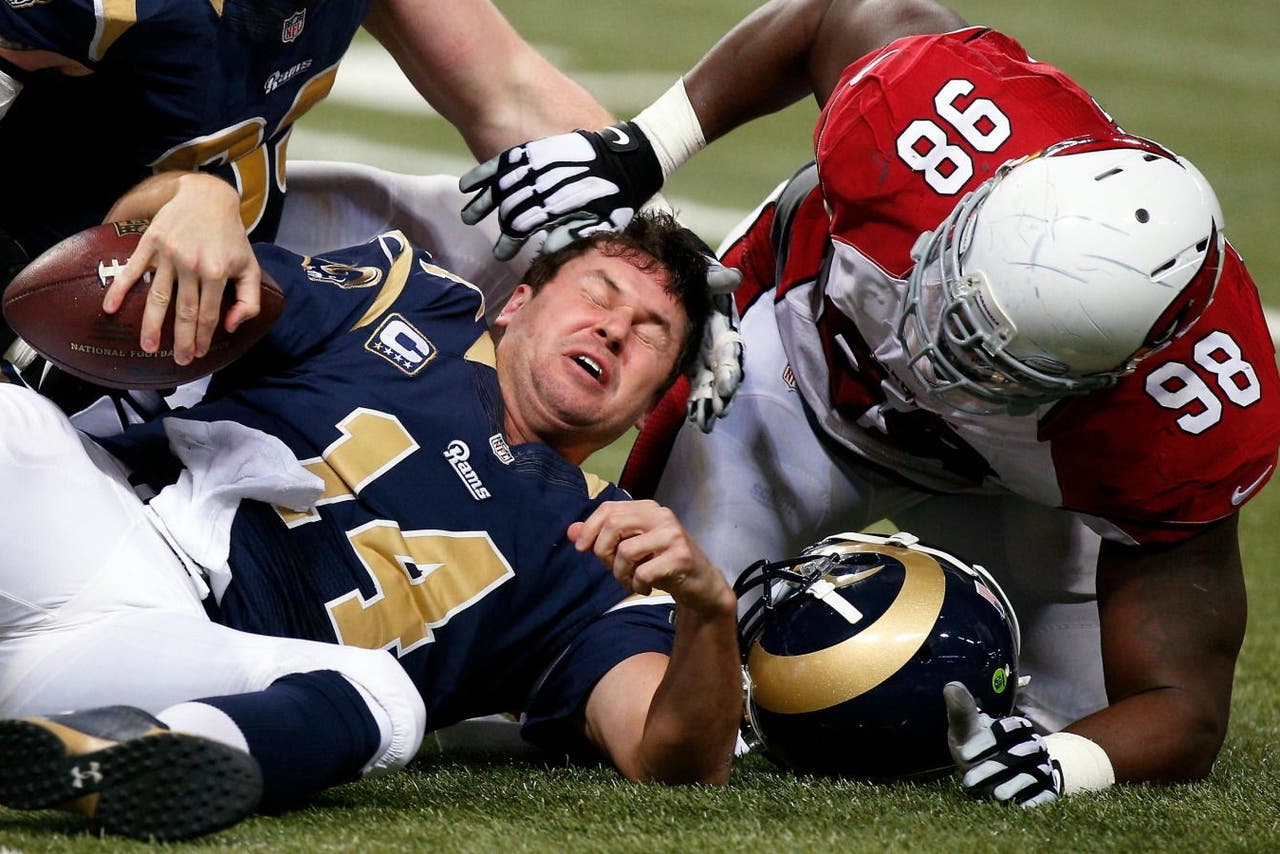 It was the first score given up by the Rams since Nov. 23, when San Diego scored the winning touchdown with just over 8 minutes left in a 27-24 victory.
Michael Floyd's 49-yard reception set up Catanzaro's 44-yard field goal that put the Cardinals up 6-3 midway through the second. Catanzaro made kicks of 51 yards and 46 yards in the second half
Both teams had key defenders active coming off ankle woes. Arizona's Antonio Cromartie and St. Louis' Chris Long had been questionable.
Arizona committed five penalties on its first two possessions, twice wiping out big gains. Shaun Hill was 4 for 4 with completions of 21 yards to Benny Cunningham on a screen and Cory Harkey for 16 yards to set up Zuerlein's 24-yard field goal in the first. Zuerlein missed an extra-point kick and two field goals inside the 40 last week.
Last month, Arizona outscored the Rams 21-0 in the fourth quarter, with two defensive touchdowns, to come from four points down to win 31-14. After that game, St. Louis benched Austin Davis in favor of Hill.
NOTES: Larry Fitzgerald was held in check against a team he's dominated with seven receptions for just 30 yards. Still, at 31 he became the youngest player to 900 career catches. In 22 games against St. Louis, he has 128 receptions and 16TDs, most against any opponent. ... The Rams led at halftime of their previous five home games this season, two of them losses. ... The Cardinals took the lead in the series, 36-35-2. ... Arizona is 7-0 at home and 4-3 on the road. ... The Rams entered with consecutive wins for the first time this season and are 3-4 at home.
---