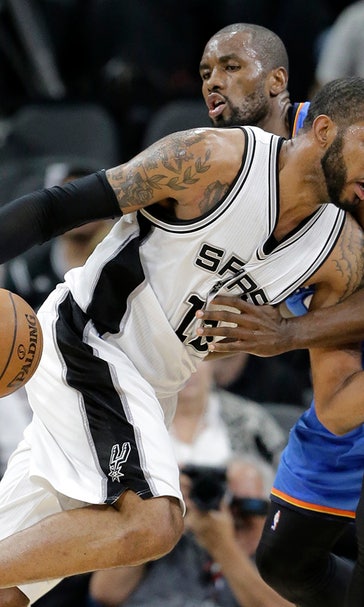 Spurs put frenzied finish in the past, focused on winning in OKC
May 5, 2016

The Oklahoma City Thunder survived a frenzied and controversial finish in Game 2 to seize home-court advantage from the San Antonio Spurs.
The Spurs can regain it by earning a rare playoff win in Oklahoma City when the well-rested teams square off again Friday night.
The Thunder nearly blew a four-point lead in the final 15 seconds before holding on for a 98-97 victory Monday, and the NBA ruled the next day that there were five incorrect non-calls in that closing stretch. Oklahoma City's Dion Waiters was part of perhaps the most high-profile one, pushing Manu Ginobili away with his elbow on an inbounds play with 13.5 seconds to go.
The league also stated that Ginobili should have been charged with a delay-of-game violation for stepping on the sideline as he was defending Waiters. Potential fouls from the Spurs' Kawhi Leonard and Patty Mills affected Oklahoma City's inbounds pass, which was stolen away from Kevin Durant by Danny Green.
LaMarcus Aldridge would have received two foul shots if referees had correctly called a foul on Serge Ibaka for grabbing his jersey when Aldridge was trying to rebound Mills' missed 3-pointer.
Aldridge was 10 of 10 from the line Monday and finished with 41 points in San Antonio's first loss in six games this postseason.
"Now it's our job to react," Spurs point guard Tony Parker said. "Everybody on this team understands that to win a championship, you have to win on the road. So that's our job now."
That could prove to be a challenging one as Oklahoma City has won eight of nine at home, the lone loss coming in Game 2 of its opening-round series against Dallas.
The Thunder have won in 11 of 13 at home against San Antonio, including playoffs, and are 5-1 there against the Spurs in two postseason series since relocating from Seattle.
"We have to come into the game like we're down 0-2," Waiters said. "We know that's how they're going to approach the game. We know they're going to come in and do what they do. We have to match their intensity.
"We know it's important to take care of home-court advantage. We have to come in with the mindset of coming in to win and compete, play hard as possible and play smart."
Oklahoma City averaged 111.5 points and 50.3 percent shooting in two home victories over San Antonio this season, but the Spurs' top players sat out a 111-92 defeat March 26.
Kawhi Leonard was dealing with a bruised right quad while Aldridge, Tim Duncan, Ginobili and Parker were given the night off.
Those five will try to get San Antonio off to a better start than in Monday's defeat, when Oklahoma City scored 17 of the first 21 points. San Antonio missed 12 of its first 13 shots and finished at 42.6 percent after connecting at 60.7 in a 124-92 rout in Game 1 on Saturday.
"We have got to be sharp. We have got to be better, have a better start," said Aldridge, who scored 38 points in the series opener. "We have to focus offensively and defensively, just be locked in and all the way around better."
Aldridge, making his first postseason visit to Oklahoma City, was held to 11 points on 4-of-12 shooting in his only game there this season, a 112-106 defeat Oct. 28.
Leonard has totaled 58 points and shot 62.2 percent in his last two road games against the Thunder. His 32 points Oct. 28 tied his career high at the time.
Oklahoma City's Russell Westbrook, who scored a team-best 29 on Monday, averaged 31 and 53.7 percent shooting in the two home games against San Antonio this season.
---
---