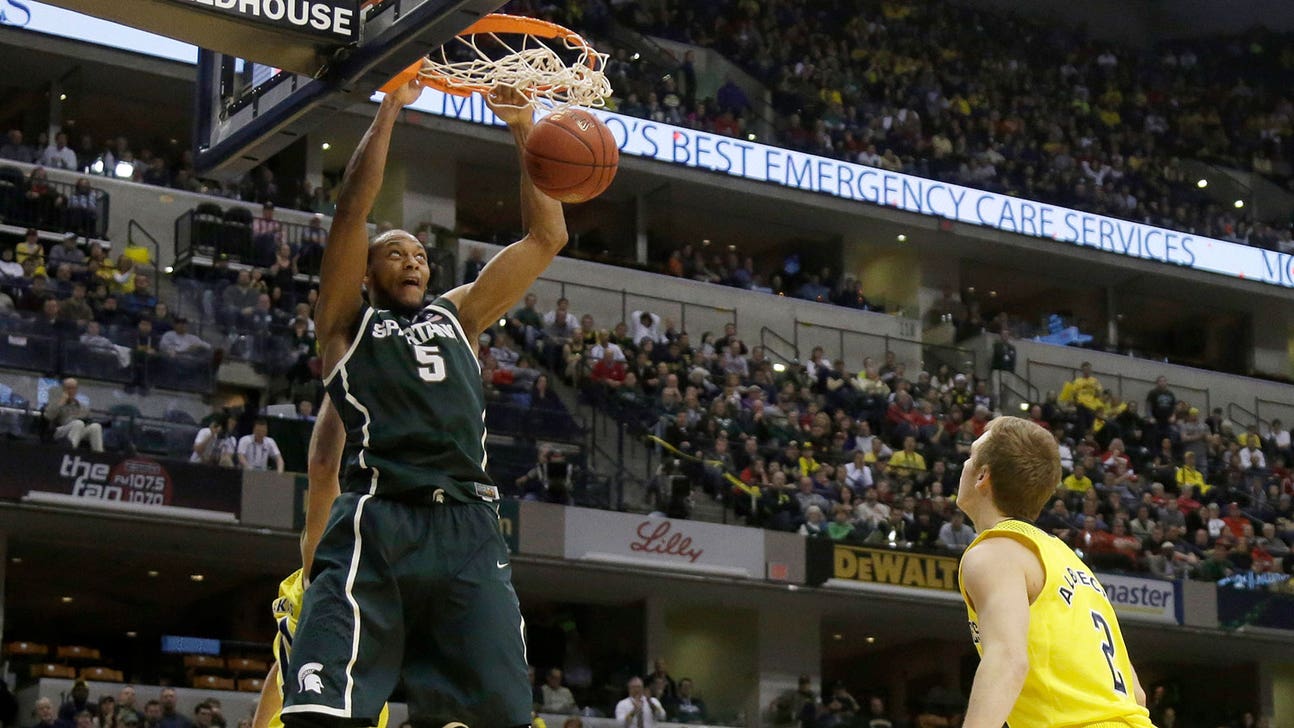 Spartans rout Wolverines for Big Ten tournament title
Published
Mar. 16, 2014 5:53 p.m. ET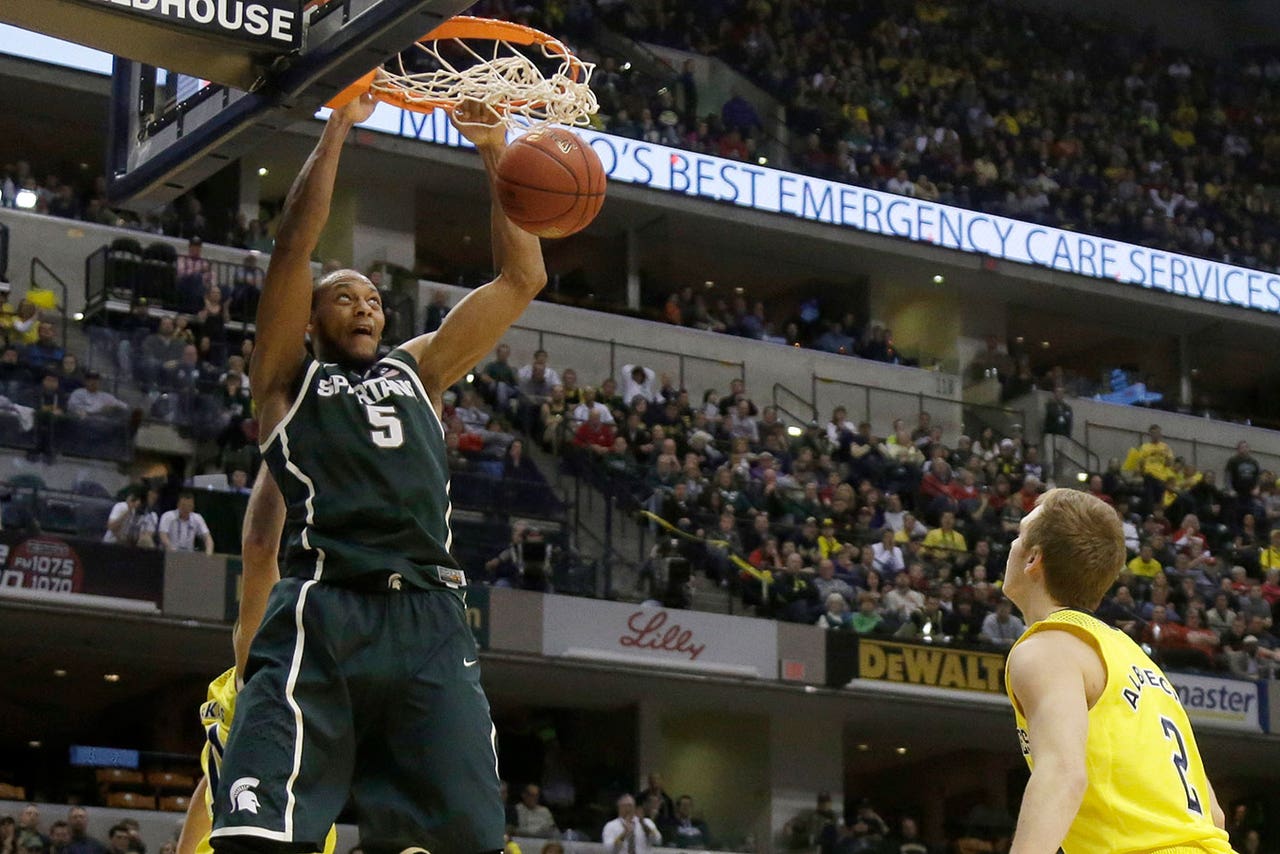 INDIANAPOLIS (AP) -- Tom Izzo likes this postseason look.
No. 22 Michigan State is getting hot and healthy just in time for the start of the NCAA tournament.
Adreian Payne finished with 18 points and nine rebounds and Branden Dawson added 15 points to help the third-seeded Spartans overpower No. 8 Michigan 69-55 on Sunday for its fourth Big ten tournament title.
This is not the same team that frustrated Izzo for so much of the season. Nope, these Spartans are starting to round into their usual March form.
"You don't get many teams that are talented, have inside and outside, show toughness, are together, have great chemistry," Izzo said. "I've said three times in my career that I thought we were good enough to get to a Final Four. I thought this team was next in line."
Perhaps, though the Spartans apparently needed to do more than win three games in three days and four of their last five to get their preferred NCAA tournament destination.
Michigan State (26-8) wound up with the No. 4 seed in the East Regional and will open tourney play Thursday against 13th-seeded Delaware in Spokane, Wash. Izzo was hoping to stay in the Midwest where the regional round is being played in Indy, one of the Spartans' favorite cities.
Sunday's victory allowed Michigan State to pull off a rare double -- winning the Big Ten football and basketball tourney titles -- in venues less than a mile apart. Izzo won his only national championship in Indianapolis, played here in the 2010 Final Four and won a 2009 regional at Lucas Oil Stadium, a win that sent the Spartans to the Final Four in Detroit.
And he's not the only one who likes coming back.
Gary Harris, Indiana's 2012 Mr. Basketball, scored 13 of his 15 points in the first half to help the Spartans get started Sunday. He went to the bench early in the second half after hurting his left shoulder but returned later.
Dawson, another Indiana native, scored 10 of his 15 points in the second half and was named the tourney's Most Outstanding Player.
"It feels great to just have our rhythm and chemistry back and to see us playing that way as a team," Dawson said.
The loss snapped a seven-game winning streak and may have cost Michigan a top seed in the NCAA tourney, but it could be back in Indy in two weeks.
Last year's national runner-up and this year's Big Ten regular season champs drew the second seed in the Midwest. The Wolverines (25-8) will play Thursday against 15th-seeded Wofford, a team that has some inside information on Michigan. Wofford assistant coach Darris Nichols was coach John Beilein's point guard at West Virginia.
Michigan came into the weekend with the top seed, their first outright league title in 28 years and a chance to amend for the frustrations of past Big Ten tourneys.
Instead, three games in three days -- two that went down to the final shot -- seemed to sap Michigan of its energy and its shooting touch.
The Wolverines shot 31.5 percent from the field, nearly matching their season low of 31.1 percent in a November loss at Charlotte. They were also outrebounded 38-28 and needed a 3-pointer from Zak Irvin with 49 seconds left just to avoid matching its lowest point total of the season.
Big Ten player of the year Nik Stauskas finished with 17 points and was selected to the all-tournament team. Derrick Walton Jr. had 11 points and was the only other Michigan player to reach double figures.
"They were definitely a hungry team from the jump ball," Stauskas said. "They deserve this one. They played a great game, they got every loose ball, every rebound and they just played harder than us today."
The difference may have been continuity and rest.
Michigan State used the same starting five for the fifth straight game, the first time that's happened all season.
And while the Wolverines were trying to sneak past Illinois and Ohio State, the Spartans reached the title game by routing Northwestern on Friday and handling Wisconsin rather easily in the semifinals.
Michigan was in trouble right from the start.
The Spartans used a 12-0 run to take a 16-9 lead and never gave it up. They led 25-14 midway through the first half after getting Michigan's top two big men -- Jordan Morgan and Jon Horford and drawing a technical on Beilein.
Harris ended the half emphatically, too, taking a pass at midcourt and driving right through Michigan's defense for a one-handed dunk to make it 38-29.
Michigan State then opened the second half with eight straight points to extend the lead to 46-29. Michigan never got closer than 10 again.
Izzo couldn't have come up with a more perfect script for March.
"The biggest thing we needed was to play three games," Izzo said. "We needed more and more games together. We're starting to feel the rhythm again. Other years, I never wanted to lose right away, but if your team is worn out or something and it's not going to change your seeding much, you look at it differently. This year was very important that we moved on."
---