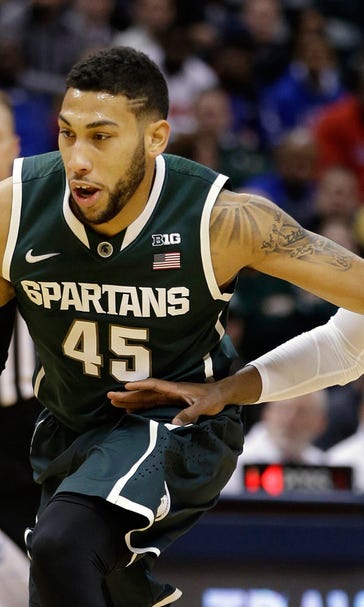 Spartans bested by Blue Devils, 81-71
BY foxsports • November 18, 2014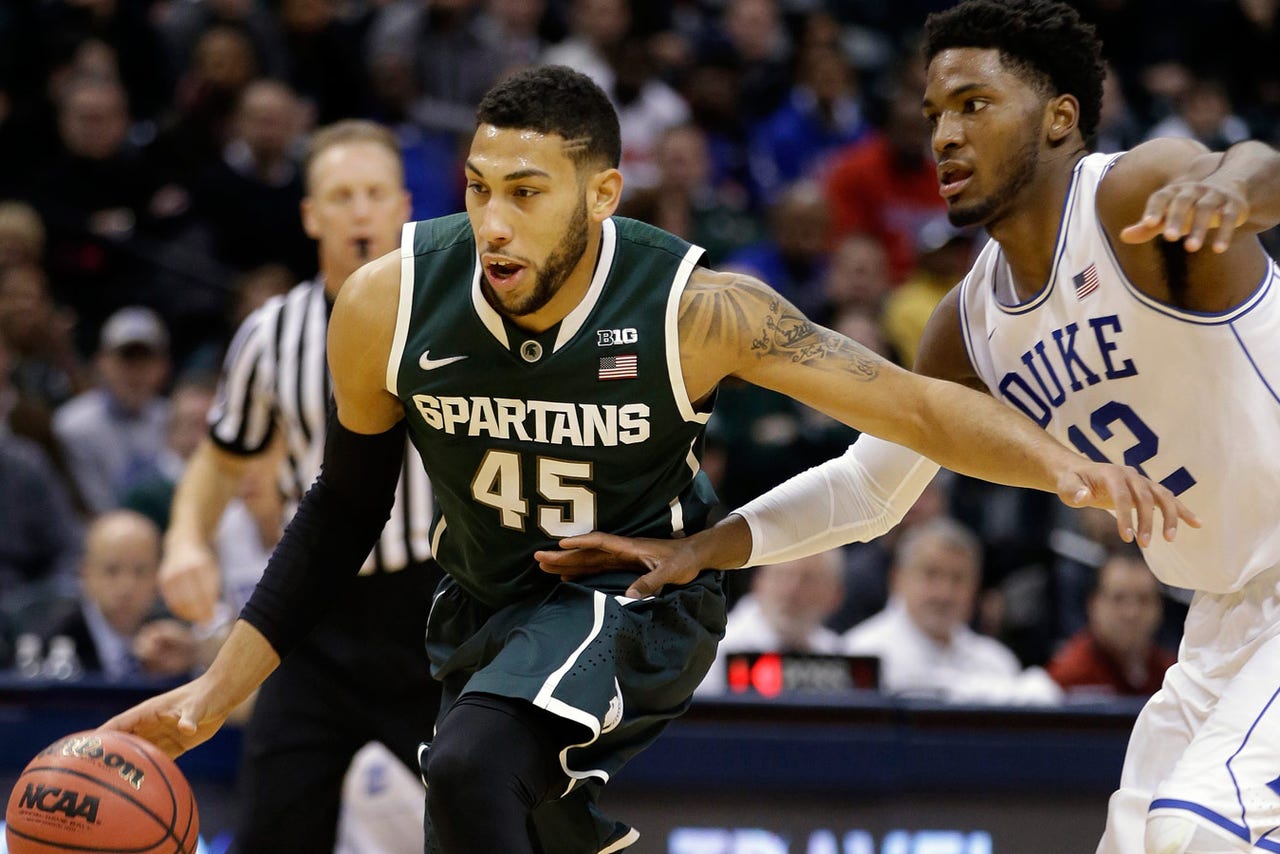 INDIANAPOLIS -- Michigan State coach Tom Izzo believes his team will get better in time.
He just has to be patient, stick to the game plan and survive some of the growing pains the Spartans endured Tuesday night.
Quinn Cook scored 19 points and Jahlil Okafor finished with 17 points and five rebounds, leading No. 4 Duke to an 81-71 victory over No. 19 Michigan State in the State Farm Champions Classic.
"It's hard to judge my team until I get my guards back, but I'll probably take away more positive than negative," Izzo said. "I love this tournament. I think it's great for college basketball and then next time we play in it, we'll be a much better basketball team. I can promise you that."
He's hoping they're good enough by April to return to Indianapolis, the site of this year's Final Four, and perhaps a rematch with the Blue Devils (3-0).
The Spartans (1-1) were led by Branden Dawson with 18 points and nine rebounds. Travis Trice had 15 points and eight assists.
That wasn't good enough against Okafor, who watched the showcase event last year trying to pick a school. On Tuesday, he methodically picked apart one of America's perennial powers.
"I thought I played decent, but as a team we played great," Okafor said after the Blue Devils' third straight double-digit victory. "It was a really big win for us. They gave us a lot of challenges."
Okafor overcame most of them in his first big NBA audition.
Against the defending Big Ten tournament champs, the 6-foot-11 freshman who is already considered a lottery pick showed everyone he can post up, drive to the basket, spin away from defenders, back them down and draw fouls. He blocked two shots, had two steals and finished 8 of 10 from the field. Okafor even wound up surviving foul trouble thanks to his teammates' contributions.
Cook, Justise Winslow and Tyus Jones put the game away with a 13-3 run that extended Duke's 51-48 lead to 64-51 with 7:58 left in the game. Michigan State never led, and Duke (3-0) has trailed for just 18 seconds this reason.
Duke looked right at home on the Indiana Pacers' home floor, making their first seven shots and pulling out to a 14-9 lead. They extended the margin to 27-17 with 8:51 left in the first half.
The Spartans spent the rest of the night playing catch-up, finally getting as close as 51-48 with 13:54 left before Duke pulled away.
TIP-INS
Duke: The Blue Devils have won four straight in this series, including twice in the Champions Classic. The first win over Michigan State in the event gave coach Mike Krzyzewski the career record for wins. He now has 985.
Michigan State: Izzo often calls Indianapolis one of his favorite cities because he's had so much success in town. He won the 2000 national championship at the RCA Dome. He's won multiple Big Ten tournament titles here and in 2009 he punched his ticket to the Final Four in Detroit with a regional final win over Louisville at Lucas Oil Stadium. But he's also sustained some tough moments here, such as the 2010 national semifinal loss to nearby Butler and his first loss this season.
UP NEXT
Duke faces Temple in the Coaches vs. Cancer Classic at Brooklyn, New York on Friday.
Michigan State hosts Loyola (Ill.) in its home opener on Friday.
POINT OF EMPHASIS
Normally, Michigan State is one of the best defensive teams in the country. Not against Duke. The Blue Devils shot 54 percent from the field, 7 of 14 on 3-pointers and outscored Michigan State 24-4 on points off turnovers. "We're not a very good defensive team yet and I don't think we will be until we get some subs and until we get some pattern and substitutions."
SCORING SPREE
Duke topped 100 points in each of its first two games this season, the first time they've done that in consecutive games since 1997-98. If their big three keep playing this way, the Blue Devils could be one of the nation's highest scoring teams. Cook was 7 of 12 from the field, Jones 4 of 5 and Okafor 8 of 10 -- a combined 61.3 percent. But the rest of the team was 8 of 23, numbers that must improve if Duke plans to return to Indy for the Final Four in April.
---