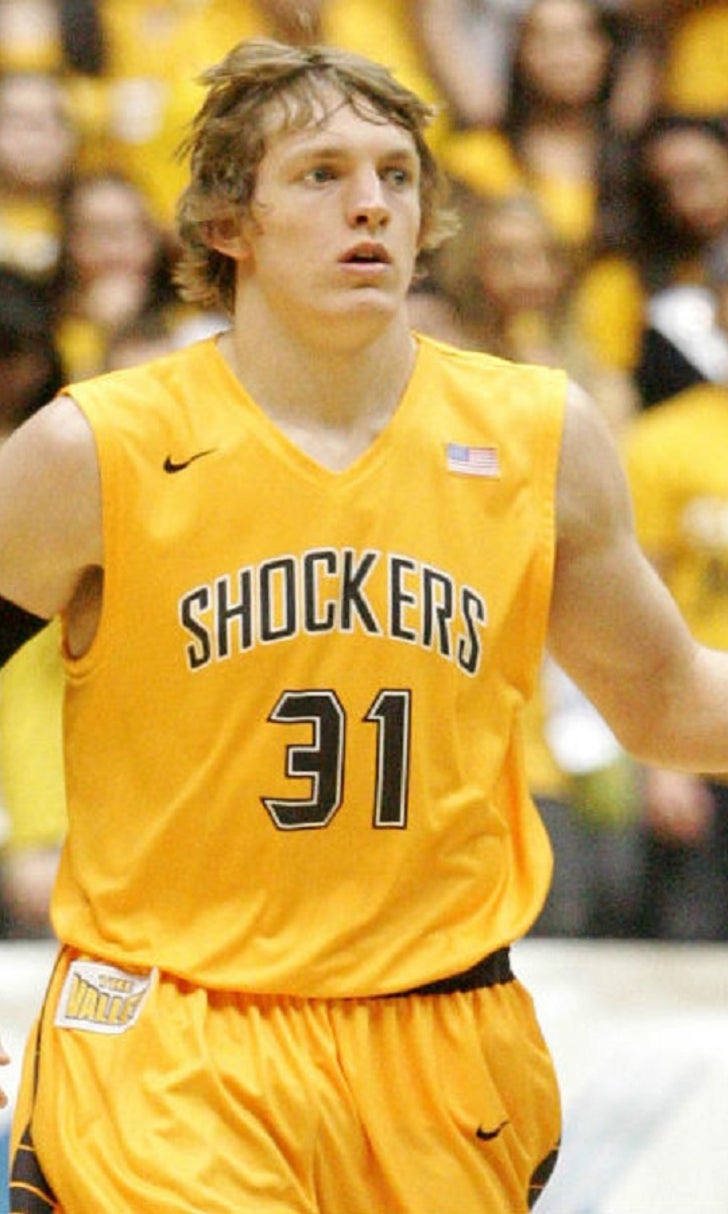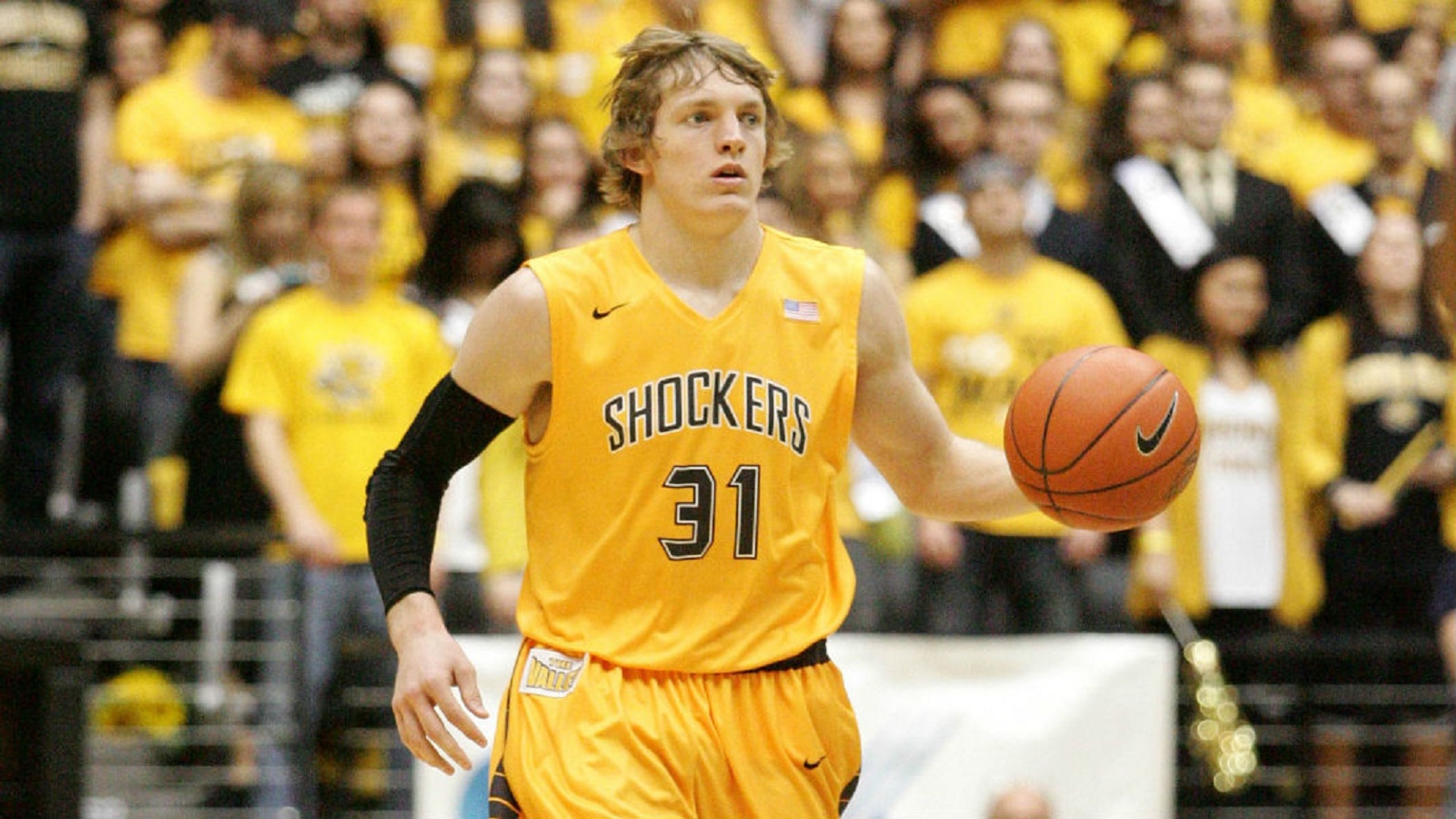 Sorry, ladies: Wichita State's Ron Baker will NOT marry you (but he's flattered you keep asking)
BY foxsports • March 22, 2014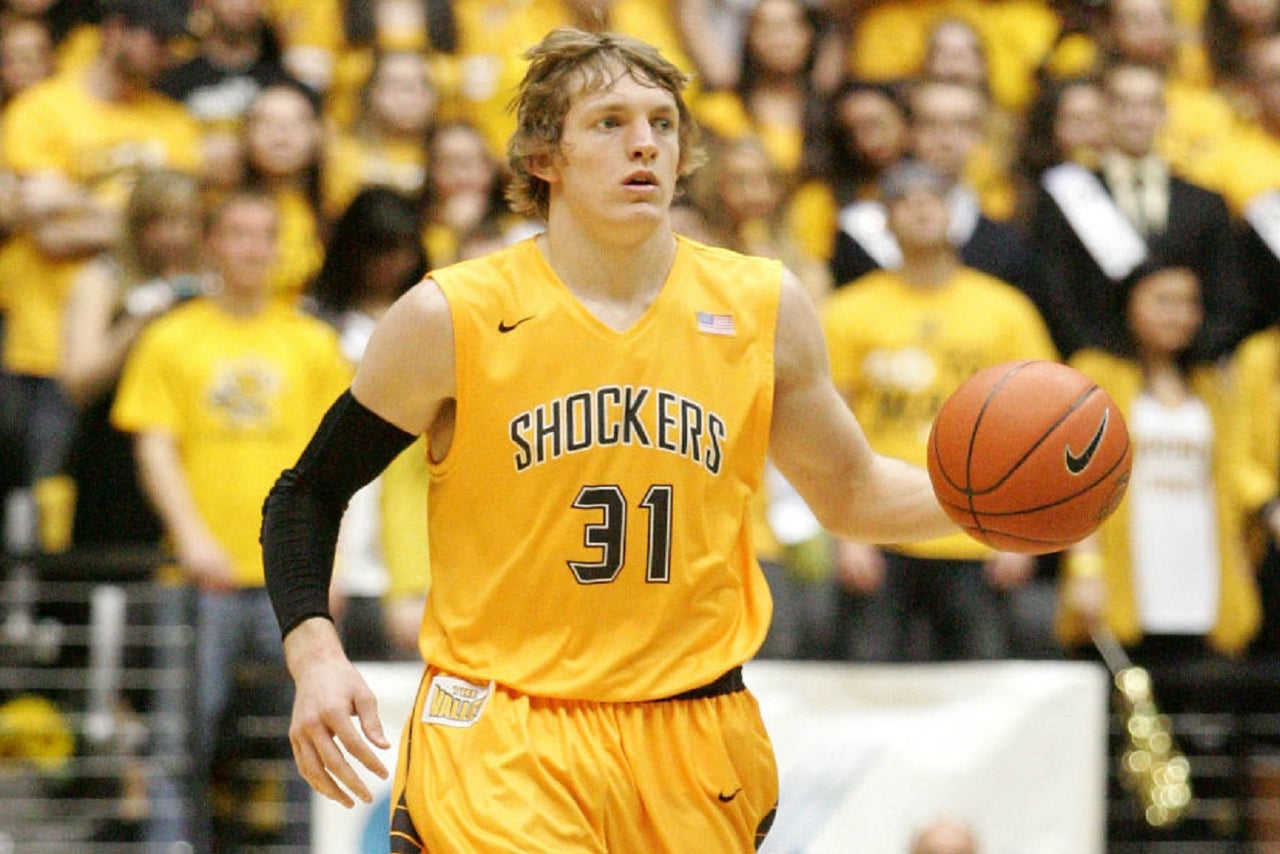 ST. LOUIS -- Ron Baker will not marry you.
He will not go to your prom, sight unseen.
He will not meet your parents.
He will not be your Facebook friend.
Or follow your Twitter feed. Or click on your YouTube video. Or read your Tumblr. Or troll your Instagram account.
And before you throw the iPhone across the room or start firing off hate tweets, it's not that he doesn't like you.
It's that he doesn't even freaking know you.
"Fans -- not just girls. Kids, adults, everybody's trying to be your friend," the Wichita State Shockers guard told FOXSportsKansasCity.com before Sunday's third-round meeting with Kentucky in the NCAA Tournament. "It's a good thing. But sometimes, it just gets a little too much."
When you're 6-foot-3, when you're built like a linebacker, when you're blessed with a mop of boy-band blond hair that flops around when you play, when you're a Sports Illustrated cover boy from Scott City, Kan., (expletive) gets ...
Well, we won't lie. It gets weird.
And Baker tells this story:
It's a few months back, and he's walking from practice to his truck. Even with his hood up, the Shocker star notices a young girl -- maybe 12, 13 years old -- starting to trail him.
So he's in the driver's seat, adjusting the radio, and generally defrosting in the parking lot.
When he lowers his hood, he notices this same little girl is now standing directly in front of the truck, staring at him.
"And staring at me for a good amount of time," Baker said.
So he waves.
"And she looked at me all crazy and waved at me," he recalled. "And then sprinted off. Just took off running, screaming, just for no reason."
None? No explanation?
"Nope. Looked at me in amazement that I'm human. That I do breathe oxygen."
This just in: Ron Baker breathes oxygen.
Also, random pre-teens in Wichita occasionally get slightly stalker-y, waltz in front of his truck and stare at him. Random girls point and giggle at him when he walks through the mall or stops to get gas. That's assuming they don't stop and ask to get their picture taken with him or ply for an autograph.
"When he would answer questions for our 'Go Shockers' Twitter account, some girl asked him to marry her," forward Darius Carter recalled. "And it seemed like she was really serious about it."
Again, he doesn't even freaking know you.
Things got so insane on social media that Baker -- as nice, as patient, as courteous and as well-spoken a young man as you'll ever meet -- just said to hell with it and deleted his Facebook account.
"Sometimes, as a 20-year-old, you don't need Facebook," Baker said. "It's just a little too much for me at the moment."
==
It's been a year since Baker was thrust into the national spotlight. A year since he was pushed to center stage at the Big Dance, since he scored 16 points against top-seeded Gonzaga in the 2013 NCAA tourney, this rural kid with the Luke Skywalker hair and the Luke Skywalker smile actually skywalking over the Zags and Ohio States of the world.
"Yeah, he's quite the favorite of a lot of people," Shockers coach Gregg Marshall said. "But especially young ladies. And some older ladies as well."
Girls love him. Opposing fans hate him. Opposing coaching staffs stay up all hours of the night figuring out ways to keep him in check. Because there isn't much, at first blush, that Baker doesn't bring to a backcourt, whether it's shooting from distance (1.8 3-point makes per game), threading the needle on the break (3.1 assists per game) or getting a hand in the opponent's passing lanes (1.5 steals per game).
If Marshall needs to post him up on the block, he can post him up on the block. If he needs him to spell Fred VanVleet at the point, he can handle that, too. In 13 months as a starter with the 35-0 Shockers, Baker has lost one game: Last April's national semifinal contest against Louisville in Atlanta.
"He's a really good player," BYU coach Dave Rose said earlier this season after Baker dropped 23 points and seven boards on the Cougars in Kansas City. "We had a hard time with him. His size, his physical presence and his skill level (were) really good."
Chances are, he'll have to be good again Sunday, given the Wildcats' front line and the block of granite on two legs that happens to be Kentucky rebounding machine Julius Randle.
The Kansas State Wildcats walked away from the 8-9 game late Friday night proclaiming Kentucky to be the biggest, most physical team they'd seen since rival Kansas. And one assistant coach at Scottrade Center intimated Sunday's matchup might very well come down to how closely the game gets called. The Shockers make 72.5 percent of their free throws, the Wildcats, 68.3 percent; Wichita is 3-0 in games decided by five points or fewer, while UK is 2-8.
Regardless, Big Blue will be the best team the Shockers have played to date, whether you roll with the eye test, the NBA test or the Pomeroy test, or all of the above. The 'Cats have an RPI of 14; Wichita picked up neutral-court wins in November and December versus Tennessee (RPI: 38) and BYU (36) and away victories versus Saint Louis (24) and Alabama (121). As common opponents go, Team Play Angry beat the Vols 70-61 on Dec. 14 at InTrust Arena in downtown Wichita and won at 'Bama, 72-67, on Dec. 17. Kentucky beat Tennessee by eight at Rupp Arena on Jan. 18 and the Tide by seven at home on March 4.
So, basically, push.
But to the rest of America -- or, hell, pretty much everybody outside the 316 -- this is the first big-stage, national litmus test, the game that may largely affirm how the season's 35-0 start, the first 35-0 start to a single season in Division I men's basketball history, is judged. Now and forever.
"Well-coached team, tons of talent," Baker said. "There's nobody on our schedule that compares to them. It's going to be a great game to show the nation what we're capable of."
There's an emotional sidebar, too, considering that Baker grew up watching the Big Blue. Or rather, watching his dad watch the Big Blue. Neil Baker, Ron's father, had friends in Kentucky, was a Kentucky fan, and a Tubby Smith fan, in particular. Ron grew partial to Jodie Meeks, but as far as loyalties go ...
"(It was) just when we were watching games together," Baker said with a puckish smirk. "I told my Dad I was rooting for Kentucky when I was really rooting for KU."
==
Hey, Bieberrrrrrrrrrrrrrrrrr!
Indiana State fans tossed that one at Baker here two weeks ago, referencing troubled pop star Justin Bieber, during the championship game of the Missouri Valley tournament. Over and over again.
Hey, Bieberrrrrrrrrrrrrrrrrr!
Bieber went for 14 points, drained eight of nine from the charity stripe, dished out three assists, and the Shockers rolled, 83-69.
Hey, Bieberrrrrrrrrrrrrrrrrr!
"It's crazy like that," Shockers forward Chadrack Lufile said. "I'll be on my Instagram (account) sometimes and some girl will hit me and be like, 'I'm in love with Ron Baker.' These are grown women -- do you know what I'm saying? (They're like), 'Do you know Ron Baker? Do you have his number?' And I'll be like, 'I can't do that.'
"I've seen a lot of girls when I go out, (they ask), 'Is Ron Baker with you?' No, he's not with me. 'Do you have his number?' It's gotten to the point where I've got to hide myself because of him."
It's gotten to the point where Baker sometimes has to hide himself because of him, too.
"Yeah, sometimes, publicity, it does get out of control," Baker said. "You've got to know when to go out and when not to. I do have to not go out sometimes. I mean, that's just how it is. I'm not bragging about it. You just need personal space."
This just in: Ron Baker breathes oxygen. He's human.
"€œThere are times where you want to not talk to people,"€ the Shockers guard shrugged. "Everybody has those days. It'€™s just at this time of year, people are trying to be your friend. They want to be involved with all this success. And that's just life."
"We're always like little girls, we go, 'OH MY GOD, IT'S RON BAKERRRRR!'" Carter said, his pitch rising to a squeak. "But he just laughs it off. He enjoys it."
Sometimes. When the Shockers returned from the Missouri Valley tournament, a throng of fans in Wichita was waiting to greet them. At one point, above the din, a girl's voice could be heard:
Ron Baker, will you go to prom with meeeeeeeeeee?
Oh, did he take crap on the team bus for that one.
"He's definitely (Justin) Bieber in the city of Wichita and the state of Kansas," teammate Nick Wiggins said.
"It's nothing compared to Bieber," Baker noted. "But there are a lot of eyes on you when you go places."
Crazy eyes, too, apparently.
"One year," Baker said, "can change your life."
In March, one game can, too.
You can follow Sean Keeler on Twitter @seankeeler or email him at seanmkeeler@gmail.com.
---