Nathan Eovaldi
Nathan Eovaldi
So about this new-and-improved Eovaldi...
Published
Aug. 19, 2015 2:55 p.m. ET

Wednesday, Yankee right-hander Nathan Eovaldi took a no-hitter into the sixth inning against the Twins. Then in the sixth, the Twins batted around. Before that, though, I eavesdropped on Michael Kay...
Nathan Eovaldi had 15 career wins coming into this year. He gave up the most hits in the National League last year. And the Yankee organization looked at him, knew the pitching coach that they had, and said, "You can't teach a hundred miles an hour, but maybe we can teach him to be a better pitcher."

And Rothschild worked with him, the splitter's become a weapon, other Yankee players have talked to him about the approach, and he's become a very viable starter.

Now you look at his numbers, and his numbers, other than the won-loss record, don't jump out at you. But Kenny, if you look at his last nine starts, all of the numbers are much better. At the beginning of the year, he was closer to the Eovaldi of the Marlins last year. Now he's evolving into a very good pitcher.
I don't know, man. If you look at Eovaldi's whole season, he looks exactly like the Eovaldi of the Marlins (and before that, Dodgers). Eovaldi's percentages this season almost exactly match his career marks; home runs per nine innings, walks per nine, strikeouts per nine ... they're all the same this season. It's like he just can't strike out even seven batters per nine, no matter what he does.
In fairness, those percentages are slightly more impressive this season, since he's now pitching for an American League team in a ballpark that's not friendly to right-handed pitchers. But just slightly.
Oh, and those last nine starts Michael Kay mentioned? It's actually his last 10. On June 16, Eovaldi gave up eight runs in the first inning and his ERA jumped nearly a full run to 5.12. But over his next 10 starts, he went 7-0 with a 3.22 ERA (before Wednesday's start against the Twins).
Fundamentally, though? Eovaldi struck out only 42 batters in 59 innings, while walking 19. His fine ERA was due almost entirely to giving up only 2 home runs in those 59 innings. Which was probably a lot more luck than skill.
Pitchers and coaches and trainers and video analysts and everybody else are constantly looking for edges and trying to get better; that's their job. But actually finding edges and actually getting better are really hard. Players do change from game to game and month to month and season to season. But ultimately most of them will find their level and stay there for a while. And Nathan Eovaldi seems to have found his level last year with the Miami Marlins. Fortunately, his level is plenty good enough to make him a very wealthy man and help the Yankees for a while.
Late Note: I was initially remiss in not mentioning Eovaldi's ground-ball rate, which was right around 45 percent from 2012 through '14, but is nearly 52 percent in 2015. If that ground-ball rate is real -- and considering Eovaldi's well-reported adoption of the splitter, it might be -- then maybe he really can limit the home runs, and keep his ERA below 4. That would be something!
---
---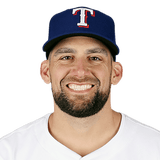 Get more from Nathan Eovaldi
Follow your favorites to get information about games, news and more
---