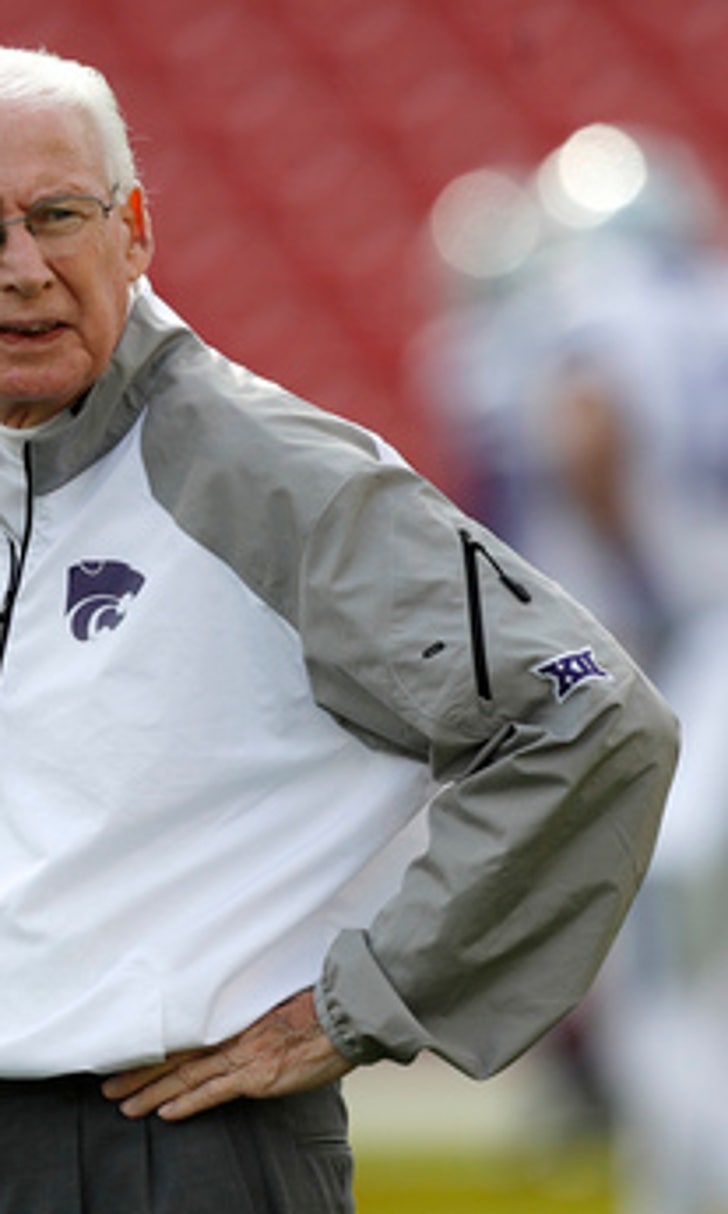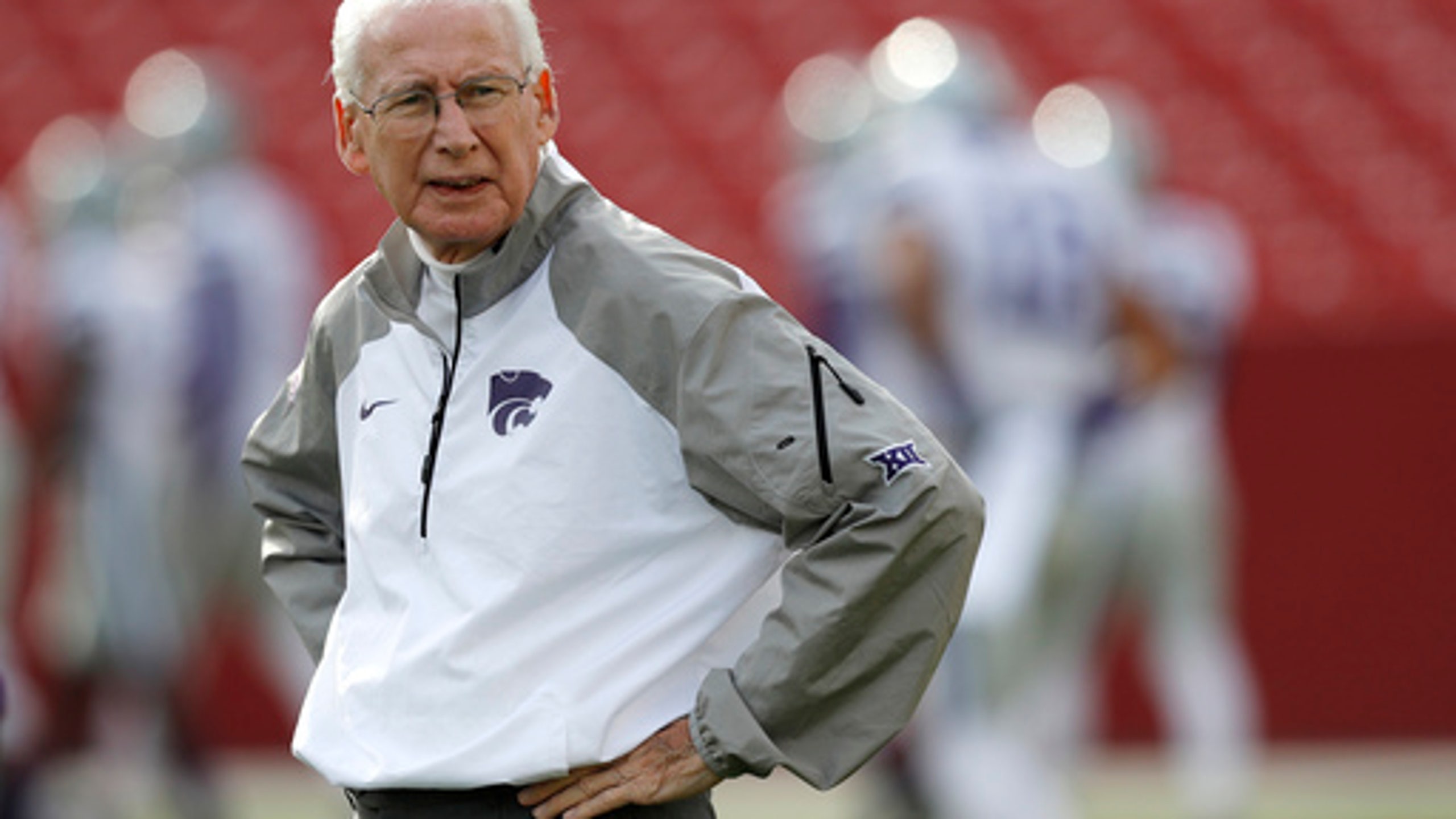 Snyder takes place on sideline for Wildcats' annual spring game
April 22, 2017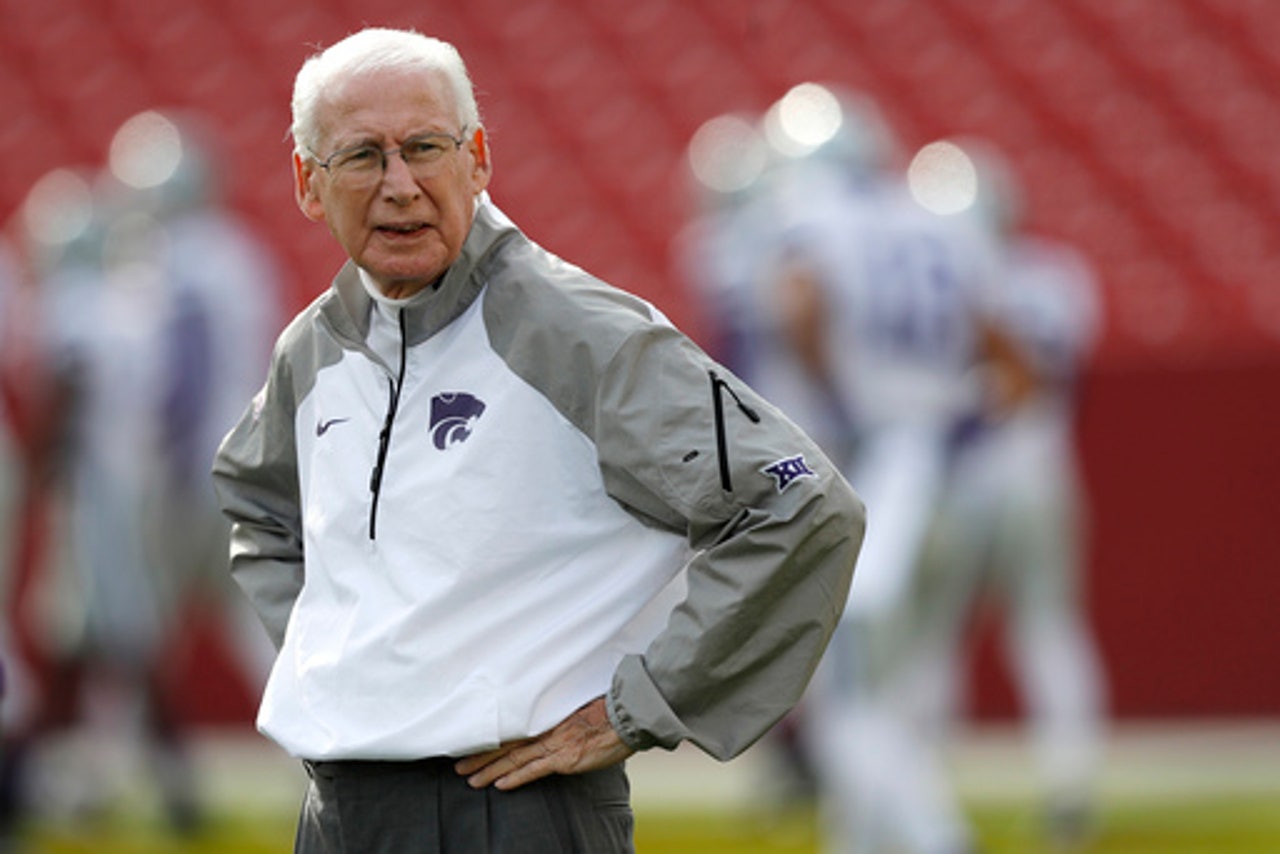 Bill Snyder, who's been undergoing treatment for throat cancer this offseason, was present for Kansas State's annual spring game on Saturday.
MANHATTAN, Kan. -- Bill Snyder took his familiar place on the sideline inside the stadium that bears his name, and watched the first half with his usual exacting eye as Kansas State played its annual spring game.

Perhaps it will be the last time he goes through this rite of spring.

Then again, he shows few signs of slowing down.

The 77-year-old coach, who has spent the offseason undergoing treatment for throat cancer, has had little to say about his future in the lead-up to the game, which the purple team made up primarily of the starters won 38-6 before more than 13,000 fans at Bill Snyder Family Stadium.

But despite regular trips to Kansas City for doctor's appointments, Snyder was always present for practice, finding time to fit in his regular work despite the physical toll he was going through.

"He's doing very well," said his son and associate head coach, Sean Snyder. "He is doing well. It is kind of standard post-treatment stuff right now. He's moving in a positive direction."

Snyder did watch the second half Saturday from the press box, but don't read too much into that: "Don't be curious," he said, when asked about it. "I'm fine."

That could sum up his team, too.

The Wildcats return 18 starters from a team that went 9-4 and won the Texas Bowl last season, including just about every crucial piece of the offense. And the few positions where a starter was lost to graduation or the NFL draft, there is plenty of depth just waiting for a chance.

"On both sides, we have a number of guys who are out right now and not playing," Snyder said. "I think we have five or six starters on offense, and maybe three on defense. That adds to everything as well. The positive side of this is that you get more work toward depth with our twos and threes.

"Hopefully, this will pay off," he said. "We need to establish depth."

Much of that depth got an opportunity to show what they can do during the spring game.



With starting quarterback Jesse Ertz sidelined by injuries, Alex Delton threw for 249 yards and had a touchdown as he makes a claim for the backup QB job. Redshirt freshman Skylar Thompson threw for 112 yards for the white team, comprised primarily of second- and third-team players.

The Wildcats, who again figure to rely heavily on the ground game next season, got production from just about all their running backs. Alex Barnes ran for 69 yards and two touchdowns, Justin Silmon had another TD run and several other youngsters got into the act.

"We have five guys who are really getting after it and are very talented," Barnes said. "We all could play any down, so it is a special thing we have going on. We are looking to take advantage of it."

Wide receiver Isaiah Zuber started the scoring run when he hauled in Delton's 25-yard touchdown pass, and then the running game took over. Barnes added his two TD runs, McLellan put on a purple jersey and knocked through another field goal, and Silmon and Delton capped the scoring with touchdown runs in the closing minutes of the fourth quarter.

In many respects, the defense won the day, making it tough for both offenses to move the ball.

"Our defense has caught up with the offense," Snyder said earlier in the week. "The offense is struggling right now, which really has happened over the past week."

Now that the spring game is over, the Wildcats will turn their attention to the summer conditioning program and fall camp, all in preparation for the opener against Central Arkansas on Sept. 2.

Snyder fully expects to be on the field, too. And for the rest of the season.
---