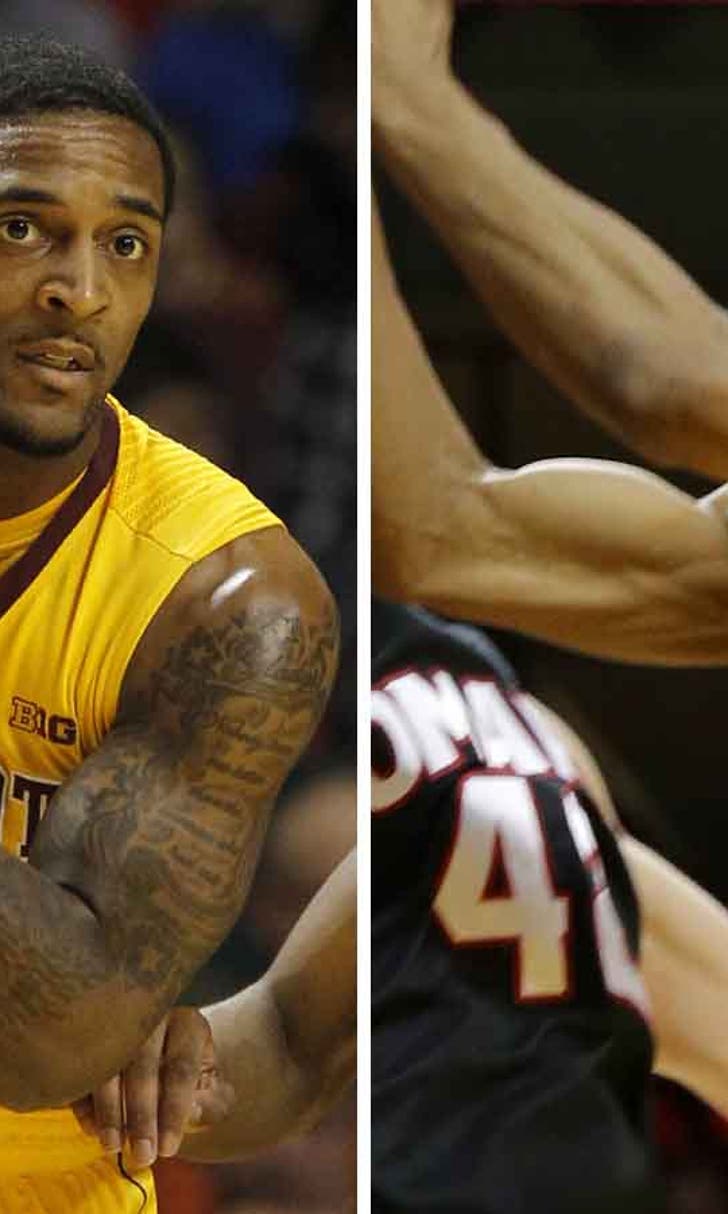 Smith and Mathieu exude confidence in Gophers' win
BY foxsports • December 21, 2013
MINNEAPOLIS -- DeAndre Mathieu is a former junior college player now playing at the Division I level. Teammate Malik Smith is also adjusting to life in the Big Ten after playing last season at Florida International.
Both of Minnesota's newcomers possess something that has allowed them to thrive as they've transitioned to a bigger stage: confidence.
That trait was certainly on display by both guards Friday as they combined for 46 points in Minnesota's 92-79 win over Nebraska-Omaha. Both players used big second-half outputs to help the Gophers run away from the visiting Mavericks after a tie game at halftime.
"Those two guys on this team, they're fearless when they go out there," said first-year Gophers coach Richard Pitino. "Those are the two guys that have off-the-charts confidence that they believe they're unbelievable players. If we can get everybody else to that level -- and not just false confidence, but just working hard and believing in themselves -- then we'll be a good team."
Mathieu led Minnesota with 27 points, the most of his young Gophers career. Eighteen of those points came after halftime as he seemingly had an answer every time Omaha tried to get back in the game.
Before Mathieu fended off the Mavericks, though, it was Smith who sparked the Gophers early in the second half. With Minnesota leading by seven, Smith scored the next 13 points for the Gophers to keep Omaha at bay while the rest of Minnesota's offense went cold. During that stretch, Smith hit three 3-pointers to ignite the Williams Arena crowd.
"When they made one, he'd come back and make one for us," Mathieu said of Smith. "Malik does that, though. When you watch him in practice, he'll hit three or four straight and guys will be like, 'Man, somebody guard Malik.' There's nothing you can do about it."
Smith showed the ability to hit the 3-pointer while playing for Pitino last year at FIU -- where he was among the leaders in college basketball for 3-pointers attempted -- so Friday night's effort wasn't unexpected. Still, his five makes from downtown, including three of them after halftime, were a big key for Minnesota.
It wasn't just the amount of threes Smith made, either, but the timing of them.
"He takes big shots. That's why I felt that he could come from FIU to this level because he's got unbelievable confidence," Pitino said. "You've got to live with some craziness. People probably the first couple games were like, 'What is with this kid?' But then once he settles down and gets comfortable, he's extremely confident."
At just 5-feet-9 inches tall, Mathieu has no choice but to be confident when playing against opponents a foot taller than him. As he's shown all season for the Gophers, Mathieu had no fear driving to the basket for a good portion of his 27 points. He also hit his only 3-pointer he attempted and was 8-for-10 from the free throw line, but his bread and butter continues to be his knack for finding the rim -- even against players much taller than him.
That was certainly the case Friday as he hit a runner in the lane to push Minnesota's lead to five points in the second half, and later scored an uncontested layup for his 20th point of the night to give the Gophers an 80-73 edge. A floater in the lane extended Minnesota's lead to 85-79.
"Driving and attacking and getting to the rim, that's my game," Mathieu said. "I'm an attack kind of player. It was just all falling today. It felt good."
On a night when junior guard Andre Hollins scored his 1,000th career point -- and notched his first career double-double -- the show was stolen by two other guards. On top of his game-high 27 points, Mathieu had four assists and zero turnovers. Smith, meanwhile, added three rebounds and two steals.
The Gophers can't rely on Andre Hollins and Austin Hollins to provide the scoring every night. On Friday, Smith and Mathieu -- who happen to also be roommates -- showed they can pack some of the offensive punch, too.
"We talk to each other all the time about trying to be impact (players) and trying to make the biggest difference, because guys are going to key in on Dre and Austin a lot," Mathieu said. "Us two guards have to make a difference."
Follow Tyler Mason on Twitter
---