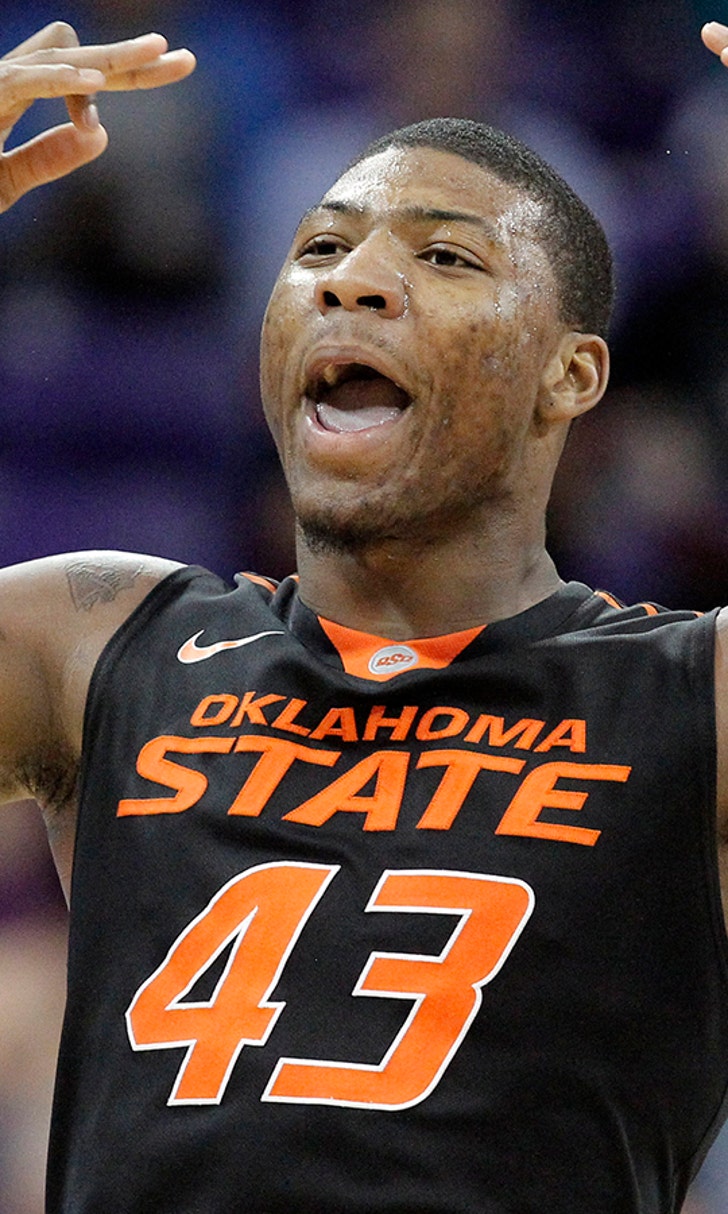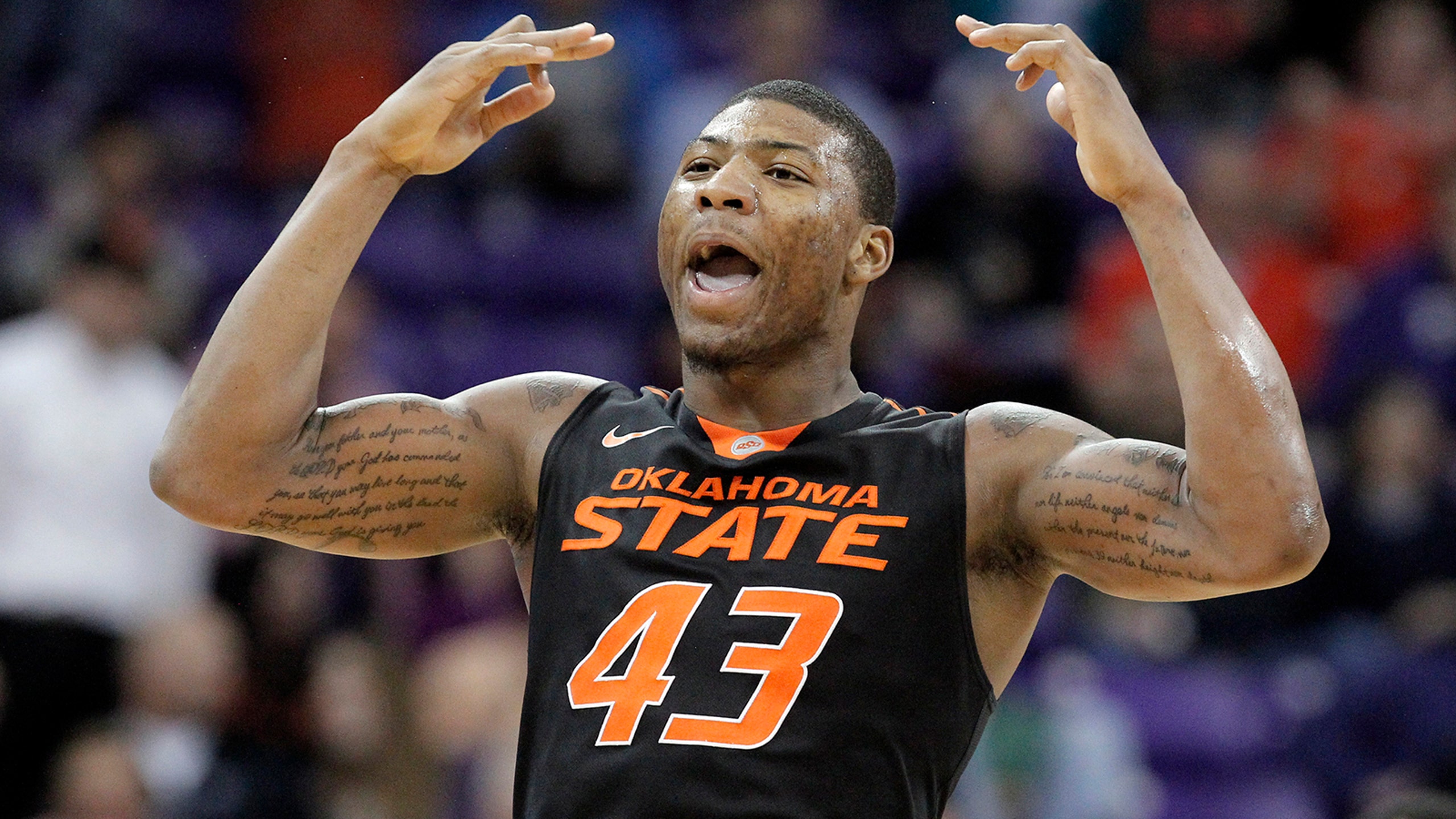 Smart gets 17 in 1st road game, OSU tops TCU
BY foxsports • February 24, 2014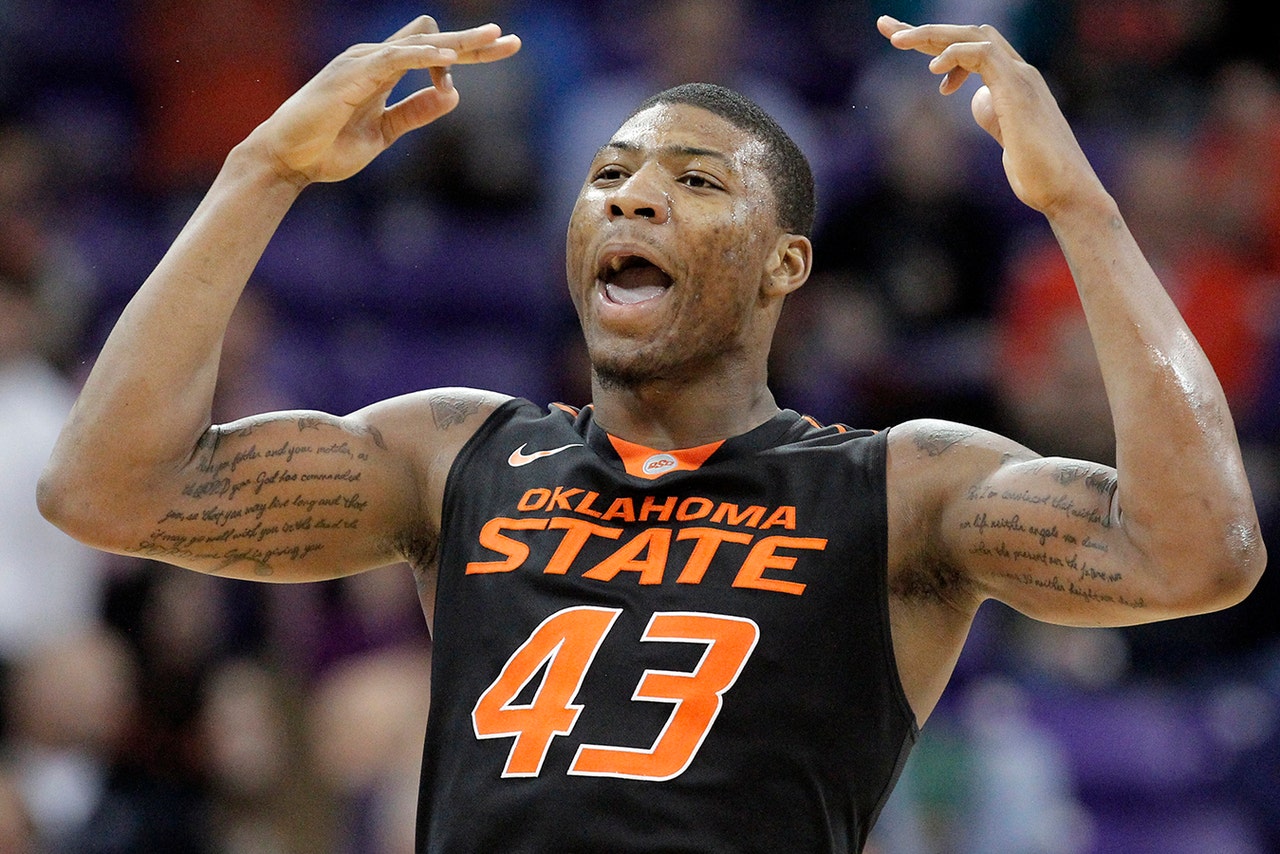 FORT WORTH, Texas (AP) -- Marcus Smart felt at home in his first road game since returning from a three-game suspension for shoving a fan. Even if he didn't have his regular jersey.
Smart scored 15 of his 17 points in the second half, Phil Forte matched his season high with 23 points and Oklahoma State pulled away from TCU for a 76-54 victory Monday night.
Forte and Smart were playing in front of a friendly crowd not far from Marcus High School in suburban Flower Mound, where they won consecutive Texas state championships before coming to the Cowboys together.
"Kind of eased my mind a little bit," said Smart, who had game highs with seven assists and five steals. "My mom said it was definitely different. I was focused more on the team than anything else."
Forte scored 16 points in the first half and finished 5 of 10 from 3-point range as Oklahoma State (18-10, 6-9 Big 12) matched a season high with 14 3s and won its second straight after stopping a seven-game losing streak in Smart's return from the suspension.
Kyan Anderson scored 15 points to lead the Horned Frogs (9-18, 0-15), who dropped to 2-31 in two Big 12 seasons.
"In the second half I want to say we were right there down six or seven, then basically I thought Marcus did what he had to," TCU coach Trent Johnson said. "He took the game over in terms of driving and kicking and distributing."
Smart wore No. 43 without his name on the back because the equipment crew didn't take his No. 33 jersey to Waco a week ago and forgot to pack it for his first trip since the suspension for shoving a fan at Texas Tech.
The preseason All-America guard didn't look much like No. 33 early, missing his first five shots and going 1 for 12 from the field before a long 3-pointer that restored Oklahoma State's double-digit lead in the second half.
"It felt kind of weird playing with it," said Smart, who was 5 of 9 from long range despite his rough start shooting. "Before the game my teammates actually didn't know I was wearing it until we were coming out to warm up and they saw it through my warmup and it didn't have my name on it."
Smart's slow start wasn't a product of heckling from opposing fans because the sparse and mostly quiet crowd actually favored the Cowboys. Three of their top four scorers -- Smart, Forte and Le'Bryan Nash -- are from the Dallas-Fort Worth area.
One TCU student brought a sign that read "Free Shoves" with the outline of a pair of hands, and another wore boxing gloves. Both were in the front row of the student section, but not at court level because the stands are about 4 feet above the court.
There are no courtside seats for fans at Daniel-Meyer Coliseum, but that will change starting after the season when the building that opened in 1961 undergoes a $59 million renovation that will force the Horned Frogs to play elsewhere next season.
"I just tried to block everything out," Smart said. "Like Coach always tells me, lose myself in the game. And that's kind of what I tried to do today."
Forte and Smart combined for the sequence that put the game away. Forte hit a 3-pointer and stole the inbounds pass, finding Smart on the left wing for another basket from beyond the arc to give the Cowboys a 67-46 lead with 4:38 remaining.
After hitting the shot, Smart bounced around the court to the loudest roar of the night from the orange-clad part of the crowd. He left the game for good a short time later, immediately after a 3-pointer that made it 73-51.
"We've experienced a lot of plays together like that, a lot of special plays," Forte said. "That's definitely one of the more unique plays we've had together."
TCU had pulled within six on a 10-0 run midway through the second half. Karviar Shepherd, who had 11 points and 10 rebounds, missed a jumper that would have made it a four-point game, and Brian Williams had a putback on a missed 3 by Forte to end the run.
After Anderson missed a layup on a wild drive, Smart hit a long 3-pointer for a 52-41 lead, and Johnson was given a technical for being on the court when he called a timeout. Forte hit the free throws and added a jumper to push the lead back to 15.
---