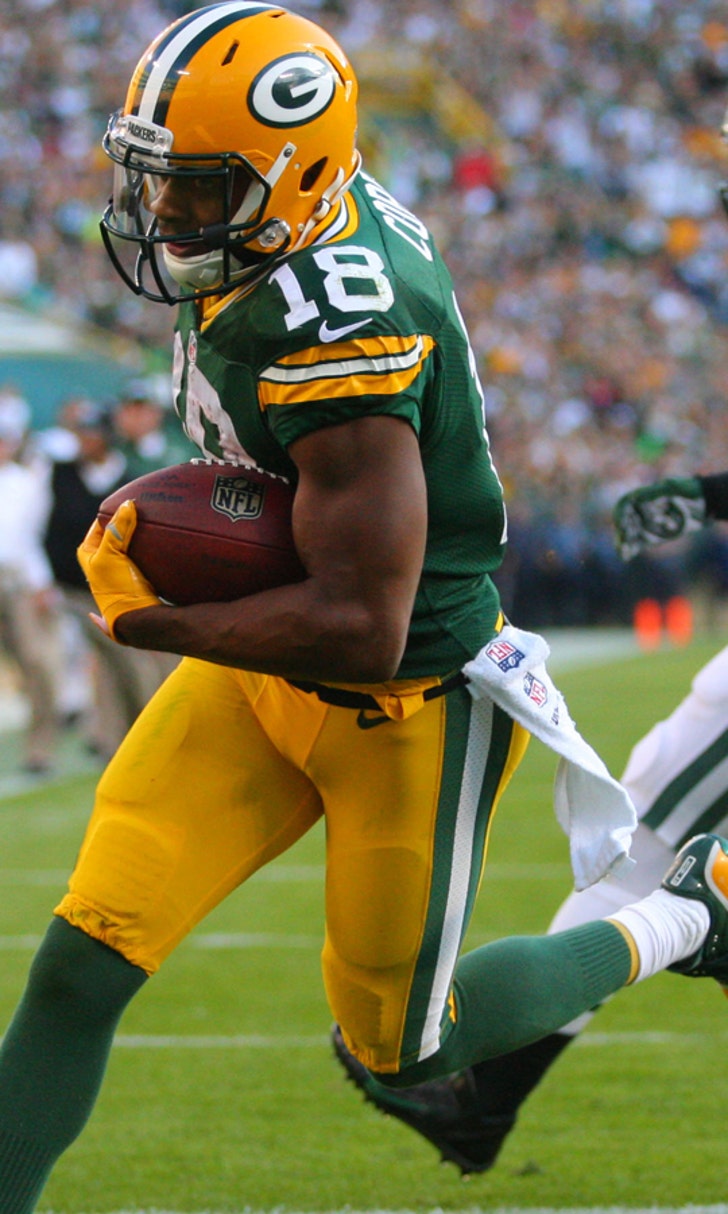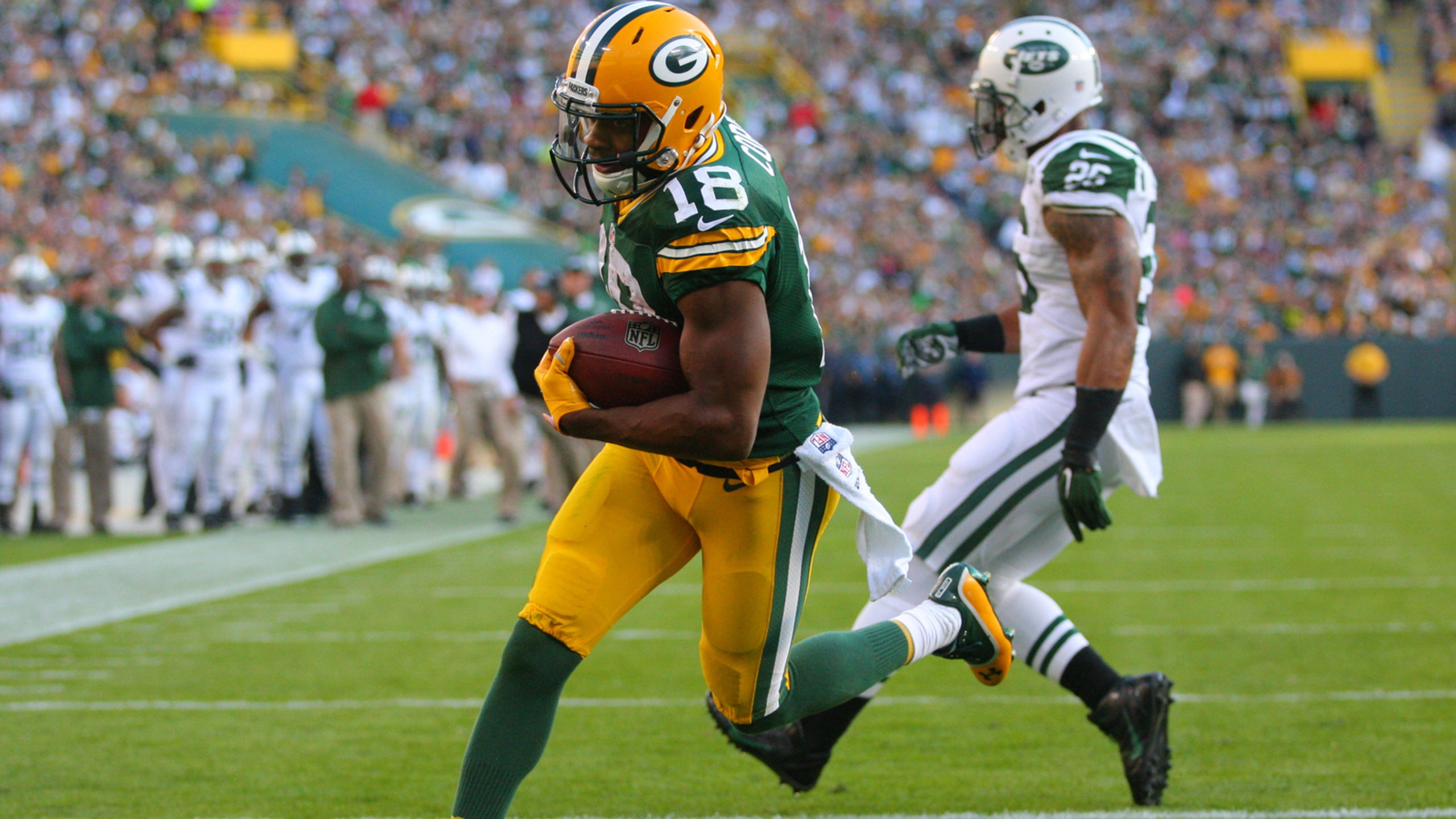 'Small giant' Cobb perplexed by his red-zone success
BY foxsports • October 23, 2014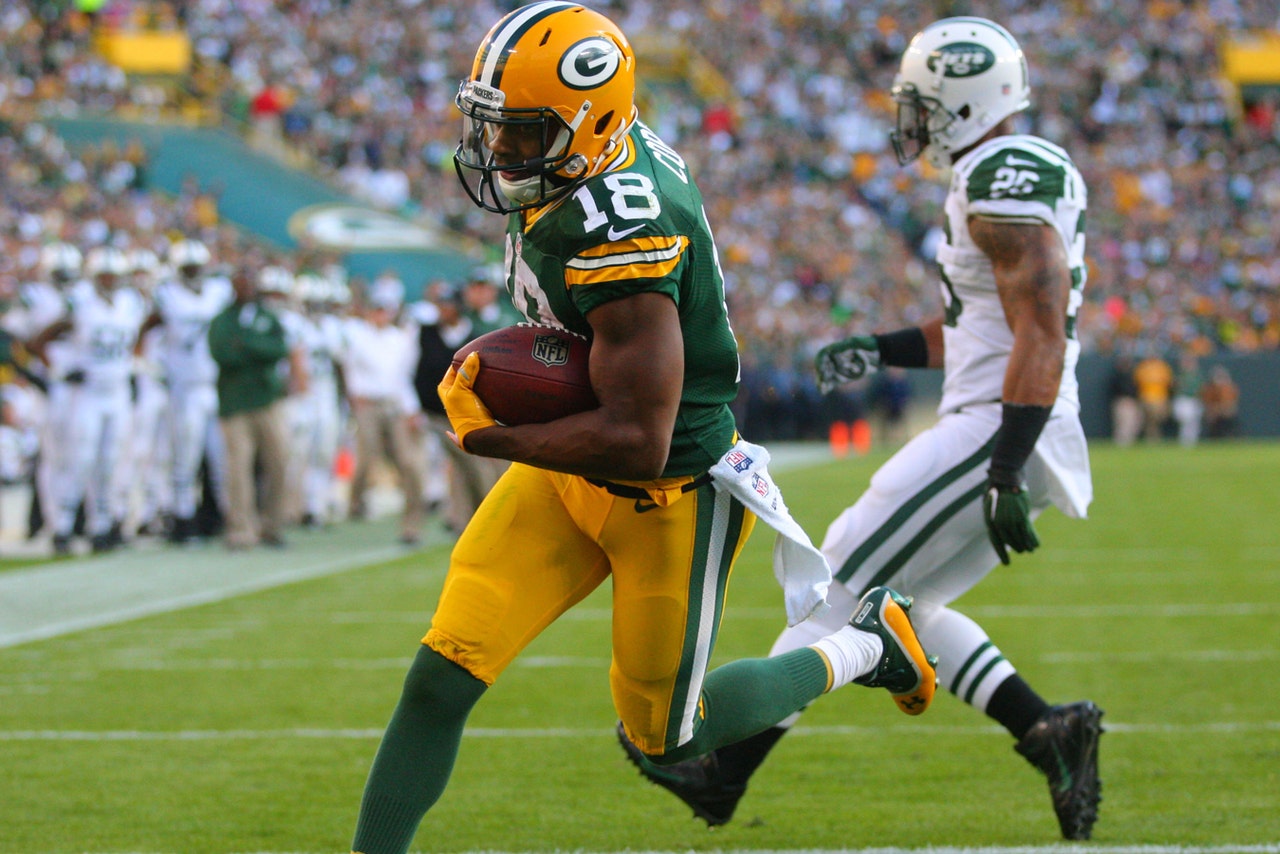 GREEN BAY, Wis. -- Randall Cobb tried to find reasons for why he's been so good in the red zone this season. It's not easy to explain seven touchdown catches in seven games within the 8-yard line by a 5-foot-10, 192-pound slot receiver.
In the span of a less-than-10-minute interview, Cobb uttered the phrase "I don't know" 14 times when breaking down his success near the goal line. In an area of the field where taller, bigger targets most often thrive, the Green Bay Packers' 24-year-old receiver has found a knack for getting open in situations when there hasn't been much room to work.
"I guess I'm a small giant," Cobb told FOXSportsWisconsin.com. "It's not something that we go out and say 'Randall is going to score all the touchdowns today.' It just kind of happens."
Cobb has caught touchdowns this season on plays that began at the following yard-lines: 3, 6, 1, 3, 8, 5 and 3. The only touchdown reception by Cobb not in the red zone came from the 22-yard line. Even adding in that one anomaly, Cobb's average touchdown distance this season is 6.375 yards.
"I'm not normal," Cobb said.
Cobb is an exception to the rule, but the beginning of his 2014 season is almost identical to the way Wes Welker's 2013 season started. In the first seven games of last year, the 5-9, 185-pound Welker also had seven touchdowns from within the 20-yard line.
This is new territory for Cobb, though. In his first three NFL seasons, Cobb had 13 touchdown catches. Only five of the 13 came in the red zone, with his average touchdown distance being 21.77 yards. That's obviously much higher than his 6.375-yard average distance this season.
"He's just executing," fellow wide receiver Jordy Nelson said. "I think he does it all over the field, he's just getting the opportunities in the red zone. I don't think he's doing anything special. He's just running his routes in the red zone or in the open field and just getting that opportunity. He's made the most of those when we've gotten in there and scored a lot of touchdowns."
Head coach Mike McCarthy credited Cobb's timing, instincts and ability to separate.
"The plays get called, they come in, I try to get open and sometimes I'm the first read and sometimes I'm not," Cobb said. "Sometimes I'm not in the read and it's a scramble drill and I'm able to find a way to pop open."
For Cobb's touchdowns to happen, it takes more than a wide receiver's seemingly natural ability to get open. It takes a great quarterback who's able to put the ball where it needs to be.
"The windows are really tight down there, so you have to be accurate and you have to put the ball in the right spot all the time," Aaron Rodgers said. "Randall does a good job of creating space down there. He did a good job of getting open and we fit some tight throws, and he's also made some really quick moves at the line of scrimmage and we've hit some more wide-open throws, as well.
"He's a quick guy and he's great against the man coverage because he's so elusive with his wiggles at the line of scrimmage. He does a good job at the top of his route not telegraphing anything."
Cobb was OK splitting the credit with Rodgers.
"Maybe it's both," Cobb said. "Maybe I'm doing something well, he's doing something well and we have an understanding. I know where he wants to go with the ball and he's finding me."
With an overall total of eight touchdown catches this season, Cobb leads all NFL wide receivers. He's second only to Denver Broncos tight end Julius Thomas, who has nine touchdown receptions.
This comes at a good time for Cobb, who is scheduled to be an unrestricted free agent after this season. As his price tag rises with every touchdown, Cobb said he is willing to sign an extension now if the Packers approach his agent with the right numbers.
"If it happens (during the season), it happens," Cobb said. "It's really on my agent, for them to have that conversation. When he comes to me with something, then he'll come to me with it. I'm not going to concern myself with it. I don't really want to think about it. The only time I really talk about it is when people ask me."
Cobb has no intention of putting his season in cruise control now that he's atop the touchdown leaderboard among wide receivers. But even if he's still No. 1 at the end of the season, don't expect Cobb to be happy.
"It's never going to be good enough for me," Cobb said. "I'm my biggest critic, and every flaw that I have I'm trying to correct on every day. And I'm going to have them every day. That's just the mindset I've always had. That's something that was instilled in me at a young age. Nothing is ever good enough for me.
"I'm never satisfied."
The best chance Cobb has of being satisfied is to keep getting open in the red zone as he has. If he does, Cobb will see both his touchdown total and his bank account grow.
Follow Paul Imig on Twitter
---
---