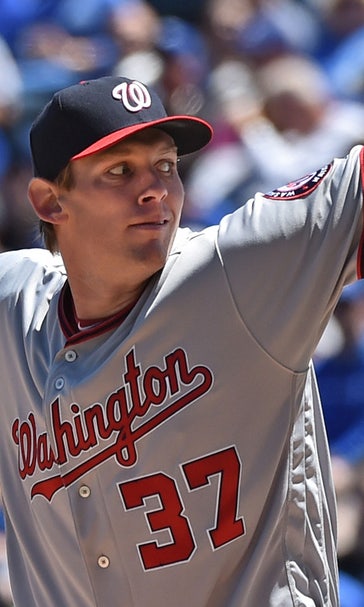 Slumping Tigers now must face Stephen Strasburg
May 9, 2016

It's likely one of the last sights that the slumping Detroit Tigers want to see, Stephen Strasburg on the mound.
The Washington Nationals right-hander seeks to become his franchise's first starter with a 6-0 record in 19 years Monday (6 p.m. pregame, 7:05 first pitch on FOX Sports Detroit) against the Tigers, losers of six in a row.
Detroit (14-16) has been outscored 43-16 during its skid and is batting .180 in its last five games. Justin Verlander's sparkling start nearly ended the Tigers' slide Sunday against Texas but their bullpen collapsed in an 8-3 defeat.
The Rangers scored all of their runs in the final two innings, and Mark Lowe was charged with five in the eighth.
"It seems like every day, there is one part of our game that just isn't clicking. Today, it was the bullpen, but on other days, it has been the hitting or the starters," manager Brad Ausmus said.
When they head back on the road, the Tigers have the daunting task of facing one of the NL's best teams and Strasburg (5-0, 2.36 ERA). He gave up two runs over six innings Wednesday in Kansas City and got plenty of support in a 13-2 rout.
"Throwing strikes, getting ahead of the hitters, just stuff he's supposed to do," manager Dusty Baker said of Strasburg's success. "Now he's a man. Before, he was a kid. He's pitching like a man."
Strasburg's franchise hasn't had a starter win his first six decisions since Pedro Martinez went 8-0 for the Montreal Expos in 1997, and he hasn't lost in his last six interleague starts. The last AL team to hand him a defeat, however, was Detroit on July 30, 2013.
Strasburg gave up five runs over seven innings in a 5-1 loss in his lone matchup with the Tigers.
In this meeting, he'll start opposite a struggling Anibal Sanchez (3-3, 5.87). The right-hander gave up four runs in seven innings Wednesday in a 4-0 defeat in Cleveland, his third in four starts.
Sanchez, who has a 7.20 ERA in that stretch, gave up two runs over 5 2/3 innings in a 7-3 victory against Oakland in his prior start April 28 but he also issued seven walks.
"Right now, I'm not sure we know exactly what to expect from him," Ausmus told MLB's official website. "Hopefully he has some good solid outings the next few outings like he did today. Really, his last two have been pretty good. Then I think we will start to expect to see that type of Anibal Sanchez that gives you an opportunity to win.
Sanchez is 9-1 with a 1.98 ERA in 21 starts against the Nationals but is facing them for the first time since July 30, 2013.
Washington (19-12) is heading home after enduring a four-game sweep at the hands of the MLB-leading Chicago Cubs. The Nationals went 13 innings Sunday before succumbing to a 4-3 defeat, and Bryce Harper tied a major league record with six walks, including three intentional.
He was also hit by a pitch, becoming the first player in the past 100 years to reach base seven times in a game without registering an official at-bat.
Washington, which finished 5-5 on its road trip, was swept in three games by Philadelphia in its most recent series at Nationals Park following an 8-1 start there.
Miguel Cabrera will try to extend an 11-game hit streak against the Nationals. He has batted .385 in his last 80 games versus that franchise.
---