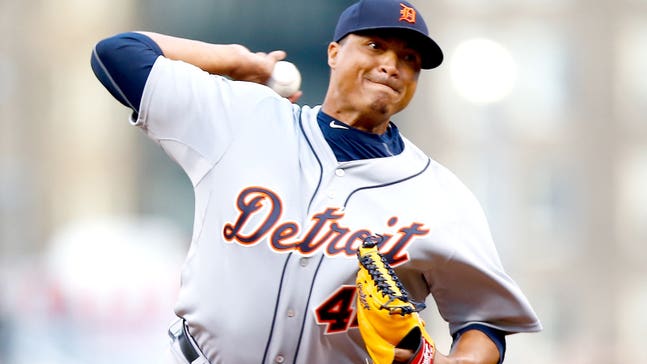 Simon, Tigers try to make it two straight over Astros
Updated
Mar. 5, 2020 12:13 a.m. ET

Although they were riding the best 41-game start in franchise history heading into the series opener against the Detroit Tigers, the Houston Astros weren't able to put an end to their woes at Comerica Park.
They could be turning to the right pitcher Friday (6 p.m. pregame, 7:08 first pitch on FOX Sports Detroit) in Collin McHugh, who has one of MLB's longest road unbeaten streaks.
The right-hander will try to help the Astros bounce back from their second loss in nine games when the Tigers go after a 12th victory in 15 home meetings.
Coming off a 7-2 homestand and off to its best road start at 12-4, Houston (27-15) tied Thursday's opener on Preston Tucker's ninth-inning home run after trailing by five heading into the seventh.
James McCann, however, homered on an 0-2 pitch from Tony Sipp in the 11th inning to give Detroit (25-17) a 6-5 win.
"That was a big, big comeback by our guys," manager A.J. Hinch said. "This is a tough one to lose."
The Astros, leading a division this late for the first time since May 22, 2004, are 3-11 at Comerica. McHugh (5-1, 4.09 ERA), though, is 4-0 with a 2.39 ERA in his last eight road starts.
Only San Diego's James Shields (13) and the Los Angeles Angels' Matt Shoemaker (9) have more consecutive road starts without a loss.
McHugh had a 16-start unbeaten streak end May 12 to San Francisco after giving up seven runs in 4 2-3 innings. He was 11-0 with a 2.31 ERA during the franchise's longest winning streak since Wade Miller won 12 straight in 2002.
McHugh bounced back Sunday when he allowed two runs over seven innings in a 4-2 win over Toronto.
He'll have to be careful with Detroit's Yoenis Cespedes, who went 6 for 6 with three walks in the last two games. Nick Castellanos had the Tigers' first home run in five games Thursday and has six RBIs in the last two.
Miguel Cabrera, who had two hits in the opener, is batting .400 with four home runs and 10 RBIs during a nine-game hitting streak.
Alfredo Simon (4-2, 3.04) is looking for his first win in five outings after allowing two runs over six innings in Sunday's 2-1 loss at St. Louis. The right-hander has been at his best at Comerica with a 2-0 record and 1.25 ERA in three starts.
"He mixes up his pitches, he uses his split effectively, he keeps the hitters off balance, and if he's down with those pitches, he seems to do well on a regular basis," manager Brad Ausmus told MLB's official website.
Jose Altuve has gone 2 for 3 with a double when facing Simon, but he's 3 for 25 in his last six games.
George Springer has had two hits in each of the past two games following a 3-for-20 slump after returning from a concussion. He's hitting .393 in eight meetings with the Tigers.
Astros reliever Josh Fields is day-to-day after taking a line drive off the right knee in the ninth inning Thursday.
---