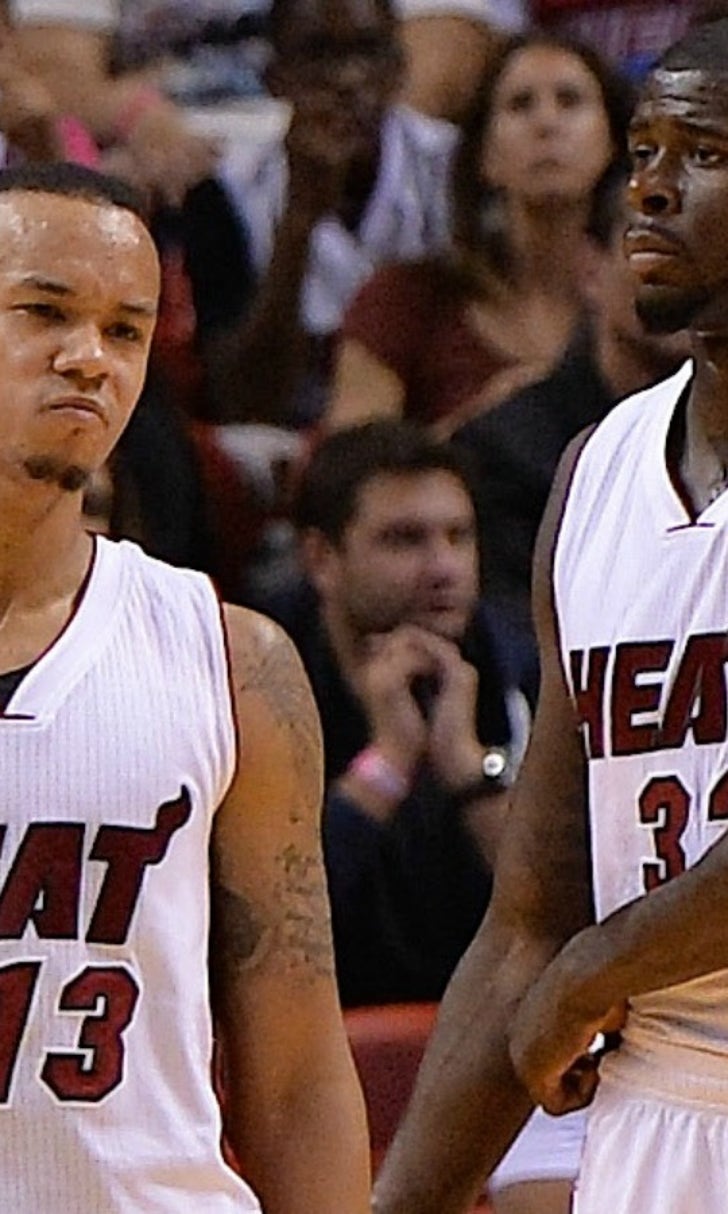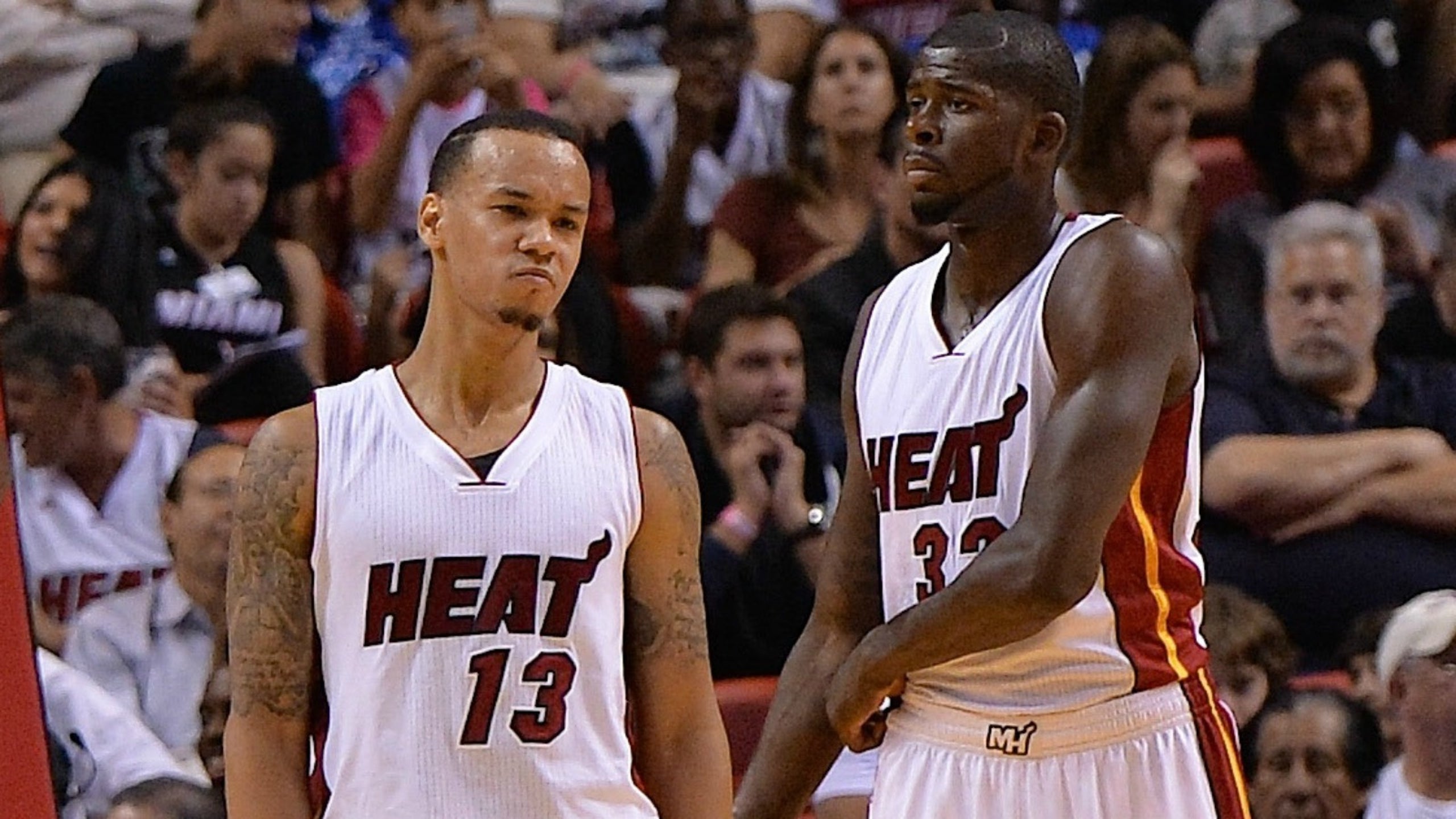 Should the Miami Heat keep or trade their lottery pick?
BY foxsports • June 13, 2015
The clock is ticking on the Miami Heat in more ways than one.
The team's core rotation is loaded with talented players either approaching or already in their 30's. Though they have a promising group of younger talent, it remains to be seen whether they can develop quickly into a dependable unit that can contribute towards a deep playoff run.
Assuming Dwyane Wade, Goran Dragic, and Luol Deng either opt in for the final year of their contracts or opt out and re-sign, Miami's starting five including Hassan Whiteside and Chris Bosh -- when collectively healthy -- is comparable to many of the teams that participated in the postseason this year. 
Miami had the tenth highest salary in the NBA last season, more than playoff teams such as the San Antonio Spurs, Golden State Warriors, Houston Rockets, Chicago Bulls, and Atlanta Hawks. That figure will likely balloon over the course of the offseason because of the contract demands of Wade and Dragic, who are both on track to opt out of their current contracts and may seek the max or a figure as close to it as possible. Bosh is already one of the highest paid players in the NBA and Whiteside will play out the final year of his bargain-priced contract expecting a huge payday beginning next season, further complicating the team's salary cap situation.
Miami's youth movement is well underway with 2014 first round pick Shabazz Napier, James Ennis, and Tyler Johnson on the lower end of the salary scale along with Whiteside, Zoran Dragic, and Udonis Haslem. 
With an average roster age of 28.1 years, the Heat are above the league average of 26.8 but roughly equivalent to many of the teams that made the playoffs this year. Unsurprisingly, every other lottery team -- with the exception of the Indiana Pacers with a comparable average of 28.2 -- is significantly younger than the Heat. Both the Heat and the Pacers were in the playoff race until the very end of the regular season and are not interested in rebuilding their roster over time with lottery draft picks like a team such as the Philadelphia 76ers are.
Miami was able to hang on to their lottery pick this year by finishing in the top 10 of the draft and thus not needing to forward their pick to the 76ers as part of a prior trade obligation. They are free to either make a selection in the draft or trade the pick. They will need to send either next year's pick (also top-10 protected) or their unprotected 2017 first round pick to Philadelphia. 
While the draft is considered to be on the deepest in recent years and there is no doubt that a talented rookie prospect could boost the team's bench rotation, would they be better off packaging the pick in a trade to bring in a more established veteran that can contribute immediately?
Complicating matters is the future contract status of both Wade and Dragic, as well as Deng. If more money needs to be freed up, team president Pat Riley could package the pick along with a veteran such as Josh McRoberts, who is scheduled to make more than $5.5 million next season.
So where do the Heat go from here?
Should the team decide to stay in the draft, they could look to boost their frontcourt considering Chris Andersen will turn 37 in July, Haslem just turned 35, Deng is now 30, and Bosh is 31. More likely the Heat will look to compliment Wade, 33, and Dragic, 29, with a dynamic backcourt partner that can provide outside shooting and upgraded defense.
Still, if the Heat are in win-now mode with Wade still playing at an All-Star level, can they afford to groom a young rookie for the future, as talented as he may be? Wade has worked hard in recent years to strengthen his body, but he has collectively missed 94 regular season games beginning with the 2011-12 season in addition to the toll of playing extensively in the postseason, including four straight NBA Finals appearances.
Riley doesn't intend on returning to the lottery next year but it also remains to be seen just how Bosh will bounce back from his medical scare which ruled him out for the second half of the season. If Deng does return to the Heat, will he show improved chemistry playing alongside Dragic and Wade? Will Dragic and Wade even return?
So many unanswered questions that only time will tell. 
As it stands, there are compelling arguments for the Heat to either remain in the draft and keep an exciting young player with an affordable rookie contract or cash in immediately with the pick by dangling a valuable trade asset to other teams. Remember the 2008 draft, where in retrospect the Heat's No. 2 pick was never as valuable as it was before the draft and before they used it to select Michael Beasley over the likes of future All-Stars Russell Westbrook or Kevin Love.
Riley has traditionally preferred to build his teams though free agency and trades rather than through the draft. Will it happen again this offseason?
You can follow Surya Fernandez on Twitter @SuryaHeatNBA or email him at SuryaFoxSports@gmail.com .
---
---