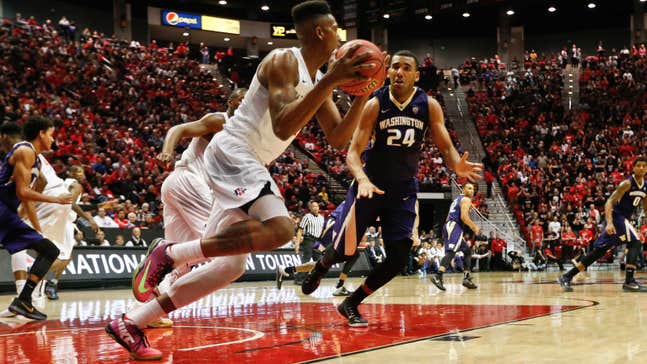 Shepard leads Aztecs over Huskies, into NIT quarterfinals
Published
Mar. 22, 2016 11:31 a.m. ET

SAN DIEGO (AP) -- Denied a seventh straight NCAA Tournament berth, Steve Fisher's San Diego State Aztecs are making the most of a homestand in the NIT.
Winston Shepard had 20 points and 10 rebounds, and Trey Kell added 16 points to lead San Diego State to a 93-78 victory against Washington on Monday night for a sport in the NIT quarterfinals.
The Aztecs (27-9) will host Georgia Tech on Wednesday night, with a trip to Madison Square Garden at stake.
"I've never been in New York," said Shepard, a senior forward. "I've been a lot of places, but not there. I'm just looking forward to trying to do whatever I can to help my team get there."
Georgia Tech eased past South Carolina 83-66 Monday night.
The Aztecs are in the NIT for the first time since 2009, when they reached the semifinals before losing to Baylor.
Spurred on by a loud, sellout crowd of 12,414 at Viejas Arena, the Aztecs more than held their own against the Huskies' fast tempo.
"When I walked out right before the game, I could feel the energy in the building," Fisher said. "You're better at home. That crowed helps. The crowd was sensational."
Monday night's game drew about 4,000 more than an opening-round victory against IPFW.
Shepard, coming off the first triple-double in school history, and Kell both had big shots after the Huskies went on a 15-2 run to pull to 69-64 on a 3-ponter by Marquese Chriss with 7:35 to play. Shepard had two layups while Kell made four free throws and hit a 3-pointer that pushed the lead back to double digits.
"We're determined, and we're led by this guy," Fisher said, pointing to Shepard. "And we all feed off him."
The Aztecs had six players score in double figures. Jeremy Hemsley had 13, Matt Shrigley 12 -- all on 3-pointers -- and Malik Pope and Dakarai Allen 10 apiece. Pope also had 12 rebounds.
SDSU atoned for a 49-36 loss at Washington last season, its lowest-scoring game since moving up to Division I in 1970-71.
"We knew they were a very good defensive team," UW coach Lorenzo Romar said. "I thought in the first half their length may have bothered us inside. They played like a veteran group that has been here before. A number of those players have played in postseason play, including the NCAA Tournament. I thought we scrapped. I thought our guys competed. We just didn't have enough to get it done."
Dejounte Murray scored 20 for UW (19-15). Chriss, who drew his fourth foul early in the second half, scored 19 before fouling fouled out with 1:13 to go and SDSU leading 89-76. Malik Dime, Matisse Thybulle and Dominic Green also had four fouls apiece. Andrew Andrews scored 17.
Shepard struggled early, including putting up a few air balls. But he started finding his shot during an 18-5 stretch that gave SDSU a 45-29 halftime lead. Shepard made a turnaround jumper and had a putback during the closing stretch.
Pope scored six points in the final minutes of the first half, including a 3-pointer, and Shrigley made his third 3 just before the buzzer.
UW announced just before tipoff that freshman forward Noah Dickerson, its fourth-leading scorer, was suspended for violating team rules and didn't make the trip.
TIP-INS
Washington: The Huskies lost their sixth straight road game.
San Diego State: Skylar Spencer blocked four shots, all in the first half.
UP NEXT
San Diego State will host Georgia Tech at 6 p.m. Wednesday.
---
---