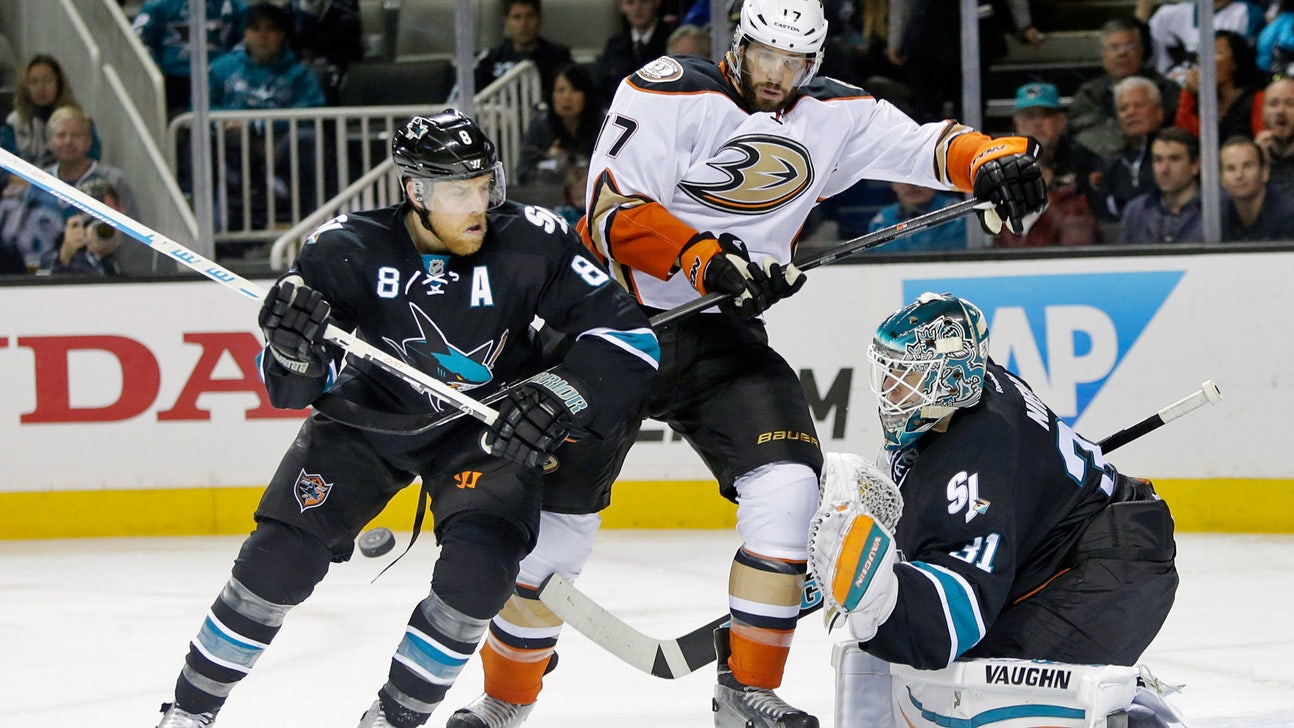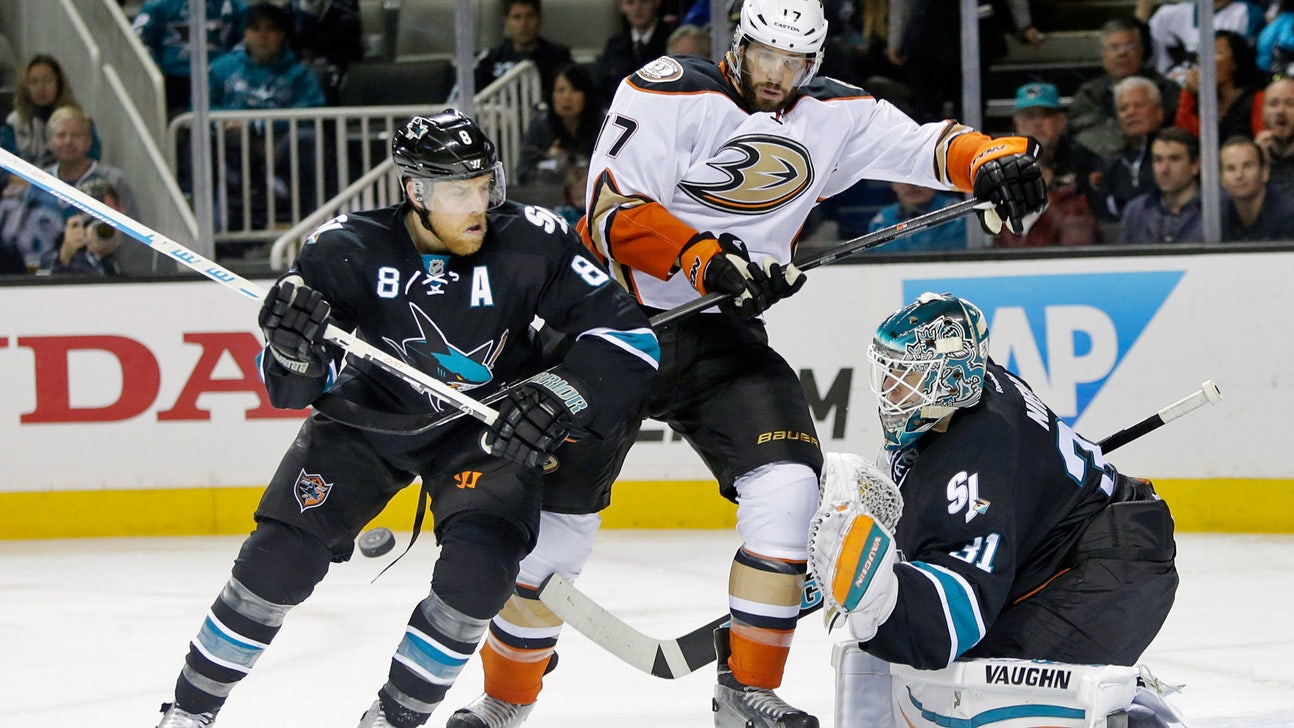 Sharks use 5-goal second to beat Ducks 6-3
Published
Jan. 30, 2015 12:03 p.m. ET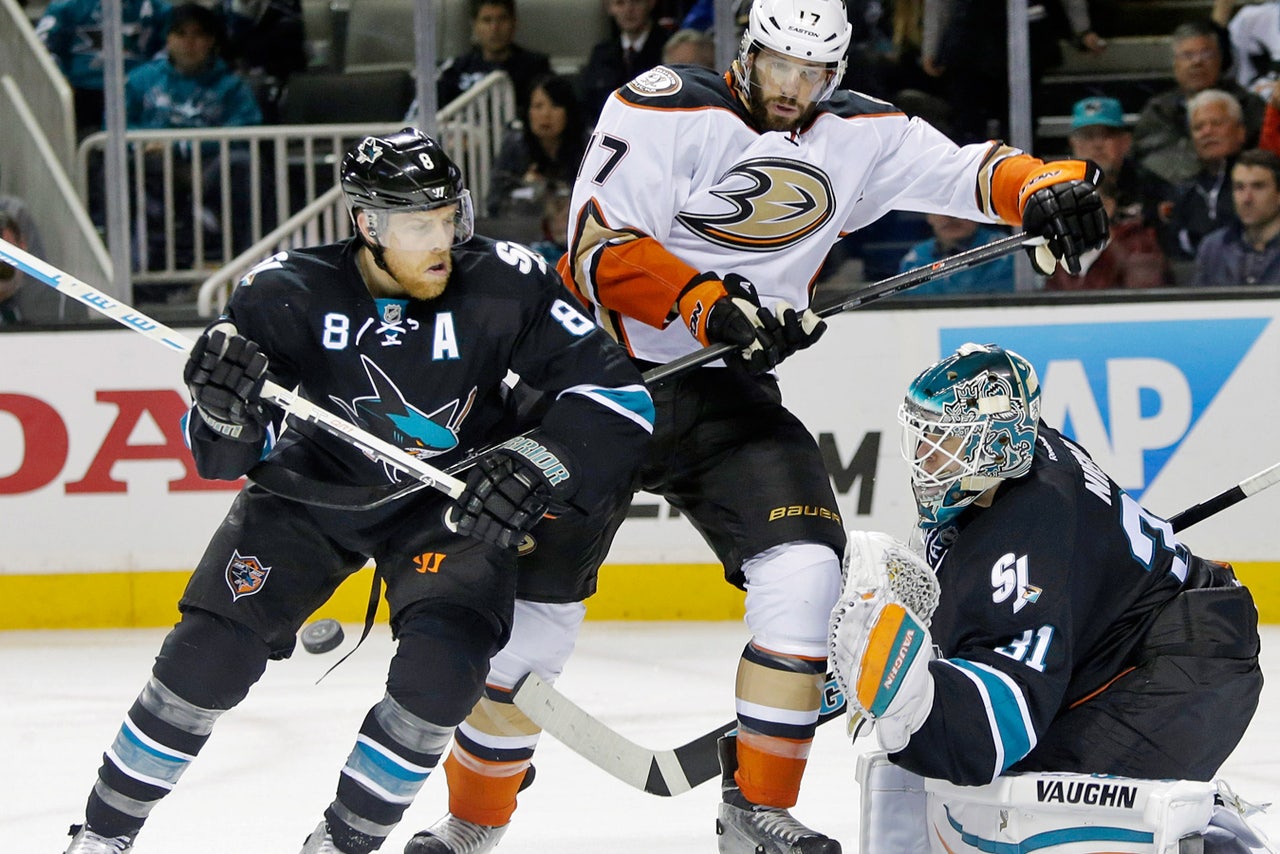 SAN JOSE, Calif. (AP) -- San Jose put the game away with an impressive burst in the second period. When it comes to the Anaheim Ducks, the Sharks rise to the occasion.
Patrick Marleau, Barclay Goodrow and James Sheppard each had a goal and an assist, and the Sharks beat the Ducks 6-3 on Thursday night.
Joe Pavelski scored in the first as the Sharks improved to 4-0-1 against the division-leading Ducks this season. Antti Niemi made 25 stops in his third consecutive win, helping San Jose extend its home winning streak against Anaheim to seven.
"You start off good against a team the first few times playing them and you feel like you maybe you have their number," Sharks center Andrew Desjardins said. "You feel like you're playing good against them. Sometimes that's just the way it goes. They're ahead of us too, so it's like we get up for these games."
San Jose scored five times in the second and matched its season high in goals for the third time, twice against the Ducks. The Sharks have outscored their rivals 21-11 this season.
"Everyone was going," Pavelski said. "When we had our chances we scored, and that's big. You get those nights when you can finish on a few of your odd-man rushes, and they just kept coming."
Andrew Cogliano, Matt Beleskey and Patrick Maroon scored for the Ducks, who allowed six goals in their previous five games. Anaheim had won six in a row.
Ducks goaltender Ilya Bryzgalov made 19 saves before being replaced by Frederik Andersen late in the second period.
"I felt good. I just wasn't able to make one or two more saves in that period," Bryzgalov said. "They scored a goal on a power play, then we kill off a penalty and then they scored again. You have to make sure not to let them get to the rebound but I didn't have much time to find the puck."
Ducks coach Bruce Boudreau said everyone had a hand in the loss.
"That game was on 20 guys," he said. "Five goals? I don't know what happened to us. They were coming in waves. Once they got the 2-1 lead, it was off to the races. They must have had 10 odd-man rushes in the second period. They're a good team and when you get looks like that, well, they're going to make the right play."
Goodrow gave San Jose a 2-1 lead at 2:15 of the second, and the Sharks were just getting started. Marleau then got his 10th goal at 6:16. Matt Irwin and Sheppard scored before Brenden Dillon recorded a short-handed goal at 16:07.
Dillon was trying to pass the puck but Beleskey dove to block it and instead redirected it into the net.
NOTES: Sharks C Joe Thornton had a pair of assists to move into 37th place on the career points list with 1,233. ... Ducks D Eric Brewer, out since Dec. 1 with a broken foot, has been practicing for a week and could return to action shortly. ... The Ducks are in the midst of playing seven of nine games on the road. ... The Sharks have two more home games remaining in their season-long seven straight in San Jose. ... Sharks F Danii Tarasov was recalled from Worchester to replace F Tyler Kennedy, out with a lower body injury. ... Ducks C Rickard Rakell has eight points in his last seven games after accumulating a combined eight in his previous 31.
---