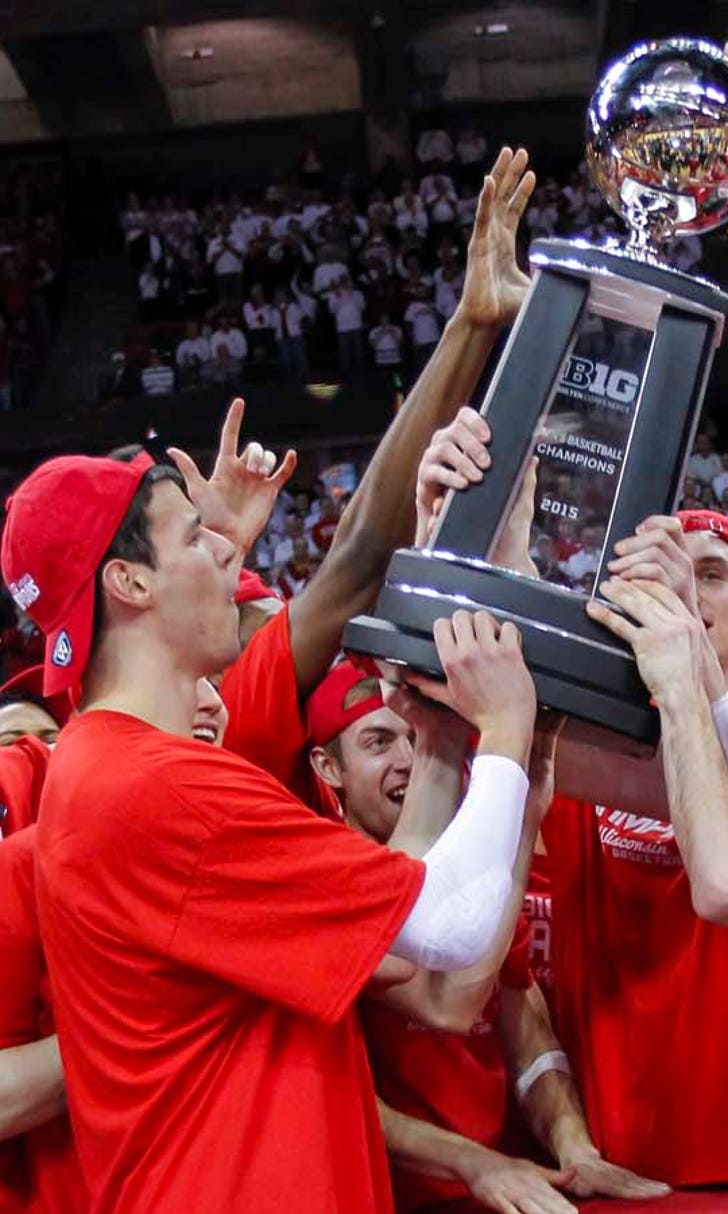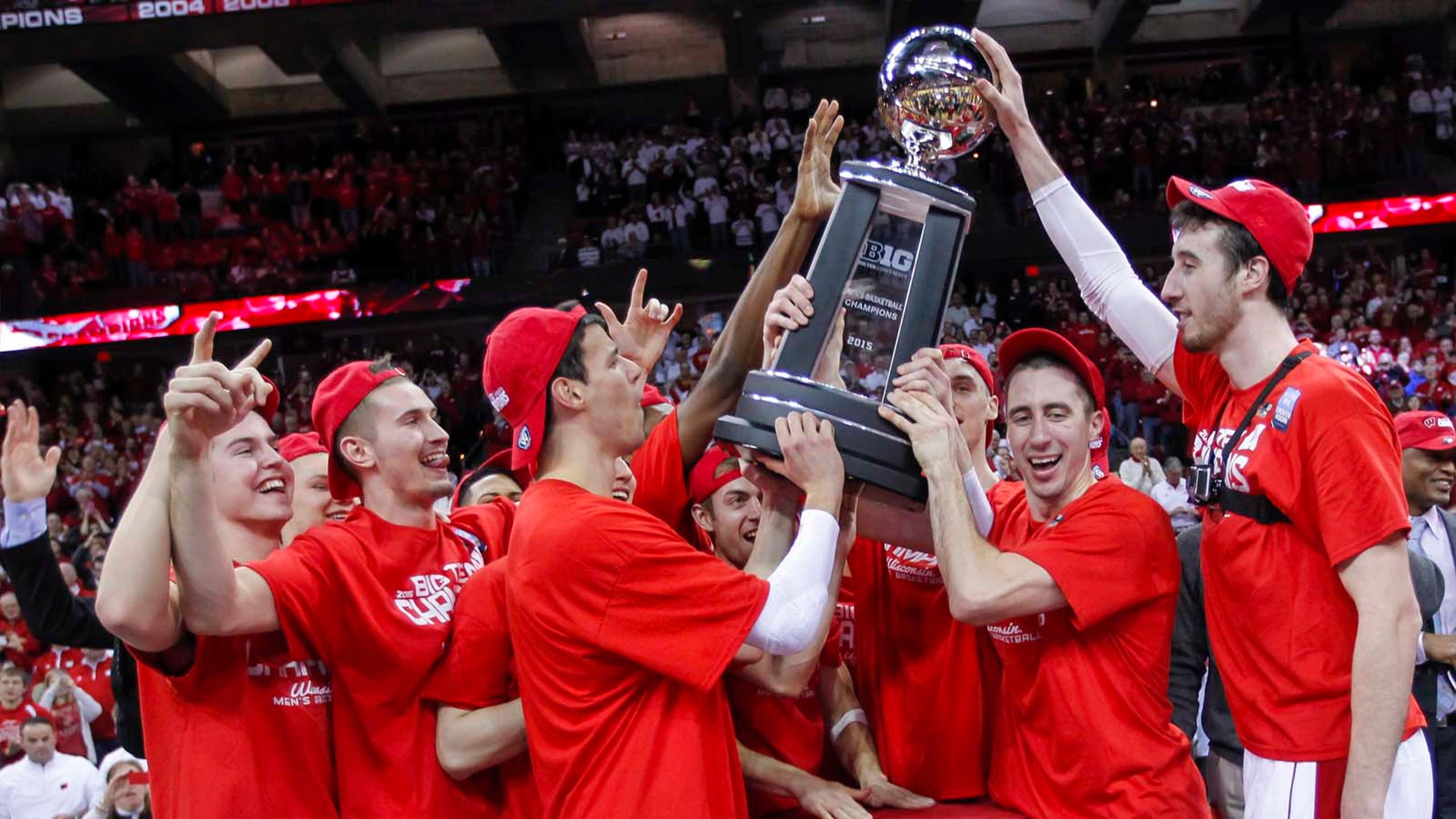 Share of Big Ten title nice, but Badgers want crown outright
BY foxsports • March 2, 2015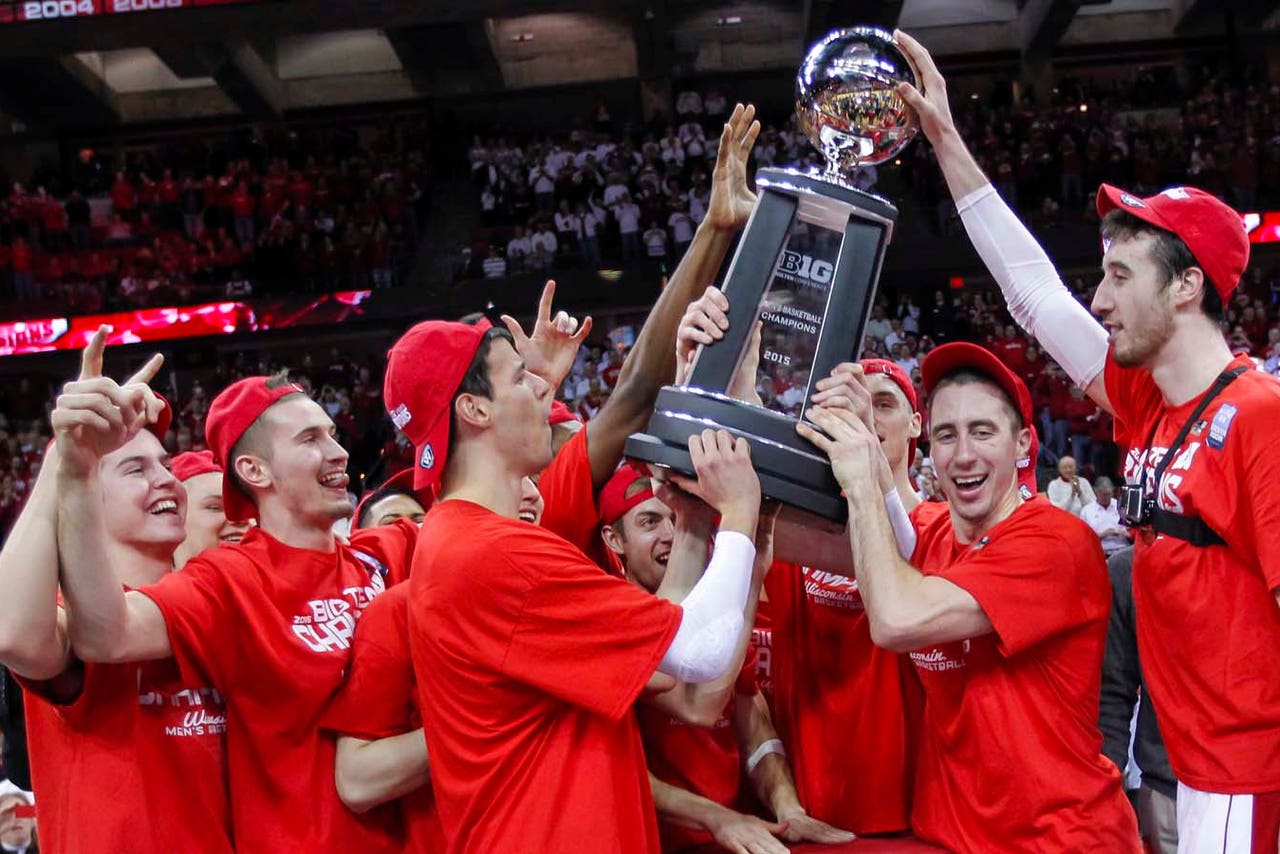 MADISON, Wis. -- Big Ten associate commissioner Rick Boyages presented Wisconsin's basketball team with the regular-season conference championship trophy Sunday afternoon, when discussions quickly shifted to the immediate future.
"Gentlemen," he told the Badgers in front of a sellout crowd, "if you want to add a little bit more frosting to the cake, one more win next week will give you the first outright title since 2008 and the No. 1 seed in the Big Ten tournament at the United Center."
A raucous ovation followed, and players hoisted the trophy high in the air to celebrate before taking turns snipping the net. But even in the joyous aftermath of Wisconsin's 68-61 victory against Michigan State at the Kohl Center, this much was clear: If the Badgers truly want to fulfill their ambitions this season, there is far more work to do.
"We all had the same goal, winning the Big Ten championship," Badgers guard Josh Gasser said. "We were hungry and worked really hard at it. It's definitely fulfilling, but we've got a few more goals left to achieve."
The next step, of course, is to win the Big Ten regular season crown outright for the first time in seven years. The only team capable of catching Wisconsin (14-2 in Big Ten play) at this point is Maryland (12-4). But Wisconsin would have to lose its final two road games against Minnesota on Thursday and Ohio State on Sunday, while Maryland would need to defeat Rutgers and Nebraska to take the top seed in the conference tournament away from the Badgers. Maryland edged Wisconsin, 59-53, last week in College Park to own the tiebreaker.
Badgers coach Bo Ryan has relied on veteran leadership this season, and nearly the entire playing rotation was a part of last year's one-point Final Four loss to Kentucky. That defeat has fueled the Badgers all season, and there has been little discussion internally about what Wisconsin must do next.
"Last year was heartbreaking, what we went through," Gasser said. "We want to get back to that point and more. We have a veteran group. We don't need to talk about it 24-7. We all know individually and as a team what we want. We'll enjoy this today and then tomorrow rest up and get back to work."
Ryan, meanwhile, said he liked the mindset of the entire team as it crept closer to the postseason. Barring an unforeseen setback, Wisconsin is expected to enter the NCAA tournament as a No. 2 seed at worst, with a possible spot available on the No. 1 seed line -- something the program has never achieved.
"When you put in the work that they have, you have players that have been as dedicated as these guys are, it's fun to want," Ryan said. "I just hope that each day they come to practice, they're working on satisfying the want. And that is being successful, continuing to play as long as we can."
One of Ryan's in-season mottos is that a team is only as good as its next 40 minutes, which he uttered again following Sunday's victory. And he's hopeful the mantra will continue in 11 days when Wisconsin opens the Big Ten tournament as the likely top seed and carry all the way through the NCAA tournament, where the Badgers could be cutting down even more nets in Indianapolis as national champions.
"We know we've done a little something, but we want some more," Gasser said. "Two really tough road games coming up that we're going to have to play really well for. We're going to keep working hard. Hopefully we can come out with some wins and springboard us into tournament play because once these two games are done, it's one-and-done time. It's March. So this is a great time of the year."
Badgers drop one: Wisconsin fell from No. 5 to No. 6 in the Associated Press top-25 poll released Monday following a week in which the Badgers lost to Maryland and defeated Michigan State. UW had been locked on the fifth spot in the poll since Jan. 26.
Kentucky was the unanimous No. 1 after receiving all 65 first-place votes, and Virginia remained at No. 2. But the next three spots changed after Gonzaga and Wisconsin lost.
Duke moved up one spot to No. 3, while Villanova (No. 4) and Arizona (No. 5) each climbed two spots. Gonzaga dropped four spots to No. 7 after losing to BYU. Wichita State reached No. 8, Kansas dropped to No. 9 after losing to Kansas State, and Maryland entered the AP top 10 for the first time since 2003 based largely on the strength of its victory against Wisconsin on Tuesday.
Follow Jesse Temple on Twitter
---