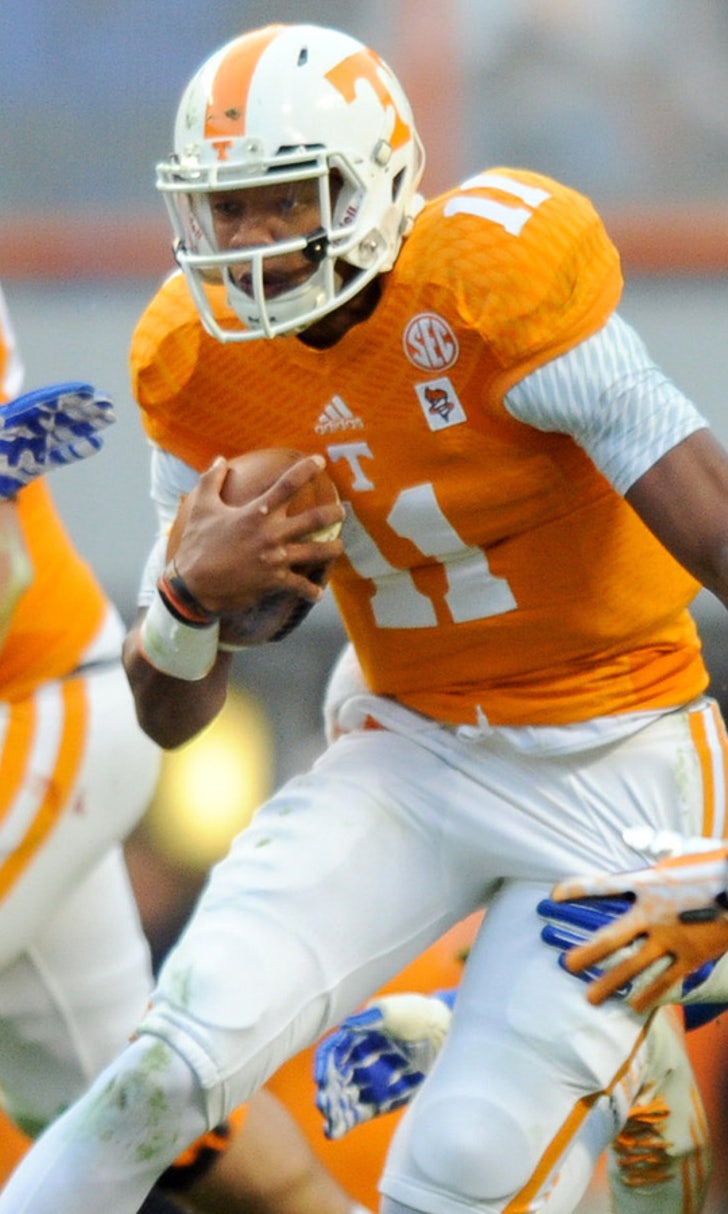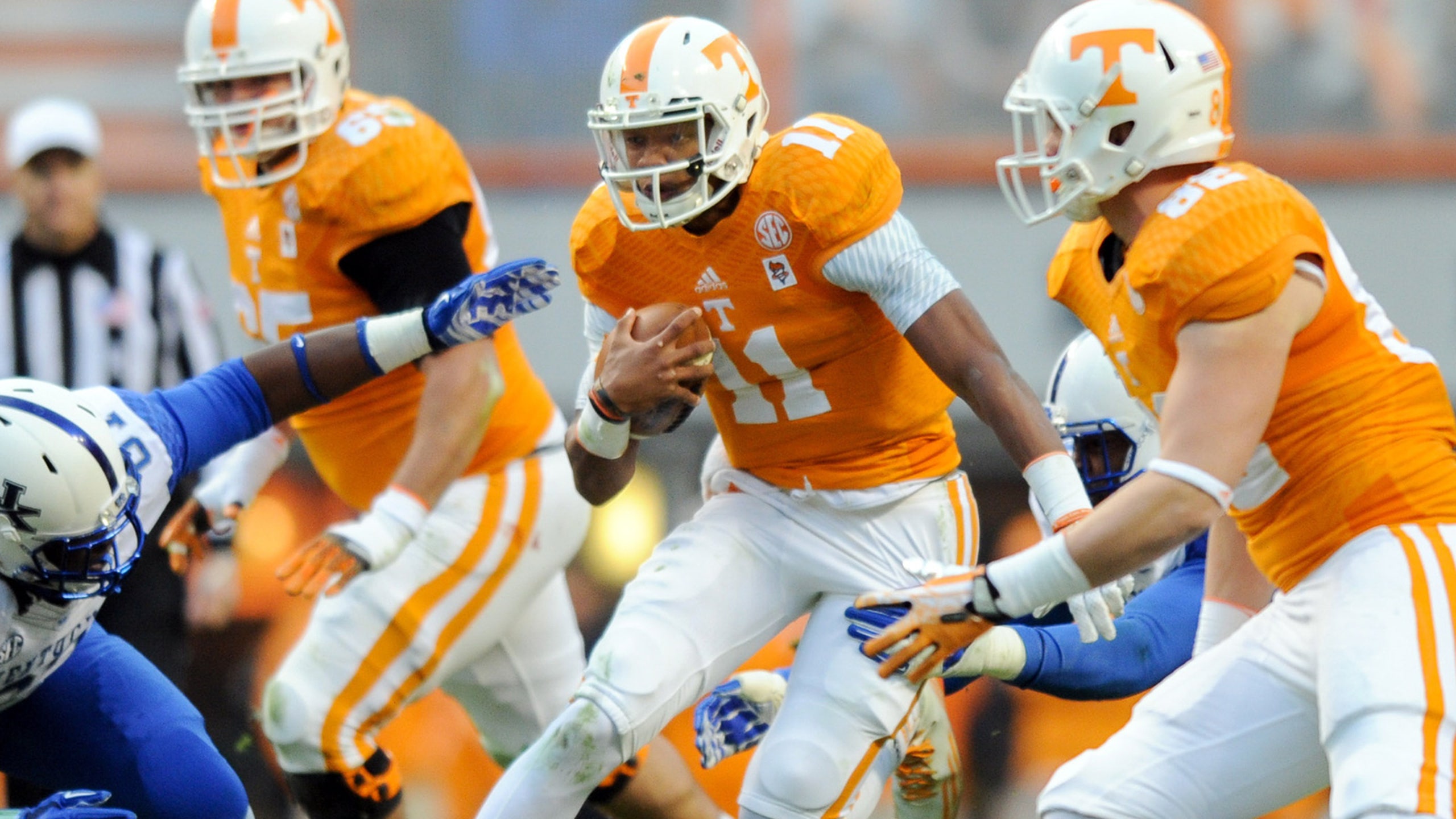 SEC Coming Attractions: All eyes on Knoxville; Mississippi State needs style points
BY Cory McCartney • November 18, 2014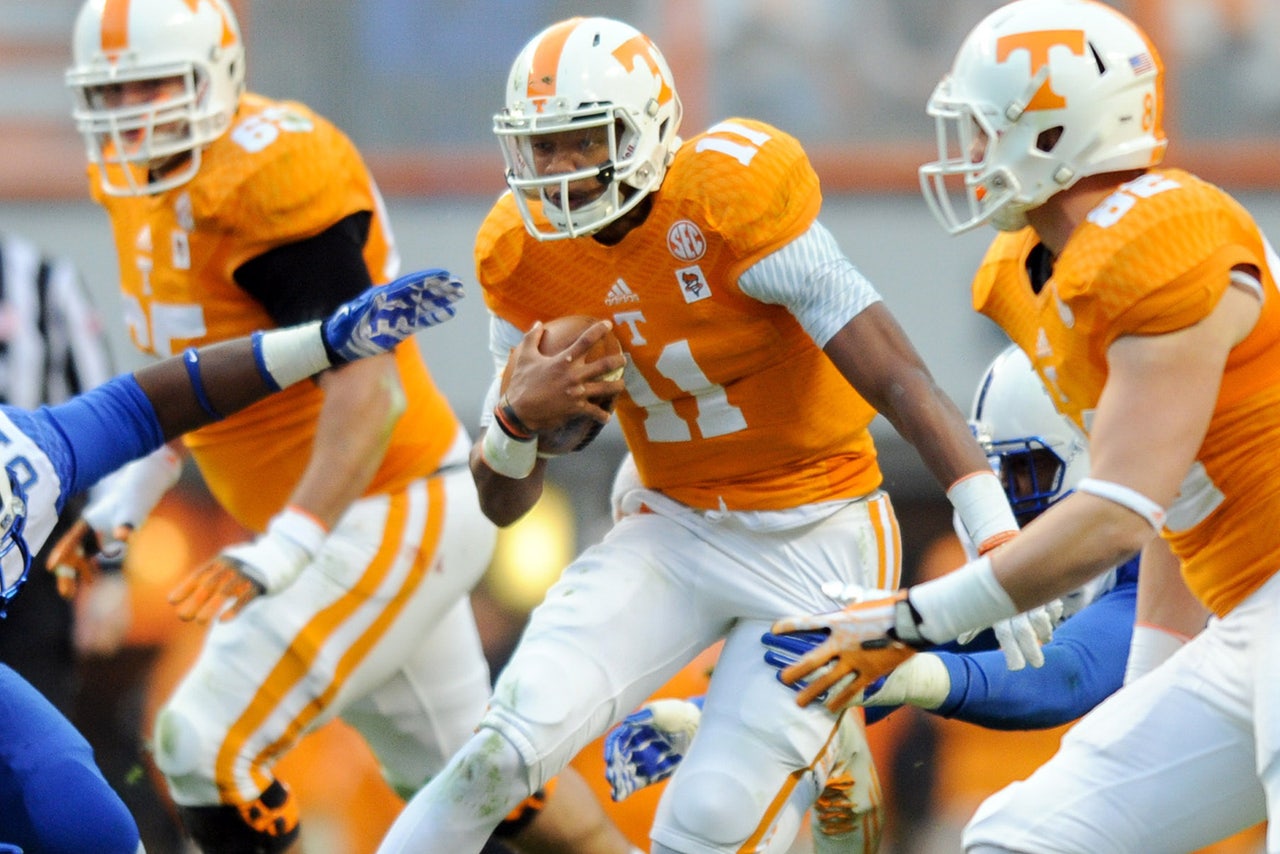 Only a few short weeks ago, it was the Egg Bowl that looked like the rivalry game that would matter, but the SEC West's traditional powers changed all that, with Alabama delivering the biggest blow in knocking off No. 1 Mississippi State.
This week, unfortunately, has letdown written all over it with five teams chomping on cupcakes and just three conference games. But one of those few SEC-on-SEC games could pull the East into focus.
So as we open up this week's SEC Coming Attractions, we -- along with Georgia -- turn our sights on Knoxville.
Baxter Street Bookstore in Athens has everything a Georgia fan could want: Bulldog-themed hats, shirts, salt shakers, even a toothbrush). But this week, they may want to add a little orange to their red and black palette, -- though their coach is noncommittal on that subject; Mark Richt said Sunday that while he'll be a "very big" Tennessee fan this week, "Whether or not I wear orange is still up in the air." At 6-2 in the SEC, the Bulldogs are still looking up at Missouri (5-1) in the East standings. With Georgia owning the tiebreaker after beating the Tigers 34-0 on Oct. 11, a loss in either of Missouri's last two games (at Tennessee and home vs. Arkansas) will put the Bulldogs in Atlanta for the conference championship game. That's where Richt's fandom comes into play as the Volunteers, winners against South Carolina and Kentucky their last two times out, have been thriving with quarterback Joshua Dobbs at the helm of the offense. In those last two wins, Dobbs has 598 yards passing, 214 rushing and nine combined touchdowns. Missouri's defense, which leads the SEC in sacks, will make for an intriguing matchup, and there are question marks surrounding the Vols defense with the suspension of linebacker A.J. Johnson and defensive back Michael Williams amid sexual assault allegations. Tennessee has to contend with Tigers QB Maty Mauk, who appears to have bounced back after a rough October. A Vols' win would make them bowl eligible; one for the Tigers puts everything on next Friday's clash with Arkansas and Richt will be watching intently, in colors that are to be determined.
GRAB YOUR POPCORN: Is the enemy of my enemy my friend? Is the enemy of my friend my enemy? Is the enemy of my enemy my enemy? It's a debate some Georgia fans --  like Warren Beatty in one of the most difficult scenes to follow from the disaster known as "Dick Tracy" -- have to be rolling around right now.
The dream of an undefeated season is a thing of the past for Stark Vegas' inhabitants, but the playoff dream is still very much in play. All Mississippi State needs is an Alabama loss to Auburn in the Iron Bowl and it's on course again for a trip to Atlanta. That being said, it will be interesting to see how the Bulldogs bounce back against one of the worst teams in the Power 5 ranks. Vanderbilt ranks 99th or worse in FBS in 12 different major statistical categories, including scoring offense (18.9 per, which is 116th) and points allowed (99th at 32.4). No surprise that the cowbell coalition opened as a 30 1/2-point favorite, and this probably will get ugly ... and that's exactly what the Bulldogs need. Since beating then-No. 2 Auburn by 15 on Oct. 11, they have gone on to struggle against Kentucky (14-point win), Arkansas (seven-point win) and then lose to Alabama. Style points matter in the selection committee era and unless they end up getting a shot at the SEC title, the Bulldogs are going to need to position themselves among the one-loss contenders by leaving no doubt in their last two games vs. the Commodores and No. 8 Ole Miss.
GRAB YOUR POPCORN: Good things have been coming to the Commodores' SEC opponents of late. Kentucky beat them on Sept. 27, then the next week upset South Carolina; Georgia followed its Oct. 4 victory by destroying No. 23 Missouri -- and even Florida, on the heels of a Nov. 8 win, fired Will Muschamp seven days later. That has to be a different kind of win for some Gators faithful. Take pride, Vanderbilt. It's like you've become the new "Good Luck Chuck."
The Razorbacks gave Bret Bielema his first conference victory in Week 12, dropping then-No. 17 LSU. Now, they'll eye their first back-to-back league wins since Oct. 6-13 -- and bowl eligibility -- as the Hogs host No. 8 Ole Miss. The Rebels are rested, coming off a bye week and a drubbing of Presbyterian the last time they played Nov. 8. But the problem is, we really don't know what to expect from the offense sans its best offensive weapon in Laquon Treadwell, who was lost for the season Nov. 1 against Auburn. They have had season-long issues running the ball, ranking 56th in FBS at 174.4 yards per, a number that drops to 139.8 over the last five league games. Meanwhile, Arkansas has been getting better and better by the week defensively since allowing 45 to Georgia on Oct. 18. In the past three games they allowed 17 points to UAB (which hung 34 on Mississippi State), 17 by Dak Prescott and Co. and shut out LSU. The Rebels' Landshark defense will make life difficult on that Arkansas running game (which averages 232.9 ypg), almost guaranteeing this will be a tight game, and one that given Ole Miss' offensive limitations minus Treadwell, may favor the Hogs.
GRAB YOUR POPCORN: OK, technically, a warthog and a razorback aren't the same. The former lives in the African wild; the latter in the southeast United States. But for our theatrical purposes, we'll blur the line and give you the greatest representation of a wild hog in American cinema: Pumbaa.
The process of replacing Will Muschamp has begun (here's a look at some out-of-the-box candidates to file along with the likes of Bob Stoops, Mullen, etc.), but the lame duck coach has two games left at the helm and Florida stands one win from bowl eligibility at 5-4. Considering the last one is on the road against defending national champ Florida State, the Gators have little margin of error this week against Eastern Kentucky. It's a game Florida should win, but so was the last time they faced a lower-level team, falling to Georgia Southern on Nov. 23. These Colonels don't lack offense, scoring 35 points per game, and are ranked 16th in FCS at 9-2. With athletic director Jeremy Foley chalking up this era of Florida football as a disaster, there's legitimate concern of the outgoing Muschamp losing his players. While the Gators should win this game to get back into the postseason, would it surprise anyone if they didn't?
GRAB YOUR POPCORN: If someone would have said in the mid-1990s that we'd get to see Sylvester Stallone and Arnold Schwarzenegger co-star, giddy wouldn't have come close to the reaction. Florida fans had to be thinking the same thing when they landed Muschamp, then Texas coach-in-waiting, but like Sly/Arnold's "Escape Plan," the byproduct started strong and turned into unmitigated disaster. At least both the movie and coaching tenure were memorably bad.
Nothing good comes from playing the "Told You So" card, but part of this space was recently dedicated to why Todd Gurley never should have suited up for Georgia again after his four-game suspension. Alas, one game into his return he suffered a torn ACL in his left knee against Auburn. With the NFL waiting, the injury almost certainly ended his college career. But here's where Georgia looks like the good guys: The school reportedly upped the running back's insurance policy to $10 million ($5 in total disability if he got hurt and never played another down and another $5 million that would kick in should he slipped past the first round, according to the same report). Georgia previously had those figures at $5 million and $2.5 million, respectively. The total cost of said policy for UGA is believed to be between $50,000 and $60,000. Obviously, the timing couldn't have been better, but coming off knee surgery, it would be stunning if Gurley ends up in the top-10 range he's been projected at. If not, credit to Georgia for doing the right thing and securing at least part of the back's future.
GRAB YOUR POPCORN: In "Boiler Room," -- a highly underrated gem in this college football scribe/wannabe movie critic's eyes -- Seth Davis has a late change of heart and makes good for ruined investor Harry, getting him money back before investment firm J.T. Marlin is raided by the FBI. That movie also included plenty of SEC references (to the U.S. Securities and Exchange Commission, that is), and it at least had a somewhat positive ending, which Gurley's career is now guaranteed, regardless of if it's in the NFL or not.
---