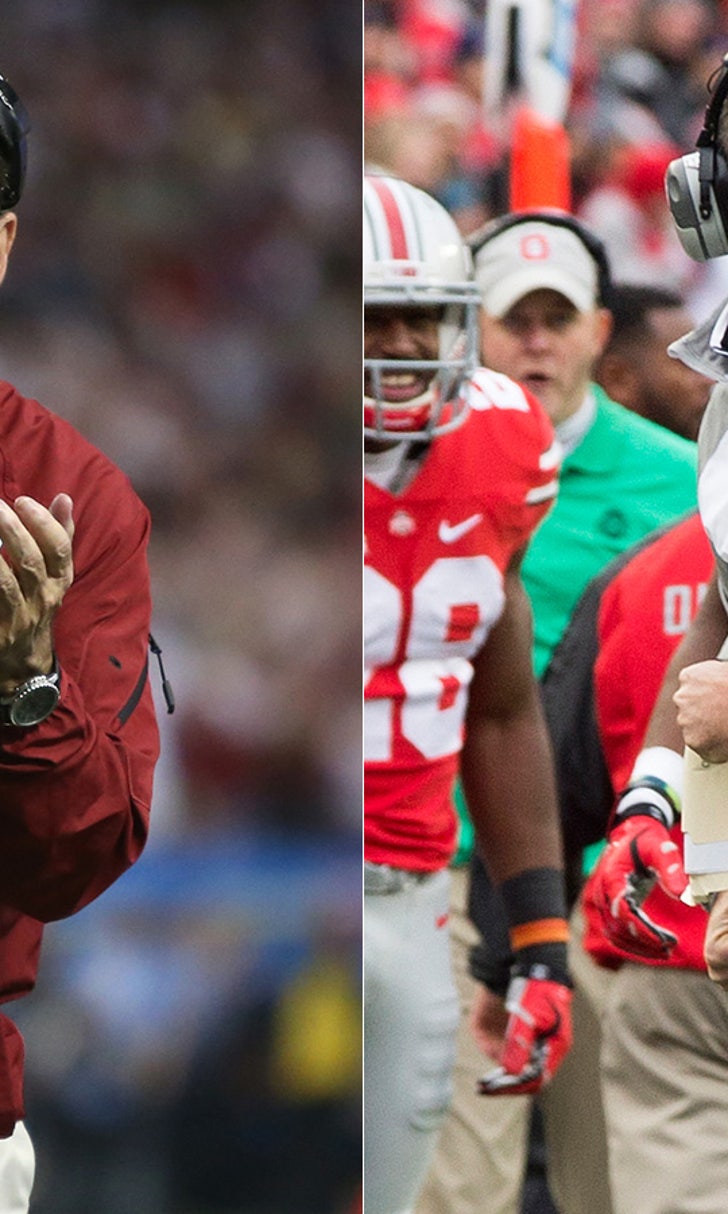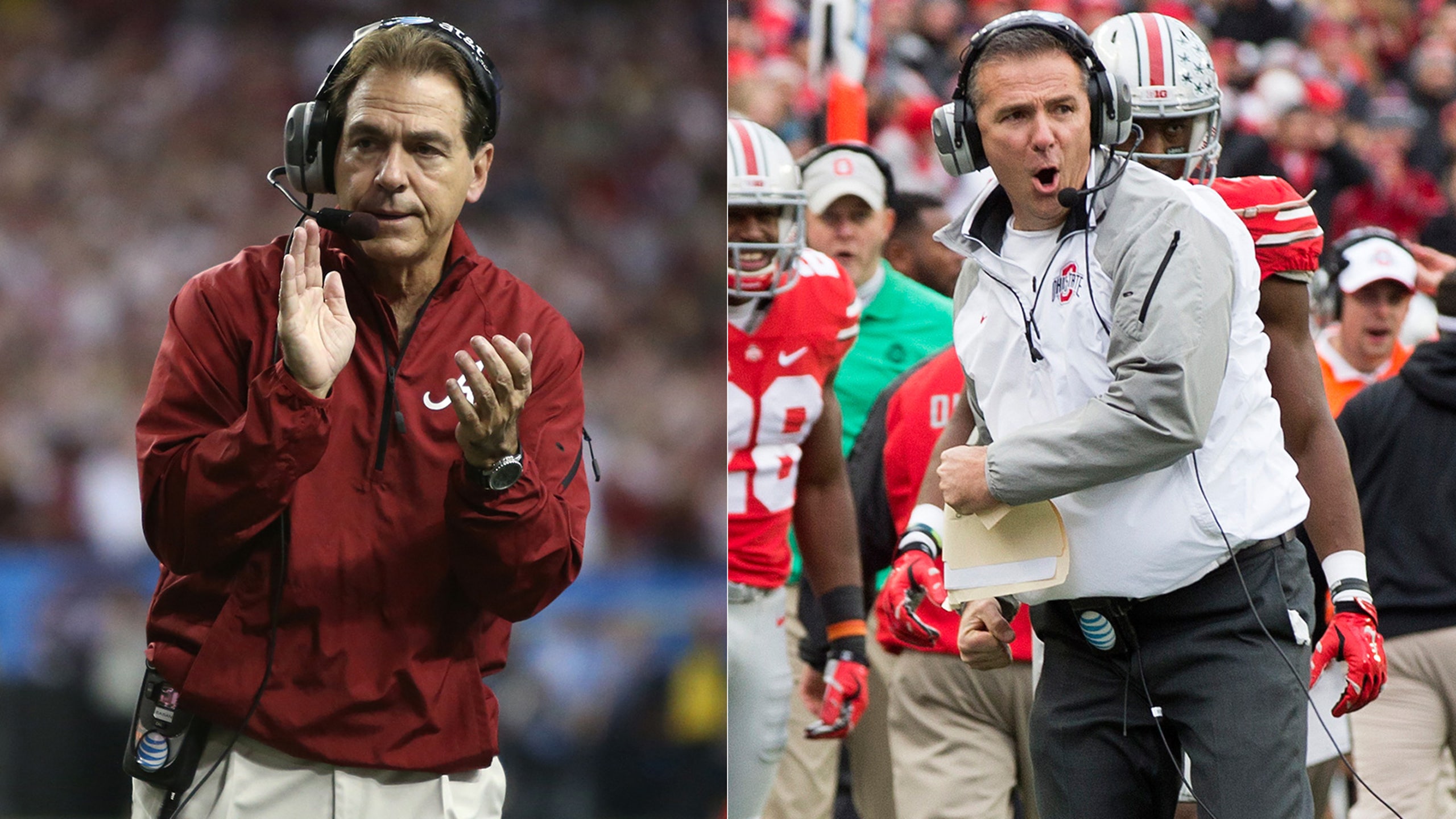 SEC Bowl Bits: Saban vs. Meyer, rekindled; thoughts on every matchup
BY Cory McCartney • December 7, 2014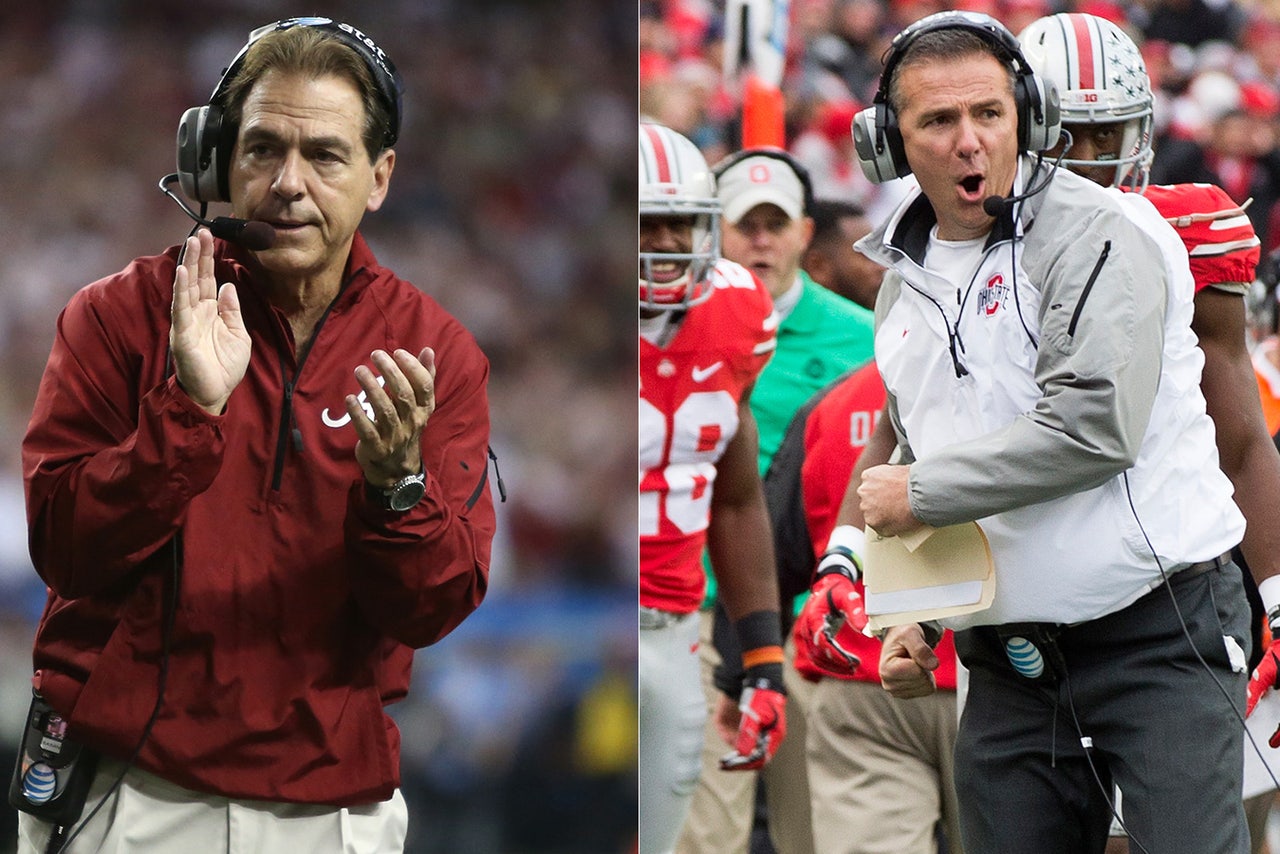 The SEC has 12 teams in bowl games, the most of any Power 5 conference and it leads the nation with three in the New Year's Six -- but there's only one that truly matters.
No. 1 Alabama carries with it the league's only hope of reclaiming the spot atop the college football universe it held for seven straight seasons. But as Nick Saban opined after winning the SEC championship Saturday night, the playoff has succeeded in skewing our view of the sport's postseason.
"I understand the interest in (the College Football Playoff), and it's great for the fans," he said. "But that was one of the unique things in college football is that a lot of college football players got a lot of positive self gratification from going to a bowl game, whether they won seven games, eight games, nine games, it all mattered.
"And everybody sat on New Year's Day and watched how many games that were all important? Those games are not getting the same respect now because we have a final four, and that's all that anybody talks about is who's in the final four."
So with that nudge in mind, here's are thoughts on each of the SEC's 12 bowl games -- and sorry, Nick, but we'll be putting plenty of focus on your Crimson Tide's spot in the national semifinals as well.
Sugar Bowl (Playoff semifinal): No. 1 Alabama vs. No. 4 Ohio State (Jan. 1): If you forgot, Urban Meyer and Nick Saban have a history. They met three times when Meyer was at Florida, with his Gators beating Saban in the 2008 SEC title game, but Saban returned the favor in '09 and then blew out Meyer and Florida in their last matchup. Alabama may be nation's best team, but the Buckeyes had the more overwhelming win in the regular-season finale, blanking Wisconsin 59-0. But is third-year sophomore quarterback Cardale Jones ready for this stage and for the Crimson Tide's 11th-ranked defense? Meanwhile, Blake Sims and the Alabama offense have been electric, rattling off three straight games of 42 or more points. Saban should build on his edge in this rivalry.
Peach Bowl: No. 9 Ole Miss vs. No. 6 TCU (Dec. 31): The Horned Frogs will no doubt be looking to take out some frustration for being left out of the playoffs in favor of the Buckeyes. Unfortunately for them, they drew arguably the nation's best defense, with Robert Nkemdiche and Co. allowing just 13.8 points (first) and giving up 321.2 yards (13th). Just two teams scored more than 20 points on the Rebels this season and one of them wasn't the Crimson Tide. The last time Bo Wallace was in the Georgia Dome -- in the season opener against Boise State -- he threw three first-half interceptions, but with TCU's penchant for forcing turnovers (23 gained, which is second in FBS), Ole Miss will need the version of Wallace who has thrown just five picks since Sept. 27.
Orange Bowl: No. 7 Mississippi State vs. No. 12 Georgia Tech (Dec. 31): They go about it on different ends of the spectrum, with Dan Mullen utilizing the read-option and Paul Johnson the triple-option, but the Bulldogs and Yellow Jackets are very much both power running teams. Considering Clemson's Deshaun Watson went down with a knee injury in the first quarter of their Nov. 15 matchup, Dak Prescott will be the most dangerous dual-threat quarterback Georgia Tech has seen for any extensive period this season. The novelty and execution of the Jackets' scheme will give Mississippi State, but the feeling here is Prescott, who needs 61 yards rushing to go over 1,000, will be the difference.
Independence Bowl: South Carolina vs. Miami (Dec. 27): There is at least star power here with Steve Spurrier and Hurricanes running back Duke Johnson, who may be playing in his final game. But beyond that, the Gamecocks were one of the biggest disappointments of the season, going from No. 9 to 6-6 and lost five of their last eight and Miami goes into this one losing three straight. South Carolina's allowing 214.4 yards on the ground (107th), meaning if this is Johnson's last time suiting up for the 'U,' he could go out with a flourish.
Liberty Bowl: Texas A&M vs. West Virginia (Dec. 29): Points will be scored. The Aggies scored 35 or more six times and gave up at least 31 on four occasions, while the Mountaineers had 30-plus in nine games and allowed that many six times. If it comes down to which defense can give its offense the most help it's West Virginia. It has faced Oklahoma, Texas Tech, Baylor, Oklahoma and TCU, all teams that include variations of the spread and is better prepared than Texas A&M. But adding another wrinkle here is these coaches know each other and their tendencies all too well, working together at Houston when Kevin Sumlin was the coach and Dana Holgorsen the offensive coordinator and QBs coach.
Texas Bowl: Arkansas vs. Texas (Dec. 29): Two old Southwest Conference rivals meet in a matchup that's not the one everyone was hoping for (that would be Texas A&M vs. the Longhorns), but this could be a great pairing. The Razorbacks' ended the season as one of the SEC's most dangerous teams, blanking both LSU and Ole Miss and had a chance to spoil Missouri's East title hopes. Alex Collins, Jonathan Williams and the Arkansas running game could be in for a big day given that Texas faced one team ranked higher than 25th in rushing, Baylor, which it allowed to rack up 278 yards.
Music City Bowl: No. 23 LSU vs. Notre Dame (Dec. 30): The Fighting Irish limp into this having dropped four straight and five of their last six since falling to Florida State on Oct. 18. Over that stretch the defense has been a train wreck, giving up at least 31 points each time and as many as 55 to Arizona State. It's not as if the Bayou Bengals have been impressive, dropping two of their last three and getting shut out by Arkansas, but we've Les Miles' crew go toe-to-toe with the Crimson Tide and they beat Ole Miss. This has the all the makings off adding to the Irish's skid against the SEC, which it last beat on Oct. 5, 2005 when they faced Tennessee.
Belk Bowl: No. 13 Georgia vs. No. 21 Louisville (Dec. 30): The best storyline is the one that jumps out immediately: Louisville defensive coordinator Todd Grantham faces the Bulldogs team whose D he led for four years. Huston Mason has been a major letdown as Georgia's QB and will no doubt try and stay away from Gerod Holliman, who tied an NCAA record with 14 picks this year. But the key matchup is the Cardinals' third-ranked rush defense (93.7) against Nick Chubb, who can get started on his 2015 Heisman Trophy campaign if he can post an eighth straight 100-yard game. Here's an interesting side note: if Chubb gets 105 yards, he'll have more yards in his first season as a Bulldog than Todd Gurley ever had in one of his.
Outback Bowl: No. 19 Auburn vs. No. 18 Wisconsin (Jan. 1): What's the over/under on rushing yards here? You've got the Tigers, who are 11th in the nation at 258.5 yards per game vs. the Badgers, who behind 2,000-yard runner Melvin Gordon are third at 314 per. They go about it in different ways, with Nick Marshall's mastery of the read-option in rushing for 780 and 11 scores and the power and speed of Cameron Artis-Payne (1,482 yards and 11 TDs). Since 2000, Arizona State and Navy have combined for the most yards on the ground in a bowl with 694 in the 2012 Fight Hunger Bowl. The bet here is these teams surpass that.
Citrus Bowl: No. 16 Missouri vs. No. 25 Minnesota (Jan. 1): Bowl game or regular season, there may not be a worse matchup on paper of passing offenses. The Gophers are 122nd; the Tigers are 94th. Basically, this should come down to whether Minnesota can continue to do its best work between the tackles, where David Cobb has been at his most effective in piling up 1,548 yards. Do that and it's going to be hard for Missouri ends Shane Ray (who will be back after missing two quarters of the SEC title game for a targeting call) and Markus Golden to have their typical success. That's a game plan that worked perfectly for Alabama.
TaxSlayer Bowl: Tennessee vs. Iowa (Jan. 2): Butch Jones brought an end to the Volunteers' bowl drought, but can he bring them their first victory since '07? While the Hawkeyes bring in an 18th-ranked defense, this is a favorable matchup for Tennessee. Iowa had trouble against Nebraska QB Tommy Armstrong, allowing 233 total yards and the Vols' Joshua Dobbs has come into his own, averaging 300 yards of offense over his last four games.
Birmingham Bowl: Florida vs. East Carolina (Jan. 3): Jim McElwain will be in attendance and will be on hand for practices and player evaluation, but he'll be leading the job of coaching the Gators to defensive coordinator D.J. Durkin. Florida's ninth-ranked D is in for a tough test against the Pirates and QB Shane Carden, who are fifth in total offense (532.8) and 14th in scoring (37.2). They're also strong against the run (eighth at 107.1), which could limit the Gators' ability to use their best offensive asset.
---