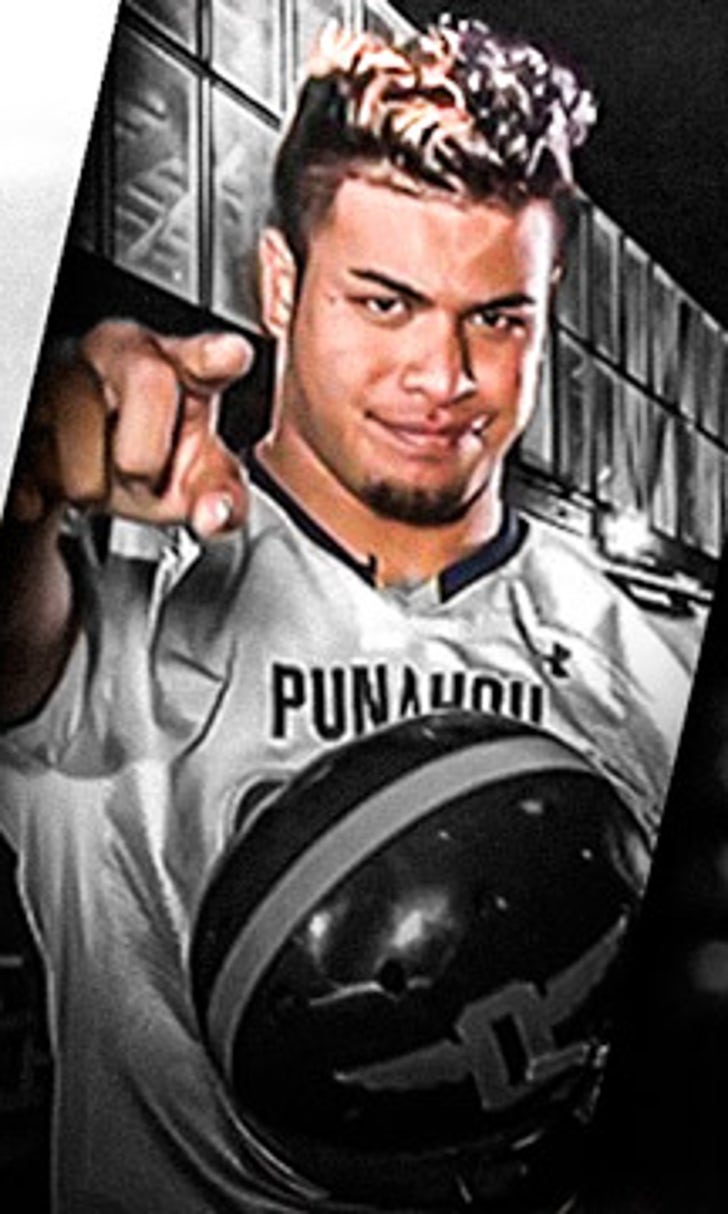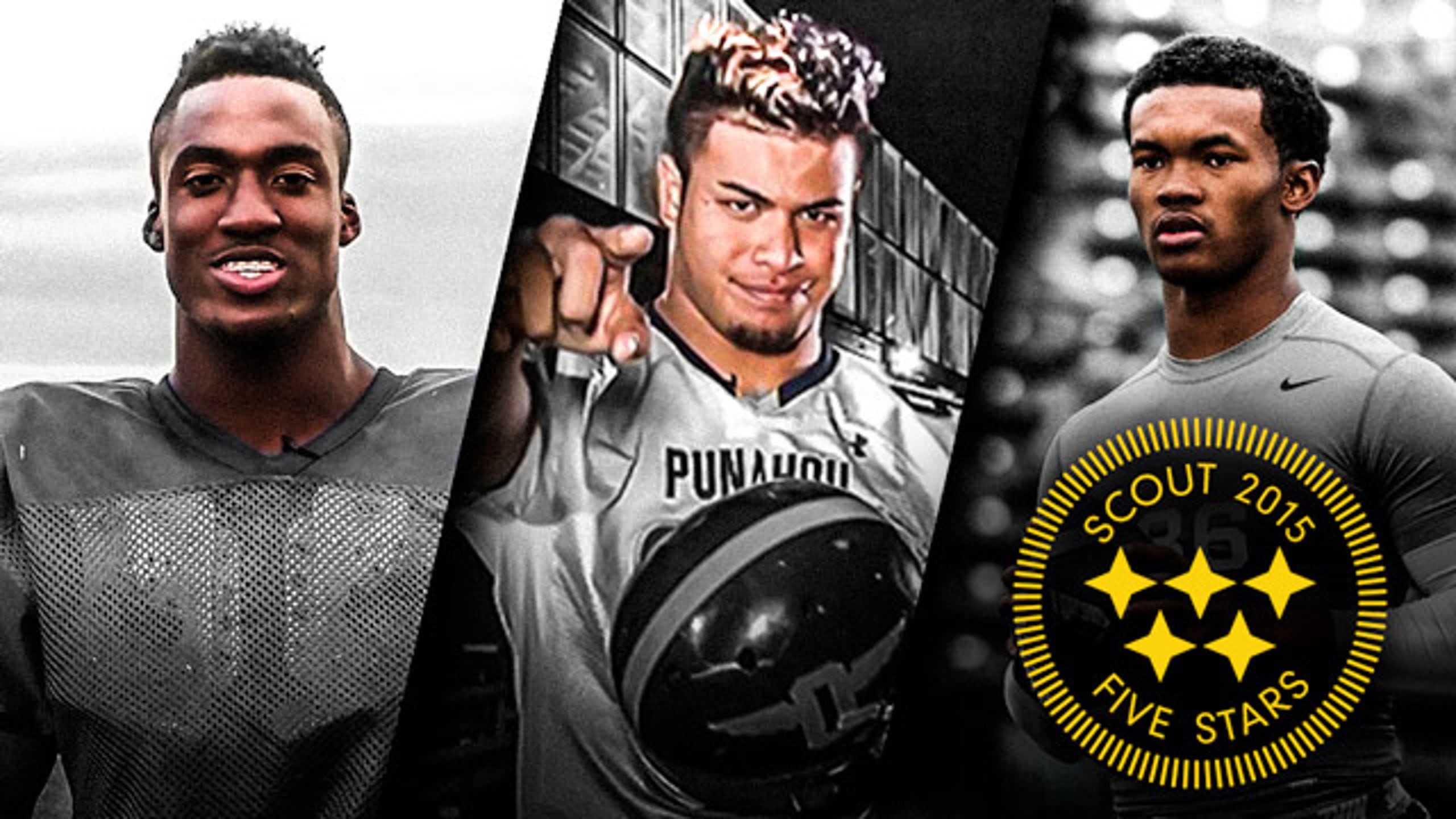 Scout Final 2015 Rankings: New Five-Stars
BY foxsports • January 14, 2015
With the final rankings for the 2015 class out later this week on Scout, six players from across the country picked up their fifth star today in time for the stretch run to Signing Day.
The South added three five-stars while the East, Midlands and West each added one.
Here is a look at each of the six new five-stars on Scout in the 2015 class.
Canton Kaumatule, DE, Honolulu (Hawaii) Punahou- Committed to Oregon

With or without a history of injuries, Kaumatule is a guy that every coach in the country would love to have anchoring their line. Kaumatule looks like he could be playing on Sunday's already. At 6-6, 280, they just aren't put together any better. He loves the game of football and never takes plays off. Throughout the Under Armour All-America week, Kaumatule dominated the competition, proving that he belongs amongst the best. He is deceptively quick, uses his hands to perfection, and does a nice job setting the edge. Kaumatule can play over the center, 3-tech, or outside end. What's scary about Kaumatule is his best days are well ahead of him. He is going to get better and better over the next few years. He is one of the best prospects to come from Hawaii. -Doug Kimmel, Mountain/Island Region Analyst
Tarvarus McFadden, CB, Plantation (Fla.) American Heritage- Committed to Florida State

McFadden is worthy of five-star status as he is what every school in the country would love to have and that's a big, long and physical cornerback. He's versatile and can play anywhere in the secondary. McFadden will first get a crack on the perimeter at corner. This is a kid with safety size that can play the position. McFadden is a quality man to man guy and also excels in zone. He's going into a great situation at FSU and will have a chance to be another outstanding secondary guy for the Seminoles. -Jamie Newberg, National Recruiting Analyst, Florida
Donte Jackson, CB, Jefferson (La.) Riverdale- Uncommitted

Exploded onto the scene for me early in 2014, and he only got better each time I saw him. On the big stage, he never disappointed, and he showed time after time that he is one of the best in the country with still so much room to develop at a cornerback. As he gets into college and gets involved in the weight program, he will add the needed mass and strength to go with his blinding speed and fluid hips. -Chad Simmons, National Recruiting Analyst, South
George Campbell, WR, Tarpon Springs (Fla.) East Lake- Committed to Florida State

This elite athlete started out as a five-star prospect and he will end up as one after being a high four-star on Scout for a few months. He has all the tools you look for athletically with explosiveness, length, speed, and flexibility. He is still working on the little things -- route running, strength, and consistency, but they are coming along, and he has a chance to be a great one at FSU. -Chad Simmons, National Recruiting Analyst, South
Minkah Fitzpatrick, CB, Jersey City (N.J.) St. Peter's Prep- Committed to Alabama

Fitzpatrick was always a player right on the edge of being a five-star, and in seeing him play four times during his senior season, he improved in several key areas that was the difference in moving from a four-star to a five-star. He played safety, although he is rated as a cornerback, to have a bigger impact on the defensive end and the moved allowed him to show his toughness and tackling ability in the running game. He got stronger and he improved his already-impressive explosion,and he remained wonderfully loose in the hips to turn and run with receivers when he was in coverage. When St. Peter's Prep needed him in man coverage, receivers couldn't get a sniff of being open. -Brian Dohn, National Recruiting Analyst, East
Kyler Murray, QB, Allen (Texas)- Committed to Texas A&M

Murray has been right there rated as one of the top recruits in the country, but picked up his fifth star after a dominating senior performance. He is the first quarterback under 6'0 to be rated as a five-star prospect in the history of Scout.com rankings, but size is not an issue as he has all of the tools. He has a lightning quick release, great field vision, anticipation and is fast as greased lightning when he pulls the ball down to run. He is a technician as well and has his game prepped and ready for the next level. -Greg Powers, National Recruiting Analyst, Midlands
The Scout 100 will be released on Thursday and the final Scout 300 for 2015 will be released on Friday.
---