Sarkisian: Shaw 'thankful' to be reinstated
BY foxsports • November 19, 2014
There's "a sense of relief" along with a spirit of being "thankful" on the part of Josh Shaw, according to his head coach Steve Sarkisian.
Shaw was reinstated to the USC football team Tuesday after what turned out to be a 10-game suspension from the team. Shaw injured both ankles and fabricated a story about the injury. The reinstatement comes on the heels of the Los Angeles District Attorney's announcement Monday that no charges would be filed against Shaw, who was the subject of a domestic violence investigation.
The USC cornerback could return to the field just in time for rivalry week -- both of them. The Trojans conclude the regular season with UCLA on Saturday at the Rose Bowl, and then against Notre Dame the following week at the Coliseum, which happens to be Senior Day.
The possibility of Shaw concluding his collegiate career against his rivals is something Sarkisian spoke of Tuesday in his weekly appearance on "Trojans Live" on The Beast 980:
"You got to remember he grew up in Southern California and went to the University of Florida, decides to transfer back to USC, becomes a really integral part of the program, is just fantastic in the community, great in the classroom, gets elected captain his senior year, makes a really horrible mistake," Sarkisian said on the radio show, "Then, boom, it's gone and then to think, 'Man, now I have a chance to play my last couple games, my senior year, against our two rivals -- UCLA and Notre Dame.' I think he's just really thankful more than anything else."
But, just how much can it be expected that Shaw will play? Sarkisian said Tuesday that he's "in the process of evaluating how Josh can contribute to the team's success." While Shaw was suspended, freshman Adoree' Jackson has emerged as the top cornerback on the team. Kevon Seymour and Chris Hawkins are the other constants at the position. Su'a Cravens has played nickel cornerback position at times this season.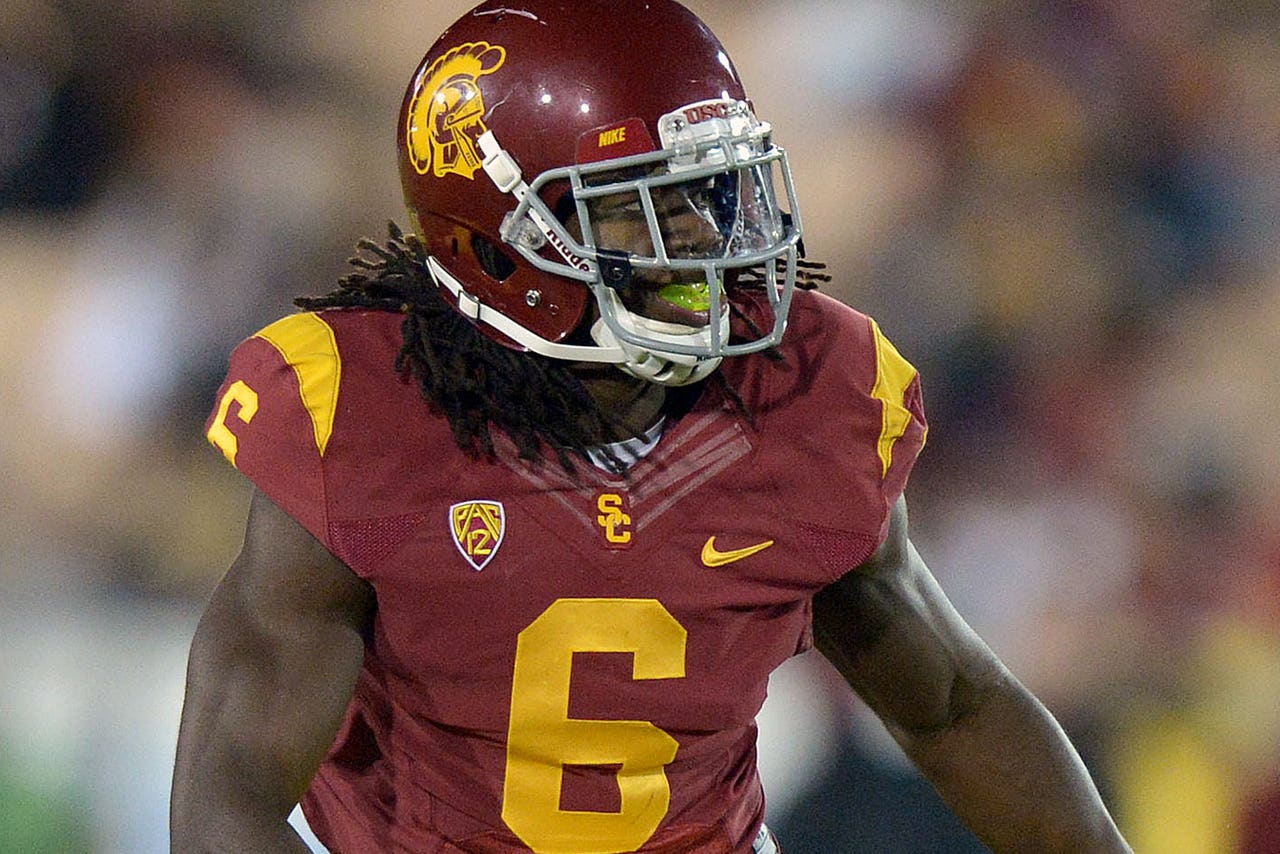 Josh Shaw reinstated by USC after suspension
Before Shaw was reinstated, Sarkisian made note of the fact that his team has played 10 games without Shaw and they "have a pretty good understanding of who we are."
Whether he sees anytime on the field or not will remain to be seen but when Shaw emerges out of the Rose Bowl tunnel with his teammates Saturday there will not be a "C" on his jersey with his captaincy being stripped following his suspension.
"Part of being a captain here at USC is doing things right and doing it right all the time," Sarkisian said. "Being a Trojan is an all the time thing. It's not a sometimes thing. That doesn't mean when we make mistakes we can't help guys and educate them and continue to develop them but being a captain is a big deal here. Taking the 'C' off a jersey is not welcoming to anybody but he understands it and we're moving forward."
---