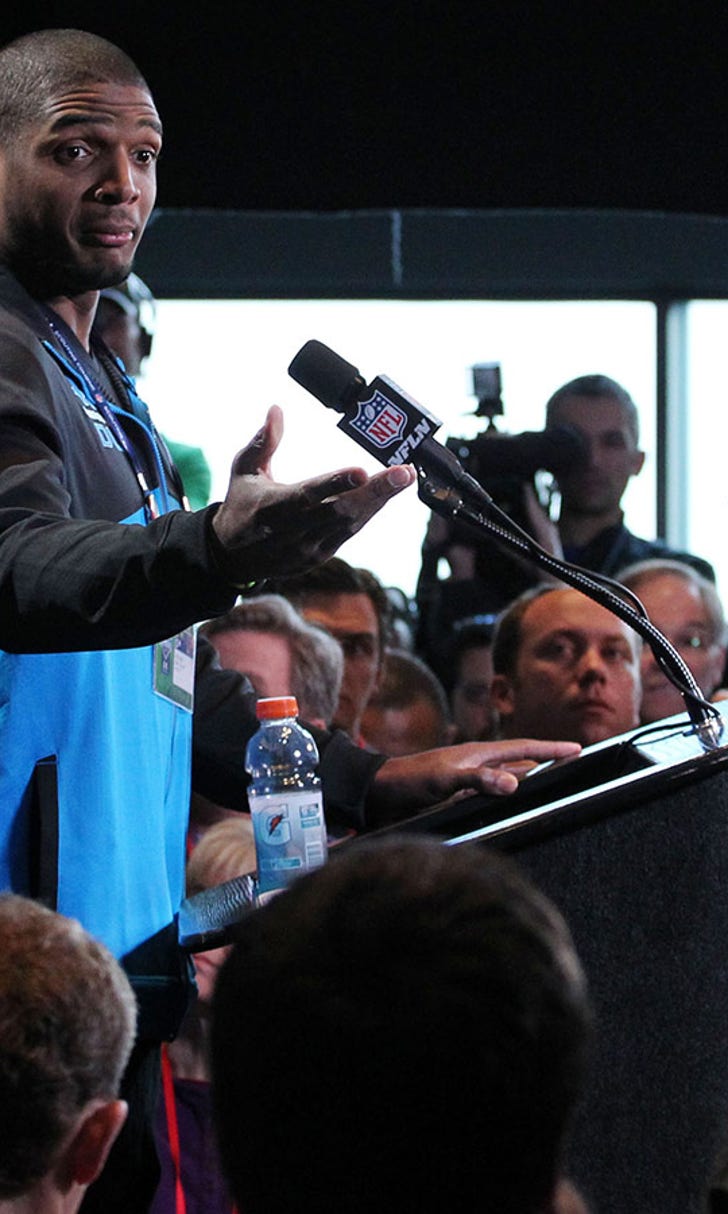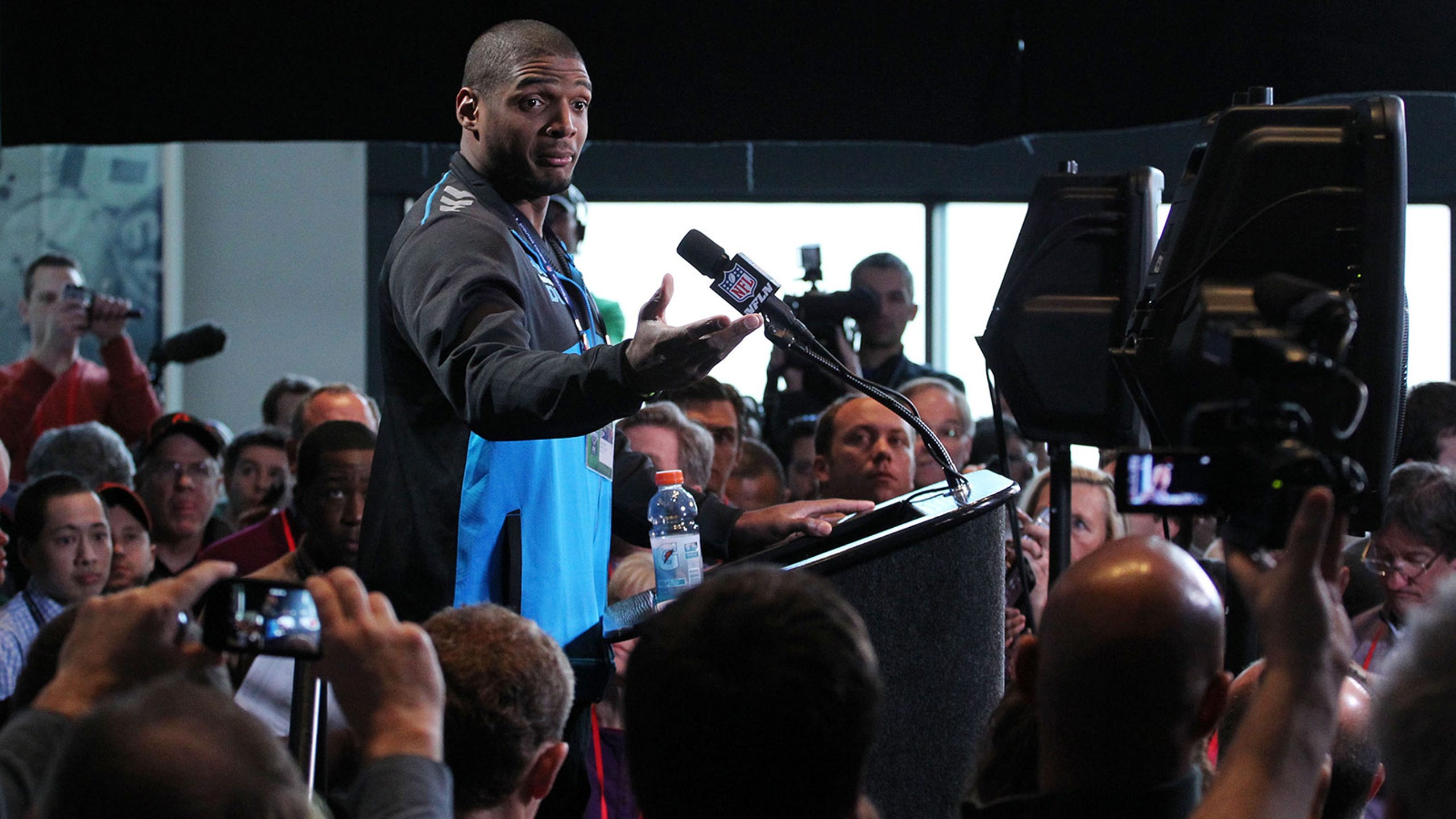 Sam could be fit for Packers as pass-rushing OLB
BY foxsports • February 22, 2014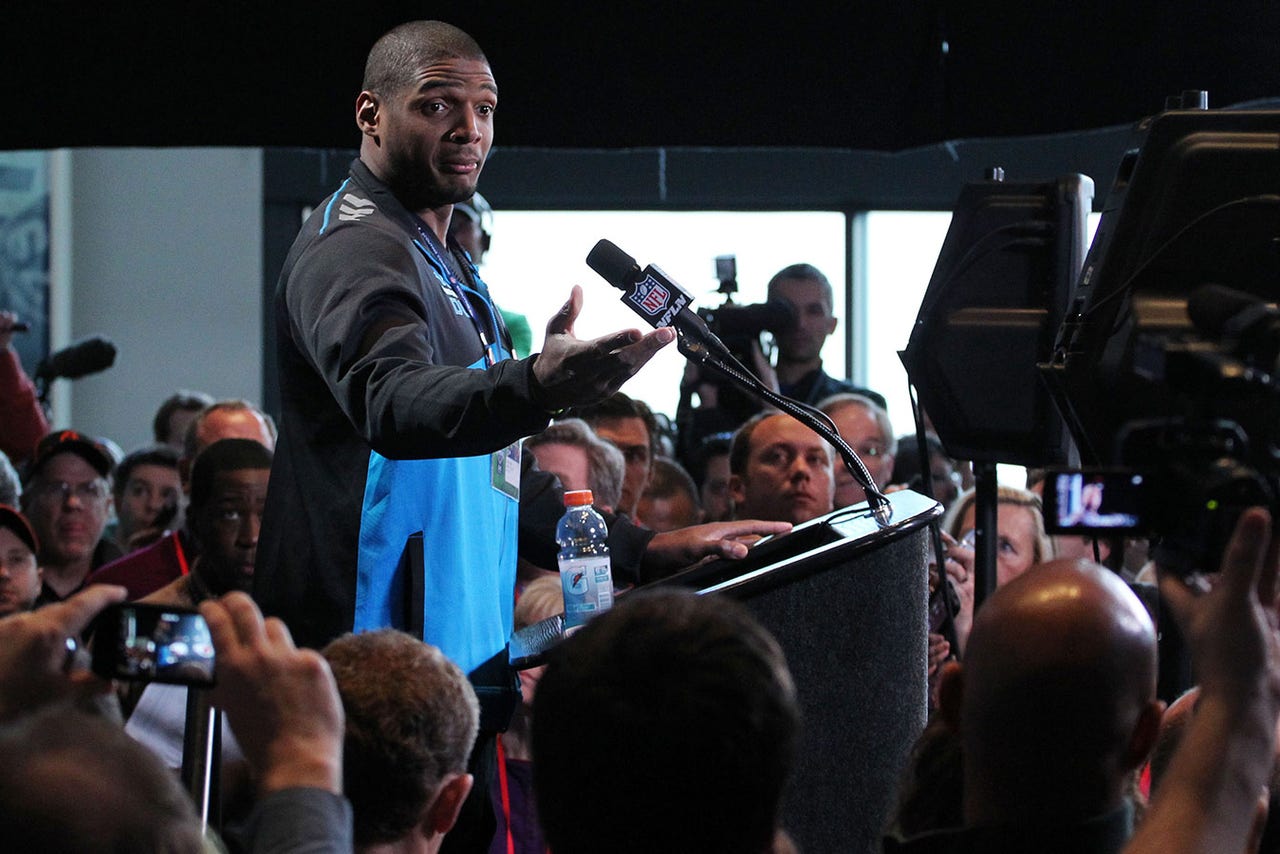 INDIANAPOLIS -- If the NFL Scouting Combine had been held two weeks earlier, mid-round draft prospect Michael Sam would have been seated at one of six small tables in the media area. A few reporters would have stopped by briefly to ask him about his height, weight and when he realized that he had the talent to make it in the league.
Those are the questions Sam wanted to answer. Football-related questions.
Instead, after publicly announcing earlier in the month that he was gay, Sam was brought to one of the three main podiums and, in front of hundreds of reporters, was asked more about situations relating to his sexual orientation than about his ability to actually play in the NFL.
"I wish you guys would just say, 'Michael Sam, how's football going? How's training going?'" Sam said Saturday at the combine. "I would love for you to ask me that question. I just wish you guys would just see me as Michael Sam the football player instead of Michael Sam the gay football player."
While the ideal line of questions that Sam wanted were far outweighed by the type of questions he would prefer not to discuss, there was some information uncovered about how his game translates to the NFL. That happened when a reporter spoke up and began by saying: "This is a football question."
That was music to Sam's ears.
"Hey, what's that?" he said with a smile.
The football-related questions that Sam asked for weren't softballs, though. On the field, he's a man who could lack a true position in the NFL. Is he a 4-3 defensive end who plays with his hand in the dirt? Or is he a 3-4 outside linebacker who begins each play standing up?
That's the question that the Green Bay Packers need an answer to before they can consider whether to draft Sam in his projected range around the fourth or fifth round.
"I'm a pass rusher," Sam said. "If you put me in a situation to get the quarterback, I'm going to get the quarterback. Whoever coaches or GMs, this league is a passing league. I'd like to believe in myself as a good pass rusher."
Measuring at 6-foot-2 and 261 pounds, Sam falls into the "tweener" category, where he doesn't perfectly fit as either a 4-3 defensive lineman or a 3-4 outside linebacker. That was the problem facing Nick Perry -- who's quite similar at 6-foot-3 and 265 pounds -- before the Packers selected him in the first round in 2012. Green Bay believed Perry could transition from a 4-3 defensive end in college to defensive coordinator Dom Capers' 3-4 scheme and be an outside linebacker. The results of that after two years have not been very good.
"I can drop back in coverage as well," Sam said of the important trait that would be expected of him as an outside linebacker.
But Sam knows that the smart play is to sell his biggest strength.
"My specialty is rushing the passer," he added in conclusion.
Sam's 11.5 sacks during his senior year at the University of Missouri proved that he could get to the quarterback in college. Finding that success in the NFL will be more difficult, of course.
"There's going to be games when I might not get a sack," Sam said. "Throughout the games I did have some inconsistency there, but for the most part we as a defensive line did put a lot of pressure on quarterbacks, made them uncomfortable in the pocket to have to go and run away or throw the ball out of bounds."
Sam, like most pass rushers should want to do, sees Michael Strahan as the type of defensive player he'd like to become.
"He's an awesome pass rusher," Sam said. "I'd like to make a name for myself."
Unlike his interview with the media, Sam claimed that NFL teams only asked him about football. The one specific question that Sam mentioned was asked of him was: "Have you ever played linebacker?"
A "yes" answer wouldn't be imperative to the Packers potentially being interested in drafting Sam for his pass-rushing skills. Green Bay just spent the 2013 season training fourth-year player Mike Neal to switch from defensive lineman to outside linebacker.
Similar to coach Mike McCarthy's answer 11 days earlier, general manager Ted Thompson is approaching the possibility of drafting Sam just like he does with every player. That Sam decided to let the world know that he is gay is of no concern to Thompson's evaluation.
"I think there's a lot to do about much of nothing," Thompson said Friday at the combine. "With the Packers and every one of these teams, what we've been talking about . . . is how do we win and how do we do things? If someone can help us win games and be a good citizen, we're fine with him."
Sam will hear his name called at some point during draft weekend in May and will become the NFL's first openly gay player. If Thompson and his staff are convinced that Sam can make the jump to outside linebacker, it could very well be the Packers that he's rushing the passer for next season.
"I want to play for whoever picks me up as a defensive end or outside linebacker. to rush that passer," Sam said. "That would be best."
Follow Paul Imig on Twitter
---