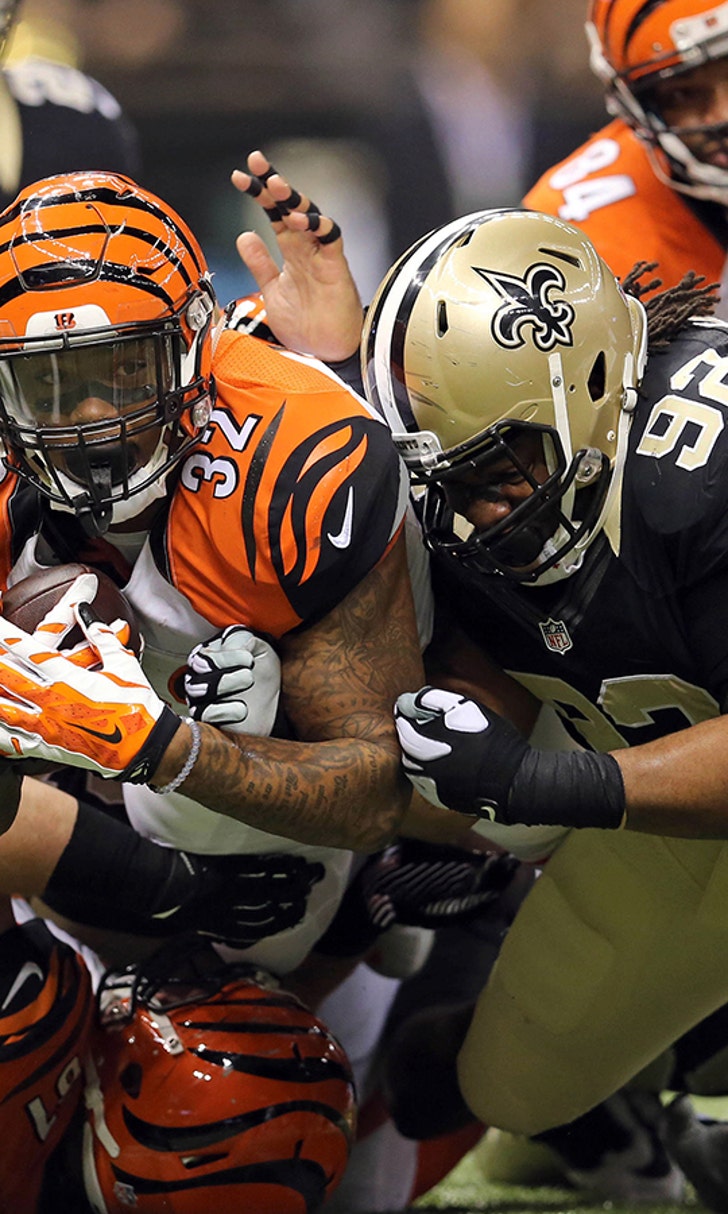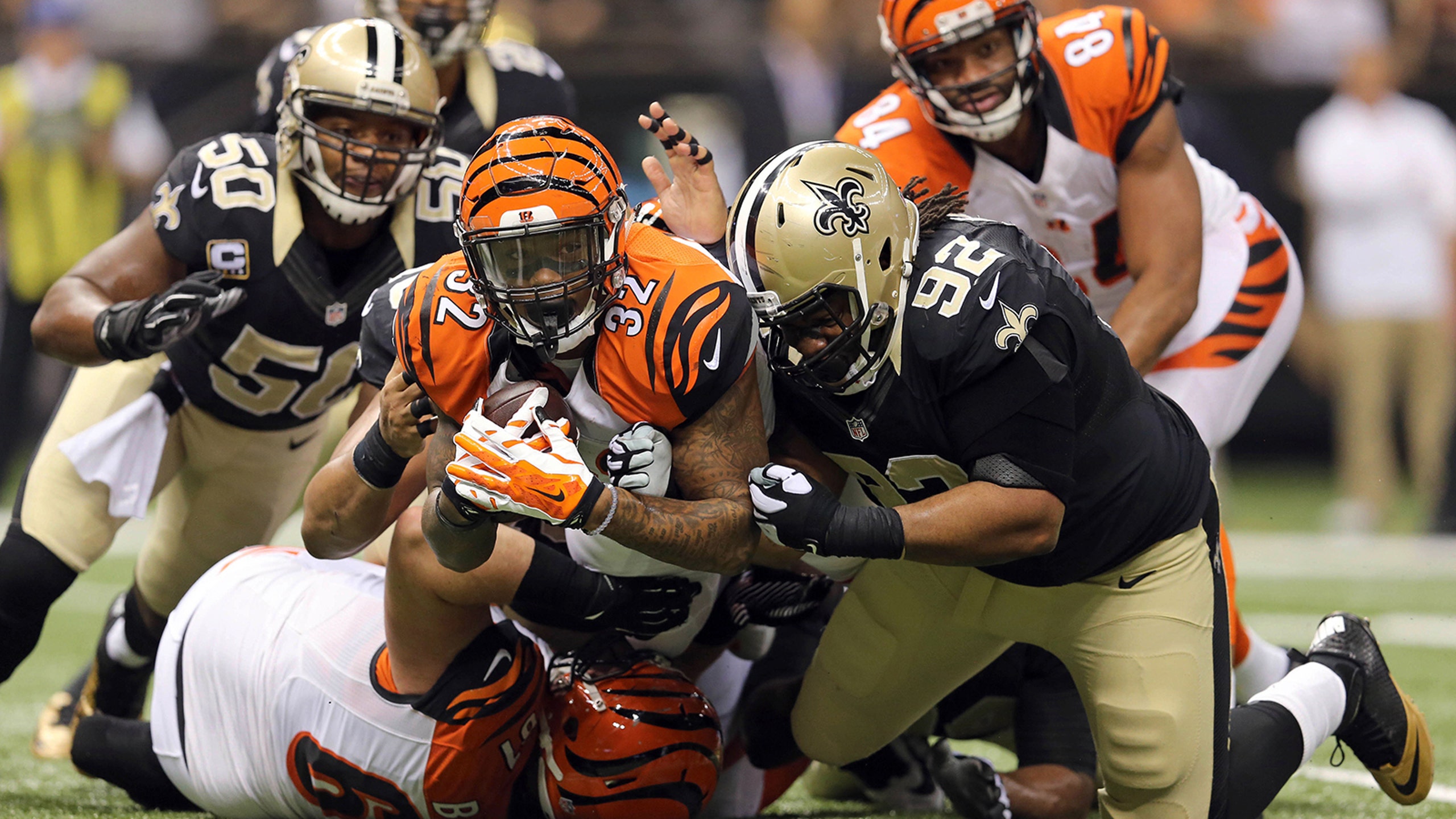 Saints toppled by Bengals at home
BY foxsports • November 16, 2014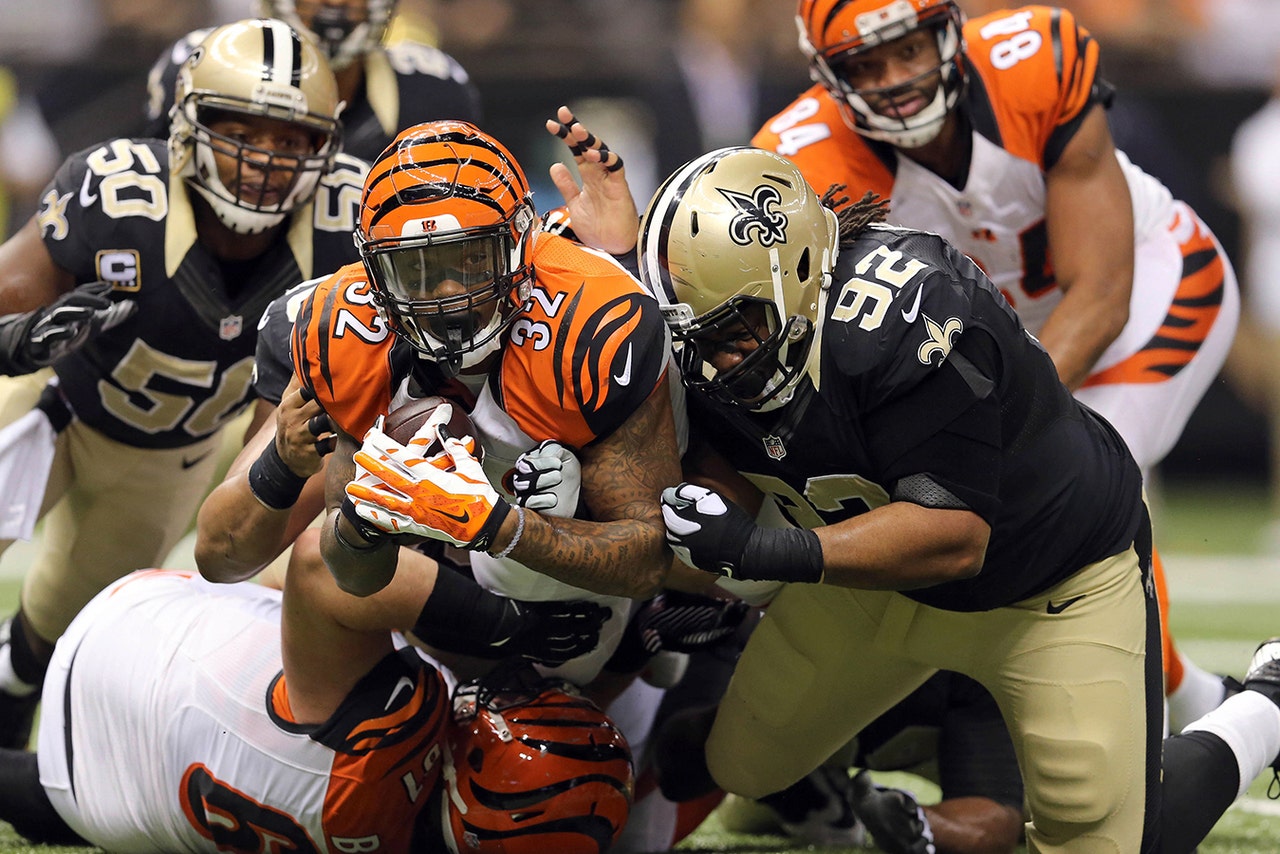 NEW ORLEANS (AP) -- Drew Brees and the Saints can thank the rest of the NFC South Division for keeping them relevant in the NFC playoff picture.
Matching their lowest point total in the Superdome since 2006, the Saints lost their second straight game at home, 27-10 to the Cincinnati Bengals on Sunday.
"Could we go to playoffs? Yes, we could, but we need to start playing like it," said Brees, who passed for 255 yards -- his second-lowest total this season -- and one touchdown, a 9-yarder to Kenny Stills in the fourth quarter.
"I feel good about our chances and our opportunity that we have in front of us," Brees added, apologizing for his optimism. "We're learning a lot about how to win. Unfortunately, it's because of failure, but failure can be the best teacher at times."
Because Atlanta (4-6) defeated Carolina (3-6-1), New Orleans remained tied for first place in the division, two games ahead of last-place Tampa Bay (2-8).
Yet, after the game, the Saints locker room was full of players searching for answers.
"If I had a solution, I'd share it," Saints safety Kenny Vaccaro said. "Just because you have great players on paper doesn't mean you're going to mesh right away."
The Saints haven't lost by 17 points in the Superdome since a 31-14 loss on Sept. 24, 2007. The last time they lost by more in the dome was before Sean Payton became coach -- a 34-13 loss to Denver on Nov. 21, 2004.
Against Cincinnati, the Saints had their share of lowlights on offense and defense, including a failed fourth-down pass to fullback Erik Lorig that was stopped short on fourth-and-goal from the 1, leaving the Saints with nothing from a 17-play drive in the first half.
"I'm obviously not doing a very good job," Saints coach Sean Payton said. "They clearly outplayed us in every area."
The Bengals defense, which appeared beat up coming in and minus a couple of starters, not only contained Brees but also ended Mark Ingram's streak of 100-yard rushing games at three. Ingram finished with 67 yards on 27 carries.
Meanwhile, Cincinnati quarterback Andy Dalton, who was coming off one of the worst performances of his career a week earlier, was 16 of 22 for 220 yards and three touchdowns, did not throw an interception and finished with a passer rating of 143.9 as he helped lift Cincinnati (6-3-1) back into first place in the AFC North.
"He's our quarterback for a reason. He's one of the best," Bengals receiver A.J. Green said. "We have faith in him. He has faith in himself. There was nothing wrong with him this week."
Bengals tight end Jermaine Gresham had two touchdown catches, though he fumbled the first just short of the goal line before recovering it in the end zone.
Cincinnati rookie running back Jeremy Hill, who was LSU's top rusher last season, just gained 152 yards on 27 carries, including a 62-yard run that set up a field goal in the final seconds of the first half.
New Orleans also allowed Cincinnati to convert nine of 13 third downs. One such conversion came on third-and-18 from its 12 early in the fourth quarter, when the Saints, trailing 20-10, still had a chance to get back in the game.
Instead, Dalton found Green for a 38-yard gain, sustaining a drive that ended with Green's 24-yard touchdown catch.
"Our third-down defense was awful," Payton said.
Making matters worse, Saints safety Rafael Bush, who's been starting since Jairus Byrd's season-ending injury, left the game in the fourth quarter and said he fractured his tibia.
"I don't know the timetable of the injury," Bush said. "I don't even know if I have to have surgery. But I'll continue to remain positive and hopefully we can get this division title."
Cornerback Keenan Lewis, who is New Orleans' top pass defender, but who played sparingly as he recovers from a knee bruise last week, said he was tired of hearing about the chemistry the Saints lost when veteran safeties Roman Harper and Malcolm Jenkins left in free agency after last season.
"We got to set our own standards. I don't know what the vibe is, but definitely the vibe better get fixed soon or we're all going to be looking for jobs," Lewis said. "Being one of the older guys in the secondary ... it's time for me to show them how to really get the job done. If they don't buy in, then they've got to go."
---