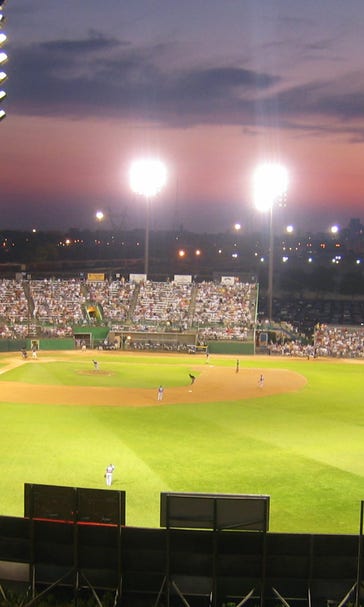 Saints president 'pinching' self over new baseball stadium
September 8, 2014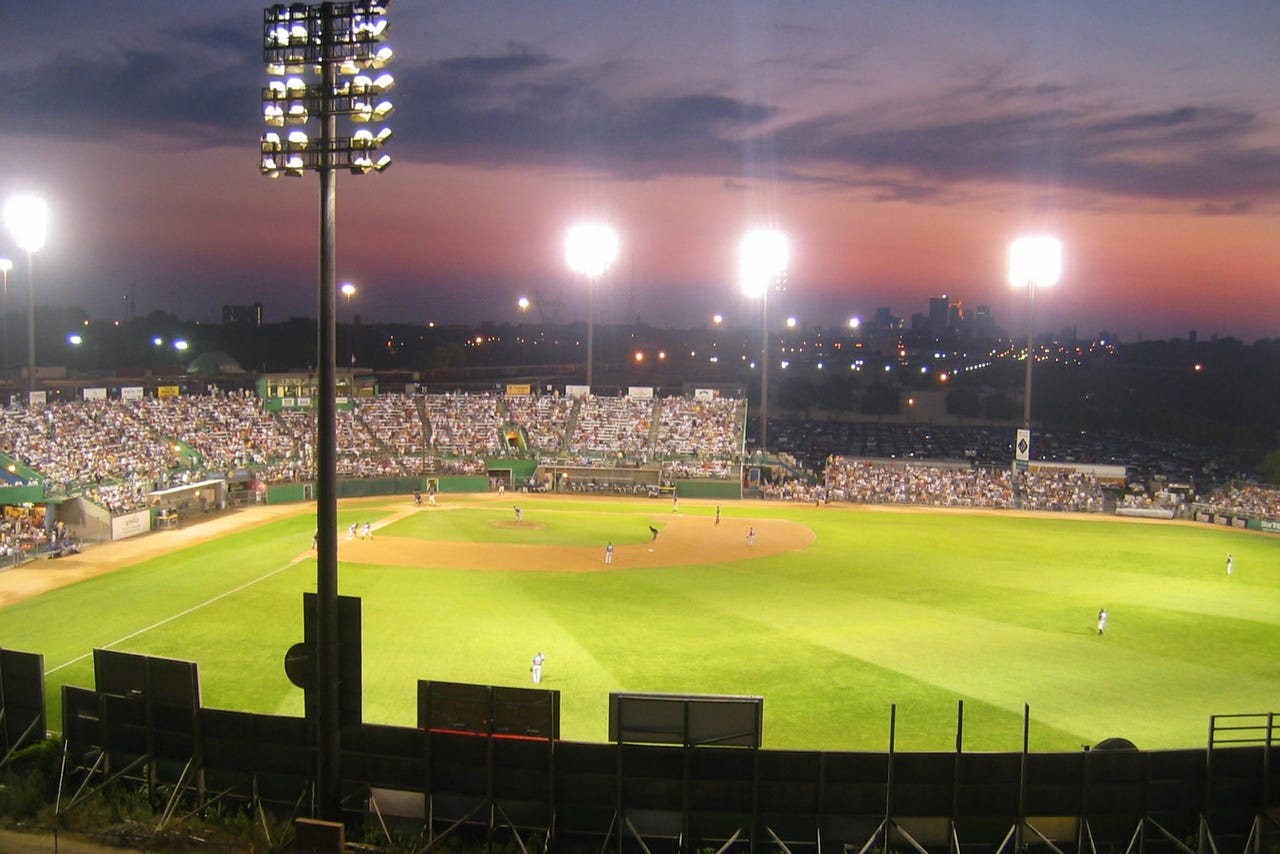 In a twist of irony fully befitting a minor league baseball franchise founded upon the borderline-absurd, battleship-gray skies have marked some of the most important settings in club history.
It was cloudy and balmy the day of the St. Paul Saints' inaugural contest at Midway Stadium in 1993. Fans, players, coaches and management said goodbye to the old funhouse Aug. 28 with a chilled drizzle falling from the sky.
And Monday, as team officials and business leaders officially christened the Saints' new sanctuary, there wasn't a whole lot of sun peeking through into Lowertown St. Paul.
"I think the ghosts from Midway were there today," part-owner and president Mike Veeck told FOXSportsNorth.com, "making their way across CHS Field."
That's the official moniker for the independent club's new digs, set to be ready by Opening Day next May. Inver Grove Heights-based CHS, a co-op of farmers, ranchers and other businesses and the second-largest private company in Minnesota, bought the naming rights for the 7,000-seat, $63 million ballpark that will replace Midway.
It's a new era for Veeck's baseball brainchild known for its wacky promotions and hellacious in-game entertainment. And while the setting might not have been bright, the team's outlook certainly is, Veeck said.
"I'm pinching myself," the affable Veeck said. "And there's a lot of me to pinch."
Veeck did the same thing after founding the club -- named after its old American Association forefather, which existed from 1902-60 -- and watching it grow into the gold standard for fan interaction at minor-league baseball games. Massages from Catholic nuns, replay displayed by mimes and a new, creative theme seemingly every single home contest allowed the organization co-owned by actor/comedian Bill Murray and sports entertainment conglomerate Goldklang Group to flourish.
But as the Saints brand grew, its home base began crumbling. By 2012, a movement to replace the now 32-year-old Midway Stadium began.
"Fans here are used to comfort," Veeck said, noting the Twins' Target Field and the Wild's Xcel Energy Center as state-of-the-art Twin Cities venues. "They expect to get a hot dog, use the restroom, wash their hands and return to their seat and not miss two innings like they did at the old place.
"You couldn't lure many (players) with all the new ballparks popping up across the country. . . . They weren't standing in line and saying 'Hey, let me get to Midway.'"
But thousands of fans were Aug. 28 as Veeck and Murray took tickets at the gate. Midway Stadium's swansong wasn't all melancholy, but it was emotional.
"I hear people say bittersweet. I never like the bitter in front of the sweet, but it was certainly poignant," Veeck said. "Nobody had any more memories than Bill Murray and Marv Goldklang and I as we walked out on that field together."
But alleviating any sadness is enthusiasm about the new, state-of-the-art yard that got its name Monday. The field is set to be placed in a month, and all crane work will be completed soon, Veeck said.
"It looks like a ballpark," he said. "You know we're gonna build a palace, and for a year this will be the most talked-about park in the country."
Follow Phil Ervin on Twitter
---