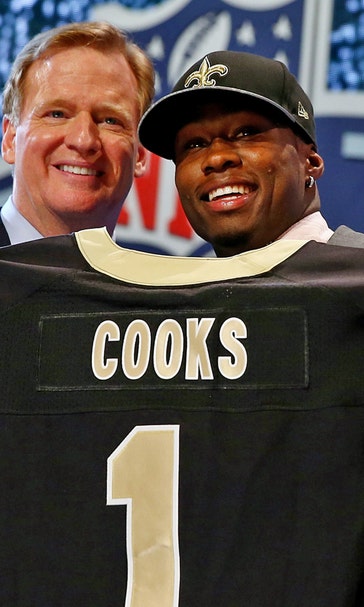 Saints dazzled by Brandin Cooks on and off the field
May 9, 2014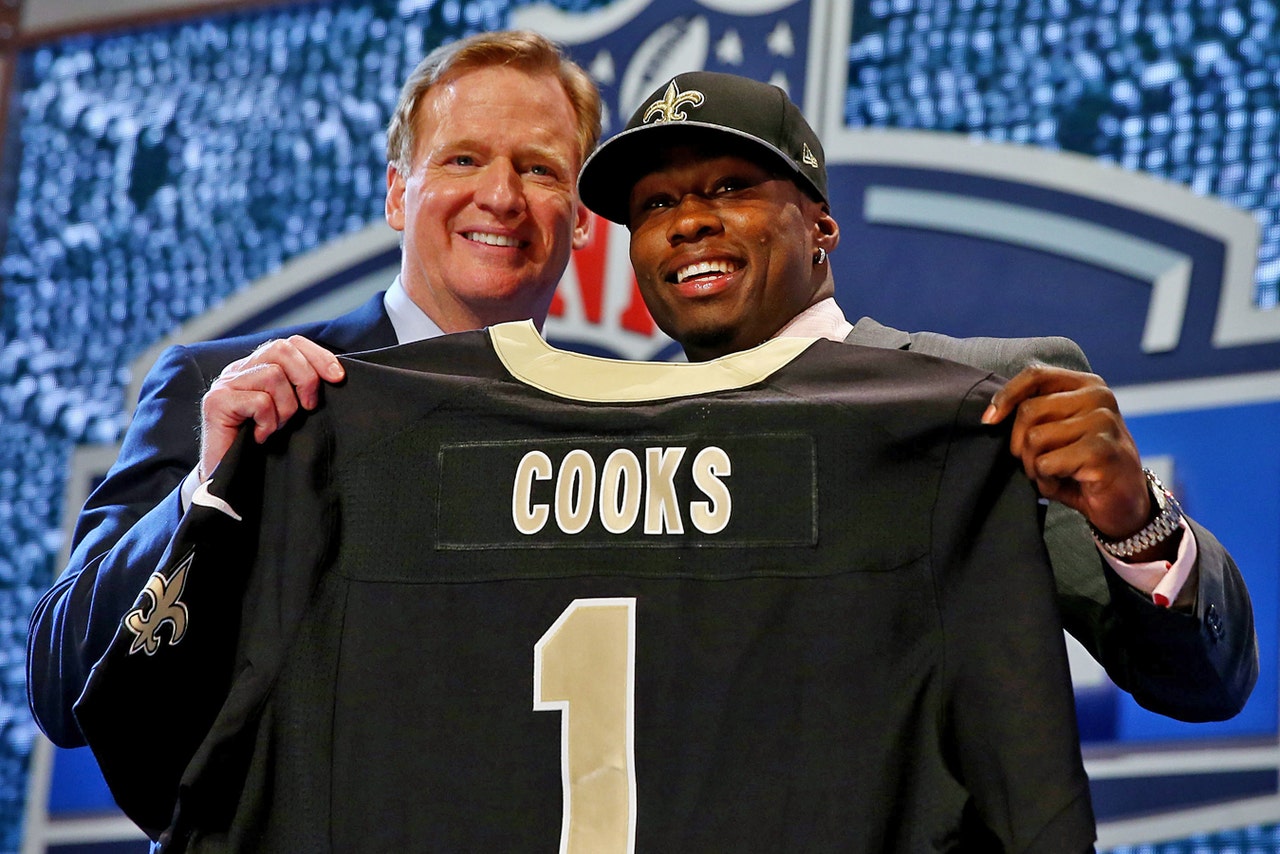 The New Orleans Saints switched into offensive attack mode Thursday night, trading up for the third time in the first round under head coach Sean Payton to make the move on the man they wanted most: wide receiver Brandin Cooks.
The Saints gave the Arizona Cardinals their 27th pick in the first round and their third round pick (91st) in order to snag the 2013 Biletnikoff Award winner with the 20th pick.
"It unfolded a little bit like we had planned," head coach Sean Payton said. "We were fortunate to be able to move up a few spots and get a player we liked. He's a tough player, both physically and mentally. He's been very consistent, very durable."
When Cooks saw the trade unfold, something told him that his phone would likely soon light up with a call from New Orleans.
"To be honest, I had a great feeling when I saw that trade," Cooks said. "I knew something special was coming. I am very excited."  
No doubt Cooks' college coach, Oregon State's Mike Riley, gave the Saints at least part of a glowing scouting report that helped New Orleans' front office make its move. Riley served as the defensive backs coach for the Saints in 2002.  
"Periodically, you have a real strong conviction on a player," Payton said. "This was one of those players."
 Cooks led the PAC-12 Conference last season with 128 receptions for 1730 yards.
The Oregon State wide receiver is a speedster who excels at route running, has displayed an uncanny ability to get open and who promises to create mis-matches at the next level.
At 5'10", 189-pounds, Cooks recorded the second fastest 40-yard dash at this year's NFL Combine – 4.33, which was the fastest time for any wide receiver. Cooks also impressed the Saints brass enough in his interview at the NFL Combine in February that they didn't bother to bring him in for an official visit or even have any additional contact with him until Thursday's call to inform him that he'd be wearing black and gold next season.
As for Cooks, he also had an inkling that he'd be a good fit in New Orleans since that conversation in Indianapolis unfolded back in February.
"At the Combine when I had an interview with them, I had a special feeling when I walked out the door," Cooks said. "It happened. Now I'm coming into the league to play with a future Hall of Fame quarterback. Drew gets the ball to all of his players, so you have to be excited about that."
Payton has high praise for Cooks, not just on the field, but also his maturity and presence off of the turf.
Perhaps that is best epitomized in how Cooks decided to spend the $100,000 Adidas awarded him for his performance in the 40-yard dash at this year's Combine.
"I actually bought my mom a car," Cooks said. "She needed one. She was driving around in a 1999 Saturn, and I wasn't having that anymore."
Andrea Cooks is now driving a Mercedes SUV and reveling in her son's success, her joy dampened only by the fact that Brandin's father isn't here to see it. Andrea Cooks raised Brandin and his two older brothers by herself after her husband died of a heart attack at 48-years-old in their family's Stockton, CA home.
It was a painful experience that no doubt matured Brooks, and in some ways, perhaps helped prepare him for this next step.
For the Saints, Cooks certainly helps solve the dilemma of how to fill the gaping void left open by the departures of Darren Sproles and Lance Moore.
Cooks could make an immediate impact in both the Saints punt and kick return game.
"He's a tough player, and you have to have that to be a good returner," Payton said.
"I am excited about that," Cooks said. "Coach Payton said they're going to use me in the slot and outside and possibly returning kicks. That's my game!"
Payton says Cooks is - at the very least - a strong complement to an already talented group of wideouts.
"I think we've got some guys that can run," Payton said. "Robert Meacham can run, Kenny Stills, Nick Toon. We feel like we've got some team speed."
Cooks' quickness dates back to his time on the Oregon State track team and as a Junior Olympian during his high school days.
Cooks took to Twitter Thursday night to express his excitement about becoming a Who Dat, tweeting out:
Cooks' new teammates seem excited about the team's move as well.
Almost blew out a hamstring trying to chase this cat @brandincooks down in the Alamo bowl

— Kenny Dwayne Vaccaro (@KennyVaccaro4) May 9, 2014
Speed speed speed kills! I like it! #Saints

— Benjamin Watson (@BenjaminSWatson) May 9, 2014
That's what's up! Great pick and that's why I love my organization #pac-12

— cameron jordan (@camjordan94) May 9, 2014
The Saints also traded up in the first round of the 2008 Draft to lock up defensive tackle Sedrick Ellis and the 2011 Draft to get running back Mark Ingram.
Cooks is the first wide receiver the Saints have drafted in the first round since Robert Meacham in 2007. The team took Kenny Stills in the 5th round last year and Nick Toon in the 4th round of 2012.
---