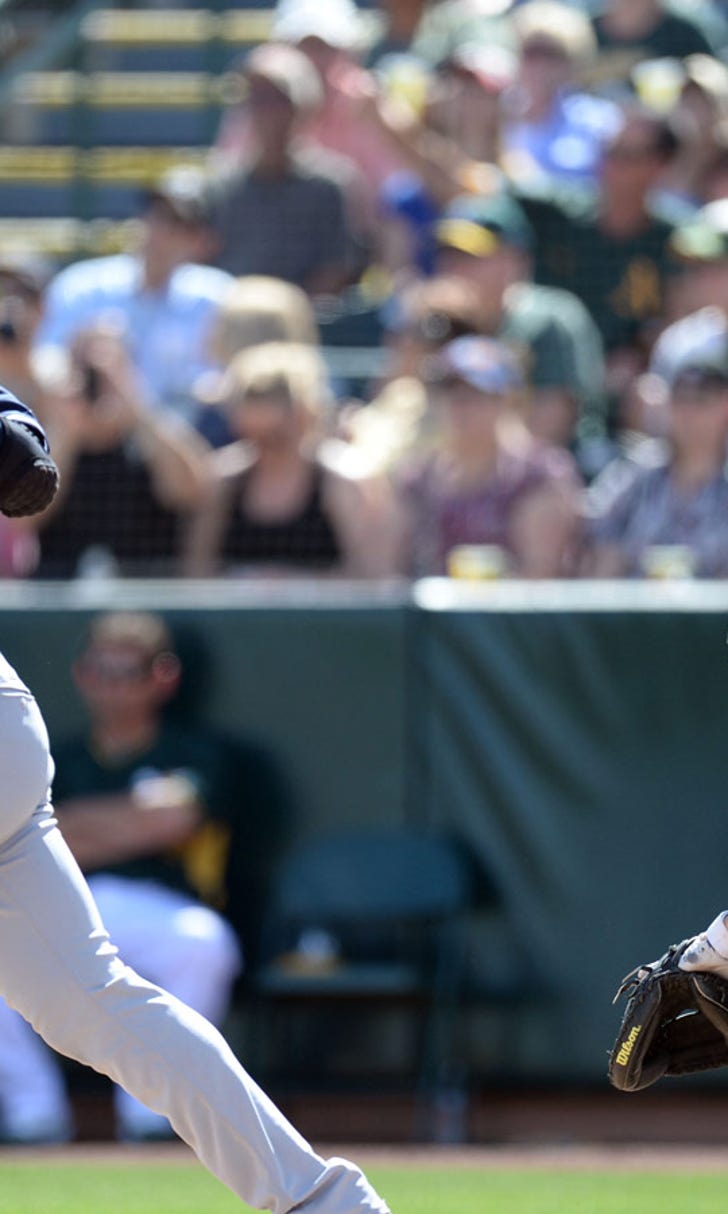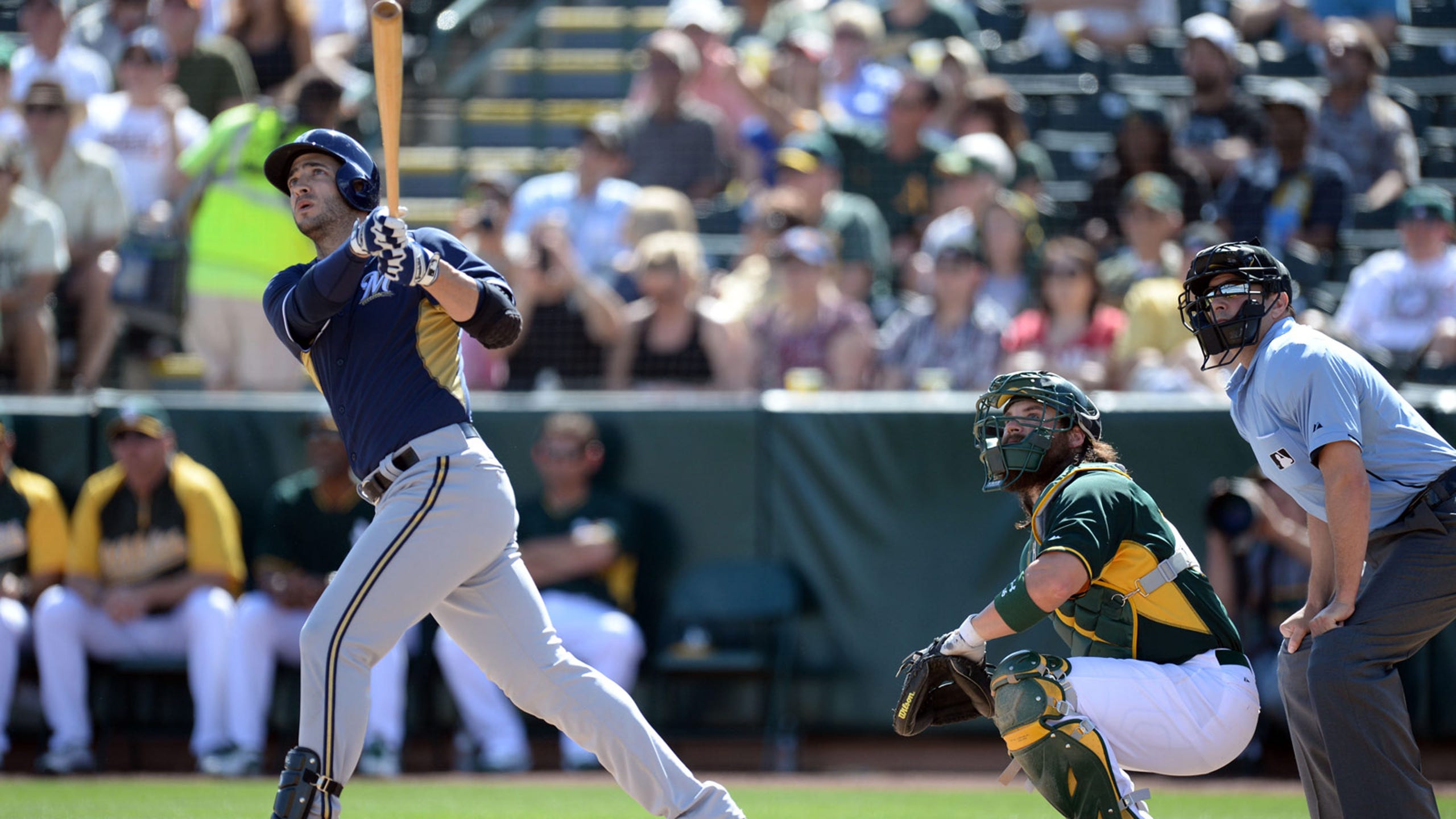 Ryan Braun homers in his first at-bat since suspension
BY foxsports • February 27, 2014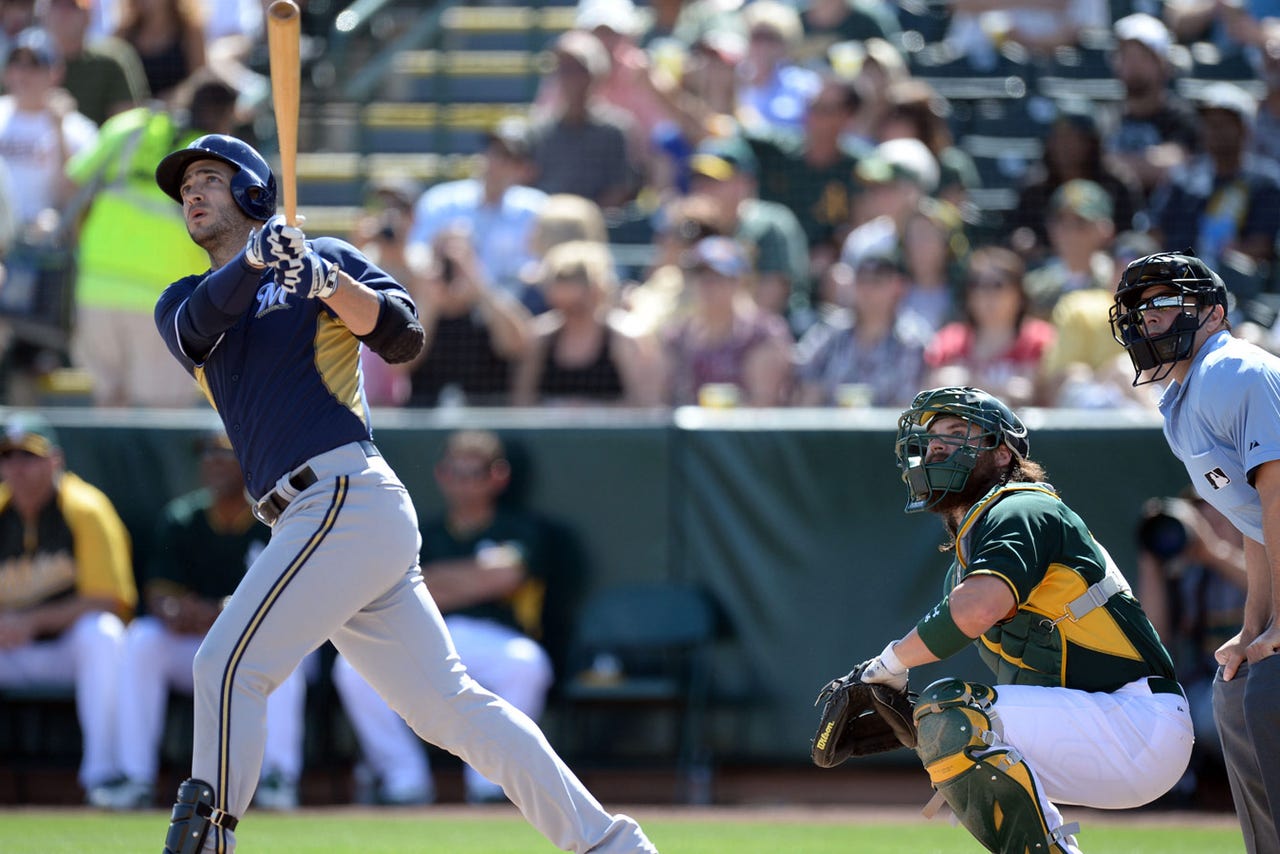 PHOENIX -- Ryan Braun needed just two pitches to make it known that he was back.
Playing in his first game since accepting a 65-game suspension last July, Braun crushed a 1-0 offering from Tommy Milone out to left field to put the Milwaukee Brewers up 2-0 Thursday, in an exhibition against the Oakland Athletics.

"Not surprising I guess," manager Ron Roenicke said. "He's one of those guys. A special athlete."
But Braun downplayed the home run after he left the game after three innings of Milwaukee's Cactus League opener at Phoenix Municipal Stadium, again stating that spring training statistics don't mean much to him at all.
"It's still the first day of spring training," Braun said. "I'd rather hit the ball hard than strike out. The goal is just to have a gradual progression and prepare myself for the season."
Braun received a mixed reaction of cheers and boos from the 3,649 in attendance, but the positive responses seemed to outweigh the negative ones. One fan, dressed in Athletics gear, chanted "MVP-ED" at Braun and was left scrambling to come up with a response after the home run.
The jeers are expected to follow Braun wherever he goes this season, something he's expecting and has already experienced over the past few years.
"I was encouraged by the amount of support I got," Braun said. "I obviously appreciate that.
"I've always said I've never gotten to play in St. Louis or Chicago or Philadelphia and had them root for me. I've never experienced them not yelling at me. They have some new things to yell at me for, yell at me about."
Braun seemed more concerned with playing his first non-All Star Game in his new position of right field. He did not get a fly ball hit his way in the three defensive innings he played, only having a groundball hit his way on a single by Josh Reddick.
From adjusting to backing up first base to getting reads off the bat on the opposite side of the field, defensive repetitions are going to be as meaningful as at-bats for Braun in Cactus League play.
"I felt myself a little bit more anxious on defense than I normally am just trying to make sure I'm in the right position, figuring out where the center fielder is at," Braun said. "Fortunately for us we have a center fielder that covers so much ground that I think I'll probably play a little closer to the line. Figuring out where to play on certain hitters.
"Reading the ball off the bat I think is a little bit different than it's been. It took me I'd say a year or two to get to the point where I felt like I was an above-average defender, so I hope I'm able to make the transition smoothly. But I don't anticipate it being easy."
Last appearing in a game on July 21, Braun hadn't homered since May 22 of last season. He was suspended for violating the league's drug policy on July 23 and was away from the team for the remainder of the year.
Because of the long layoff and the change in positions, Braun could be a candidate to play more in exhibition games than he usually would, but the former National League most valuable player has yet to have that conversation with Brewers manager Ron Roenicke.
"As we get toward the end I'll probably play a little bit more," Braun said. "Last year was the most I ever played in the spring because of the World Baseball Classic -- I played nine innings eight or nine times. So I would assume at the beginning it will kind of be every other day and then we'll work our way into playing two days off, one day on."
Just like his reaction to hitting the home run, Braun added there were no extra emotions to hitting the field for the first time in over six months.
"I try not to get caught up in the emotional aspect of any of that stuff," Braun said. "I try to focus on the task at hand. I think if I focus on the bigger picture or get overly introspective or emotional about the situation I get myself in trouble and I take away from what I'm ultimately trying to accomplish, which is preparing myself for the season.
"Certainly it's a little different than it's been before. But aside from that, I really just try to not have peripheral vision. My goal is to focus on preparing myself for the season and going out there and being the best player I can be for our team."
Follow Andrew Gruman on Twitter
---