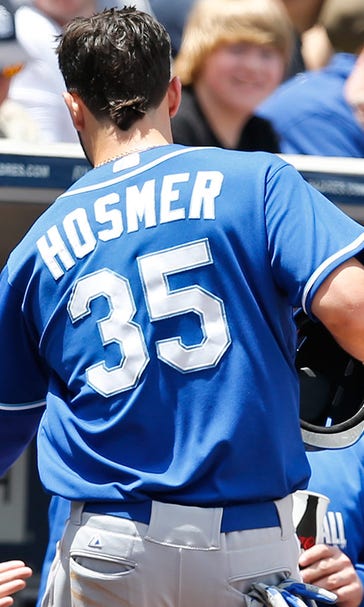 Royals whip the Padres as Hosmer's bat heats up
BY foxsports • May 7, 2014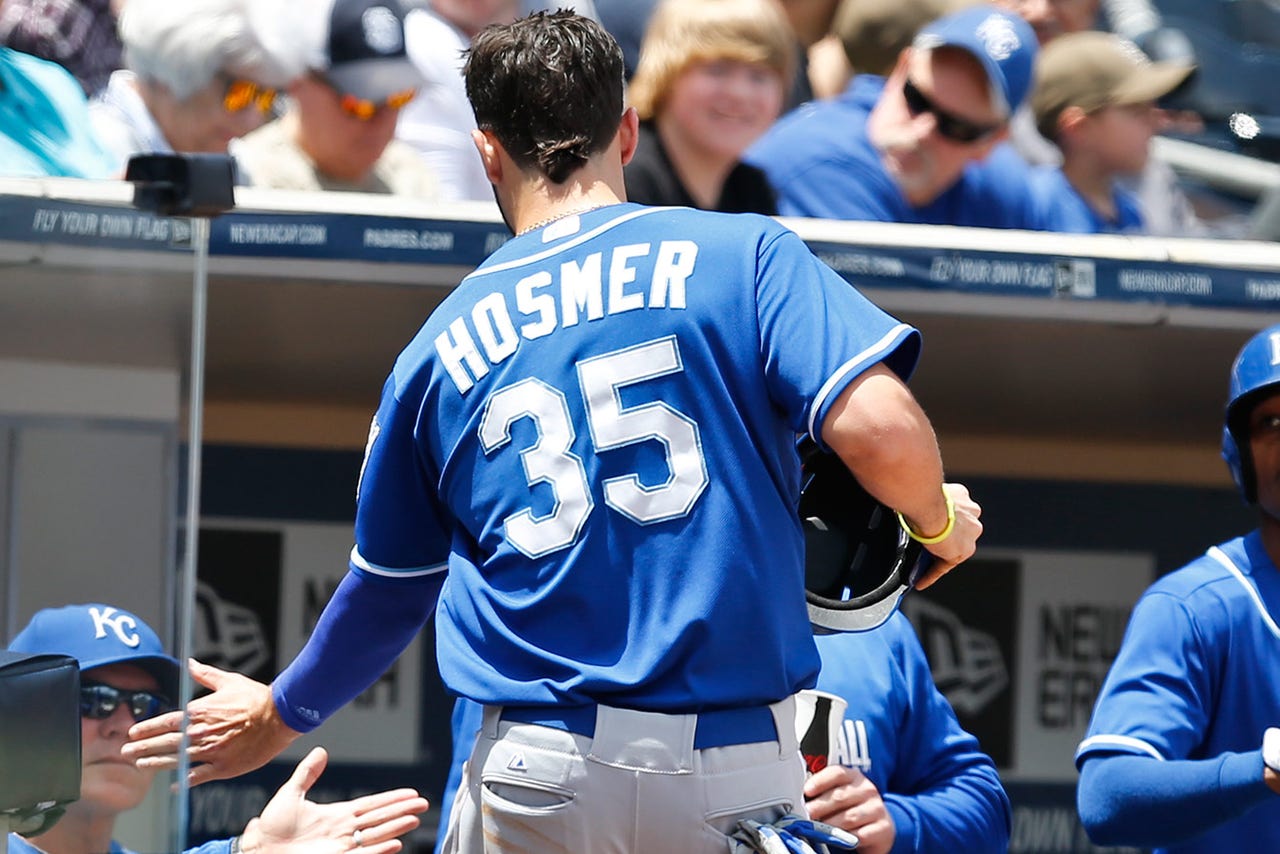 In their most complete game in over a week, the Royals trounced the Padres, 8-0, on Wednesday afternoon to win the series, taking two of three.
The Royals got a strong bounce-back start from James Shields, who had been hammered by the Tigers last weekend at The K. This time around, against a lesser opponent, Shields benefited from a big early lead and simply pounded the strike zone.
Shields threw seven shutout innings, allowing seven hits. He walked two and fanned four, and obviously knew what to do after being staked to early 3-0 and 4-0 leads. The Royals also made several exceptional defensive plays behind him.
Offensively, it was the Eric Hosmer show, and he delivered three more hits and four RBI.
The Royals head into Seattle a game under .500 at 16-17.
3 UP
-- Driving the bus. The Rex Hudler Driving the Bus Award on Wednesday went to Hosmer, who had a fantastic series against the Padres, including hitting his first homer of the season Monday. And for all the talk of the Royals failing to produce with RISP, Hosmer came through big time Wednesday.
In the first, with runners on second and third and the infield in, Hosmer drilled a two-run single to center. In the sixth, with a runner on second and two out, Hosmer ripped a liner to left for an RBI single. In the eighth, with a runner on second, Hosmer smashed another RBI single.
Hoz also made a terrific defensive play in the second when, with runners on first and second, he dived toward the line to knock down a shot headed for the corner. Hoz then got up, and with no play at first, threw behind the runner at second, who had rounded the bag too far. Shortstop Alcides Escobar made the tag for the third out.
-- Defense, defense, defense. This game wasn't quite as routine as the final score would make it appear. Shields did work himself into trouble a few times, and was bailed out by some fantastic defense. We mentioned the Hosmer play in the second, but there also were great plays by Escobar and center fielder Jarrod Dyson.
Esky turned a pretty 6-3 double play in the fourth by negotiating a tough hop over the bag, stepping on the bag and throwing to first. The Padres had runners on first and second and one out in the sixth, and Esky turned virtually the same double play.
With a runner on in the second, Dyson made a fantastic running catch near the wall. And with two runners on in the fifth, Dyson took a hit, and possibly a big inning, away when he snared a sinking liner off the bat of Everth Cabrera.
-- Now, that's a leadoff man. We've hammered a bit on Nori Aoki lately for his defense, but the main reason the Royals acquired him in the offseason was for his leadoff abilities. And he was spot on Wednesday. Aoki started the game off with a single, and the Royals rolled up three runs in the first. Aoki also delivered two more hits.
3 DOWN
-- Going to the whip? This was the type of win in which there really wasn't room to complain -- the Royals hit well, pitched well and defended well. So, yes, we're nit-picking here big time, but considering catcher Sal Perez is nursing a bruised calf, and that the Royals had just played back-to-back extra-inning games, and that the Royals were playing a day game, it might have been a good time to give Big Sal a day off.
Skipper Ned Yost understandably is tired of being second-guessed about his plan with Perez, and he did allow Wednesday that he probably will give Perez this Sunday off. Just hope Yost isn't riding his Gold Glove, All-Star catcher a bit too much this early. Then again, Yost knows his best chance to win -- and the Royals need wins right now -- is with Perez in the lineup.
-- The Padres' delay game. The game was sort of cruising along with the Royals in control and leading 5-0 with one out in the sixth when Padres left fielder Seth Smith tried to slow the game to a halt. Smith spun out of the way on an inside pitch from Shields, then argued that the ball had hit him. That brought out Padres manager Bud Black for a possible review (he had no challenges left). Request denied.
But Smith then argued some more, and walked around, and around, and around -- the delay really seemed to frustrate Shields. Smith then decided he wasn't going to swing on any close pitches either, and eventually drew a walk. Shields stared Smith down as Smith walked to first. Shields also chirped a few words, probably not suitable for youngsters.
-- Base-running blues. The only wart on a brilliant series from Hosmer was yet another base-running gaffe. After reaching on a single in the sixth, Hoz then was caught between second and third on Perez's single. That was the seventh time this season that Hoz has been thrown out on the bases.
You can follow Jeffrey Flanagan on Twitter at @jflanagankc or email at jeffreyflanagan6@gmail.com.
---