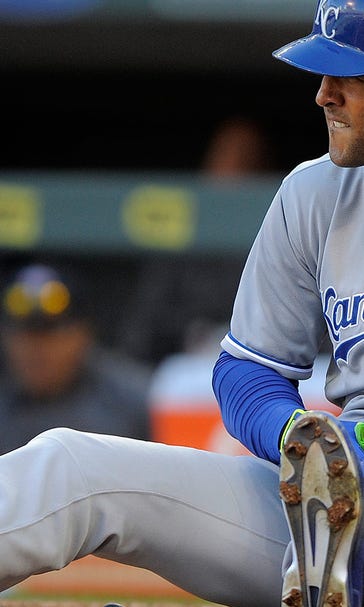 Royals right fielder Rios out with fracture in left hand
April 14, 2015

The undefeated Kansas City Royals' outfield depth is about to be tested. So get ready, Jarrod Dyson and Paulo Orlando. 
The Royals announced Tuesday that right fielder Alex Rios suffered a non-displaced fracture of the fifth metacarpal in his left hand when he was hit by a pitch in the eighth inning of Monday's 12-3 win at Minnesota. No timetable has been set as to how long he will be sidelined, and the Royals will likely make a roster move prior to Wednesday's game against the Twins. 
According to the Kansas City Star's Andy McCullough, GM Dayton Moore has indicated Dyson and Orlando will split time in Rios' absence. So that means the club will have an interesting decision to make on who gets the call-up to the big leagues. Here are some options:
1. Recall an outfielder on the 40-man roster: Lane Adams, Jorge Bonifacio, Reymond Fuentes or Terrance Gore. Gore has a broken jaw and can't hit, so he's probably a no-go.
2. Recall an infielder and roll with four outfielders on the active roster. Orlando Calixte and Cheslor Cuthbert are the only guys on the 40-man.
3. Move Tim Collins to the 60-day DL and select a contract. Moises Sierra seems the most likely candidate for this, but the problem there is it would limit roster flexibility when Rios and Luke Hochevar return.
4. Bring up an extra pitcher, like they thought about doing out of spring training with an eight-man bullpen. This would almost assuredly have to be someone on the 40-man because of the lack of options down to the minors in the current bullpen.
Another question will be how Ned Yost chooses to use his outfielders going forward. Will he move Lorenzo Cain to right and put Dyson in center? Orlando can play all three spots, just like Dyson, so that also figures to play into left fielder Alex Gordon's situation, as he continues to work toward getting 100 percent healthy after offseason wrist surgery. 
Rios has appeared in seven games for the Royals this season, going 9 for 28 at the plate with one homer, eight RBIs and two stolen bases. 
---