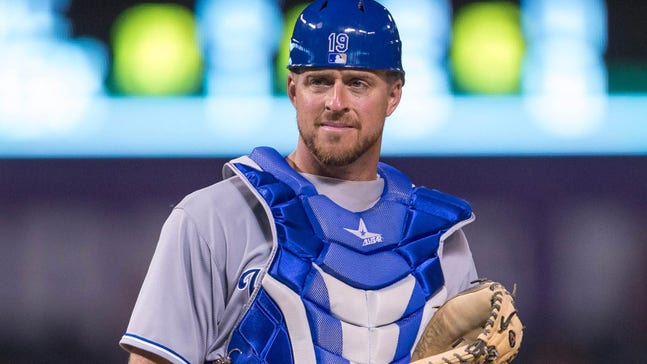 Royals place backup catcher Kratz on 15-day DL
Published
May. 6, 2015 8:06 p.m. ET

KANSAS CITY, Mo. -- The Royals placed backup catcher Erik Kratz on the 15-day disabled list with plantar fasciitis in his left foot, retroactive to Monday. Kratz will be eligible for reinstatement May 19, and Francisco Pena was recalled from Triple A Omaha to take his place on the roster.
Royals manager Ned Yost said Kratz hurt his foot Sunday and that the injury could actually be a good thing.
"When you get plantar fasciitis, it hurts," Yost said. "He tore that thing loose. It's going to relieve all that foot pain that he has, but he has to get over the bruising and the bleeding. That's possibly a five- to seven-day deal. He can catch, he can throw, he can hit. He just can't run."
Yost added that an injured Kratz took away the Royals' ability to pinch run for starter Salvador Perez late in games, resulting in a roster move.
Kratz has appeared in just four games, making one start. He is 0 for 4 at the plate with an RBI on a sacrifice fly.
Escobar continues return process
Alcides Escobar took groundballs and hit in the batting cage Wednesday afternoon as he nears a return from concussion-like symptoms. He is eligible for reinstatement Thursday.
Escobar said he felt good and he would take a test Thursday to determine whether he was healthy enough to return to action.
He also said he would continue to use a normal helmet instead of one with an extended protective flap that some players -- St. Louis' Jason Heyward and Miami's Giancarlo Stanton, for example -- have used after getting hit in the face with a pitch. Escobar suffered a cheek contusion when Danny Salazar's 96-mph fastball hit him last Wednesday.
Holland back to the back
Greg Holland was activated from the 15-day disabled list on Wednesday and will resume his role as Kansas City's closer. Holland missed 16 games with a right pectoral strain.
Prior to Wednesday night's game, Holland said he felt 100 percent healthy. The club optioned Yohan Pino to Omaha on Tuesday night to make room for him.
You can follow Matthew DeFranks on Twitter at @MDeFranks or email him at matthew.defranks@gmail.com.
---