Royals overcome early woes to beat Angels, keep perfect start alive
April 12, 2015

Through three innings, the Royals' perfect start looked to be in jeopardy.
Angels starter Jered Weaver hadn't allowed a hit and Los Angeles had a lead thanks to a leadoff home run. But after a five-run fourth inning and seven strong innings from Jeremy Guthrie, Kansas City beat the Angels 6-4, running its record to 5-0.
This Royals team is only the second in franchise history to start with five straight wins, joining the 2003 club, which started 9-0.
3 UP
• Two more bombs. At some point this season, it'll cease to be a surprise when the Royals hit home runs. But not just yet. Kansas City launched two more homers Saturday night in Anaheim, with both Mike Moustakas and Salvador Perez going deep in the fourth inning.
Moustakas' home run led off the inning and tied the game at 1-1, while Perez's blast capped a five-run inning against Weaver. Both Moustakas and Perez have two homers on the season.
Kansas City has now homered in all five games this season and has eight total long balls. Last season -- when the Royals hit a season-low 95 homers -- Kansas City hit a home run in at least five consecutive games three times. The franchise had never started a season by hitting homers in more than three games.
• Free passes. Kansas City walked four times Saturday night, something the club did in only about a quarter of its games last season. The Royals were last in the majors in 2014 in walks, drawing just 380 and trailing baseball-leading Oakland by more than 200 walks.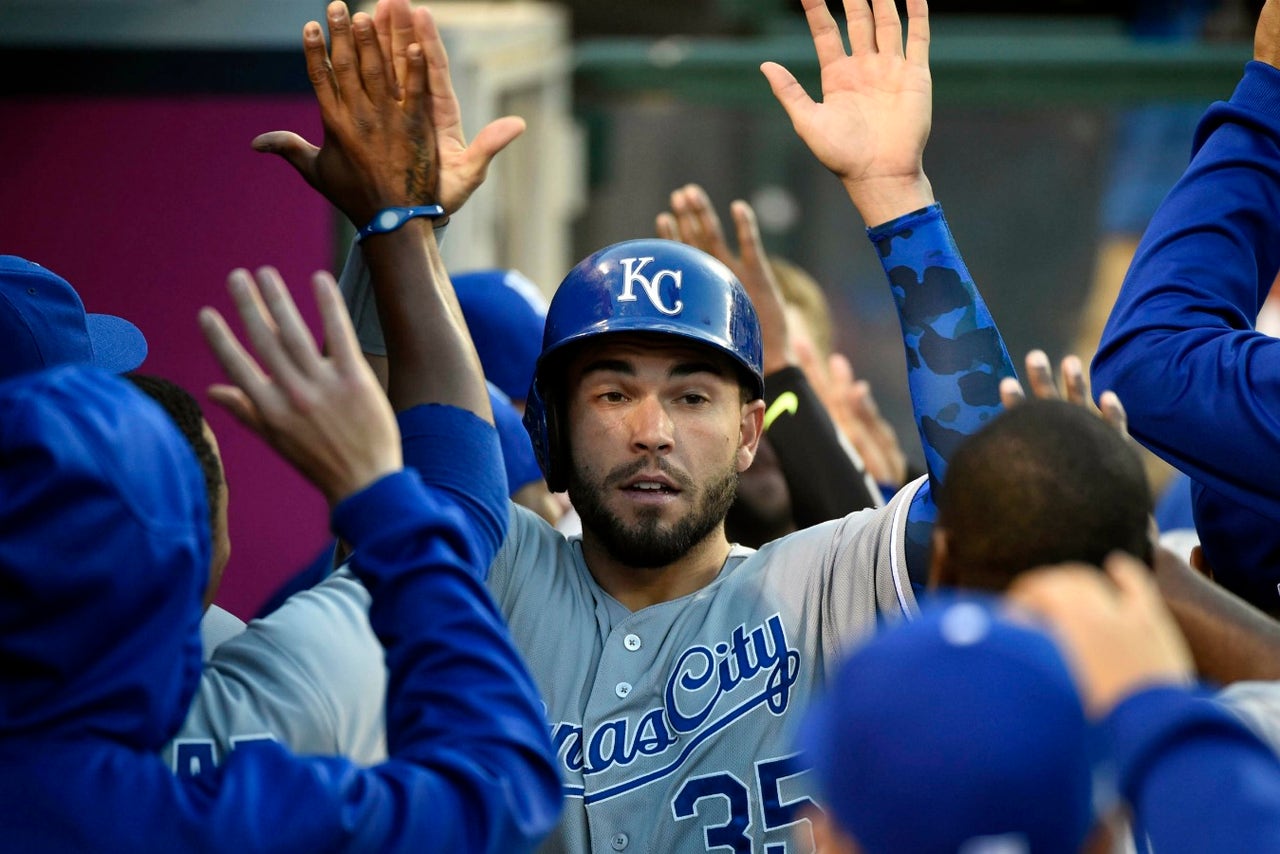 PHOTO GALLERY: Check out these images from the Royals' 6-4 victory in Los Angeles.
Moustakas, Lorenzo Cain, Eric Hosmer and Kendrys Morales (the Royals No. 2-5 hitters) all walked against the Angels. Cain and Hosmer came around to score after their walks.
• Gordon's defense. Left fielder Alex Gordon made a beautiful diving catch in the fourth inning to rob Matt Joyce of a potential hit. Joyce fisted Guthrie's inside pitch into shallow left field, where Gordon raced in and laid out to snag the ball. He casually got up to his knees and threw the ball back to the infield.
Gordon has won four straight American League Gold Gloves in the outfield and won the Platinum Glove as the best all-around defender.
3 DOWN
• Gordon's offense. Meanwhile, Gordon's offense left something to be desired by the Royals. Gordon went 0 for 4 with two strikeouts Saturday, and is hitless in his past nine at-bats. Gordon, who is still recovering from offseason wrist surgery, has only one hit this season, a single in the season opener against the White Sox. He was the only Royal without a hit Saturday.
Gordon thrice came up with runners in scoring position and an opportunity to extend the Royals' lead. With men at second and third in the fourth, he struck out. With runners at first and third in the fifth, he popped out to short. With runners at the corners in the ninth, he grounded out to second.
He has been able to reach base, though, racking up three hit by pitches and two walks in the season's first five games.
• Guthrie's beginning. Guthrie's first two batters did not go the way he planned them to. Guthrie served up a solo home run to Kole Calhoun before allowing Mike Trout to single his way aboard, then sitting down the final three batters of the inning.
Guthrie cruised along for most of his outing, except for a three-run fifth inning when Calhoun's double and another Trout single accounted for the Angels' runs. Despite giving up four runs in five innings, Guthrie stayed in the game for not only the sixth inning but also the seventh.
He easily retired the final six Angels he faced, needing only 20 pitches to conclude seven innings. That set up the Royals to bring in Wade Davis for the eighth and Greg Holland to pick up his third save of the year.
• Kole Calhoun. The Angels' stocky leadoff man provided one of the few sources of offense Saturday for Los Angeles. Calhoun went 2 for 4 with two runs scored and three RBIs. His leadoff home run in the first inning put the Angels up 1-0, while his two-run double in the fifth closed the gap to 6-3.
Calhoun had five hits against the Royals in last season's AL Division Series, which the Royals swept in three games.
WHAT'S NEXT
Yordano Ventura will start his second game of the season after leaving his Opening Day start with a right thumb cramp. Prior to the temporary injury, Ventura allowed just one run on four hits across six innings as he picked up the win. Ventura faced the Angels in Game 2 of the ALDS last season, allowing just one run over seven innings.
The Angels will counter with C.J. Wilson, who had a magnificent first outing of 2015, throwing eight shutout innings Tuesday night in Seattle. Wilson is coming off his worst season since he became a starter, posting a 4.51 ERA in 2014. Current Royals are hitting a combined .310 off Wilson, with Morales slashing .357/.387/.536 in 31 plate appearances and Alex Rios slashing .381/.480/.714 in 25 plate appearances.
You can follow Matthew DeFranks on Twitter at @MDeFranks or email him at matthew.defranks@gmail.com.
---