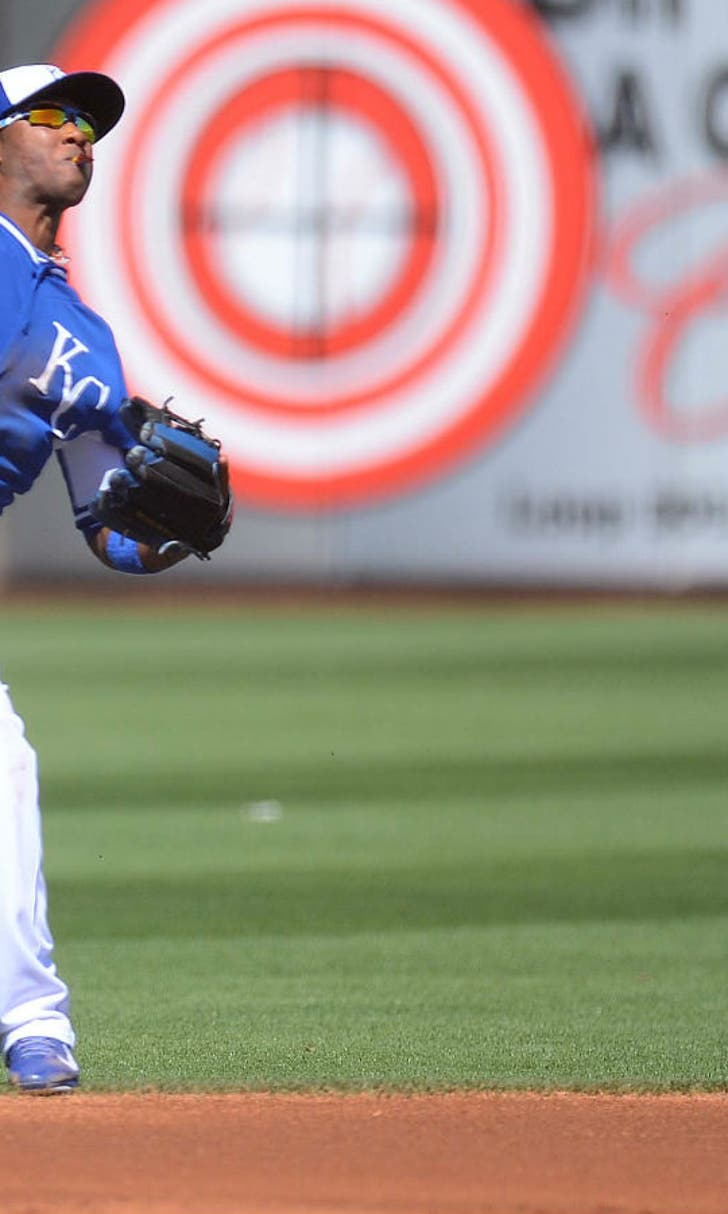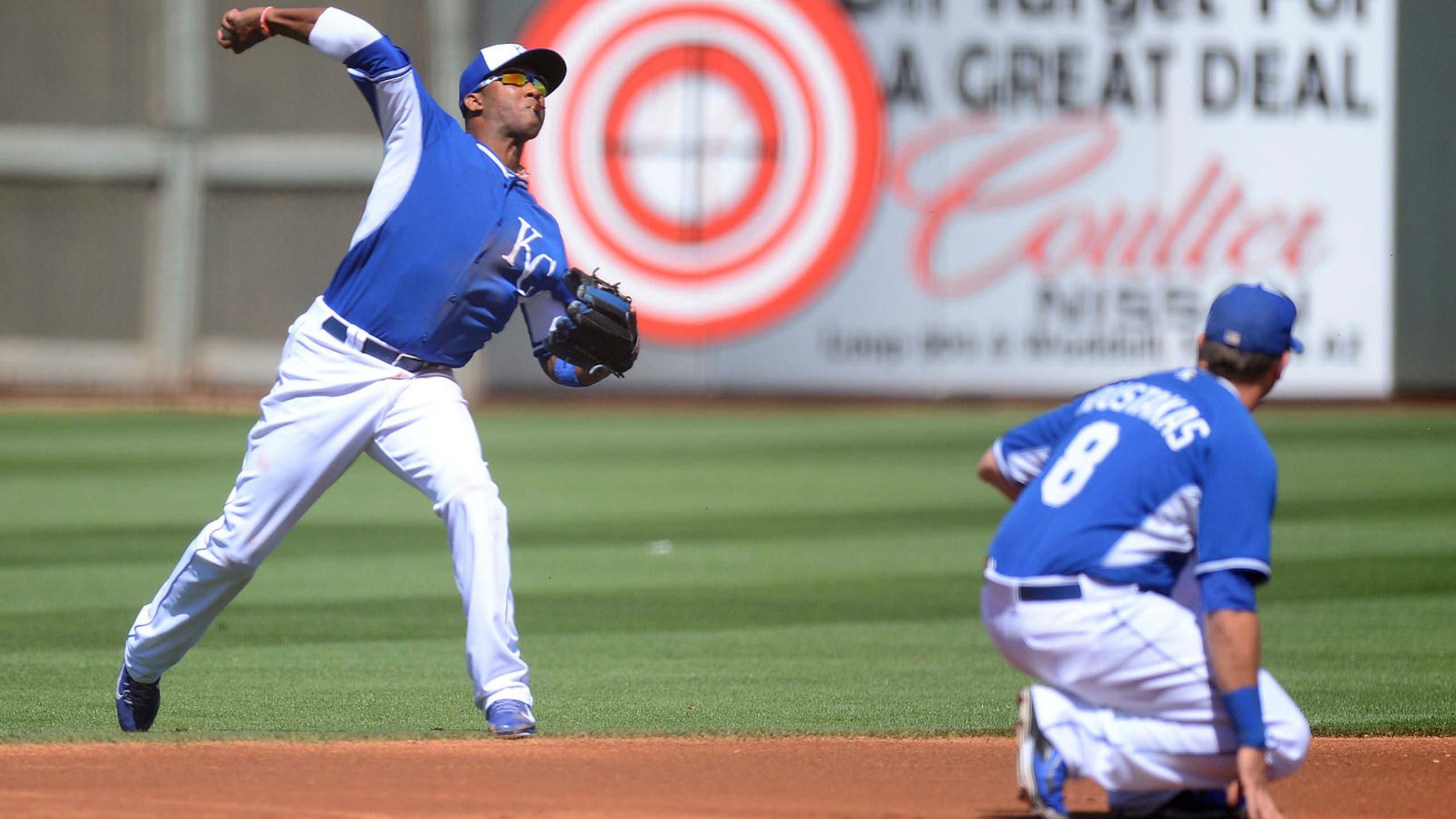 Royals' middle infield is halfway there: Escobar returns and looks good
BY foxsports • March 22, 2014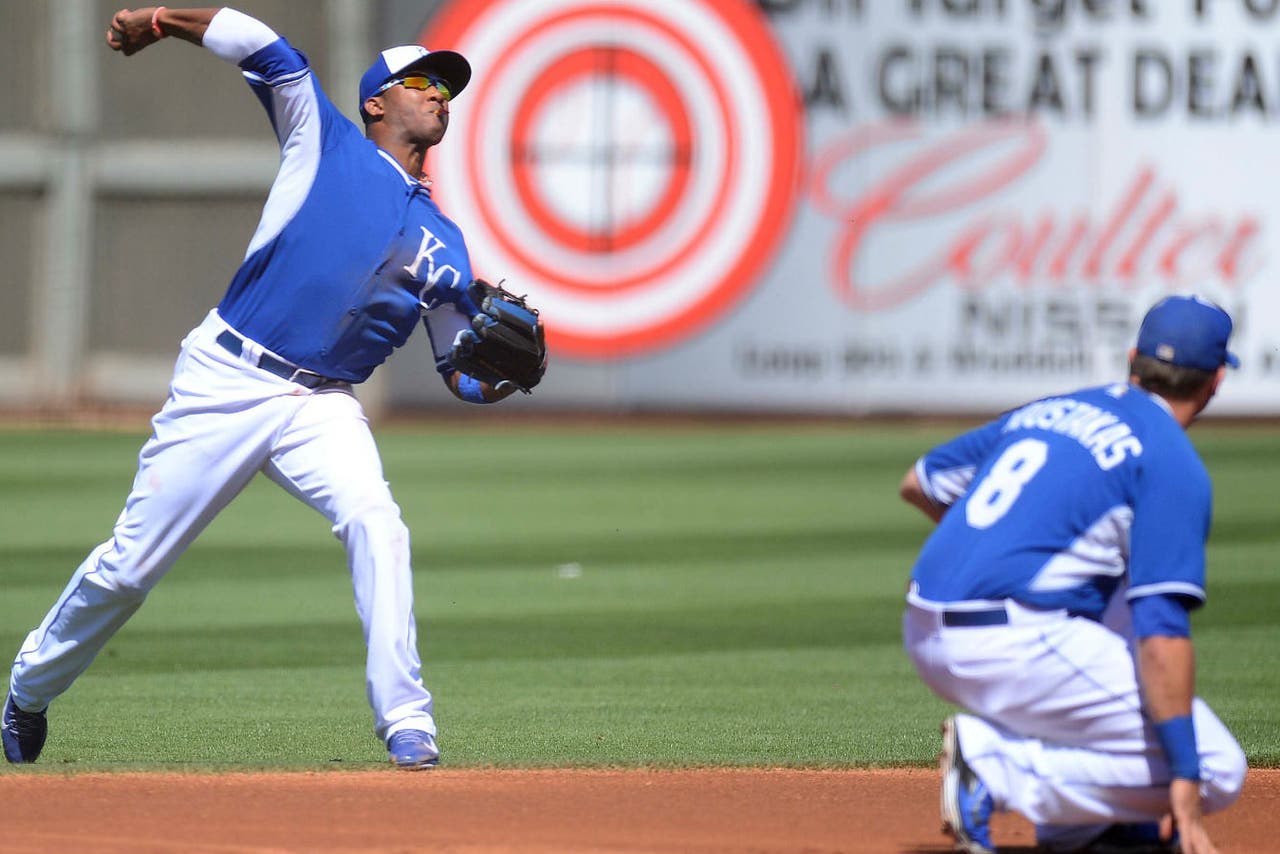 Five things we learned from the Royals' 8-4 win over the Rangers on Saturday.
ESKY LOOKS FINE
The best news to develop Saturday was the return of shortstop Alcides Escobar, who has been bothered this spring by shoulder inflammation that recently required a cortisone shot.
Escobar was back in the lineup against the Rangers and looked sharp.
Defensively, Escobar fielded all three chances with solid throws. And he made an excellent play deep in the hole, planted his back foot and threw a bullet to first base in time to get the runner.
We've all seen Escobar throw harder, but he cut loose only as much as he needed to on that play.
Escobar also looked good at the plate hitting from the No. 2 spot in the lineup, a batting-order placement that surely horrified some Royals fans (and many bloggers). Rest easy, everyone, Esky will bat ninth when the season starts (unless Omar Infante's bone spur issue doesn't calm down, and then you can get nervous again).
Escobar hit three balls on the nose, one a bases-clearing double that keyed the victory.
UH-OH DUFFY
The plot thickened a little regarding the Royals' decision on the final bullpen spot when left-hander Danny Duffy had another shaky outing, this one coming in his second stint out of the 'pen.
Duffy, who had a 1-2-3 inning in his first bullpen outing but was hit hard, got the first two outs against Texas. Then he walked a hitter after getting ahead 0-2. Then he walked another hitter. Then he served up a three-run bomb to Michael Choice.
Duffy is competing with left-hander Donnie Joseph, who gave up his first hit of the spring Friday (a three-run homer), and 33-year-old Francisley Bueno.
VARGAS CRUISING
The Royals would love to count on the type of outing left-hander Jason Vargas delivered against the Rangers. Vargas threw six shutout innings -- needing just 76 pitches in that span -- before getting nicked for a run in the seventh.
Aside from striking out the side in the seventh inning, Vargas' best performance came in the fourth after the Rangers put runners on second and third with one out. Vargas then struck out left-handed hitter Leonys Martin on a wicked curve. Vargas induced a groundout to end the inning.
VALENCIA STARTS AT 2B
Corner infielder Danny Valencia continues to get work at second base this spring and started there Saturday as the Royals try to construct their roster without having to carry a backup middle infielder to open the season.
And Valencia continues to look more than serviceable at the position.
Valencia has impressed club officials with his range and soft hands. He also made two terrific plays Saturday, the first a leaping, over-the-shoulder grab of a little blooper that seemed destined to drop for a hit.
And Valencia later made a fabulous play in the hole, showing excellent footwork as he went to his left, pivoted and threw a strike to Escobar to get a lead runner.
Not saying it will happen, but there is talk that if Infante has to start the season on the disabled list -- and that possibility is increasing each day -- Valencia could get more time at second to start the season than anyone imagine. In that scenario, the Royals also would carry a backup middle infielder (likely Pedro Ciriaco).
PATIENT MOOSE
Not to be overlooked with Mike Moustakas' great spring at the plate is the patience he is showing.
Moose worked himself back from a 0-2 count and drew a walk against starter Tommy Hanson, then drew another walk later. He now is tied for the team lead with Jarrod Dyson with 12 walks this spring.
You can follow Jeffrey Flanagan on Twitter at @jflanagankc or email jeffreyflanagan6@gmail.com.
---