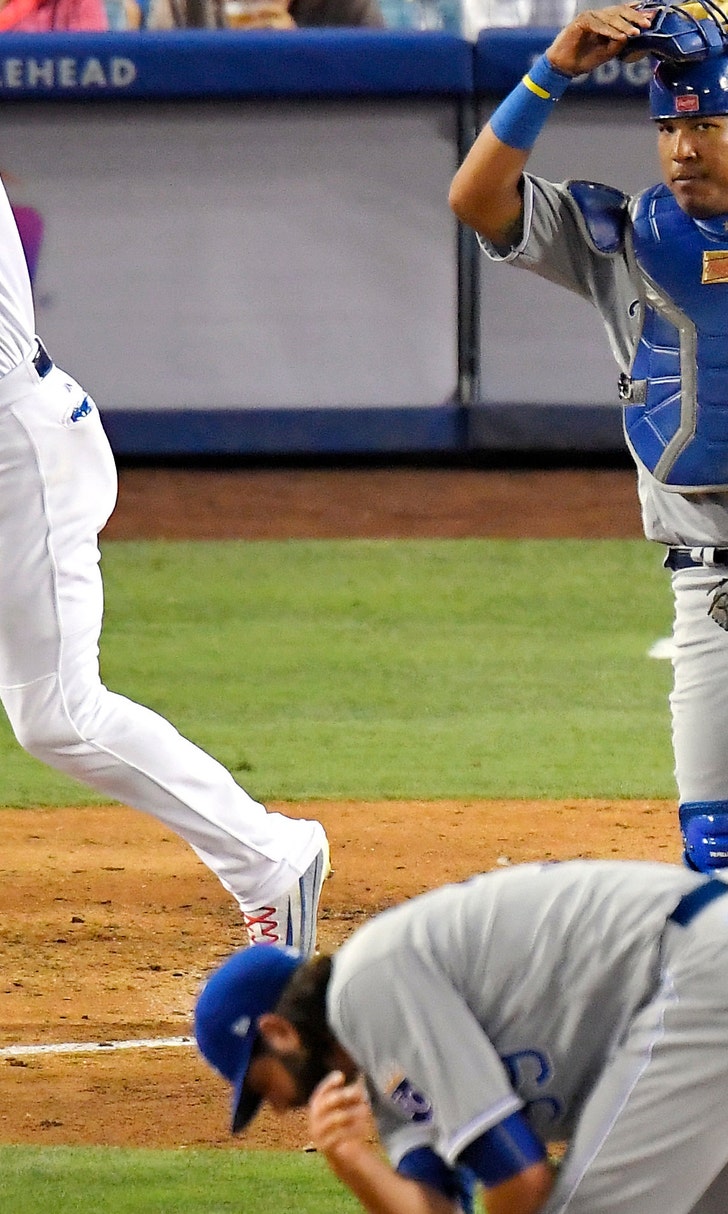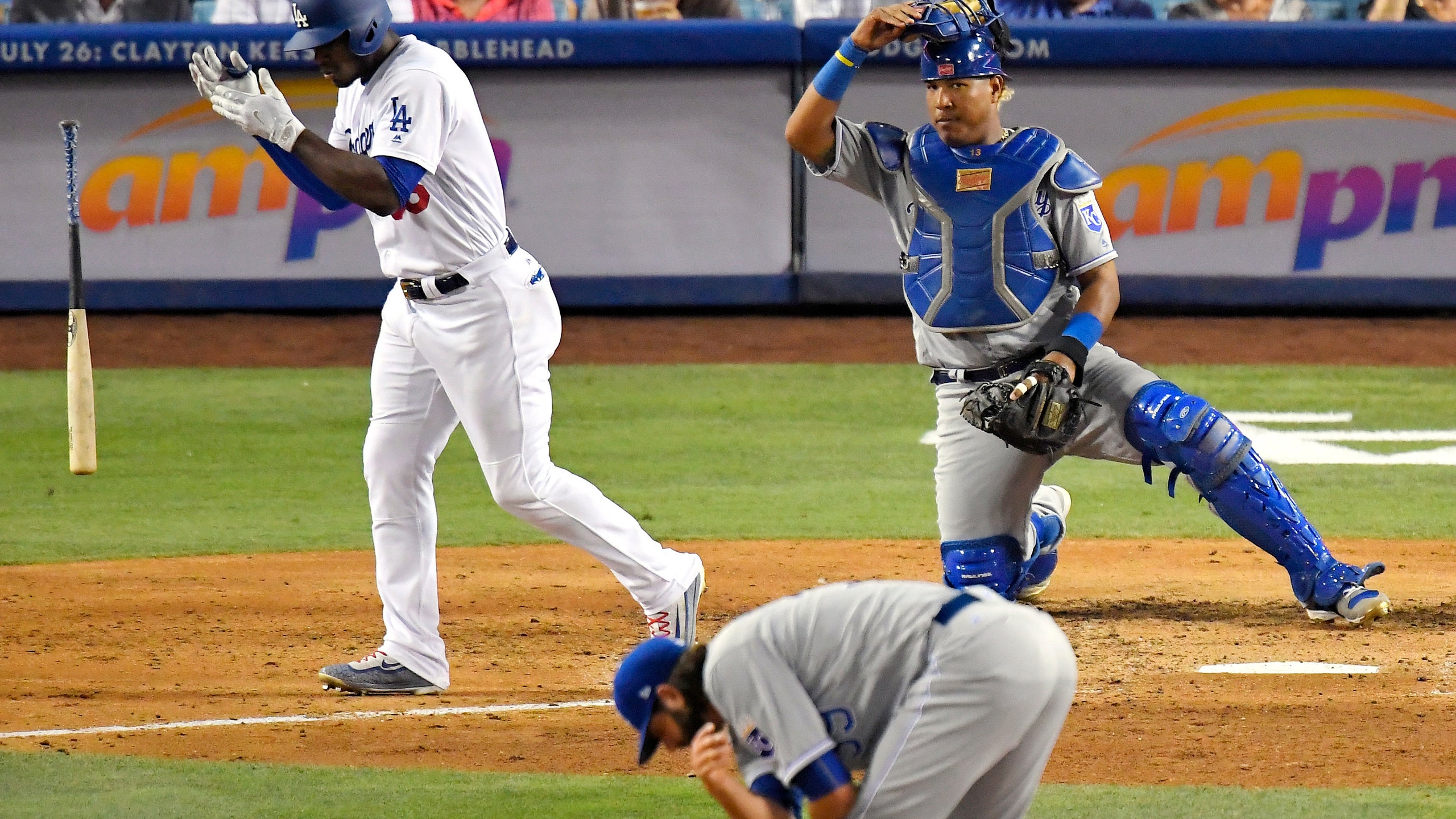 Royals held to five hits in 4-1 loss to Dodgers
July 8, 2017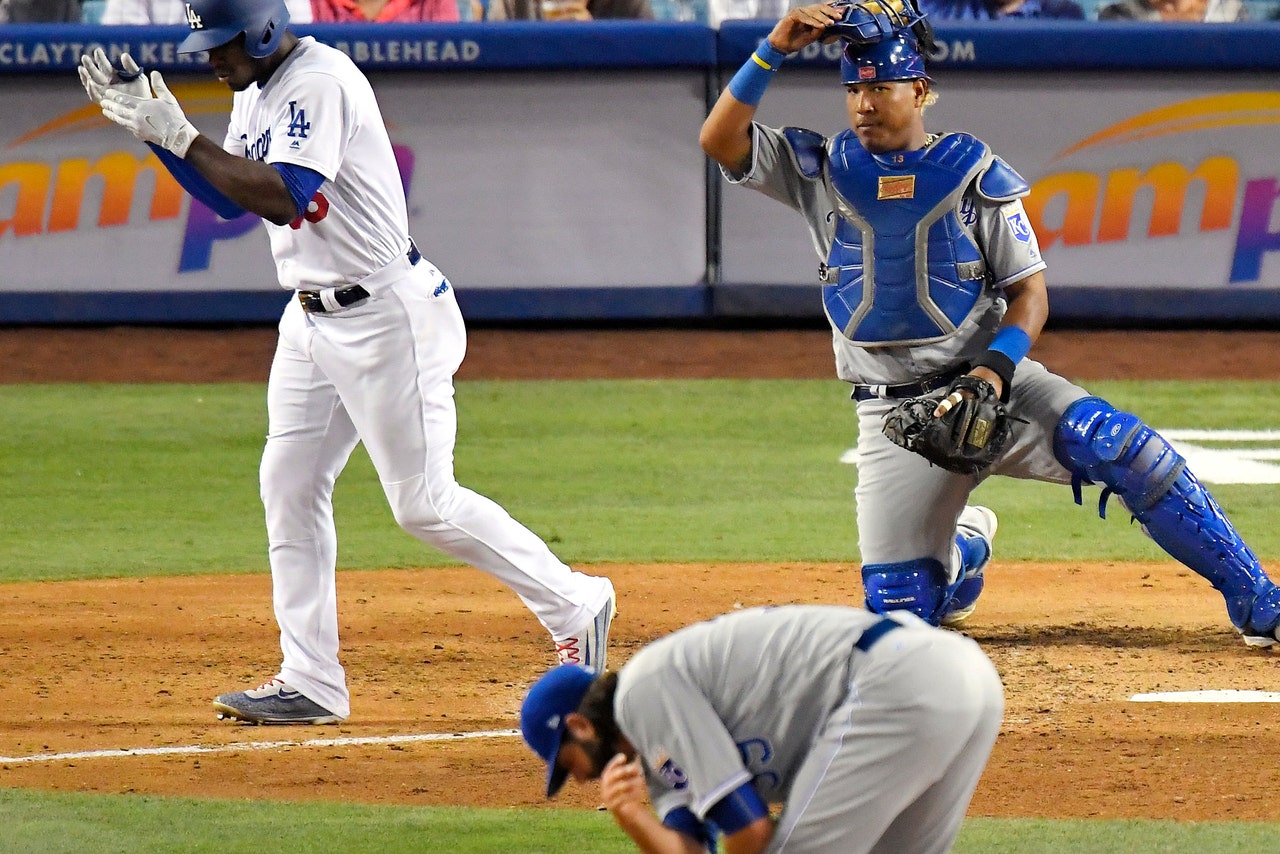 LOS ANGELES -- Kenta Maeda has been to the bullpen and doesn't want to go back. He pitched with a purpose, knowing he needed to leave a good impression on the Los Angeles Dodgers going into the All-Star break.

He did.

Yasiel Puig homered, Chase Utley notched his 1,000th career RBI and the NL West-leading Dodgers beat the Royals 4-1 on Friday night in the opener of Kansas City's first interleague visit to Los Angeles since 2003.

The Dodgers won their fourth in a row behind Maeda (7-4), who gave up one run and four hits in five innings, struck out five and walked two while bouncing back from a poor outing. The Japanese right-hander allowed five runs and eight hits in 3 2/3 innings of a 5-3 loss at San Diego last weekend.

"The last start the stuff wasn't there," Dodgers manager Dave Roberts said. "It wasn't sharp or crisp, and tonight it was."

Maeda has felt he's pitching to save his spot in the rotation every time he goes out.

"Definitely, it was a pressure for me going into each game," he said through a translator. "Knowing a bad result can land me in the bullpen. It was a tough experience in the bullpen."

Roberts said he expects Maeda to be in the rotation coming out of next week's break. Los Angeles has won 12 of Maeda's 16 starts.

Kenley Jansen pitched the ninth to earn his 21st save in as many chances. The Dodgers improved to a major league-best 37-11 at home.

They got consecutive RBI singles from Logan Forsythe and Corey Seager in the fourth to take a 2-1 lead. Maeda contributed one of their four singles in the inning and scored the go-ahead run on Seager's hit.

"He's a weapon," Roberts said. "He doesn't give away at-bats."

Puig hit his 16th homer off Jason Hammel (4-8) in the sixth to make it 3-1.

The Dodgers extended the lead to 4-1 when Utley doubled to deep center field in the eighth, driving in Joc Pederson, who doubled leading off. Utley became the ninth active player to reach 1,000 RBIs. He tipped his cap to the cheering crowd. After the game, he ran past reporters while leaving the clubhouse to beat fireworks-related traffic.

"It's a great milestone," Roberts said.

The third-place Royals, who trail first-place Cleveland by two games in the AL Central Division, had their four-game winning streak end. They were coming off a three-game sweep at Seattle.

Kansas City's lone run came on Alcides Escobar's two-out RBI single in the fourth. The Royals didn't have a baserunner past the sixth inning.

"He commanded his pitches really well," Royals third baseman Mike Moustakas said of Maeda. "He threw his fastball, curveball in the zone and out of the zone when he needed to. He mixed them up. He threw the ball fantastic for them."

Hammel gave up three runs and eight hits in six innings, struck out seven and walked three. The right-hander was also coming off a tough outing against Minnesota in his previous start. He allowed seven runs in 5 1/3 innings of a 10-5 loss last weekend.

"Early in the game I was kind of struggling to command my four-seamer, so after the third I went to the two-seamer. It was better down in the zone," Hammel said. "That's a tough lineup to battle."




LONG TIME NO SEE

The teams are meeting for the first time since 2014, when the Dodgers won two of three at Kauffman Stadium. The Royals are visiting Dodger Stadium for just the second time, having played the first interleague series between the teams in Los Angeles in 2003. Back then, Roberts batted leadoff in all three games and the Dodgers won two of three.

Moustakas is from nearby Chatsworth. "It was my first time back to Dodger Stadium since high school, so it's pretty cool to have all my family and friends out here," he said.

SIGN HERE

OF Jeren Kendall of Vanderbilt, the Dodgers' 23rd pick in last month's major league draft, received a signing bonus of $2,897,500. Kansas City selected first baseman Nick Pratto of Huntington Beach High in Orange County with the 14th pick, and his bonus was $3.45 million.

TRAINER'S ROOM

Dodgers: LH reliever Adam Liberatore, on the DL since May 31 with left forearm tightness, had an MRI that was negative. He's "way off" from returning, Roberts said.

UP NEXT

Royals: RHP Ian Kennedy (3-6, 4.44 ERA) is 3-0 with a 2.22 ERA in his last four starts after going 0-6 with a 5.40 ERA in his first 11 starts. He's allowed six or fewer hits in each of his 15 starts, the longest such streak to open a season in team history.

Dodgers: RHP Brandon McCarthy (6-3, 3.25) comes off the DL to make his first start since June 25. He turned 34 on Friday.


---
---