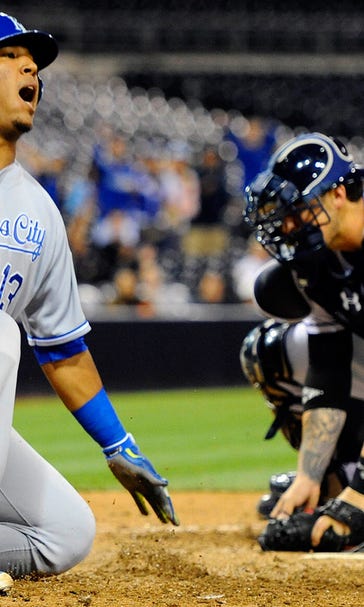 Royals can't catch a break in disheartening 12-inning loss to Padres
May 6, 2014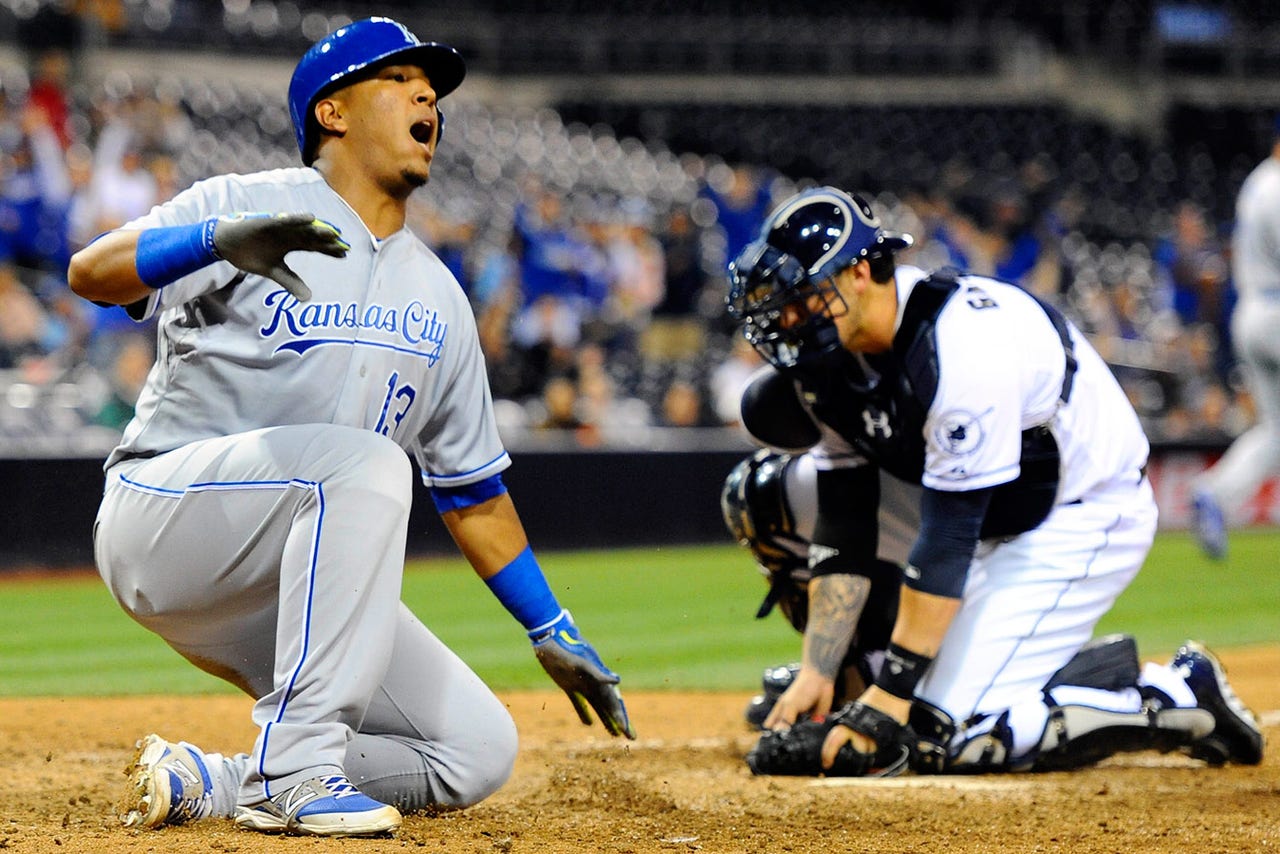 The Royals have to be wondering now what they have to do to win a game.
The Royals dropped their fifth straight in the most painful fashion, 6-5 to the Padres on Monday night in 12 innings.
This likely was the most distressing loss of the season.
The Royals had leads of 3-0, 4-3 and 5-4 before a two-run double by Will Venable rallied the Padres to the win.
Mike Moustakas had given the Royals a 5-4 lead in the top of the 12th with a huge, clutch single to right field, driving in Sal Perez, who had doubled.
But after Royals right-hander Louis Coleman got ahead of light-hitting Chris Denorfia 0-2, he surrendered a single to center. Manager Ned Yost opted for Tim Collins to face three straight left-handers.
After a sacrifice bunt put Denorfia at second, Yonder Alonso broke his bat and blooped a soft pop in front of charging left fielder Alex Gordon. Alonso, who assumed the ball would be caught and was jogging to first, still wound up at second representing the winning run.
Collins then got ahead of Venable 0-2 and Perez called for a high fastball waste pitch. But Venable was expecting it and jolted it into right-center. Oddly, Collins did not throw a breaking ball to the left-hander.
It was also a rare night in that closer Greg Holland blew a save by allowing a home run in the ninth to Jedd Gyorko. Holland had saved 47 of his last 48 games dating to last year. You know the Royals are in a funk when Holland can't close one out.
The Royals had 16 hits -- a season high -- and 19 base runners total, but only five scored.
And the dreaded month of May continues to take its toll. The Royals are now 0-5 in May after going 8-20 last May, their only losing month all season.
3 UP
-- Ventura does it all.  Starter Yordano Ventura probably had his best stuff of the season, and perhaps his best command. He struck out a career-high 10 hitters and walked none. The one mistake -- the three-run homer to Yasmani Grandal -- came on a 1-2 pitch. And Ventura shook that off and struck out the next two hitters.
Watch the Royals Live pregame and postgame shows before and after every Kansas City Royals game on FOX Sports Kansas City.
It certainly was fun to watch Ventura also get his first major-league hit in the fifth inning, a solid single to left (nice top-hand release on that swing, by the way, which was very Charley Lau-ish). That hit seemed to energize the Royals (as FOX Sports Kansas City announcer Joel Goldberg noted) -- good to see smiles again in the dugout, though those smiles turned to frowns later on.
-- The Hoz comes through. Just a great night offensively from first baseman Eric Hosmer. He drilled a single to center in the third, then with two runners in scoring position in the fifth and in a 1-0 game, Hoz came through with a clutch two-run single to center. We haven't seen many clutch hits from the offense this year, so that was a good sign.
Hoz wasn't finished. After the Padres tied it 3-3, Hosmer delivered his first homer of the season, a high drive to right field -- a rare display of power from the Royals that also got the dugout jumpin'.
-- Moose in the clutch. Moustakas doesn't have many hits this season, but the ones he gets certainly seem to be big and in the clutch. After Perez's one-out double in the 12th, Gordon finished off a dreadful 0-for-6 night by striking out (and with all the Moose anxiety right now, you have to wonder when Gordon will start hitting). But with two outs, Moose picked up Gordon by ripping a run-scoring single to right.
3 DOWN
-- Tough break for Ventura on homer. Yes, that three-run homer off Ventura came on a hanging curve, and Ventura must accept responsibility for a rare bad pitch. But remember that on the previous pitch, Ventura threw a great changeup on the outside corner that Grandal just ticked (it wasn't even audible) and Perez couldn't hang on. That's how close Ventura came to six shutout innings. And for the record, Perez probably could have gone with a high fastball instead of a curve inside (where Perez set up) to see if Grandal would have chased.
-- Still too many LOB.  It's hard to pick on the offense, especially after the night Hosmer had, but hey, they had 16 hits, two walks and another runner reached on a sacrifice bunt/fielder's choice -- that's 19 base runners with only five scoring. The Royals lost another runner on the bases when Alcides Escobar tried to go first to third on a single. They also rolled into two double plays.
-- Lower your expectations in right. Royals fans have been grumbling on social media about the defensive play of Nori Aoki in right field. Aoki at times seems slow to get to balls, takes questionable angles and, through no fault of his own, doesn't have much of a wingspan. Another fly to right-center eluded Aoki in the first inning when Seth Smith dropped in a triple. Royals fans have grown accustomed to seeing Kansas City outfielders chase down just about every fly ball to the outfield -- it's becoming obvious that expectations will have to be lowered in right.
You can follow Jeffrey Flanagan on Twitter at @jflanagankc or email him at jeffreyflanagan6@gmail.com.
---