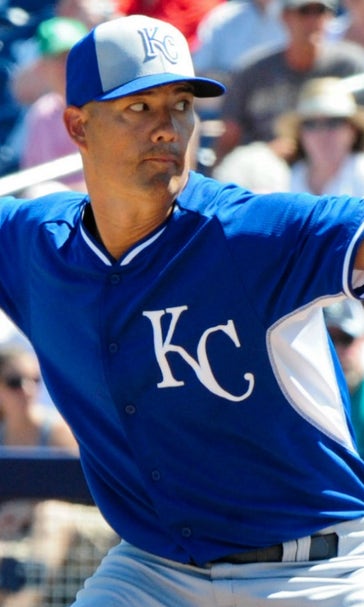 Royals bullpen wins pitching duel in speedy game against Seattle
BY foxsports • March 26, 2015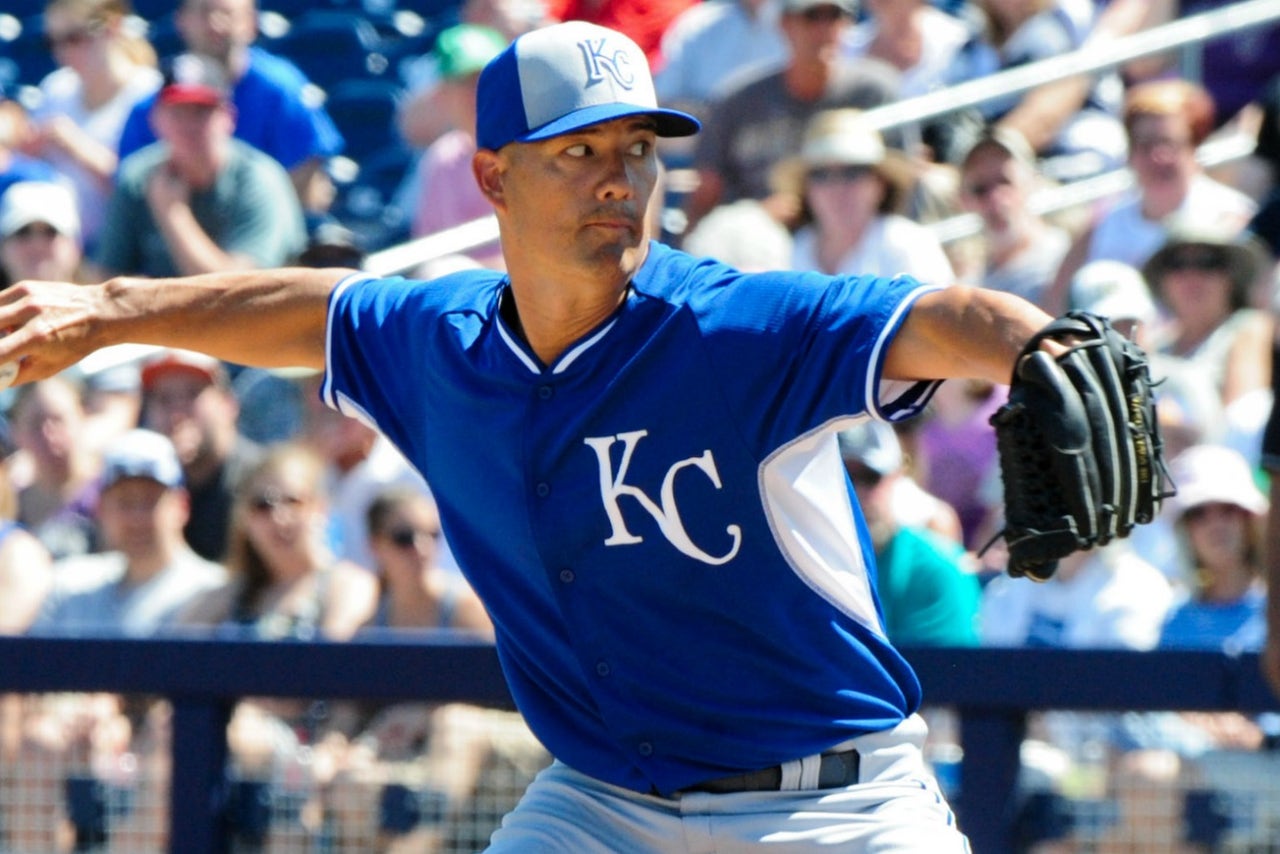 With Opening Day finally in sight, Royals starting pitching has begun to round into form, the latest evidence a sterling performance by Jeremy Guthrie on Thursday afternoon.
Guthrie tossed 5 2/3 innings of shutout ball as three more Royals pitchers combined to blank a split-squad Mariners team 3-0 in Peoria, Arizona. He exited after throwing 74 pitches.
Guthrie, who will pitch fifth in the Royals' rotation, managed only two strikeouts but kept the Mariners away from solid contact, surrendering just five flyouts and two singles in his outing. 
On Wednesday night, left-handed starter Jason Vargas threw six innings, allowing one run on three hits in his finest performance of the spring. The Royals hope the trend continues Friday night, when Opening Day starter Yordano Ventura takes the ball.
3 UP
• Solid relief performances. After Guthrie exited the game, the Royals' bullpen slammed the door shut on the Mariners, allowing just one Seattle baserunner in the game's final 3 1/3 innings. Greg Holland, Jason Frasor, Kelvin Herrera and Ryan Madson combined to record the last 10 outs of the game and preserve Kansas City's 14th Cactus League victory.
One night after the offense was shut out for the first time this spring, Royals pitchers twirled their first shutout in Arizona. Only 30 Mariners came to the plate.
• Piercing King Felix's armor. Royals hitters didn't do much against Seattle ace Felix Hernandez, but they did manage to manufacture a run in the third inning after Christian Colon's leadoff double. Colon moved to third on a wild pitch and scored on Jarrod Dyson's sacrifice fly to center, which came on a 3-0 pitch.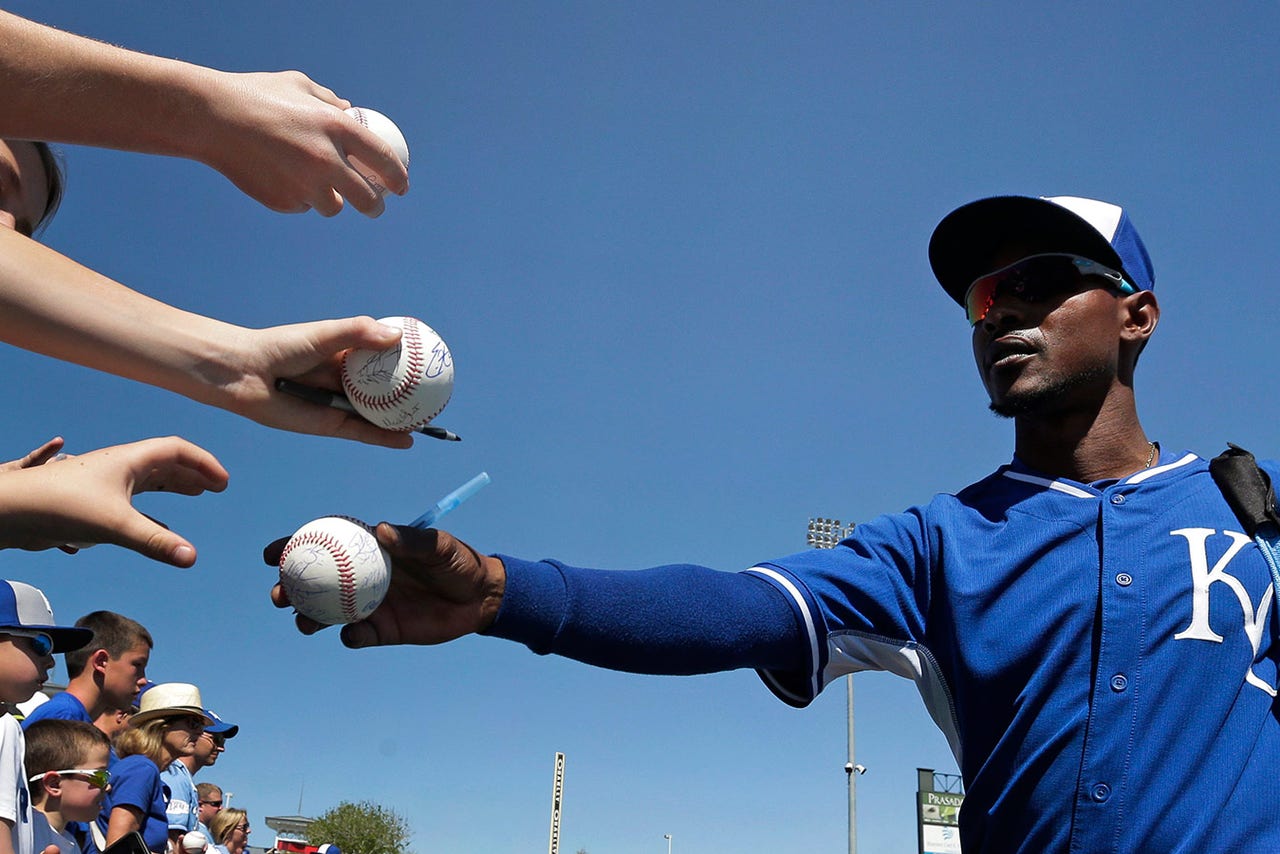 SNAPSHOTS FROM SURPRISE: Royals 2015 spring training gallery
Only one other Royal (Casey Kotchman) got a hit off Hernandez as the right-hander needed just 65 pitches to finish six innings of work. He faced one batter over the minimum.
• Pace of play. The Royals and Mariners completed the game in 2:23, more than half an hour quicker than a typical game. The teams combined for three runs on eight hits as the pitchers duel ensured the game sped along quickly.
3 DOWN
• Regulars' bats. For the second straight game, the Royals' regulars struggled to hit opposing pitchers. In Wednesday night's game, White Sox starter Carlos Rodon struck out nine hitters in four innings and four Chicago pitchers combined for a shutout.
On Thursday, Kansas City starters went a collective 5 for 28 (.179), though the lineup did include likely non-contributors such as Kotchman and Ryan Roberts.
• Pair of missed catches. Two Royals backups committed errors in the late innings, giving up extra bases to the Mariners. In the sixth inning, Ryan Jackson dropped a relay throw from Kotchman that allowed Shawn O'Malley to slide into second after a one-out single. With two outs in the ninth inning, Whitt Merrifield fumbled a line drive into left field that extended the game and allowed Jack Reinheimer to reach first.
Neither error cost the Royals a run. They were Kansas City's only defensive miscues in an otherwise solid performance.
• Gustave claimed off waivers. Prior to Thursday's game, the Royals announced that Rule 5 pick Jandel Gustave had been claimed off outright waivers by San Diego. Gustave appeared in six spring training games for the Royals, posting a 3.24 ERA in 8 1/3 innings.
Gustave, acquired in a trade with Boston in December, threw his fastball in the upper 90s but remained a long shot to make the Opening Day roster because of his lack of command.
WHAT'S NEXT
The Royals will play the Mariners again when Seattle visits Surprise on Friday in an 8 p.m. start on FOX Sports Kansas City. Ventura will get the ball for Kansas City; Frasor, Wade Davis, Luke Hochevar and Franklin Morales are also set to appear. Left-hander James Paxton will pitch for the Mariners.
After Friday's game, the Royals have only five more games in Arizona before heading to Houston for two exhibition games. They open the season April 6 against the White Sox.
You can follow Matthew DeFranks on Twitter at @MDeFranks or email him at matthew.defranks@gmail.com.
---