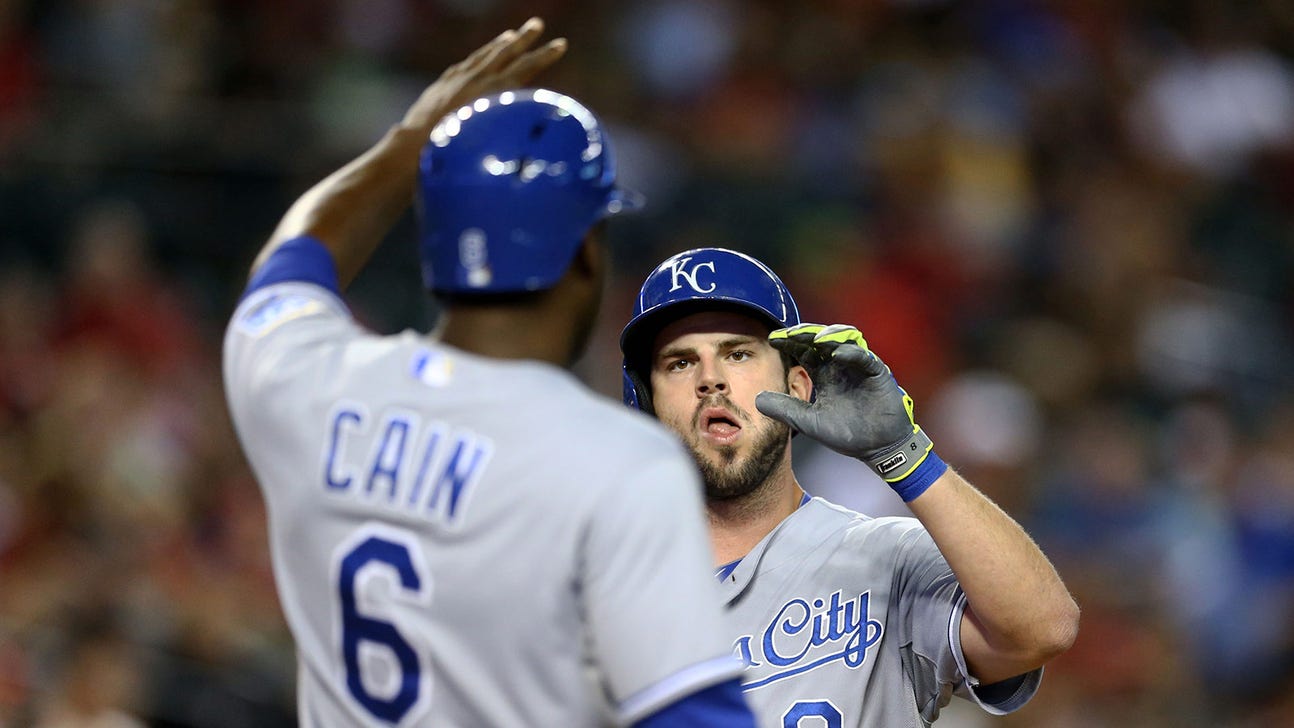 Royals beat D-backs 4-3 for another series win
Published
Aug. 7, 2014 12:52 a.m. ET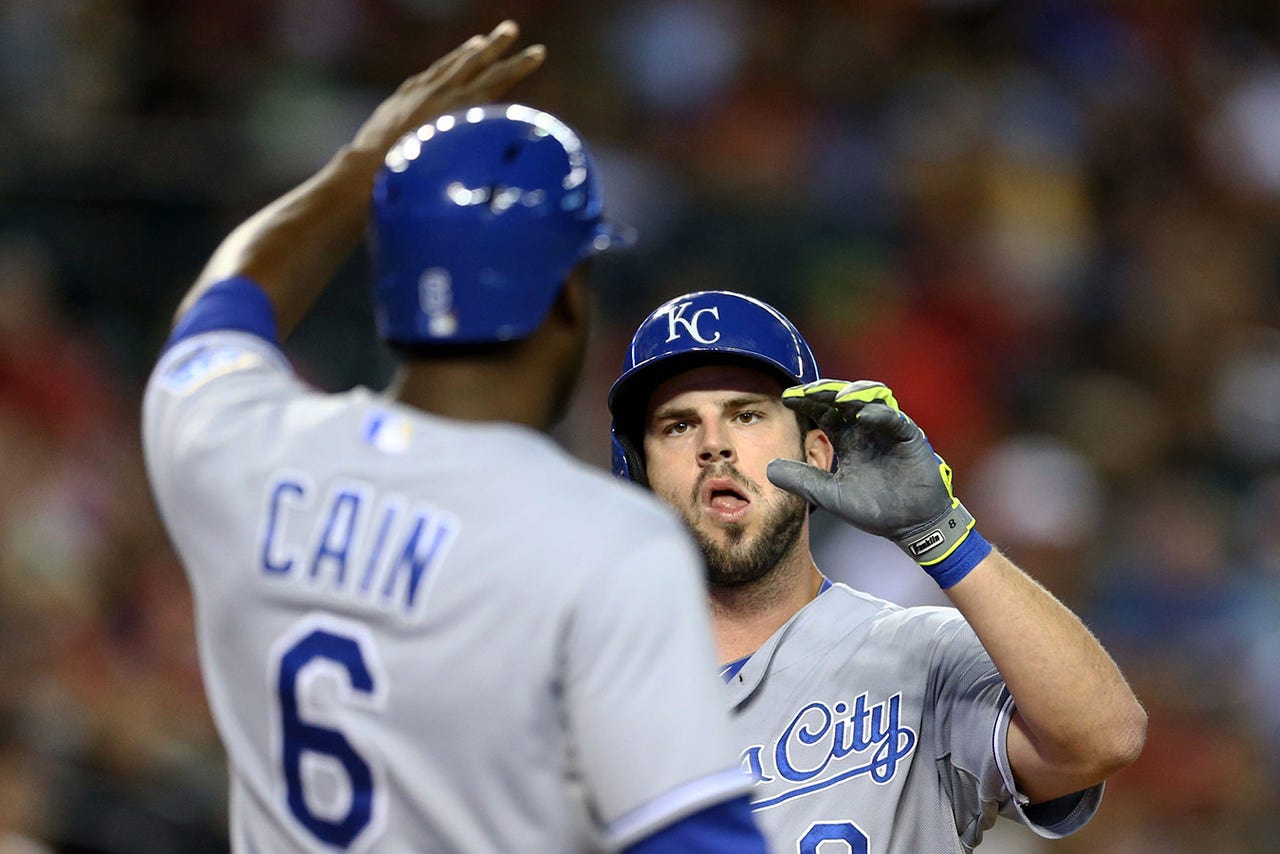 PHOENIX -- Mike Moustakas accounted for all of Kansas City's runs with a long ball, a liner and a bit of hustle after a diving stop by Arizona second baseman Aaron Hill.
His hustle play was the one that made all the difference.
Moustakas homered and drove in his fourth run by beating a relay throw to first in the ninth inning, helping the Royals beat the Diamondbacks 4-3 Wednesday night to win their fifth straight series.
"He (Hill) made a great play on that and I'm just running down the line to get to first and get that run, which turned out to be pretty big," Moustakas said.
Kansas City rolled over Arizona in the opener and had just enough offense for Yordana Ventura (9-8) to take the second game.
Moustakas, who was 1 for 13 to start the six-game road trip, hit a two-run homer off Josh Collmenter (8-6) in the third inning and added a run-scoring single off the right-hander in the fourth. He was initially called out on the groundball in the ninth inning, but a review showed his headfirst dive beat the throw, allowing Billy Butler to score for a 4-2 lead.
The Royals needed the extra run, too.
Closer Greg Holland gave up a pair of singles and a sacrifice fly to Mark Trumbo in the bottom half before closing out his 32nd save.
The scrappy victory was the Royals' sixth in seven games, pulling them within 3 1/2 games of Detroit in the AL Central.
"This was a big win for us with Detroit losing," Royals manager Ned Yost said. "Every game is huge."
The Diamondbacks certainly had their chances, particularly against Ventura.
Miguel Montero had three of Arizona's 12 hits and Hill had his 1,300th career hit with a run-scoring single in the third inning.
The Diamondbacks just couldn't come up with the big hits when they needed them, stranding 11 runners while going 2 for 14 with runners in scoring position.
"It was a game we should have done better, a more productive job of taking care of our opportunities," Arizona manager Kirk Gibson said.
The Royals turned the series opener into a laugher, scoring 10 runs on three swings. Nori Aoki hit a grand slam, Butler had a three-run homer among his four hits, and Salvador Perez added a three-run shot in the 12-2 rout.
Kansas City had another long ball early against Collmenter, this one a two-run shot by Moustakas in the second inning, his team-leading 14th of the season. The Royals tacked on another run in the fourth, going up 3-2 on Moustakas' run-scoring single.
Collmenter was good against everyone except Moustakas, though, allowing one other hit while striking out six in six innings.
"That is the difference: him (Ventura) pitching and getting out of jams and me pitching myself into a jam and not getting out of it," Collmenter said.
Ventura had at least seven strikeouts in his previous two starts, including a win over Minnesota after allowing a run in seven innings his last outing.
The rookie right-hander kept piling up the Ks against the Diamondbacks, notching eight while working around baserunners nicely. He gave up run-scoring singles to Hill and David Peralta in the third inning, but little else despite struggling with his command on off-speed pitches.
Ventura allowed eight hits.
PERALTA'S YEAR
Peralta hasn't stopped hitting since being called up on June 1. The rookie outfielder went 2 for 4 against the Royals for his 23rd multi-hit effort in 53 games. Peralta also is second among rookies in the majors with a .315 average.
YOST'S 800th
Yost reached a big milestone, notching his 800th victory as a manager.
Yost spent his first six years as a manager in Milwaukee, where he played. He's been in Kansas City for the past five seasons, racking up 343 wins.
"You sit back and look at 800 wins, I didn't win any of those games," he said. "Those guys and a lot of guys like them did."
TRAINER'S ROOM
Diamondbacks: RHP Daniel Hudson made his first rehab appearance with Arizona's rookie league team Tuesday night, allowing a run on two hits with two strikeouts in an inning. He had Tommy John surgery for the second time last year and hasn't pitched in the majors since mid-2012.
UP NEXT
Royals: RHP Jeremy Guthrie had his first scoreless appearance of the season the last time out, holding Oakland to three hits while striking out six in six innings on Saturday.
Diamondbacks: LHP Vidal Nuno, Thursday's starter, has yet to win with the Diamondbacks despite pitching decently since being traded from the New York Yankees. He's 0-2 with a 3.07 ERA in five starts with Arizona and allowed a run in six innings of a no-decision against Pittsburgh his last outing.
---