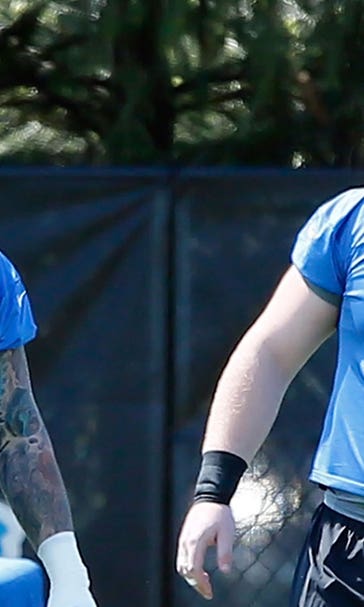 Rookies take Lions History 101
May 10, 2016

ALLEN PARK, Mich. (AP) -- A'Shawn Robinson and his fellow rookies listened to the Detroit Lions provide a bit of an oral history.
The Lions, of course, didn't dwell on the 2008 team that was the first to go 0-16 in the league. They also didn't highlight the lone playoff victory since winning the 1957 NFL title.
That fact, though, was old news to Robinson, the defensive tackle from Alabama chosen in the second round of the draft. He had heard about Detroit's long history of woes from his roommate at Alabama, Chris Posa, who is from Commerce, Michigan, in the Detroit suburbs.
"He enlightened me," Robinson said Tuesday as he became Detroit's 10th and final draft pick to sign a contract.
Posa seemed to get a kick out of getting mentioned in media reports.
"Btw you know I wasn't talking bad about my lions," Posa posted on his Twitter account. "I'll always bleed Honolulu blue but it's not like I'm gonna lie about how bad it's been."
The long misery of the Lions is well known, though they have been infrequent contenders for the playoffs in recent seasons. Detroit, led by first-year general manager Bob Quinn, is coming off its 13th losing season in 15 years.
Quinn, clearly, is trying to rebuild a shaky offensive line and a defensive front that lost tackles Ndamukong Suh and Nick Fairley in free agency last year.
The Lions struggled to run last season, ranking last in the league. Quarterback Matthew Stafford has been sacked 89 times the past two seasons.
Taylor Decker is part of the plan to change that, crossing the border from Ohio State to give the franchise options at right tackle opposite Riley Reiff and perhaps to replace him after he becomes a free agent next year.
"I'm getting reps all over the place," said Decker, the team's first-round pick.
Detroit also drafted offensive linemen Graham Glasgow and Joe Dahl, adding possible starting options at center and guard. Robinson seems set up to start next to veteran Haloti Ngata and potentially to replace him in the future as the team's top defensive tackle.
Detroit would certainly like to focus on the future and that's how the history lesson went.
"Obviously around here it's going to be the positive things," Decker said.
The Lions were founded in 1930 as the Portsmouth (Ohio) Spartans, playing for four years across the state line and joining Green Bay as two of the smallest cities in the NFL. The rookies also heard about Detroit's history of playing on Thanksgiving.
"I thought it was pretty cool," Robinson said. "I never knew any of that stuff about the Detroit Lions, about them being in Ohio."
---
---