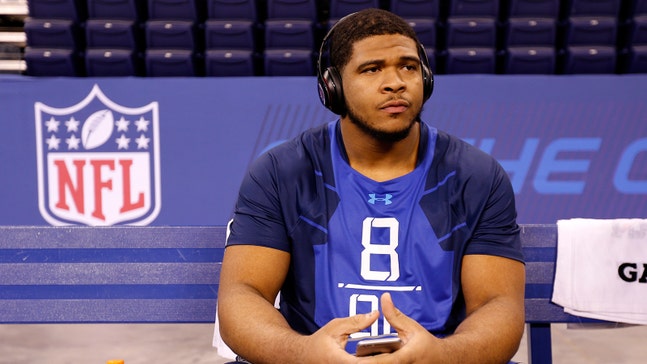 Romo pleased with Collins, Cowboys front office
Updated
Mar. 4, 2020 11:09 p.m. ET

Cowboys quarterback Tony Romo believes he can play for another five years, and it is thanks to the embarrassment of offensive line treasures the Dallas front office has acquired over the past three off-seasons.
"I think Jerry and Stephen [Jones] have done an incredible job just building this football team, as well as Jason [Garrett], over the last three or four years," Romo said Friday at a fundraiser for the Pat and Emmitt Smith Charities. So... you're seeing the benefits of that. And we're still going. This wasn't a one-year, two-year thing. We're building this for the next five, six, seven years to sustain."
Interestingly, the Cowboys' "non-sexy" offensive line picks were controversial at the time. In 2012, the Cowboys traded back in the first round to the penultimate pick in the first round where they selected center Travis Frederick. The next season, though owner Jerry Jones would have loved to have taken Texas A&M quarterback Johnny Manziel at pick 16, Stephen Jones and Assistant Personnel Director Will McClay held forth and took guard Zack Martin from Notre Dame. In 2014, the Cowboys set franchise records for rushing en route to a 12-4 record, a division title, and a playoff win.
Yesterday, the rich got richer as the club signed undrafted free agent tackle La'el Collins from LSU, a first-round prospect.
"I think anytime you get a chance to get a guy like Collins, you should take advantage of that," said Romo. "It goes to show the ability of our owner to admit when he sees someone like that, he sees in some ways himself in Collins. And I think they related. As different as it may sound, the way he talked to communicate with his mom is a great thing."
The 35-year-old quarterback with three division titles sees Collins as "a special kid," and sees some similarities between himself and the 21-year-old tackle.
"I think what you'll find right away is there are different paths to get to where you want to go. And his is not ideal. Nor was mine. His was different than mine. But I do know what it's like to not get drafted when you think you have an opportunity to. And I put him with a first round guy.
"There's benefits to picking your team. We all want to go in the first round. That doesn't happen. You can look at it any way you want, but it can be a very good thing for him. I think he's the type of kid who's going to work hard and give everything he's got. I think this will motivate him even more than it would, but I'm thinking he's going to want to be the best player he can be."
In the end, according to Romo, it won't matter whether Collins was drafted or not if he develops into a great football player. If Collins has such fortune in the NFL, it will be a testament to how all the front office stayed committed to a long-term plan instead of winning now at all costs.
---