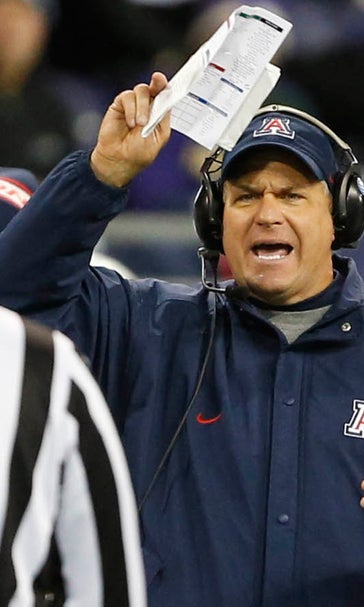 Rodriguez searching for ways to reverse Arizona's tailspin
November 2, 2015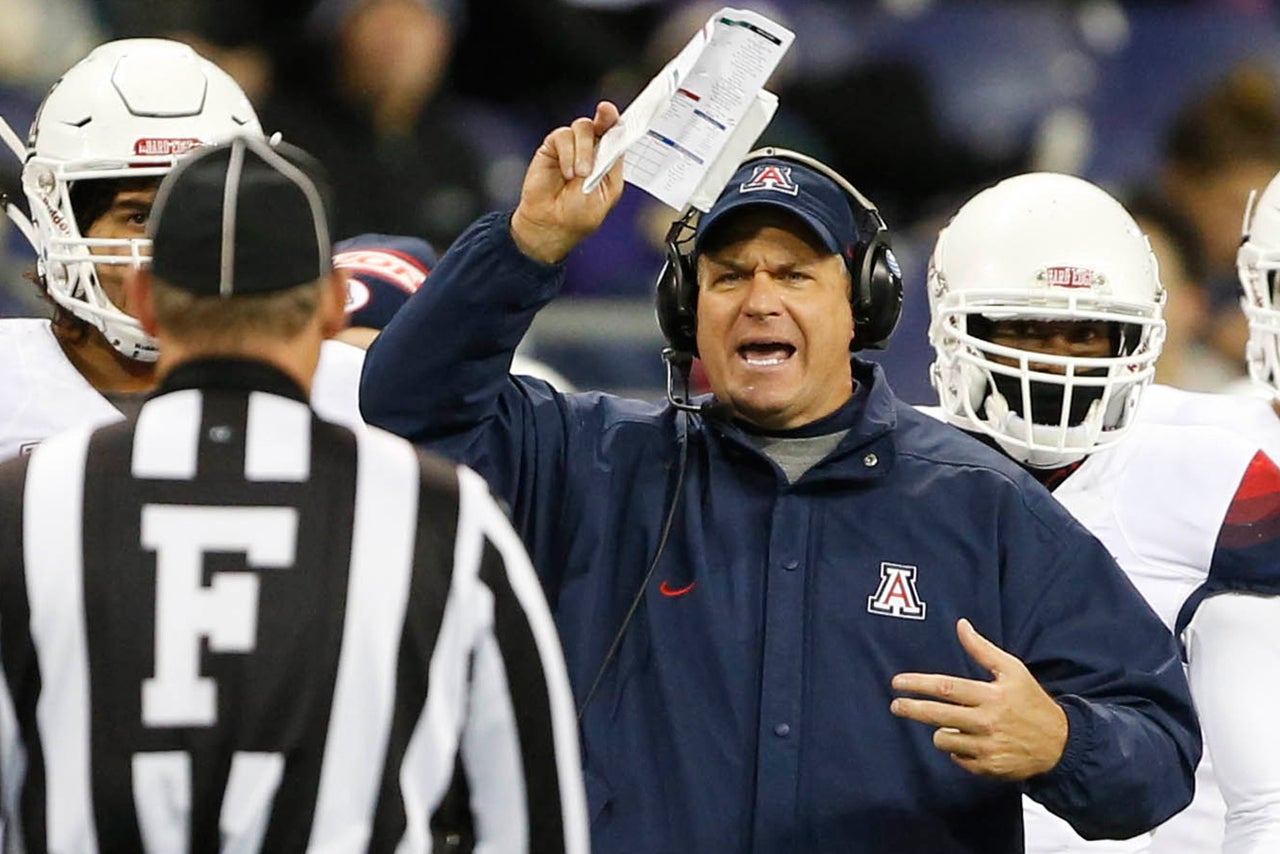 The oft-times feisty, occasionally playful Rich Rodriguez was nowhere to be found in his weekly session with the media on Monday as Arizona tries to bounce back from a 49-3 humiliation at Washington heading into Saturday night's game at USC (8:30 p.m., ESPN).
Instead, it was a subdued, matter-of-fact Rodriguez, acknowledging that the Wildcats (5-4, 2-4 Pac-12) have a lot of work ahead of them to get out of their current tailspin as they enter the final three games of their schedule following a back-to-back losses.
"I told our team, when adversity strikes, you're going to do one of three things -- you fight, you flight or you freeze," Rodriguez said. "The coaching staff is going to fight, I think our players are going to fight."
Wide receiver Cayleb Jones said the players haven't given up.
"We know what we have at stake," he said. "We have three very important games left. Whether it's SC or ASU, we have to get up and play. We're capable of doing that. It's something we have to do."
USC (5-3, 3-2) has rejuvenated its season since interim coach Clay Helton took over for Steve Sarkisian, and the Trojans are coming off a 27-21 victory over California.
USC's physical offensive line and the ability to punish defenses with a ball-control running game could be especially problematic from a thin and weary Arizona defense that will again be without linebackers Scooby Wright and Derrick Turituri.
"For us, we're not good enough to win a game without getting some turnovers," Rodriguez said. "Sometimes turnovers are created by luck, sometimes they're created by great plays;  either way we've got to get 'em to have a chance to win this game.
"They're so big up front, they swallow people up and just about do whatever they want offensively."
There are no shortage of evidence pointing to Arizona's defensive concerns, but three might be most telling.
Against Pac-12 competition, the Wildcats are last in opponent's third-down conversion percentage (50.6 percent), last in turnover margin (minus eight, with just two takeaways in five games), and last in red-zone defensive (opponents have scored on all 29 red-zone opportunities, including 26 touchdowns).
While defense has been a season-long issue, the Arizona offense is coming off its worst performance of the season by a long shot.
Rodriguez said the coaching staff intends to simplify the game plan on Saturday for quarterback Anu Solomon.
"We talked about some things on offense and how do we get in a rhythm and make him more decisive," Rodriguez said. "Sometimes you can think too much, maybe as coaches you give him too many decisions to make, and he can't go out there and execute well.
"He's played at a high level before, and I think he'll play at a high level again."
NOTE: Rodriguez said starting guards Freddie Tagaloa and Jacob Alsadek are both  injured but did not elaborate. An injury report will be released Thursday.
---