Arizona Wildcats
Arizona Wildcats
Rodriguez adds yoga, other activities to break up monotony of camp
Published
Aug. 17, 2015 6:35 p.m. ET

With nearly two weeks down and more than two weeks to go before the season opener, head coach Rick Rodriguez recognizes that the tedium stage of fall practice has arrived for the Arizona Wildcats.
With that in mind, Rodriguez has changed things up for the past couple of days. Among the wrinkles was a yoga session as part of Sunday's activities.
"I asked the team if they wanted to do it every week throughout the season, and it was unanimous," Rodriguez said following Monday morning's practice. "From a flexibility standpoint, it really loosens them up. A lot of it is just learning how to relax  and it'll be a part of our weekly routine from now on."
Other wrinkles included a team video session on Saturday and what Rodriguez described as a "fun meeting" on Sunday.
"I think it helps camp from becoming so monotonous every day," he said. "It's such a tedious time, it's all about football and up until last week, school as well. You hope that they love football enough that they enjoy it. I think that one day a week doing something a little different creates the diversion that helps them to refresh their minds.
"This weekend we will have our mock road trip and we'll have a little talent show. I think that is one of the highlights of camp."
Quarterbacks coach Rod Smith was asked about the progress of senior quarterback Jerrard Randall and redshirt freshman Brandon Dawkins, the two players behind Anu Solomon on the depth chart.
On Randall: "He is starting to understand more of what we are trying to do. He's throwing a lot more. The kid has a laser for an arm. He throws the football about as hard as anyone I've seen. That's good and bad because he has to learn when to take some off. I think he has gotten better at that. He's showed some touch here in the fall camp and that is very impressive for us."
On Dawkins: "The biggest thing for him is to continue to learn what we are doing. He needs to continue to work on his fundamentals. I like Brandon Dawkins and I think he has a bright future ahead of him. He needs to get ready for this year, not the future. We are pushing him and I think he just needs to continue to get reps and continue to grow and learn what we are doing. He can work on where his eyes need to be and making sure he's reading coverage correctly and all of those things. He probably has the most work to do out of all of them, but at the same time he is progressing."
Quarterback Anu Solomon found receiver David Richards on an out route and Richards was able to keep his feet in bounds and took off up the left sideline for a 65-yard touchdown. 
---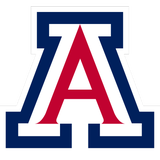 Get more from Arizona Wildcats
Follow your favorites to get information about games, news and more