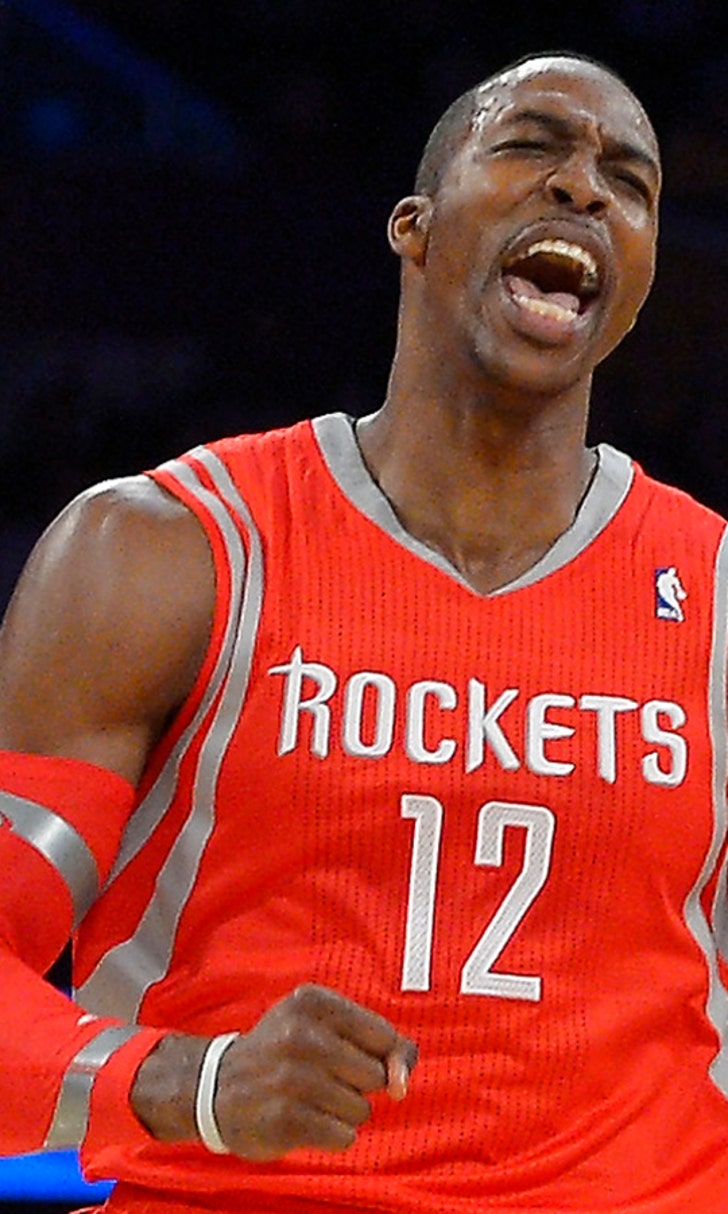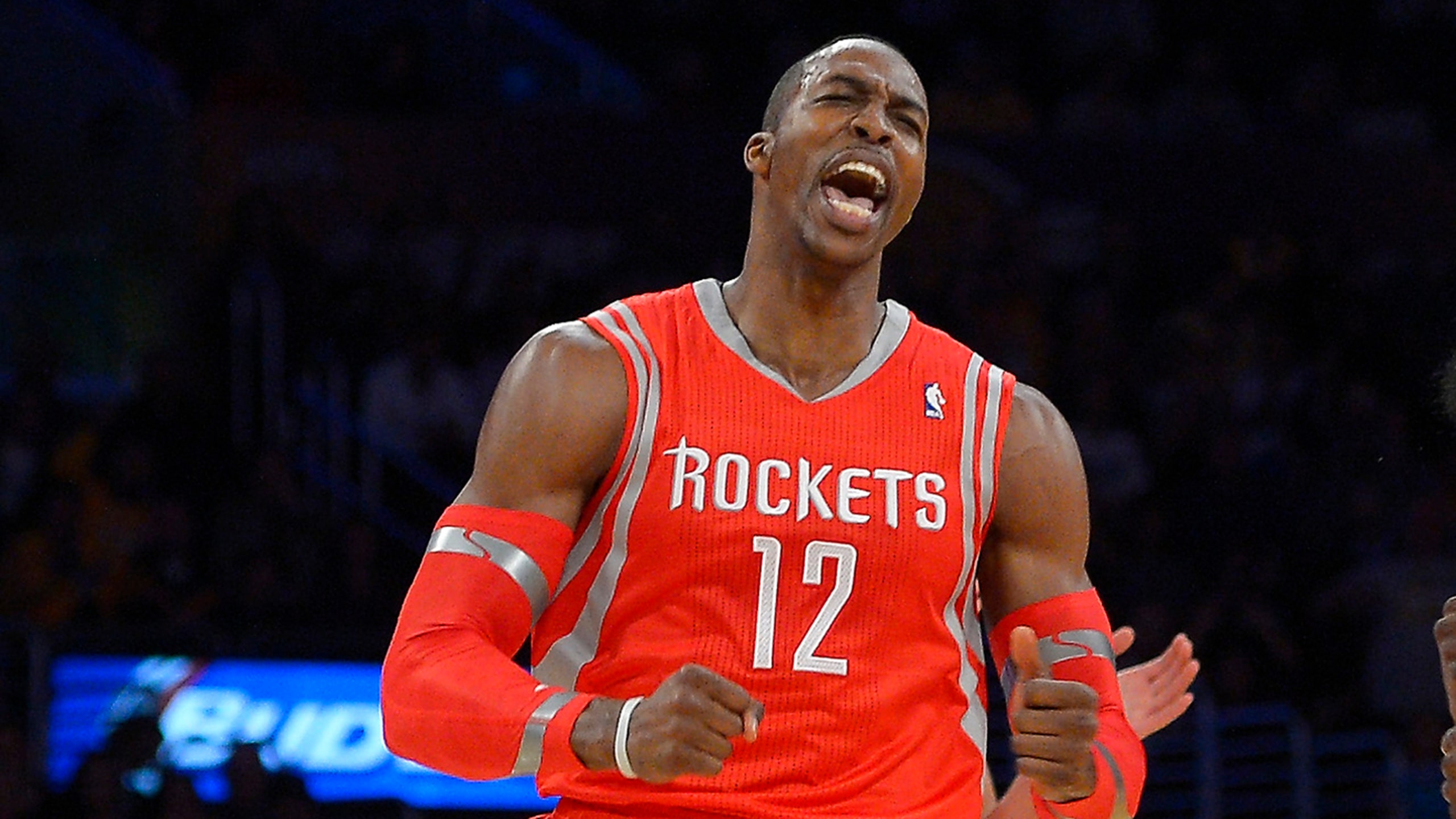 Rockets beat Lakers for eighth straight win
BY foxsports • February 20, 2014
LOS ANGELES (AP) - Dwight Howard thoroughly enjoyed his first road game against the team he left as a free agent after one tumultuous and contentious season, getting 20 points and 13 rebounds in the Houston Rockets' 134-108 rout of the Los Angeles Lakers on Wednesday night that extended their winning streak to eight.
The streak is Houston's longest since a franchise-record, 22-game run in 2007-08 under coach Rick Adelman. James Harden scored 11 of his 29 points in the final 1:25 of the third quarter and added 11 assists.
Wesley Johnson scored 24 points for Los Angeles, and Kendall Marshall had 20 points and 16 assists. The injury-ravaged Lakers remained tied for last place in the Western Conference with Sacramento at 18-36 and are 5-23 since Dec. 20, when they beat Minnesota to get back to the .500 mark at 13-13.
It was Howard's third game against the Lakers since leaving the organization to sign a four-year, $88 million contract with the Rockets in July. Los Angeles offered him a five-year, $118 million deal to stay.
The eight-time All-Star and three-time Defensive Player of the Year played 76 games last season, averaging 17.1 points and a league-best 12.4 rebounds despite residual pain from back surgery -- compounded by an torn labrum in his right shoulder.
Howard's only season in Tinseltown ended with a whimper -- a four-game sweep by San Antonio in the first round of the playoffs, when he was ejected from what would turn out to be his final game as a Laker for protesting a non-call.
The sellout crowd booed Howard every time he touched the ball. It began during warmups about 45 minutes before the game, after a few of his ex-teammates came over to say hello at midcourt. The fans then drowned out public address announcer Lawrence Tanter before he could get Howard's name out of his mouth during the introductions.
Less than 90 minutes before tipoff, the Lakers dealt guard Steve Blake to the Golden State Warriors for reserve guards Kent Bazemore and MarShon Brooks. Coach Mike D'Antoni was still talking about Blake in the present tense during his pregame session with reporters before the deal was consummated, and the trade left him with only eight players in uniform and his 28th different starting lineup due to injuries to Kobe Bryant, Pau Gasol, Steve Nash, Xavier Henry and Nick Young.
Jordan Farmar returned to the lineup after missing four games because of a sore hamstring, and Jodie Meeks was back in action after sitting out five games with a sprained right ankle.
Harden helped the Rockets build a 64-43 halftime lead with 15 points in the first game for both teams following the All-Star break. Howard added 14 points and 10 rebounds -- the 10th time this season that he had a double-double by halftime. The biggest discrepancy was in second-chance points, with Houston holding a 19-0 advantage at the half and a 26-4 margin overall. They outrebounded the Lakers 56-32.
NOTES: Howard received a technical foul just 78 seconds into the game after dunking on Chris Kaman. ... The Rockets were 18 for 35 on free throws, after attempting more than 50 in each of the previous two meetings. Howard was 5 for 16 in the first one, 10 for 24 in the second one, and 2 for 6 on Wednesday. ... Bryant hasn't played in any of the games against Houston since he and Howard became ex-teammates. In fact, he's played in only six games altogether. The season series concludes on April 8 at Los Angeles. ... The Lakers have lost seven games by margins of at least 20 or more points. ... Harden scored at least 30 points in each of his previous four games against the Lakers. ... Houston overcame a double-digit deficit in each of its previous seven wins against the Lakers, whose biggest lead in this one was just one. ... The Rockets began a five-game road trip that will end right back here at Staples Center against the Clippers.


---