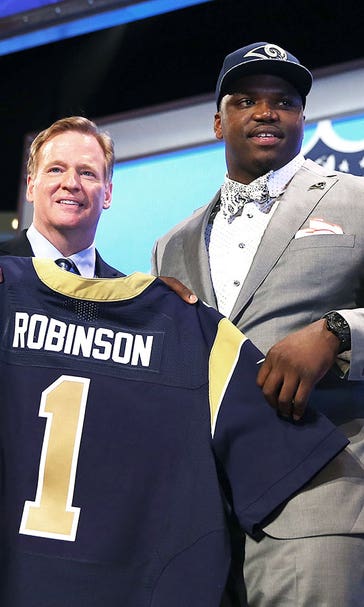 Robinson is another building block in the Rams' Fisher/Snead foundation
BY foxsports • May 8, 2014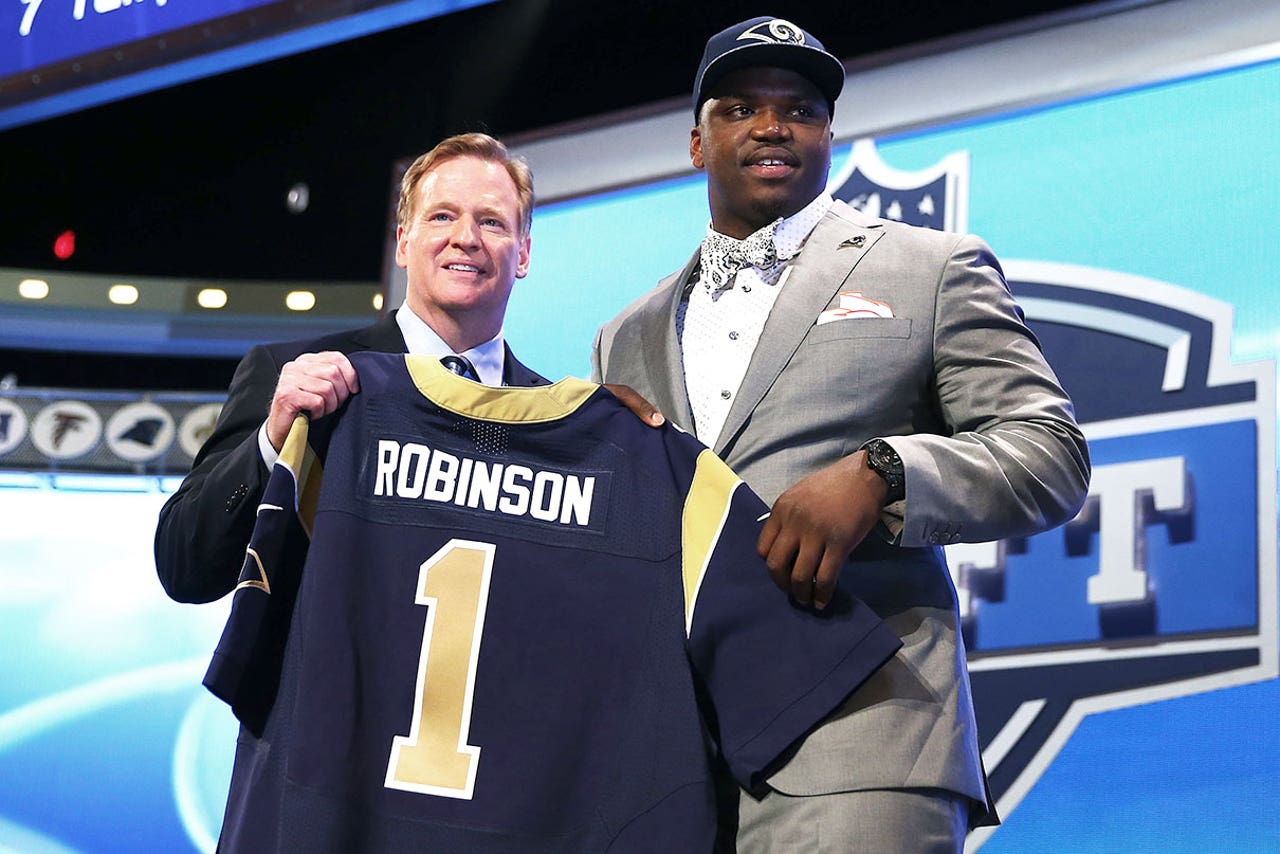 ST. LOUIS -- Jeff Fisher and Les Snead took a brief break Thursday night from remaking the foundation of the Rams to meet the press.
"What do ya think?" Fisher asked the assembled reporters. "Hmm?"
"Grades?" Snead queried.
The smirking and smiling from the two faces of the St. Louis franchise told the story.
"We're jacked," Snead said. "We'd probably give ourselves an 'A.'"
"Of course," Fisher offered.
There was nothing sexy about the Rams' first two selections in Thursday's NFL Draft -- Auburn's massive offensive tackle Greg Robinson and Pittsburgh's undersized-but-productive defensive tackle Aaron Donald -- but the Rams' decision-makers were smiling from ear to ear.
The fans clamoring for a game-breaking wide receiver like Sammy Watkins or Mike Evans or a freelancing quarterback like Johnny Manziel?
Sorry.
With their first two choices, Fisher and Snead aimed to make St. Louis stronger in the interior to compete in the rough-and-tumble NFC West, following the blueprint drawn up by the division's best, the Seahawks and the 49ers.
And it was telling that Fisher revealed they were trying to trade up to the No. 17 overall pick, with Baltimore, to grab another offensive lineman, Notre Dame's Zack Martin. But Martin went at 16th to the Cowboys.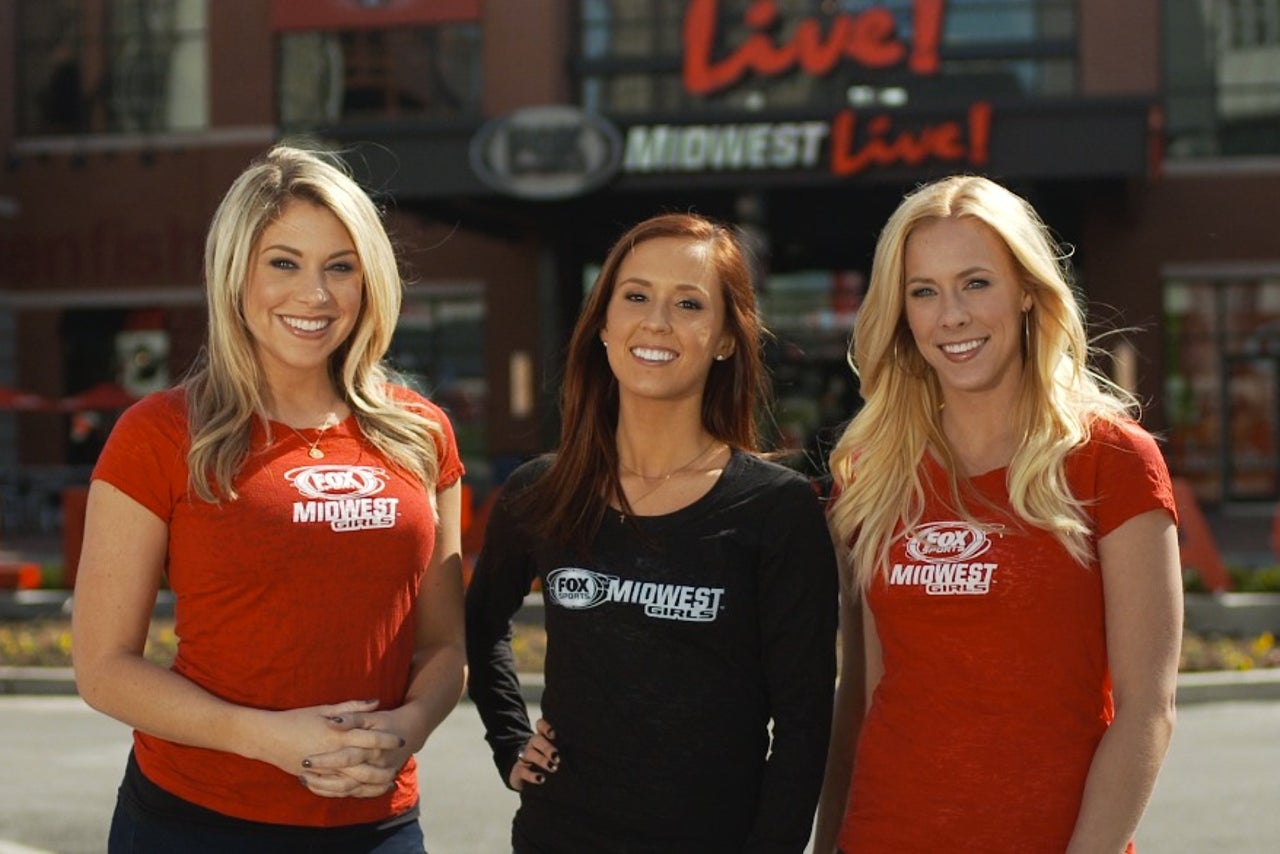 FOX SPORTS MIDWEST GIRLS: Read their bios, check out their upcoming appearances and view their photo galleries and videos.
"It would've been pricey but worth it," Fisher said. "That was a good pick for the Cowboys."
You can call these two picks a missed opportunity to add playmakers to an offense that has needed them since Torry Holt wore the horns on the helmet. But that's not how Fisher and Snead are looking at it.  
"Football teams, you build from the inside out," Snead said. "I always say that's when you're building your foundation. When you lay your foundation for your skyscraper, it's probably the least exciting thing that you do, but that's the thing that holds that skyscraper up for a lot of years."
"We're going to get our foundation stronger," the GM added.
Robinson, a 6-foot-5, 332-pound mauler, definitely does that.
No matter how hard they've tried to forget, Mizzou fans will likely remember Robinson and his Auburn teammates racking up a season-high 545 yards rushing against the Tigers in the Southeastern Conference championship game.
Snead said Robinson is a big man with very quick first steps who can bend and get under the pads of defensive linemen. The GM called his first pick a dancing bear.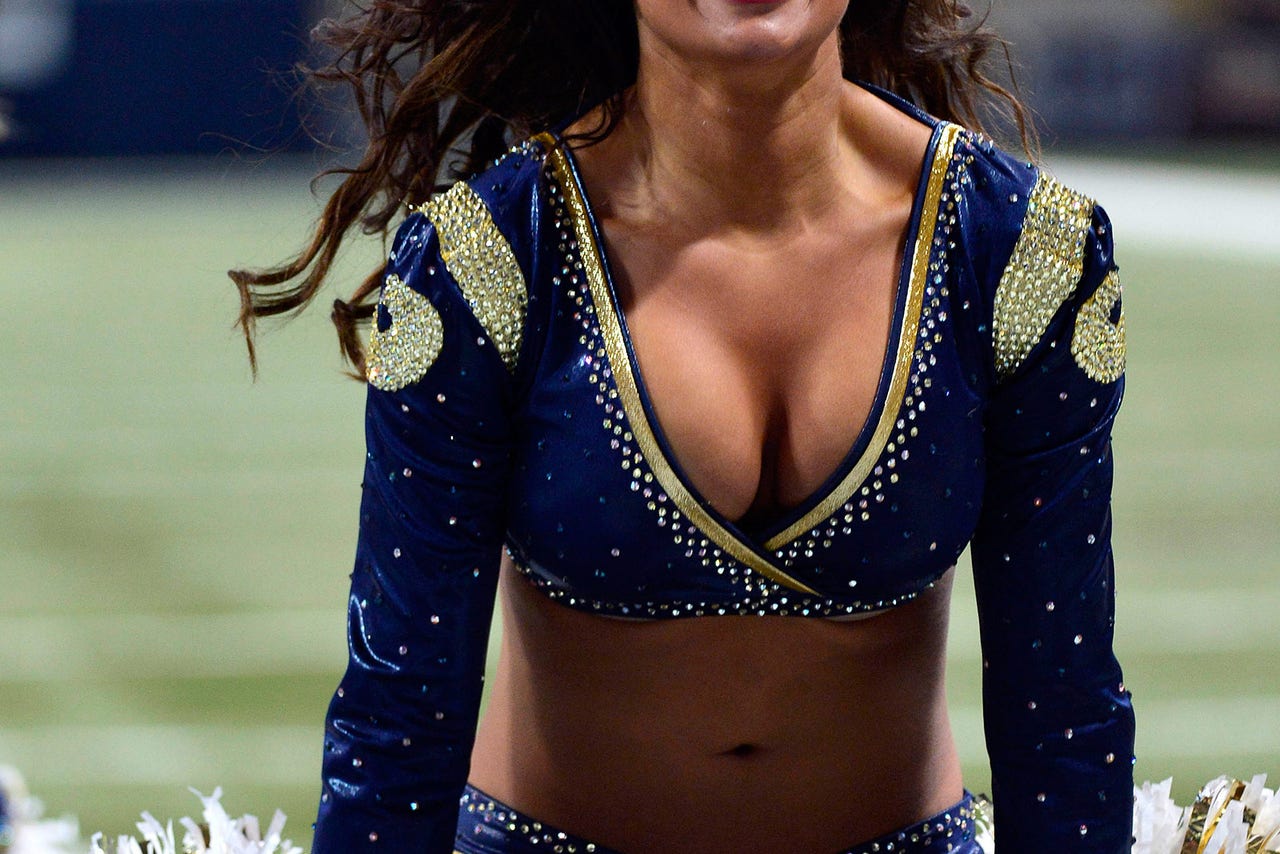 RAMS CHEERLEADERS: Flip through our photo album of Rams cheerleaders.
"We felt like Greg is a piece of the puzzle that's going to help us control the line of scrimmage," Snead said. "... You've got to be physical and all three of those teams (NFC West rivals Seattle, San Francisco and Arizona) have really good front sevens."
Fisher offered that the Rams aren't even completely sure what to do with Robinson yet, whether they'll start him out at guard or tackle. But he knows that Snead's dancing bear makes them a better football team.
"We all know what Greg's capable of doing," Fisher said. "He's an outstanding young man and that workout last week was really, really impressive. We'll plug him in where we feel like he's got the best chance to be successful right now. We don't know exactly where that is. He may start off inside before we move him back outside. But you talk about an athlete. Powerful. Great quickness and strength. He has a chance to be a dominant player inside initially."
The Rams went into Thursday's first round with a gaping hole at left guard after last year's starter, Chris Williams, signed a free-agent deal with the Buffalo Bills this spring.
The 332-pound Robinson could fit there for his rookie campaign, opposite Rodger Saffold at the right guard spot. Saffold said Wednesday he now weighs 325 pounds, up from the approximately 315 pounds he played at last season when he played right tackle, right guard and then left tackle.
St. Louis is banking on Robinson, in whichever role they use him, and his advanced run-blocking skills will improve an offense that was held to 13 yards rushing in a loss against the Seahawks, 18 yards on the ground in a loss against the 49ers and 35 rushing in a loss at Dallas last season.
The Rams went 2-6 last season when they rushed for 100 yards or less and 5-3 when they rushed for more than 100.
St. Louis lost the battles in the trenches too often in 2013. Fisher and Snead's first two picks on Thursday were steps toward changing that.
"We have to get better," Fisher said. "We did today."
You can follow Nate Latsch on Twitter (@natelatsch) or email him at natelatsch@gmail.com. 
---