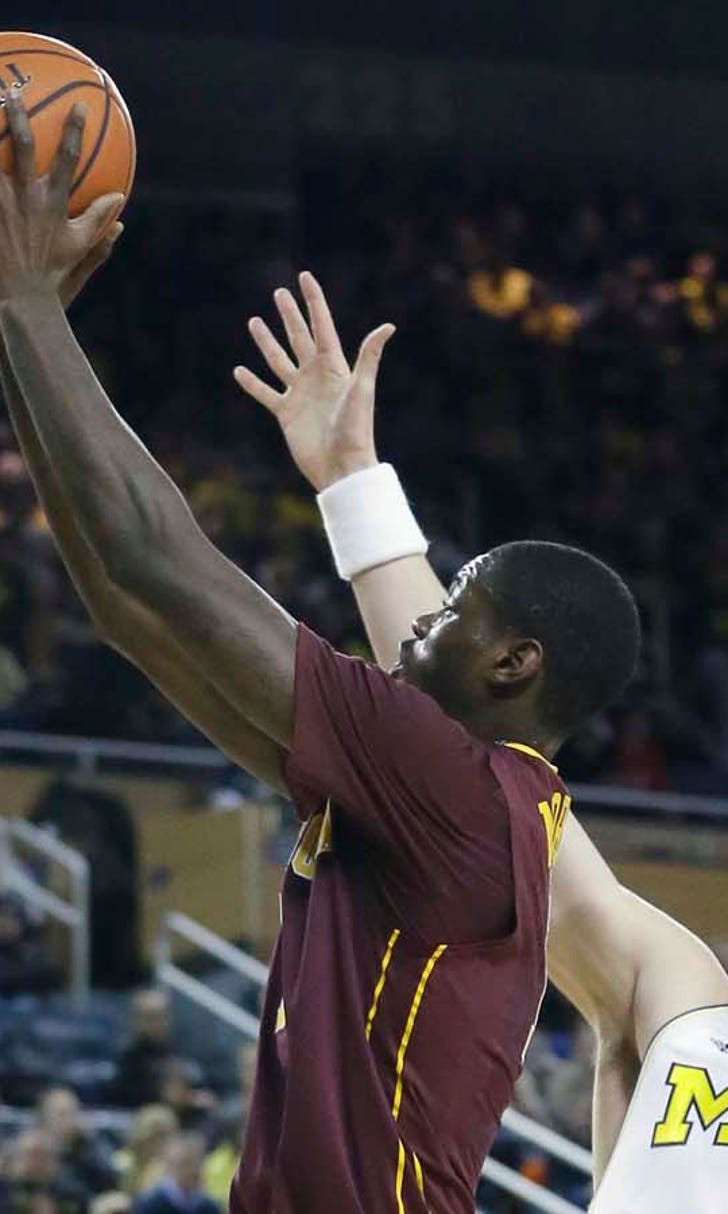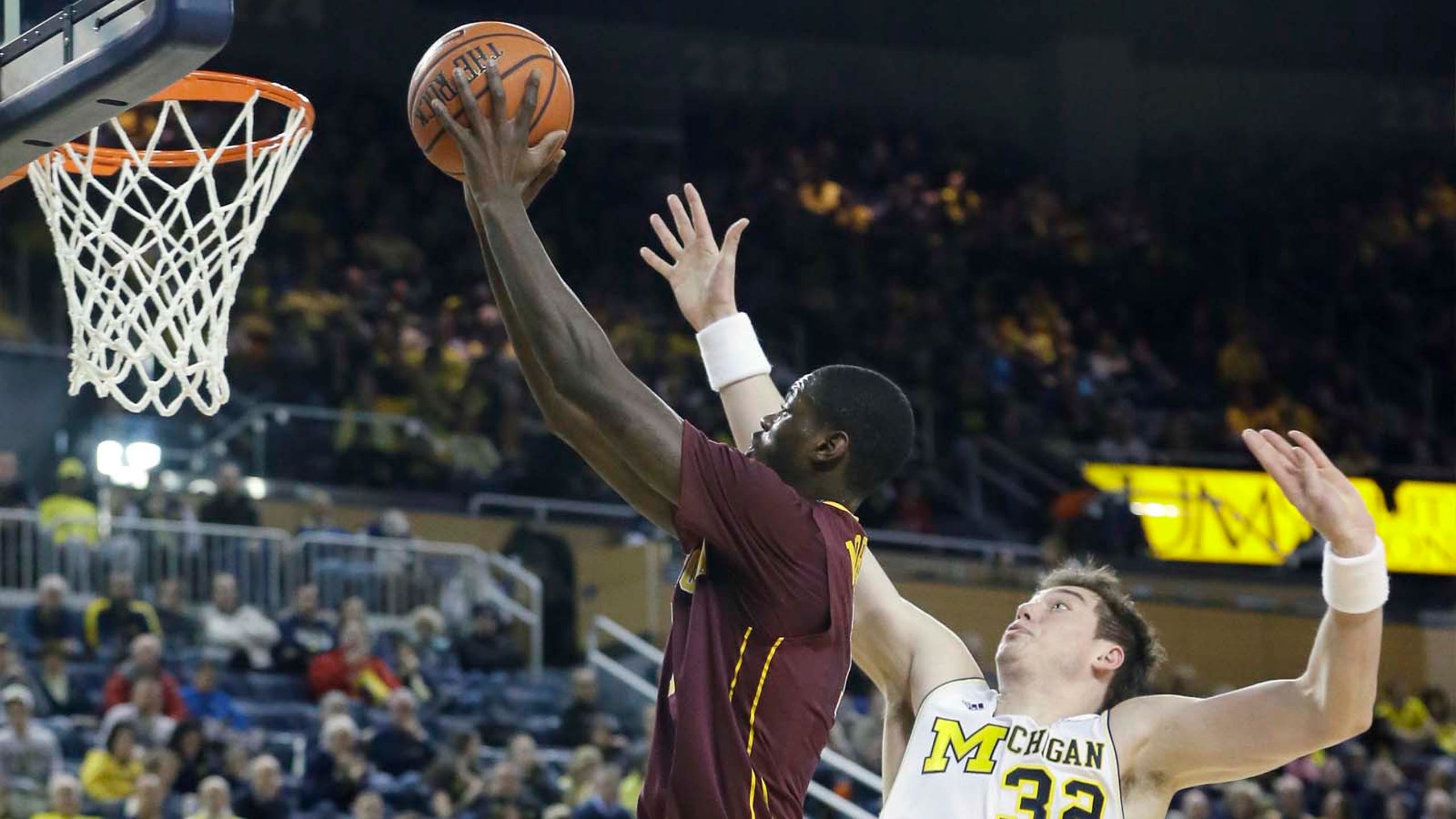 Road reaction: Wolverines 62, Gophers 57
BY foxsports • January 10, 2015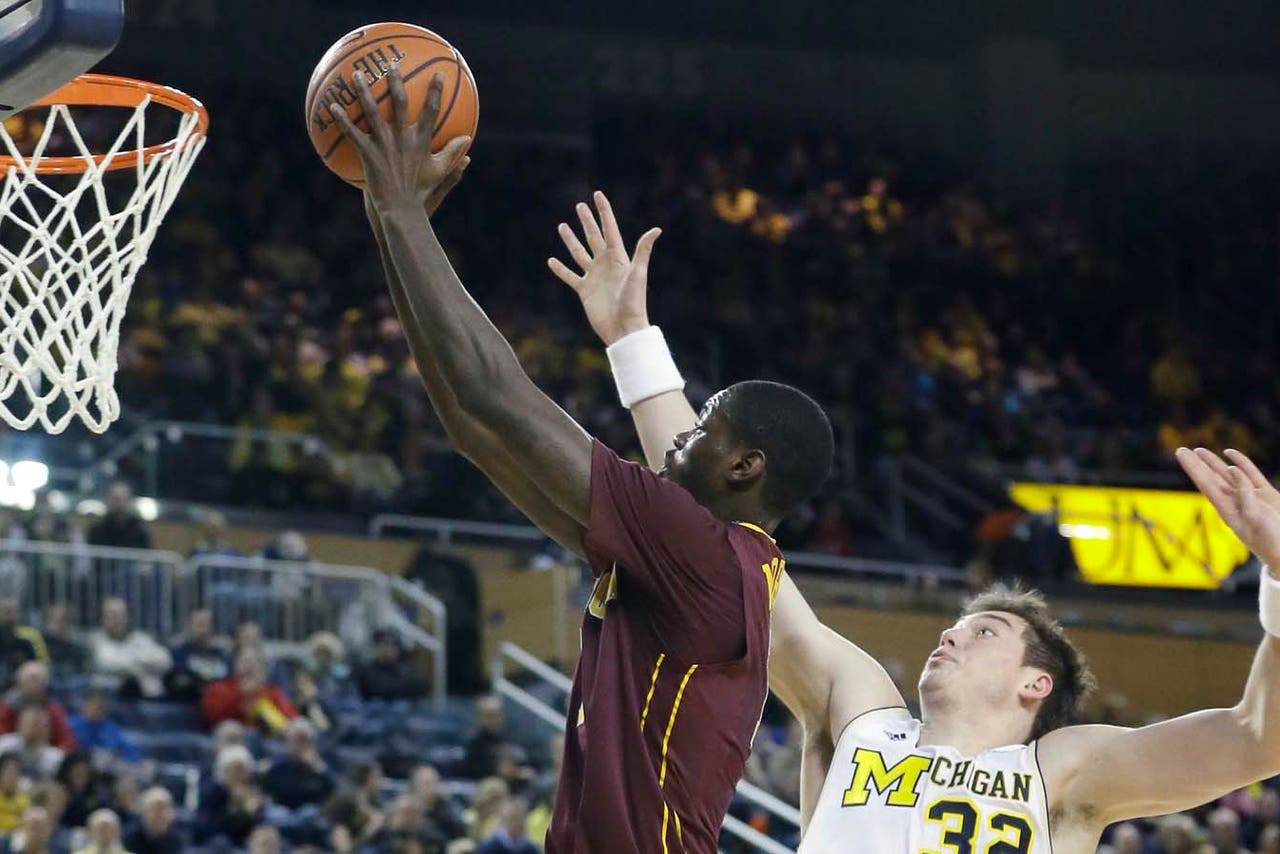 Minnesota's Big Ten woes continue.
Needing a win in Ann Arbor, Mich., to avoid a 0-4 start in conference play, the Gophers let a second-half lead slip away as they lost 62-57 to the Michigan Wolverines. Turnovers plagued Minnesota in the second half, and the Gophers couldn't make enough stops defensively to prevent Michigan from rallying for the win.
Minnesota needs to get on track in a hurry, and Saturday's loss will surely sting. It's a win the Gophers arguably should have had. Instead, it's a 0-4 Big Ten record for Richard Pitino's team.
1 big moment: With Michigan clinging to a two-point lead in the final minute, Wolverines guard Derrick Walton Jr. found freshman forward Ricky Doyle cutting toward the basket. Doyle slammed home the alley-oop to put Michigan up 59-55 with just 29 seconds to play. Minnesota needed a stop on that possession, but the Gophers instead were on the wrong end of a momentum-killing dunk. Andre Hollins followed up the alley-oop by missing a 3-pointer at the other end as Minnesota never recovered from the lapse in defense on that play by Walton and Doyle.
2 top performers: Andre Hollins had his share of struggles in his first three Big Ten games this season, but he jumped out to a hot start Saturday against Michigan. Hollins scored the Gophers' first nine points and kept Minnesota in the game when the rest of the team struggled to shoot the ball. One game after scoring 12 points in a loss to Ohio State, Hollins finished with a team-high 18 points on 4-of-14 shooting, including 7-of-8 from the free throw line.
Like Hollins, forward Carlos Morris has been a streaky scorer this year. Head coach Richard Pitino didn't like Morris' shot selection earlier in the year, but he's since done a better job of choosing his shots. Morris was one of the Gophers' most efficient scorers against the Wolverines, scoring 16 points on 7-of-10 shooting. He only attempted one 3-pointer, and he converted on it.
3 key stats: Three-point shooting was the difference in the first half, when it seemed as if the Gophers couldn't miss from downtown while Michigan struggled to connect from long distance. Minnesota was 5 of 11 from 3-point range before halftime en route to 27-25 lead at the break. The Wolverines were an abysmal 0 for 8 from downtown in the first half, but wound up 4 for 18 for the game as they finally hit a few after halftime.
Turnovers killed the Gophers in the second half. Minnesota turned the ball over just six times in the first half but gave the ball away 11 times after halftime. A few of those came in key moments late in the second half after Michigan took the lead, including one by Hollins as he passed right to a Wolverines player. Meanwhile, Michigan committed just nine turnovers all game. A turnover margin of 17-9 isn't going to win the Gophers any games.
In a close game, everything is magnified. That includes free-throw shooting. Minnesota has struggled at the line this season, but it came back to bite the Gophers in Saturday's loss. Richard Pitino's team was 11 of 20 from the free-throw line against Michigan, while the Wolverines connected on 16 of 20 free throws. Mo Walker missed a pair of free throws late that would have tied the game with just over three minutes to play.
Seen: Michigan altered its defense in the second half and switched to a 1-3-1 zone, which seemed to give Minnesota trouble. As soon as the Wolverines moved into that defense, the Gophers committed back-to-back turnovers. Michigan only turned one of those two turnovers into points, however. Minnesota never looked comfortable offensively when going against that 1-3-1 zone.
Morris has primarily been a jump shooter this season for the Gophers, but he did a great job of getting to the basket early and often for Minnesota. A few different times, Morris used a spin move to get past his defender and drive to the hoop. One of those spin moves and ensuing baskets capped a 7-0 Gophers run in the first half. Minnesota would surely love to see more of that aggressiveness by Morris the rest of the season.
Next: After playing three of their first four Big Ten games on the road, the Gophers will finally get a handful of home games (three of the next four) at Williams Arena over the next few weeks. The Gophers return home for a game against Iowa on Tuesday before hosting Rutgers four days later. Minnesota then has a road test at Nebraska before another home game against Illinois.
Still in search of their first Big Ten win, the Gophers need to hold serve at home in the next few weeks. If Minnesota can win all three home games and perhaps steal a game in Lincoln, that would lift Pitino's team to .500 in conference play. There is still plenty of season left, but the Gophers can't afford to fall farther behind in the Big Ten.
Follow Tyler Mason on Twitter
---