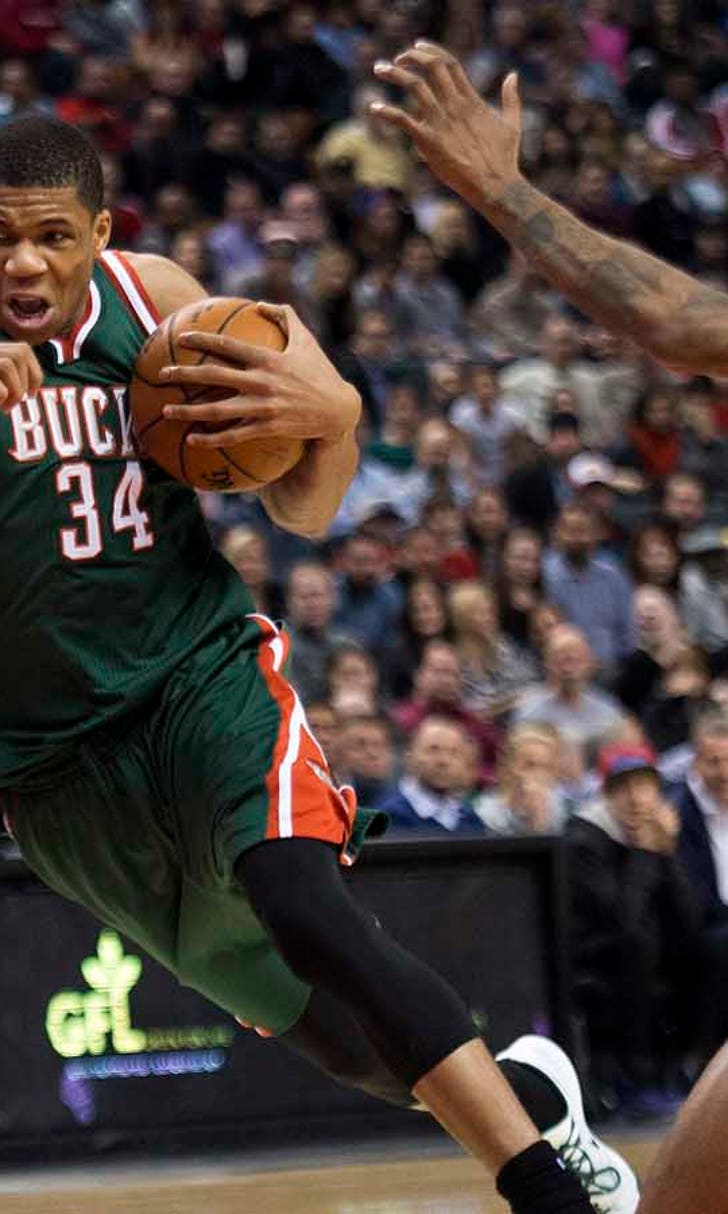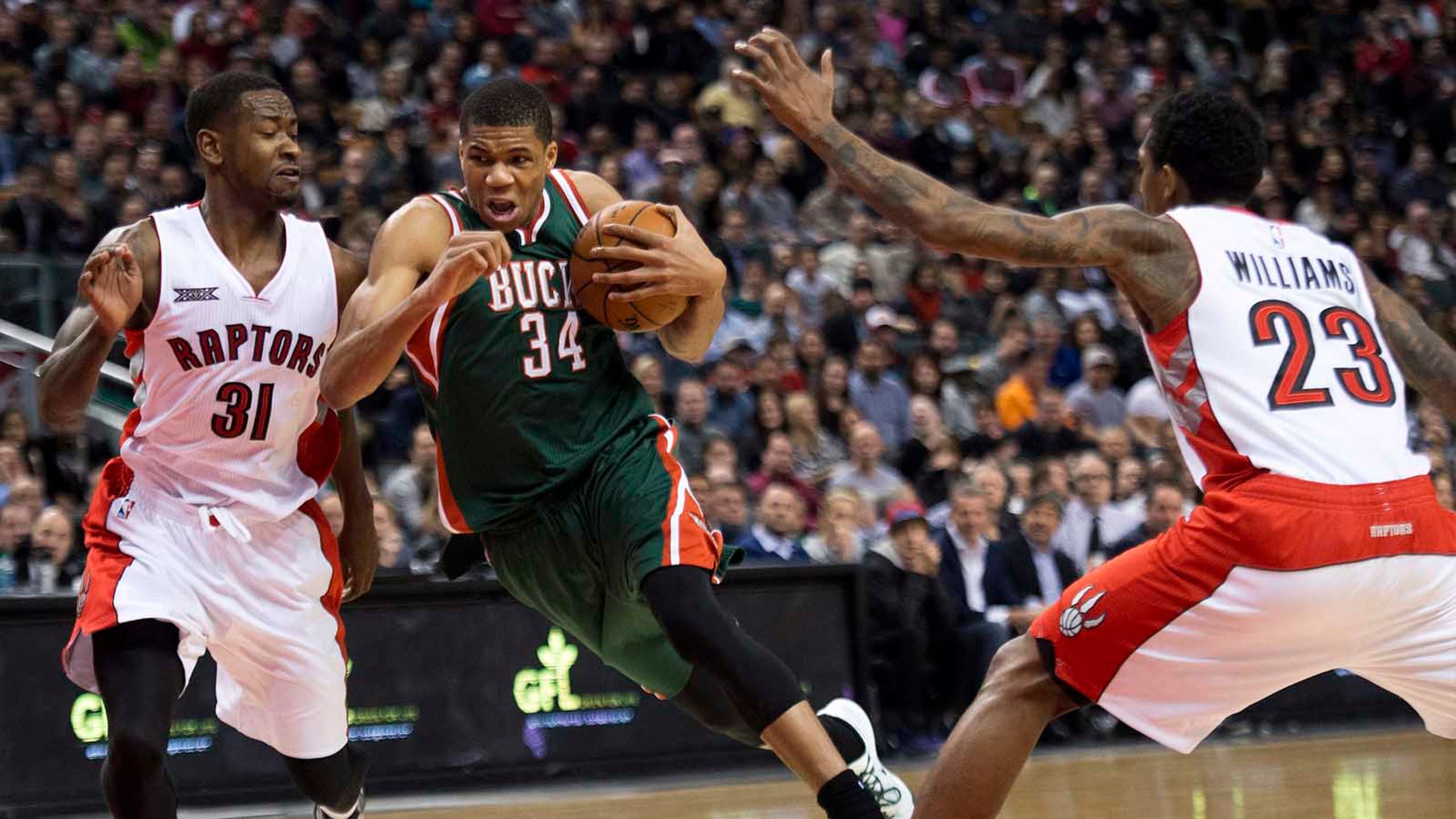 Road reaction: Bucks 82, Raptors 75
BY foxsports • February 2, 2015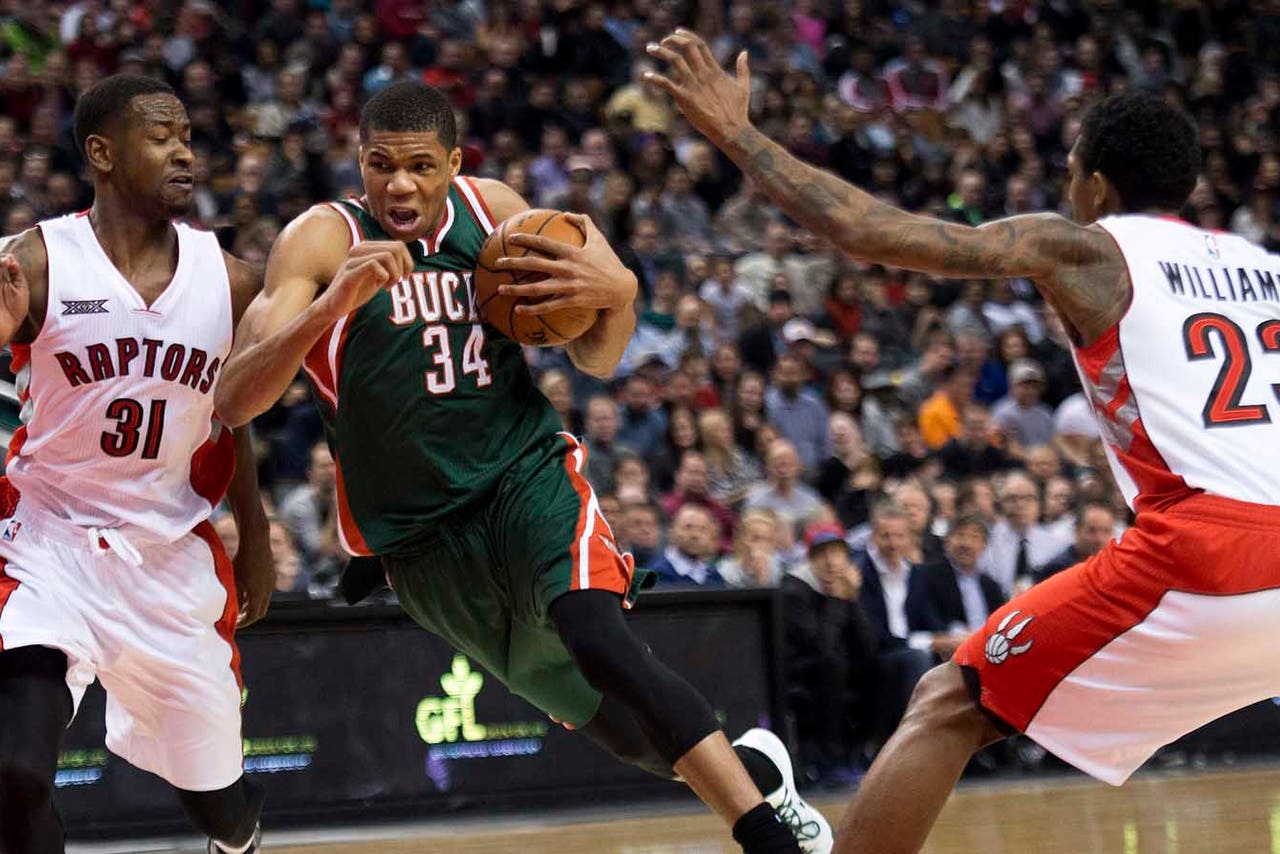 When O.J. Mayo received two quick technical fouls and was ejected in the second quarter, the Milwaukee Bucks were left with just eight available players.
As Milwaukee built a double-digit second-half lead, the overriding question was if the Bucks had enough left in the tank to hang on for a road win over the team with the second-best record in the Eastern Conference.
Despite scoring just nine points in the fourth quarter, the Bucks were able to hold on to snap Toronto's six-game winning streak with an 82-75 victory over the Raptors at Air Canada Centre.
1 big moment: After Toronto used a 15-0 run to tie the game at 75, a free throw by Giannis Antetokounmpo began Milwaukee's 7-0 run to end the game.
Jared Dudley then hit the Bucks' first field goal in nine minutes, 43 seconds, a 3-pointer to put Milwaukee up 79-75 with 2:08 to play.
2 top performers: With leading scorer Brandon Knight a late scratch due to a quad injury, Khris Middleton stepped up and filled the scoring void. Middleton didn't score in the fourth quarter but still finished with a season-high 25 points on 10-of-17 shooting. The 23-year-old also tied a career high with nine rebounds.
Jonas Valanciunas recorded his third double-double against the Bucks this season, finishing with 12 points and 13 rebounds. He was the only Raptors starter to shoot over 32 percent, as he went 6 of 9 from the field.
3 key stats: The Bucks found a way to win despite scoring nine points in the fourth quarter, its fewest points in a fourth quarter since a 95-80 loss to Houston on Jan. 23, 2006. It was Milwaukee's lowest-scoring quarter since an eight-point second quarter against Memphis on Feb. 4, 2006. Toronto and Milwaukee combined to shoot 19.4 percent (7 of 36) from the field in the fourth quarter.
Toronto's three leading scorers -- Kyle Lowry, DeMar DeRozan and Louis Williams -- combined to shoot 7 of 35 from the field.
After allowing a combined 35 offensive rebounds and 51 second-chance points in its two losses to the Raptors this season, the Bucks held their own on the glass Monday. Toronto missed 24 shots in the second half but grabbed only three offensive rebounds and had just four second-chance points after halftime.
Said: "Just enough (energy left) to get back on the airplane and get home, I think. By the time we get to the airport, the guys that played will be out of gas. Those guys gave their hearts. They found a way. Toronto is a very talented team." -- Bucks coach Jason Kidd
"We're getting better. Slowly but surely, we are turning the corner. We knew we had to get after them. Any time an opposing team goes on a long road trip the first game back is the toughest game. We jumped them early. We do it by committee every night. It was total team win. We are gaining confidence, and that's scary." -- Dudley
Seen: Knight had started Milwaukee's first 47 games of the season before sitting out Monday with right quad soreness. The fourth-year point guard entered averaging 17.7 points, 4.2 rebounds and 5.3 assists per game.
With Knight out, Jorge Gutierrez made his third career start. He didn't score but grabbed four rebounds and dished out five assists in 28 minutes.
Ersan Ilyasova (right groin strain) and Zaza Pachulia (right calf strain) each missed their third consecutive game, leaving Jared Dudley and John Henson to start again at power forward and center.
Mayo was ejected after receiving two quick technicals disputing a non-call with 4:08 left in the first half.
"That's emotion," Kidd said. "That's part of the game. We've all been there before. You would like not to have that happen with us being short-handed. We were joking that if he didn't want to play minutes tonight, tonight was not the game to get kicked out.
"He felt bad because he really believes he let his teammates down. But the nice thing is that his teammates picked him up."
Next: The Bucks return home to face the Los Angeles Lakers at the BMO Harris Bradley Center on Wednesday. Tipoff is set for 7 p.m. Central on FOX Sports Wisconsin.
Los Angeles has lost four of five since losing Kobe Bryant for the season and 10 of its last 11 to fall to 13-35.
Follow Andrew Gruman on Twitter
---