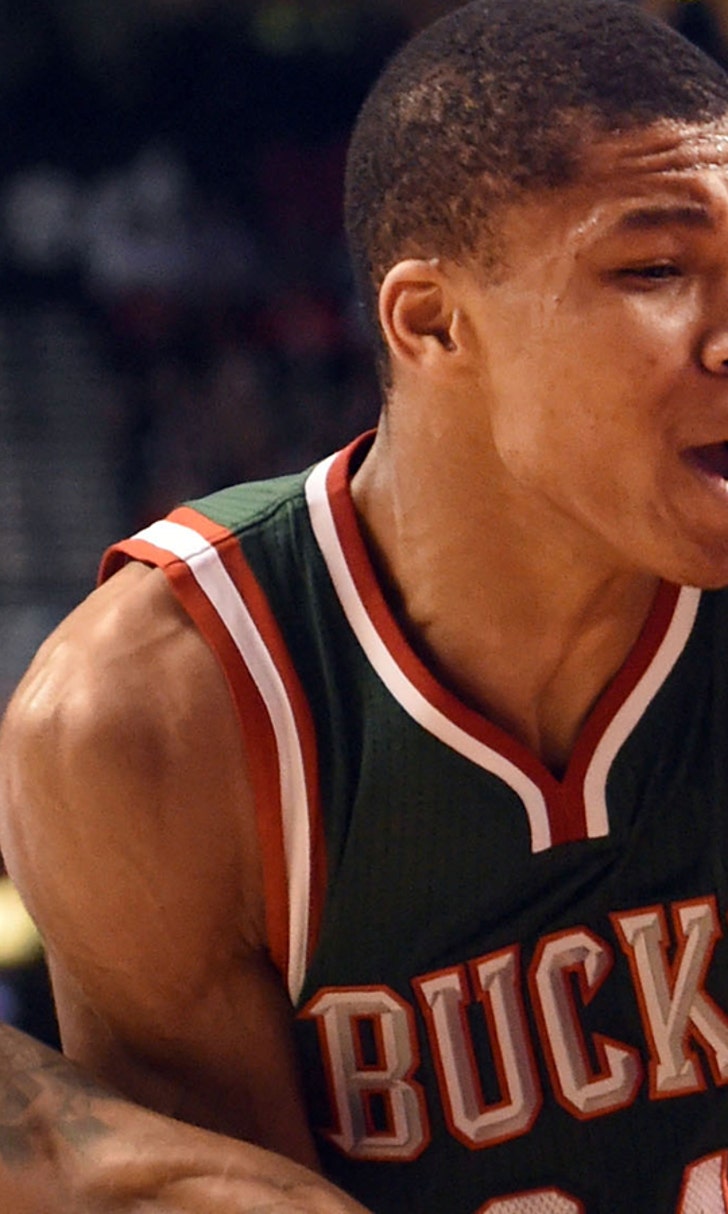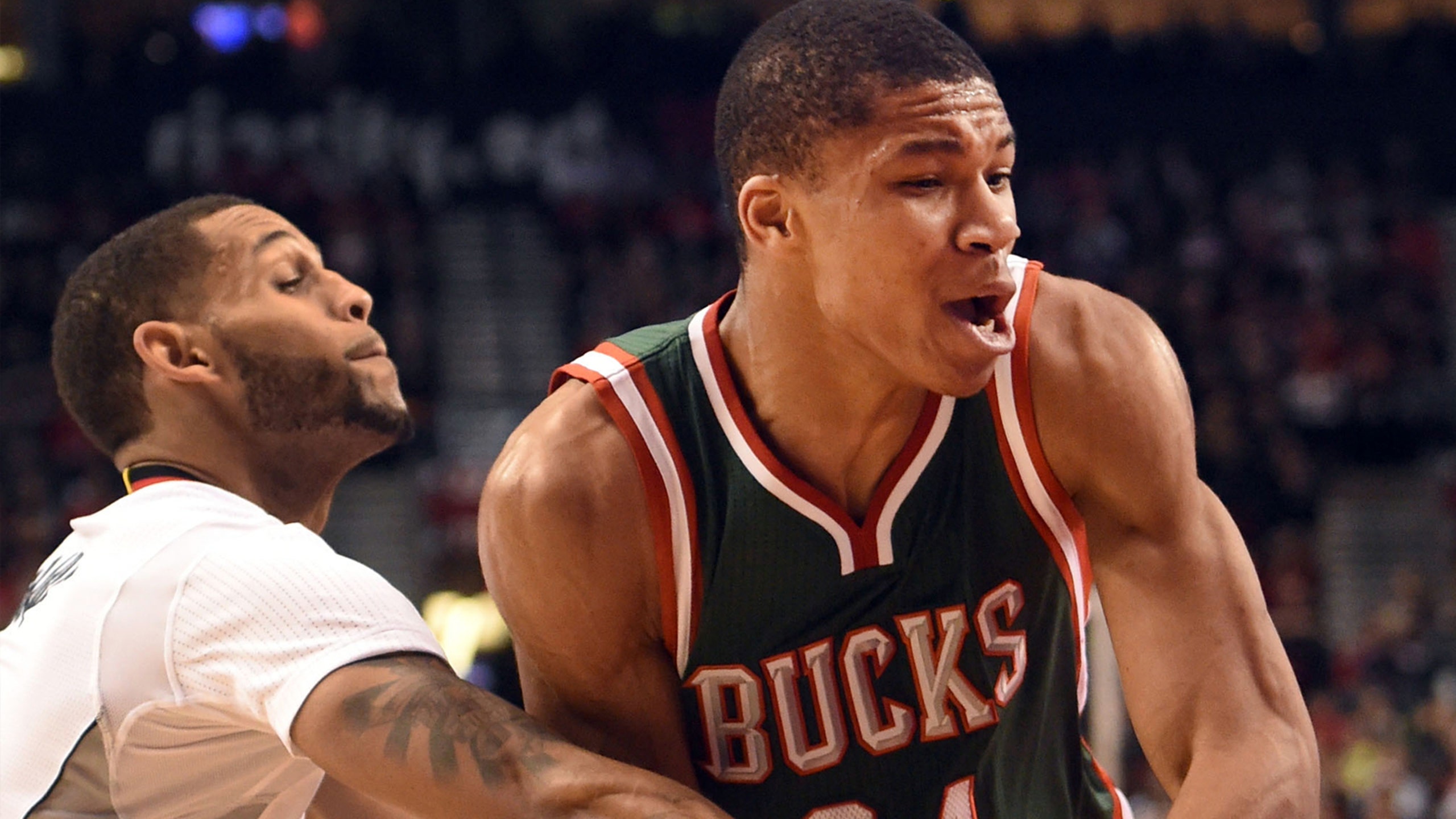 Road reaction: Blazers 104, Bucks 97
BY foxsports • December 18, 2014
Less than 24 hours after learning rookie Jabari Parker would miss the rest of the season with a torn ACL in his left knee, the Milwaukee Bucks watched their other young building block collapse to the court with an injury.
Giannis Antetokounmpo suffered a sprained left ankle late in the first half and didn't return. Unlike Monday in Phoenix, the Bucks couldn't overcome the loss of a key player and fell on their second stop in a four-game west coast trip.
Portland outscored Milwaukee, 36-27, in the fourth quarter to grab a 104-97 victory over the Bucks at Moda Center, where the Trail Blazers are now 12-2 on the season.
1 big moment: After Jerryd Bayless put the Bucks up 79-77 with 8:12 to play, the Trail Blazers rattled off an 18-3 run to take control of the game at 95-82 with 2:43 remaining.
Milwaukee missed nine of 10 shots during Portland's decisive spurt, including a stretch of eight straight misses.
2 top performers: Trail Blazers point guard Damian Lillard finished with 29 points with seven assists on 10-of-19 shooting. With the Bucks hot in the first quarter, Lillard helped Portland stay close. Milwaukee took a 35-26 lead with 6:56 left in the second quarter, but Lillard scored 8 points during a 14-2 run by the Trail Blazers to end the first half.
Brandon Knight led the Bucks with 24 points, as Milwaukee's point guard also shot 10 of 19 from the field.
3 key stats: Portland lost center Robin Lopez to a fractured right hand Monday, but Thomas Robinson and LaMarcus Aldridge nearly outrebounded the Bucks themselves. The duo combined for 32 of Portland's 52 total rebounds and 10 of 16 offensive rebounds, while Milwaukee had just five offensive rebounds and 32 total rebounds. The Bucks were already undersized without John Henson, Ersan Ilyasova and Parker, and losing Antetokounmpo hurt their rebounding chances even more. Portland finished with 22 second-chance points to Milwaukee's nine.
Starting for the first time in his career, Robinson scored 16 points and grabbed 15 rebounds. Robinson, who hit just 5 of his 15 free-throw attempts, entered averaging 2.5 points and 3.0 rebounds per game this season.
After committing 10 turnovers in the first half, Portland committed just four miscues in the second half with just one of those coming in the decisive fourth quarter.
Said: "We couldn't (get) the rebound. We got some stops, but then on the offensive end we had some great looks that we missed. The guys played hard for 48 minutes. A call here, a call there or a stop or a rebound . . . they got offensive rebounds at crucial parts of the game to give them a 3-pointer or a basket." -- Bucks coach Jason Kidd
"They were able to get rebounds against us when we went small. They took advantage of it. We had to get it in the third quarter. Late in the game, they started rebounding and getting second-chance points with extra opportunities." – Bucks forward Khris Middleton
Seen: Antetokounmpo was injured on a drive to the basket with 15.9 seconds to play in the first half. He appeared to have an uncontested layup after driving past Lillard, but his left ankle rolled, causing him to miss the shot short and fall to the floor hard.
Middleton started the second half in place of Antetokounmpo, while the Bucks ruled the second-year forward out with a sprained left ankle early in the third quarter.
"When you have Jabari go down and then Giannis, you are hoping that it is not serious," Kidd said. "For him to get re-taped and try at halftime, you are just happy that it was just a sprained ankle . . . He's a tough kid. We'll see how he feels tomorrow."
"To see it back-to-back to your two youngest players, it makes you a little nervous."
Kidd said Antetokounmpo had his ankle re-taped and tried running in the hallway during halftime before the decision was made to hold him out.
Antetokounmpo scored 10 points and grabbed eight rebounds in 18 minutes before leaving the game.
"It is tough to see those two guys go down, but we have to come together as a team," Middleton said. "You just try to play as well and as hard as we can with the guys we have left."
Bucks rookie forward Johnny O'Bryant made his NBA debut Thursday, scoring two points in five minutes.
Next: The Bucks play the third game of their west coast trip Thursday night in Sacramento against the Kings.
Milwaukee will be playing on a back-to-back, while Sacramento last played Tuesday in a 104-92 loss to Oklahoma City. The Kings, who fired coach Michael Malone on Monday, have lost 9 of their last 11 games.
King center DeMarcus Cousins, who has been suffering from a bout of viral meningitis, is listed as questionable for Thursday's game.
Follow Andrew Gruman on Twitter
---