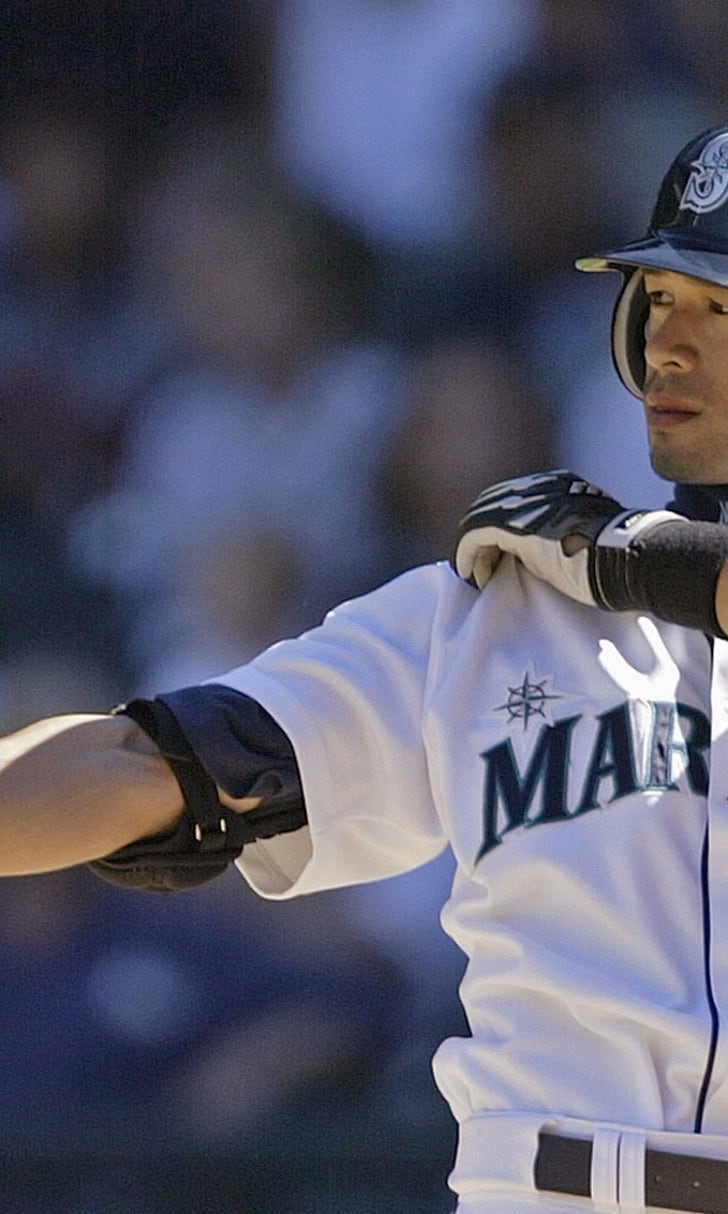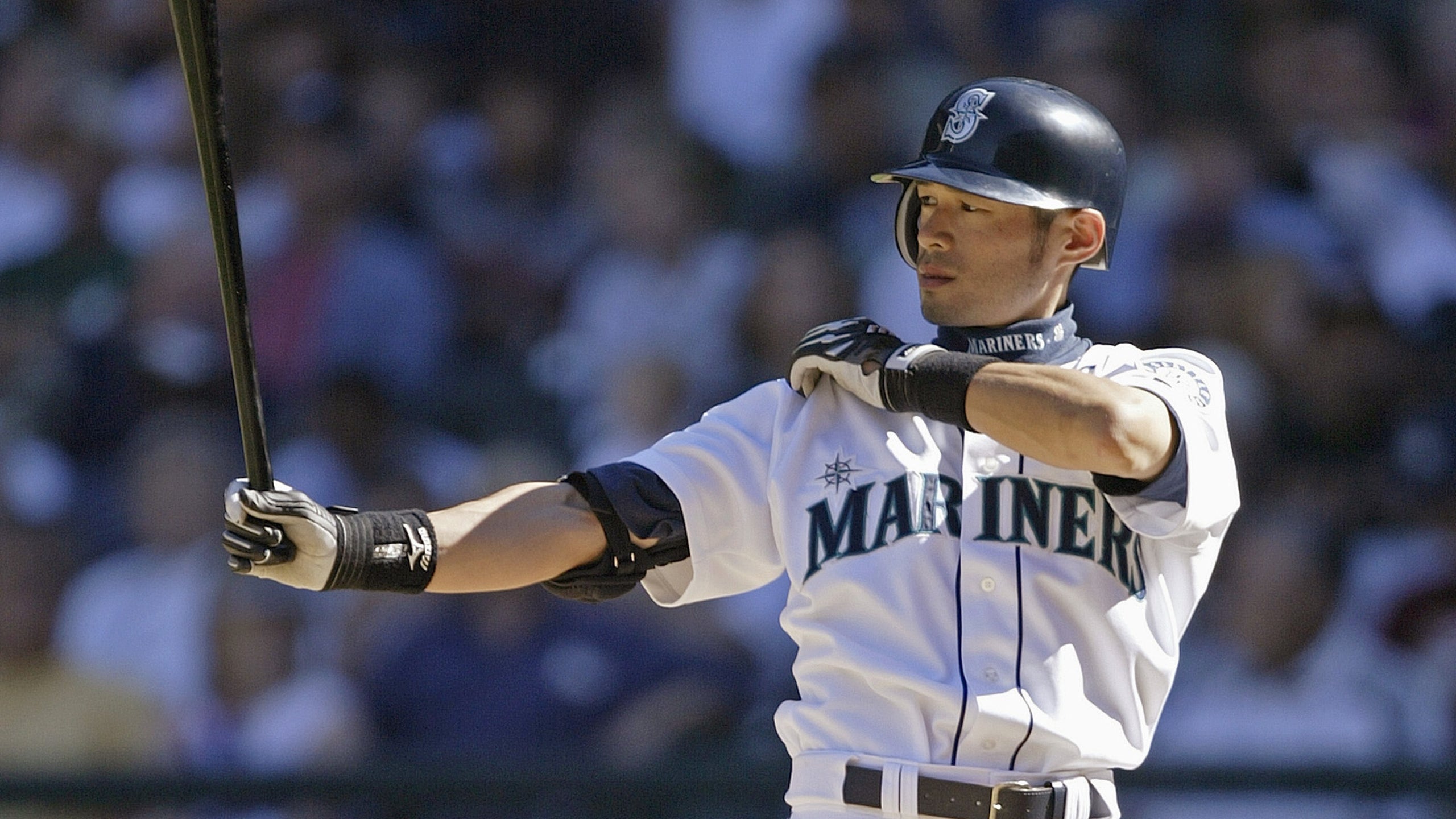 Revisiting Ichiro's MLB-breaking contract
BY foxsports • November 25, 2014
I've never had writer's block. Not for more than two or three minutes, anyway. Probably because I usually write about quantifiable things. So it's just a matter of piling up a few facts and waiting for the check to show up. Every once in a while, though, there's nothing close at hand that gets my gears turning. Today was one of those days!
So I'm leaning on something Ken Rosenthal wrote last week, in the immediate wake of the Giancarlo Stanton news:
Ah, the good old days of 2007, back when ballplayers did honest work for honest pay.

Remember?

The Mariners signed Ichiro to a five-year, $90 million contract extension. And Marlins president David Samson, speaking on Dan Le Batard's radio show in Miami, went apoplectic.

Samson said the contract would "take the sport down," declaring that it would "end the world as we know it."

--snip--

"It's a joke. It's inexcusable. It's complete mismanagement. It can't be true," Samson said of Ichiro's deal, pointing out that it would start when the player was 34.

"I am speechless by that contract. I'm hoping that report is false, because there's no chance a top-of-the-lineup guy -- forget that, anybody -- is worth that much. And Ichiro, who's led his team to zero, nothing?"
This was one of those deliciously delightful times when you just couldn't believe that someone with so much responsibility was saying something so intellectually, uh, challenged. There's not anybody worth $14 million per season. Granted, $14 million would get you more ballplayer in 2007 than in 2014. Still.
So Ken was perfectly justified in throwing Samson's words back at the Marlins (even if they're unlikely to actually pay Stanton even $14 million per season, considering the degree to which his contract is backloaded).
I did wonder about one thing Ken wrote, though: "Ichiro actually performed quite well during his five-year deal, batting .306 with a .738 OPS, stealing 180 bases in 216 attempts and appearing in 793 of a possible 810 games."
But did Ichiro's performance justify that five-year, $90 million contract? Was Samson even right about Ichiro's future?
No, he wasn't. Ichiro's first three seasons on the new deal were quite good. His fourth was poor, his fifth decent. He totaled roughly 15 Wins Above Replacement in those five seasons, or 3 per season, and in those years 3 WAR were worth (roughly speaking) around ... $14 million.
Granted, WAR might slightly overvalue Ichiro, because he hit a ton of singles that weren't deep enough to advance baserunners – I looked for a good study of this weighty matter, with no luck – but that might cost him, what? Probably not even a single WAR over the five years.  This might be interesting in the context of a marginal Hall of Fame candidate's entire career. But not in the context of evaluating a five-year contract.
So Samson was wrong about the little picture ... and he was really wrong about the big picture. As guys like him have always been wrong. In the 1970s, most of the old-timers said free agency would destroy the game. In 1990, when Bud Black got $10 million for four years, there were innumerable quotes about his contract spelling the end of baseball as we know it. Jerry Reinsdorf said the salaries were killing baseball ... right before he made Albert Belle baseball's highest-paid player. Now we've got David Samson, and so it goes. I guess the good news is that where once the writers were right aboard with the petulant baseball executives whining because somebody else got the shiny toys, now it's usually just the executives; the great majority of the writers know that baseball teams have more money than they can spend, and the sport's not in danger, mortal or otherwise. Bud Black's contract didn't break anything, Albert Belle's didn't, Ichiro's didn't, and Giancarlo Stanton's certainly won't.
**************
While looking for something about the value of Ichiro's ill-struck singles, I came across a couple of columns about his Hall of Fame candidacy. In terms of WAR, he's just marginal. In terms of his perceived-by-sportswriters value, he's just marginal, with only three top-10 MVP finishes. In terms of his measured-by-WAR value, he's no better than marginal candidates Bobby Abreu, Vladimir Guerrero, Luis Gonzalez, and Brian Giles ... and less valuable than Jim Edmonds, Carlos Beltrán, Gary Sheffield, and Kenny Lofton, all of whom are going to have a real tough time gaining election.
I don't think it will matter, for two reasons. One, Ichiro's quite likely going to get at least a little extra credit for his seasons in Japan. Whether that's appropriate or not, I don't really have a strong opinion. I do think if he's in our majors for another three or four years, this is an easy call. And two, Hall of Fame voters have always liked candidates who do one thing particularly well. Ichiro wasn't a great hitter, but he was a great hitter for average. Which will really help him. But even that undersells his candidacy, because he was also a dramatically good outfielder and was, for most of his career anyway, an excellent basestealer.
I don't believe I would vote for him, based purely on his career in the American League. But Jackie Robinson and Roy Campanella didn't really have Hall of Fame numbers in our National League, and yet both seem like deserving Hall of Famers. We make allowances for some things. I'd still like to see a good study of all those ill-struck singles, though...
Dept. of Corrections: It's a funny thing. When I first thought about writing this column last week, I quickly checked the numbers and thought, "Wow, that really was a pretty lousy contract." 
So I was surprised when I checked again and concluded that it wasn't.
I was right the first time, because my math was wrong the second time. Obviously (now that someone's reminded me), Ichiro earned $18 million per season, not $14 million. And his performance over the life of the contract, thanks to those last two years, was not worth $18 million per season. It still wasn't a terrible deal for the M's, as you have to figure Ichiro's presence did sell at least a few thousand extra tickets. But I don't believe they got what they paid for. 
---
---