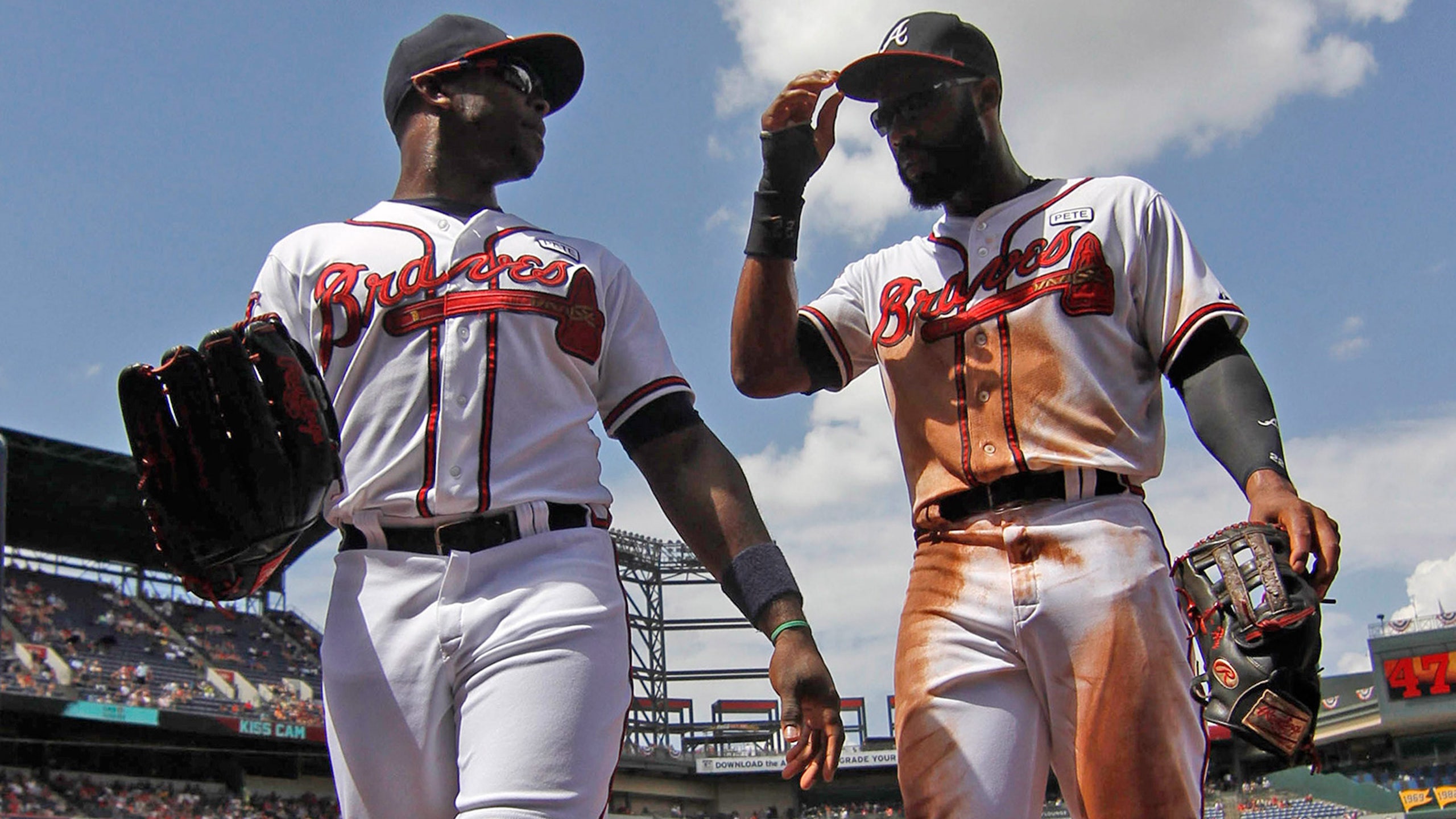 Retool or rebuild? After Justin Upton deal, what direction are Braves headed in?
BY Cory McCartney • December 19, 2014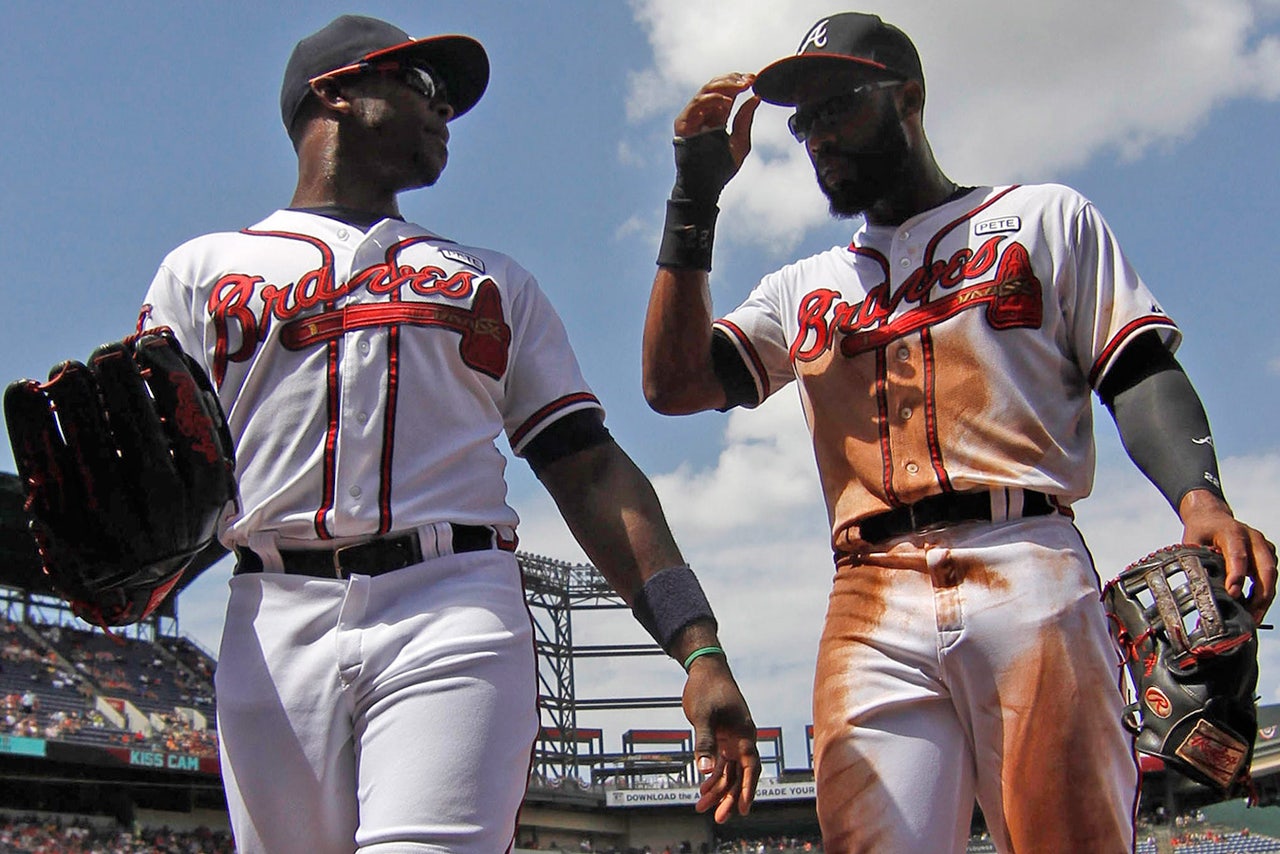 Two years ago, the headline on the cover of the Braves' program read 'An Outfield Revamped,' with the trio of Justin Upton, Jason Heyward and B.J. Upton standing together, their arms crossed.
They were to be the future of the franchise, a collection of 20-somethings who all had a 20-home run/20-steal season on their resumes. The Brothers Upton and Heyward were exciting, athletic and "Up, Up and Hey" T-shirts were seen throughout Turner Field.
Now, B.J. Upton is the only one remaining.
Atlanta traded Justin Upton to the Padres on Friday in a deal that brought them a package of prospects -- left-handed pitcher Max Fried, second baseman Jace Peterson, third baseman Dustin Peterson and outfielder Mallex Smith -- and the Padres' fourth international bonus pool slot in exchange for the left fielder and right-handed pitcher Aaron Northcraft. That move comes on the heels of Heyward having been sent to the Cardinals in November in a four-player swap.
"It's tough to trade Justin Upton, but the way we looked at it, it would have been tougher to sign him long-term," said John Hart, Braves president of baseball operations, said in a conference call Friday night. "We felt that this was a really good opportunity for us to maximize his value."
It wasn't unexpected. Upton was entering his walk year -- as was Heyward -- and both will command much more on that open market than the Braves were likely to be comfortable with. But this latest transaction does come with a concern and it isn't the forthcoming sale on those aforementioned shirts.
What direction is this franchise headed?
The dreaded R-word is certain to be brandied about with Atlanta having unloaded its best offensive player from a year ago as Upton led the team in home runs (29) and RBI (102) and was second in slugging (.491) and OPS (.833).
But rebuilding is a narrative that Hart has nixed on multiple occasions, telling ESPN's Jayson Stark "I didn't come in with the idea to take this thing down to the bare bones. That's not one of the plans."
As of now, the Braves will take the field in 2015 with an expected outfield of Evan Gattis in left, B.J. Upton in center and Nick Markakis in right.
There's no catchy nickname for that collective -- get on that, Braves Nation -- but it may not be a group that spells gloom and doom or one that points to a rebuild.
"There's a lot that I like about this club," Hart said. "We realize we've lost some power today with the trade of Justin, but along the way we've still been able to, I think, give ourselves some financial flexibility that's going to provide the opportunity for us to get creative as we can going forward."
Keep in mind that Gattis was second to Justin Upton with 22 home runs last season, a total that came in 401 plate appearances (240 less than Upton). That's a HR rate of 5.4 home compared to Upton's 4.3.
Upton was a Gold Glove finalist this past season, but he earned that nod with a minus-7.6 defensive WAR, which was second worst among all Braves. While Gattis, who was the primary catcher a year ago, has limited experience in the outfield, playing 342 1/3 innings over 48 games in '12 and had a minus-24.1 UZR/150 in that time, he doens't need to contend for hardware. Atlanta only needs him to be serviceable for his offense to outweigh any defensive liabilities.
The only real question in his transition in left field is if Gattis can stay healthy, playing 105 and 108 games in his first two seasons.
Meanwhile, the Braves are replacing Heyward, a two-time Gold Glove winner, with another in Markakis. The former Oriole is coming off a year in which he hit .276/.342./386, which represents a better average than Heyward has had since his rookie season of 2010 (.277) and he'll bring a 10.8 strikeout rate to a team that fanned 1,369 times last year.
Markakis underwent neck surgery on Wednesday for a herniated disk and with an eight-week recovery, could be back in time for the opener.
Despite Braves fans' understandable love affair with Hewyard, an Atlanta-area product, that swap at this point and time, is a wash.
Yes, B.J. Upton remains and he's responsible for a number of those strikeouts, a single-season franchise-record 173 to be exact, along with a .198/.279/.314 slash line in a Braves uniform. But he also has three years and $46.3 million remaining on his contract and the team still owes $13.2 million to Dan Uggla.
In picking up the pieces from former general manager Frank Wren, who was fired Sep. 22, Hart was tasked with assembling a team that has a chance to win, and one that can carry them into SunTrust Park in 2017.
Those needs aren't exclusive of one another and there needed to be a balance between the rash of extensions that were handed out last winter and the financial obligations that come with bad contracts the Braves can't get away from.
While an offseason of losing a Heyward, a star in Upton, and not to mention the popular Kris Medlen, who signed a two-year deal with the Royals, are hard to swallow, are these Braves any further back in the National League East pecking order than they were a few weeks ago?
Pitching remains the backbone with starts Julio Teheran, Alex Wood, Mike Minor and Shelby Miller -- who was acquired in the Heyward deal -- a group that doesn't include anyone older than 26 and the Craig Kimbrel-led bullpen will still be among the league's best.
Freddie Freeman is now a two-time All-Star at first base, Andrelton Simmons has a pair of Gold Gloves to his name, and the move of Gattis to left field means the heralded Christian Betancourt can begin living up to those Yadier Molina comparisons on a daily basis.
There may not be the same excitement that came with having the ultra-athletic Heyward patrolling right and the Upton Bros. alongside him, but it was largely a failed experiment.
Cost control certainly played its part -- Gattis is still not arbitration eligible until 2016 and Markakis's four-year, $44 million deal is at least nine million a year less than Heyward is likely to pursue -- but the Upton trade, just like that of Heyward, don't necessarily speak to a rebuild.
Granted, losing Upton and not getting an everyday major-league player in return may not be what anyone was expecting. But the Braves added depth to a farm system that's in dire need of it and unloaded another asset that was certain to walk after 2015.
Like the headline on the program featuring that exciting outfield boasted, it's 'An Outfield Revamped,' one that has the potential to be as good if not better than the one of a year ago.
Does that sound like a true rebuild?
Follow Cory McCartney on Twitter @coryjmccartney
---