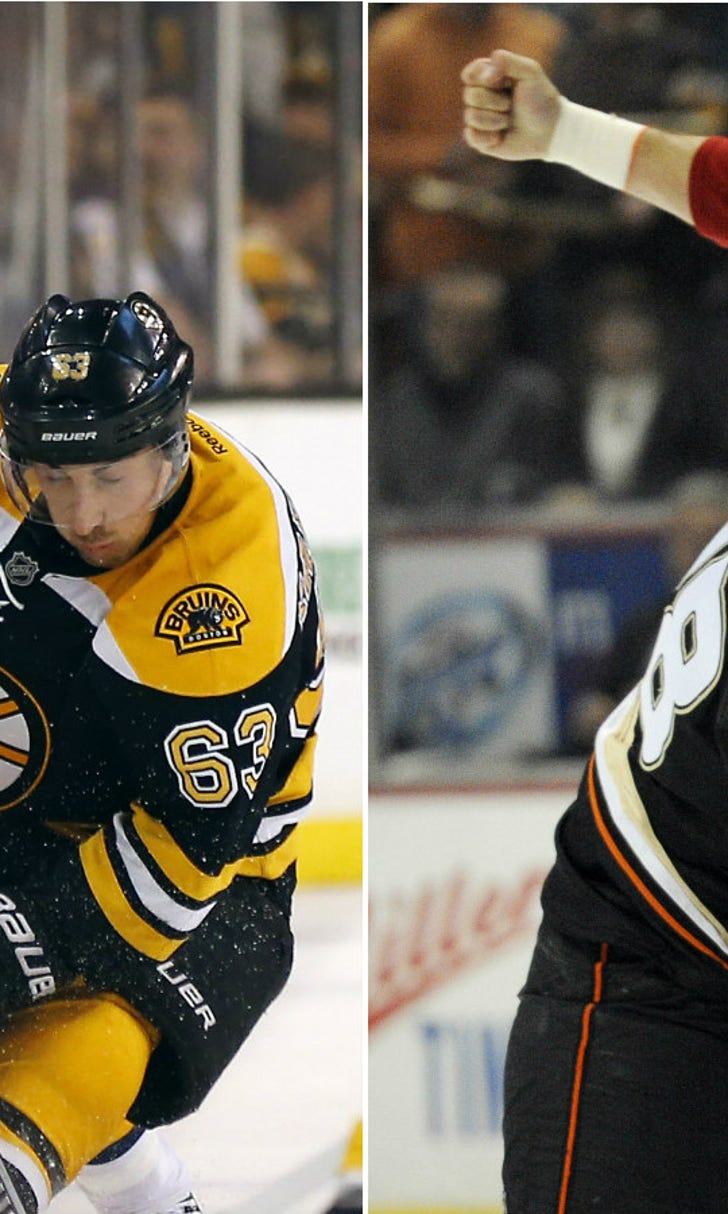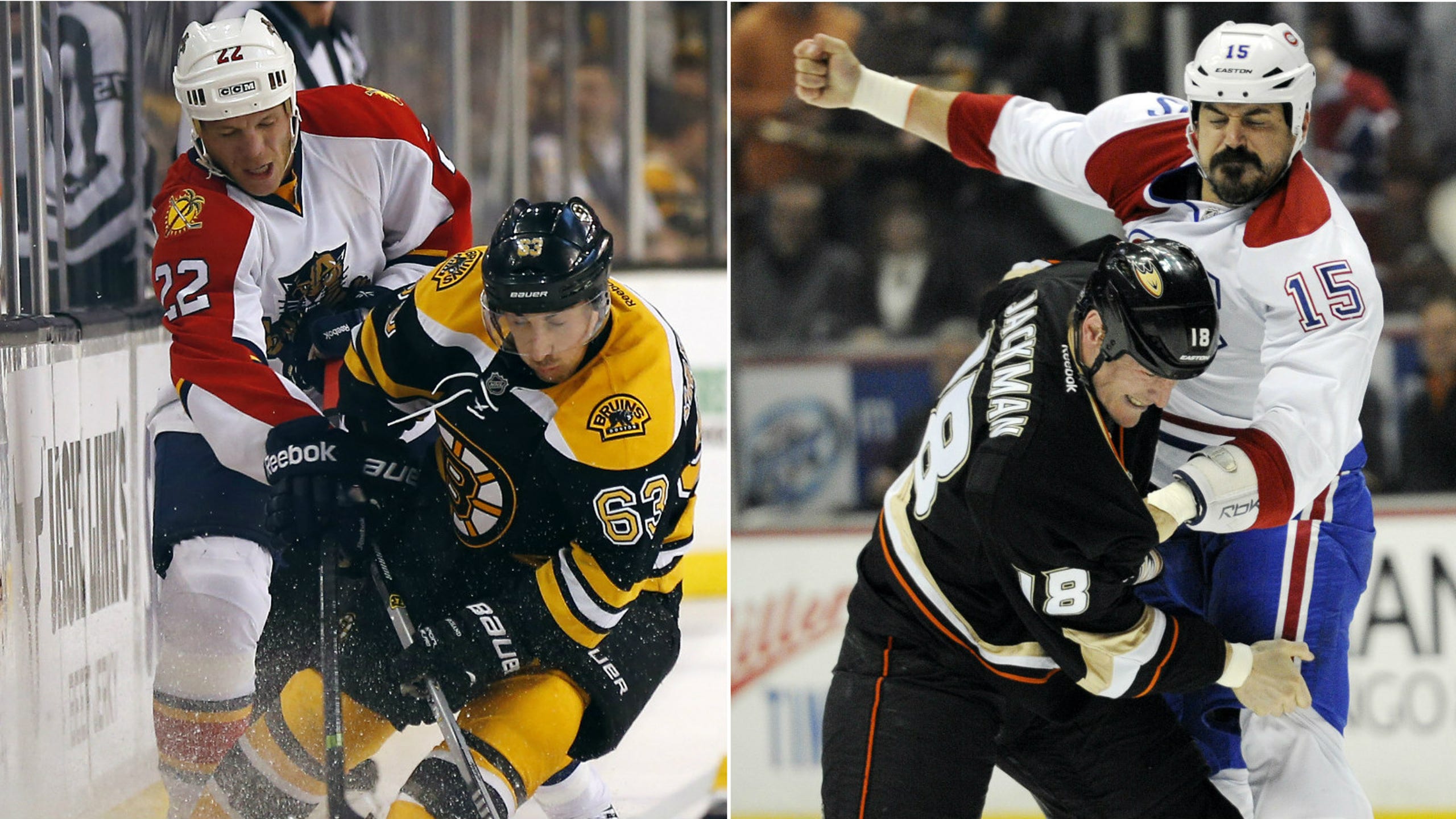 Retired enforcer George Parros paved way for Panthers' Shawn Thornton
BY foxsports • December 9, 2014
George Parros, a nine-year NHL veteran armed with an impeccable mustache and an affinity for the five-minute major, announced his retirement from the league last Friday.
The 34-year-old enforcer never scored more than 10 points in a single season over nearly a decade in the NHL, but Parros became one of the league's most recognizable faces for both his willingness to drop the gloves and the iconic facial hair that adorned his upper lip.
Still, after 474 regular-season games, 158 fights and a staggering 1,092 penalty minutes, the man often referred to simply as "The Mustache" lost his bout with father time.
"It's been an honor to play in the greatest league in the world. Thanks to the organizations I've had the good fortune to play for, especially to the Samueli and Molson families," Parros said in a statement provided by the NHLPA. "I've had the most amazing support from all of the fans who have supported my many endeavors throughout my career, for that I am eternally grateful. A final thank you to my parents Jim and Lynne, my wife Tiffany and my children who have made this dream of mine a reality."
While Parros' dream may have come to an end, the mark he left on both the league and its players will resonate for some time.
A Princeton graduate known for his charitable off-ice endeavors, Parros spent his career working to erase the stigma that just because a player beats people up for a living, it doesn't necessarily mean that he's a bad guy.
For Florida Panthers tough guy Shawn Thornton, Friday's announcement served not only as a time to reflect on the career of a fellow enforcer and former teammate, but also his own.
"He's just an engaging person, people love being around him," said Thornton, a veteran of 127 regular-season fights. "I'm glad I got to play with him, glad I got to know him and glad I got to call him a friend."
Teammates during the 2006-07 season in Anaheim, Thornton and Parros became fast friends and a literal one-two punch for a Ducks team that would go on to capture its first Stanley Cup in team history.
"That was my first full year in the NHL, and I'm older than George, but we're both fairly tough guys," Thornton said. "He'd always take it upon himself to (fight) the big guys and I was left with the second guy on (opposing) teams. So my record looked really good that year, I think, because he was taking on all the big, big boys."
Serving as a mentor not only in ways of the fist, Parros and his Ivy League education also helped Thornton polish his verbal jabs that serve as an important weapon in any hockey player's arsenal.
"I learned pretty early when we were in Anaheim together to not get into a chirping competition (with him)," Thornton said. "He's pretty witty. I fancied myself fairly witty until I met him."
Although they spent only one season together in Anaheim before Thornton would go on to build a respectable career of his own as a feared member of the Boston Bruins, the friendship that grew between two of the league's most notorious heavyweights never ceased.
In fact, after signing to a two-year deal with the Panthers this offseason, Thornton says that Parros, who played one season in Florida (2012-13), was one of the first to congratulate him, even as his own NHL prospects dwindled.
"Actually when I signed here he was one of the first guys to text me and say 'Congrats,'" Thornton said. "He kind of gave me the lay of the land as to what's going on around here."
Finding longevity at a position that traditionally doesn't support it, Thornton points to his tireless work ethic and never-ending desire to become a more well-rounded player as reasons why he's still standing at 37 as other enforcers of his generation continue to hang up their skates.
"I probably should have retired years ago, too," Thornton said with a laugh. "There are still fights going on, not to the degree that there used to be, but guys always have to be able to play to stay in the lineup. I think the guys that have really focused on playing first have stuck around. It's probably more a function of my age than my job title to see guys that I played with retire.
"I think I was in training camp with the (a current) assistant coach of the Blue Jackets in my first year. ... I'm creeping up there."
You can follow Jameson Olive on Twitter @JamesonCoop or email him at JamesonOlive@gmail.com.
---
---