Columbus Blue Jackets
Columbus Blue Jackets
Resilient goalie Bobrovsky leads Blue Jackets' resurgence
Published
Jan. 20, 2017 4:33 p.m. ET

COLUMBUS, Ohio (AP) -- Sergei Bobrovsky's confidence took a beating as he battled a nagging injury through the Blue Jackets' disappointment last last season. He missed more than half of the games as Columbus sank to last place in the Metropolitan Division.

This year, the Blue Jackets are in the midst of a comeback -- and so is the now healthy goaltender.

The 28-year old Russian known as "Bob" to most everyone in Columbus leads all NHL goalies in wins and is among the leaders in goals-against average and save percentage. Acrobatic stops became routine as he went 14-0-0 during the team's recent franchise-record 16-game winning streak.

Bobrovsky has been selected to play in NHL All-Star Game on Jan. 29 and has the surprising Blue Jackets marching toward the Stanley Cup playoffs for the first time in three seasons.

"He's been consistent and at a level that we've climbed onto his back right from the beginning of this year," Columbus coach John Tortorella said.

Bobrovsky regained the form that won him the Vezina Trophy as the league's best goaltender in 2012-13, his first season in Columbus after being traded from Philadelphia.

The Blue Jackets started 0-8 last season, ushering out coach Todd Richards in favor of irascible disciplinarian Tortorella. Groin problems that dogged Bobrovsky throughout his time in Columbus grew chronic, knocking him out of action three times. After signing a four-year, $29.7 million contract extension, he'd appear in just 37 games, and his 2.75 goals-against average and .908 save percentage were the second-worst of his career.

Bobrovsky was advised to spend less time in the gym in the off-season and reduce his muscle mass to keep him more agile as he darted around in the net and flayed himself in the paint blocking shots. At 6-foot-2, he cut his weight from 199 pounds to a lithe 182.

https://www.youtube.com/playlist?list=PLx9lDvbwFxUOZq05qVDoXTVFwArcb7U1u

He began the reset during the World Cup of Hockey in September, getting noticed for his solid all-around performance and spectacular saves for Russia . Tortorella, who coached Team USA in the World Cup, watched the process as Bobrovsky came into Blue Jackets camp healthy and with a renewed level of assurance.

"It was right from the get-go, how he presented himself in camp, quite honestly how he presented himself in the World Cup, how he played there," Tortorella said. "I can't speak for him, but I think he's an athlete that wants to prove and get back to that level that we know he can be at."

The comeback, Bobrovsky said, is a work in progress.

"I just went back to basics and worked hard and just built up my confidence and work every day," said the goalie, who is known for his work ethic and toil in the weight room. "Small steps. It's still in the process. There's still a lot ahead of us, and I look forward to it."

Bobrovsky rarely makes a public utterance without crediting his teammates. He says their more aggressive play and getting sticks on the puck in the defensive zone also has taken some of the pressure off him.

His teammates say the game is different when Bob is minding the net. That was never more evident than when the Blue Jackets went 1-3 in games this month that Bobrovsky wasn't in the net, including three he missed because of illness.

"When Bob's at his game and feeling good, it brings a whole different kind of confidence into that room," Blue Jackets captain Nick Foligno said. "He's a huge part of this team and what we're trying to do here, so it's really good to see him having a good year but also staying healthy and just feeling confident and good about himself."
---
---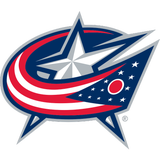 Get more from Columbus Blue Jackets
Follow your favorites to get information about games, news and more
---