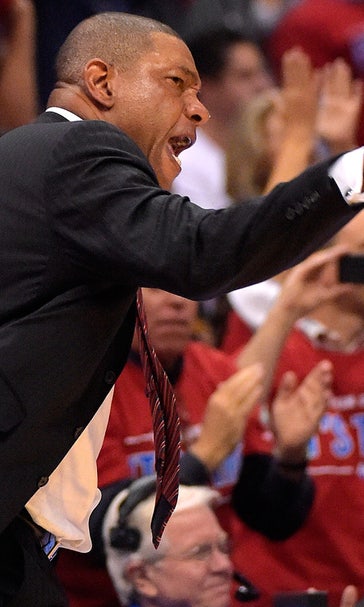 Resilient Clippers overcome obstacles on, off the court to advance
BY foxsports • May 4, 2014
LOS ANGELES -- Doc Rivers finally exhaled.
The Clippers coach endured an emotional week, but in the late hours of Saturday night, with his team in the closing seconds of a rousing playoff victory, he allowed himself a moment of elation.
He pumped his fist. He high-fived his players. He smiled like a coach whose team had survived a period of strife like no other -- and then finished it off with a 126-121 Game 7 win over the Golden State Warriors at Staples Center.
So it was understandable when Rivers celebrated openly -- for himself, for his players and for the fans who supported the team through harrowing times last week.
"You just don't see that from him too much," Chris Paul said. "It's been emotional. But our team, whether you can see it or not, we're tight."
They were held together by Rivers, whose voice spoke for the organization after owner Donald Sterling was banished from the game for making racially charged comments. It was Rivers who convinced his players that the best statement they could make was to win.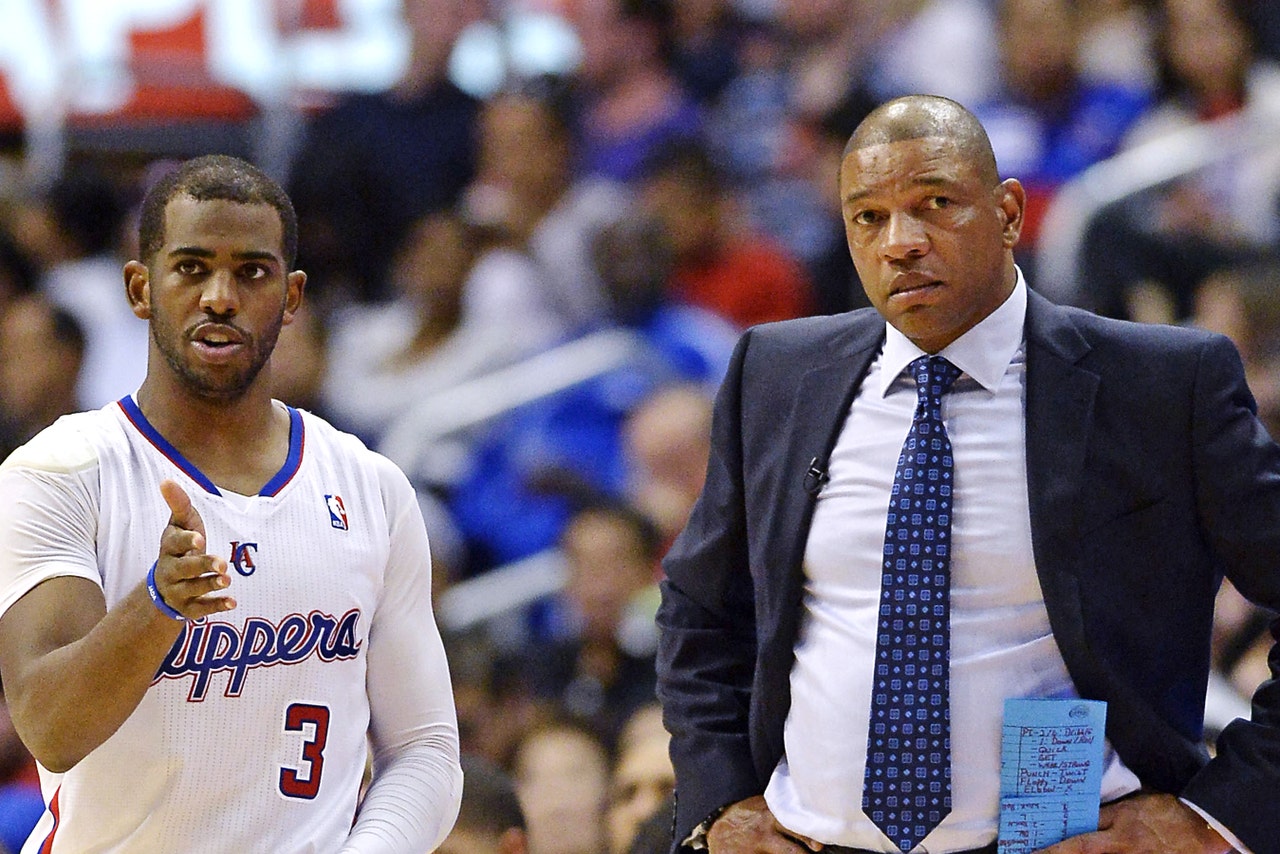 Doc Rivers understands NBA's swift move to appoint Clippers CEO
And when they did, in a grueling, physical seven-game series, he let his emotions run free.
"My excitement was not for me, it was for everybody," Rivers said. "I wanted the fans to get excited. They were almost still sitting there in shock. I wanted them to exhale for a second because all we have is a second.
"I needed to exhale some too. I just needed to be able to smile and laugh and cheer and be proud of something, and I was very proud of my players."
Now they move on to the Western Conference semifinals against the Oklahoma City Thunder, who finished off the Memphis Grizzlies earlier Saturday. Any celebrating is sure to be brief. Game 1 is Monday night.
While the cloud of the past week hasn't quite dissipated, Paul said they were able to set it aside. Each day that passed made it easier to move on.
"It's going to sound crazy," Paul said, "but it was all about tonight. Everything else was in the past. We didn't dwell on all that stuff, and not to diminish how serious everything has been in the past week or so, it was all about basketball."
It was also about trust. The Clippers struggled through the first two quarters, falling behind by eight points at halftime and playing dreadful defense. Golden State shot 72 percent in the first quarter, 58.5 percent in the first half and made 9-of-13 3-pointers.
Then the Clippers picked up defensively, holding the Warrior to 37 percent in the third quarter, and getting 10 points from J.J. Redick to outscore Golden State 31-20.
"At halftime in our locker room, you would've thought we were up a little bit," Blake Griffin said. "Nobody was down."
They began to rely on each other defensively, forcing turnovers, getting rebounds and blocking shots. It turned the game.
"We had to lean on each other," Jamal Crawford said. "We had to believe what Doc was saying. We had to believe in the next guy."
Rivers said it was all about trusting each other, especially at critical moments.
"Matt Barnes said it in one word: trust," Rivers said. "After we walked in the locker room, he said, 'Guys, thank you for trusting each other.'
"You have to go through adversity to learn how to trust each other."
It showed when they made their run, turning a 92-89 deficit into a 103-96 lead.
"We went on that one little stretch where we stopped moving the ball offensively," Rivers recalled. "Then, down the stretch, the ball was moving so fast that they couldn't find the open guy, and we got dunks and layups and open threes."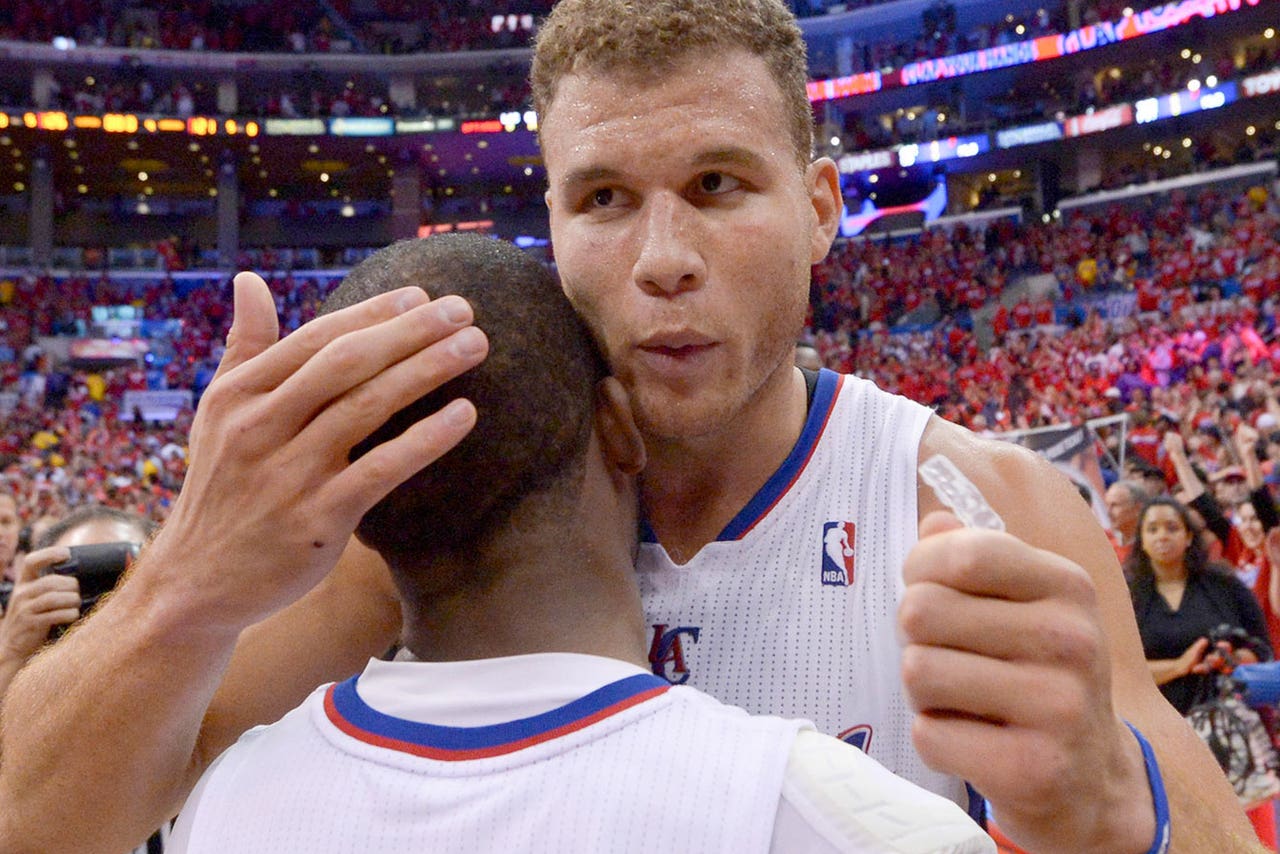 NBA takeaways: Don who? Blake takes charge as Clips shake off scandal
Griffin scored 24 points, Paul and Crawford had 22 each, Redick had 20 and center DeAndre Jordan had 15 and 18 rebounds. Stephen Curry led the Warriors with 33.
Now the Clippers have to put it behind them. There's no time to dwell on their difficulties, no time to celebrate their win.
But if they remember anything, it will be Rivers' pure joy in the final seconds.
"Emotionally, I can't imagine what he was going through," Griffin said. "You can tell, he really had a sense of relief once this was over."
He deserved it. They all did.
---